View Blargh


Incredible Hulk of Ice Cream


Thursday I went to see the Incredible Hulk with Ashley and Jina, which was pretty good, though I felt it lacked some smooth transitions between events. I enjoyed seeing Lou Ferrigno, though I don't recall seeing Captain America who was supposed to be hidden somewhere. Afterwards we met up with Paul for cheap ribs at O'Donovan's and then decided to grab dessert.

First we went to Cafe Wicked b/c it had good reviews according to mobile Google. When we arrived, the place was almost deserted except for two customers. We decided to try another spot and Margie's Candy was recommended by one of Paul's co-workers.

Immediately we knew we made the right choice as the quaint and cozy little shop was full and had great looking desserts. Their World's Largest Terrapin (Turtle Sundae) has a whopping 25 scoops of ice cream for $45, which put's Ghirardelli's Earthquake Sundae to shame.

Each of us got a sundae or split. I chose an Engligh Toffee sundae with their extremely tasty and buttery house-made toffee. Every sundae is huge and comes with a sauce boat of house made fudge or caramel sauce. If that's not enough, you can make any sundae jumbo. It's open late (11:00 I believe) and is a great dessert spot, as witnessed by the fact that the line kept getting longer.

Here are a few pictures from my cell phone. I'm not sure what Paul is doing... Oh and Margie's only con is the single small and dingy bathroom.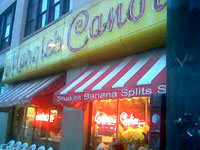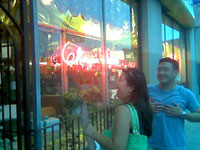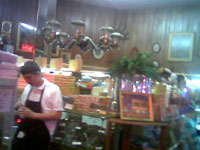 Posted 07/22/2008 05:41 PM in Chicago, Dessert, Food, Restaurants, Reviews | Total Comments: (0)
Link To This Blargh
Comments
No comments for this blargh.
Add Comment