View Blargh


Second Poquonock Giant Grinder and Pizza Shop


Thursday afternoons as I head to the airport, I've started picking up dinner to eat on the plane so I'm not starving when I get home at 8 (assuming no delays). One great find about half a mile from the rental lots is the Second Poquonock Giant Grinder and Pizza Shop which does indeed have giant grinders (hot sandwiches and not that wimpy toasted stuff).

I ordered the half size veal parmesan grinder for about $6. It sounds a bit pricey for a sandwich but it's a nice thick and dense 8" long hot grinder that weighs about a pound so it's worth it. You'd have to be a little crazy to order a full size on your own.

The sandwich was very tasty with a good balance of meat, sauce, cheese and bread. The only problem was attempting to unwrap it from it's half-sheet size butcher paper int he confined space of an airplane seat. I'm sure the people around me were quite jealous. For dessert they also sell large pieces of baklava for just $2.50, though it is a tad low on syrup which made it a bit dry, but also meant it was not overly sweet.

Sorry that the unwrapped picture is so messy but I ate the baklava first which filled me up for a few hours during which the sandwich got a bit smashed in transit.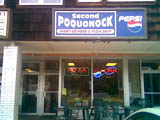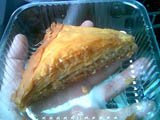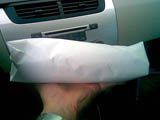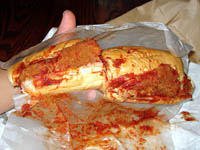 Posted 09/01/2008 02:22 PM in Food, Reviews, Travel | Total Comments: (5)
Link To This Blargh




Comments


Back to the old grinder
So what sandwiches do you consider "wimpy toasted stuff"? Detailing establishments that serve them would also be quite helpful.
Submitted by Dan on 09/01/2008 04:49 PM





Subway (which I actually eat often) and Quizno's (which I never eat)
Submitted by filbert on 09/01/2008 06:28 PM


Mmm... toasty.
That's about how I'd rank 'em (Quizno's doesn't happen and Subway is a rare occurrence), with Potbelly right on top. In fact, I think I might have a Potbelly Wreck sometime this week; I just hope their franchise expansion program rolls out in a satisfactory fashion.
Submitted by Dan on 09/01/2008 09:22 PM





Yes, every time I'm in the city for work, I make sure to grab Pot Belly's for breakfast (with hot peppers!) and most likely for lunch as well.
Submitted by filbert on 09/01/2008 11:26 PM


1
1
Submitted by 1 on 04/14/2016 02:13 AM





Add Comment