View Blargh
45 Pounds of Cheese for $65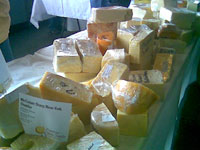 Example table at the ACS sale

Today was the American Cheese Society's sale that I mentioned a couple weeks ago. Dairies and farms submit cheese for judging which occurred yesterday. The results are available here (pdf). They become property of the ACS so on Sunday they must all be sold.

I actually ended up going twice. At 11:00 there were five folding tables piled a foot high with cheese. The tables started at 10:00 by category (one for prize winners, cheddars, colbies, jacks, etc.) but when I got there it was pretty much a free-for all. My second visit with Ashley at 12:30, saw just a single table remaining.

Some key information about what to expect:
Cheese may or may not be labeled. Prize winners usually had basic info but others were labeled with a level of detail ranging from "4 year cheddar" to "colby" to simply "?"
There is no cheese tasting at the sale. Everything is bought as-is.
The volunteers may or may not know anything about the cheese. Your sense of sight (labels, color, texture), smell (whatever appeals most to you) and touch (soft, hard, crumbly) as well as basic cheese knowledge are your best tools for identifying them.
Sometimes the best finds are the ones that aren't labeled and are overlooked by others.
The smallest block of cheese is 1 pound but this is rare. The average block will be 3-4 pounds with large blocks or wheels weighing 5-20 pounds.
Prices for small pieces start at $2 while large pieces or prize winners may be as much as $20.
If buying more than one block, you can negotiate. My first visit I picked up $50 of cheese but only paid $45.
Prize winners sell out in the first 30-60 minutes so get there early for the best cheeses, but prices will be higher (though still very reasonable).
Prices are cut as time passes so go later to get more deals, however your selection will dwindle. The last table of cheese in the last 15 minutes offered $20 for as much cheese as you want. People walked out with trash bags full of dozens of pounds of cheese.
These cheeses were submitted for a competition so all of them are high quality. Everything will be good, if not excellent, even the mystery pieces left at the end.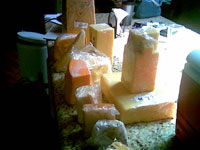 Most of the cheeses we bought.

Here are the cheeses I bought on my first visit (15 pounds, $45):
Prize Winning Colby (not sure which) - smooth and mild. 4 pounds.
Unknown 4 Year White Cheddar - Sharp, semi-intense, soft. 2 pounds.
Beecher Flagship - artisan cheddar style from Seattle. 2 pounds.
Unknown Asiago - Sharp, deep flavor. 2 pounds.
Unknown Very Old Cheddar - this great find was an unmarked hard cheddar must be at least 6 years old because it's almost as hard and dry as parmagiano with a highly developed, deep nutty flavor, 1 pounds.
3rd Place Smoked Cheddar, Beecher Smoked Flagship - This great find was a long piece proudly displaying a winning ribbon but somehow managed to be overlooked by everyone else. It is a smoked version of Beecher's Flagship cheddar style cheese. 4 pounds.

Here are the cheeses we bought on the second visit (30 pounds, $20):
Unknown Organic Colby - Mild and smooth. 2 pounds.
Unknown White Cheddar 1 - Shaped like the Sears Tower, semi-firm. 2 pounds.
Unknown White Cheddar 2 - Young, soft, smooth and mild, with a milk or mozarella flavor. 3 pounds
Unknown White Cheddar 3 - Young, soft, slightly sharp. 3 pounds.
Unknown Orange Cheddar - Young, soft and smooth. 3 pounds.
Unknown Garlic White Cheddar - Very mild cheddar with very nice garlic flavor. 2 pounds.
Unknown Pepper Jack - This great find was carved to look like the Hancock Tower. The pepper flavor and the spicy kick were awesome. It was by far the most amazing and tastiest pepper jack I've ever tasted and puts the cheap stuff in grocery cheese plates to shame. I don't think Pepper Jack is usually highly regarded and due to it's large size, this was overlooked until the very end. 15 pounds!
So what do you do with 45 pounds of cheese? You share it! Ashley probably took home 15 pounds, Natatia bought about 10 pounds and various church goers bought about 5 pounds, leaving me with 15 pounds for myself.
Posted 07/27/2008 07:15 PM in Chicago, Food, Shopping | Total Comments: (1)
Link To This Blargh




Comments


Deep nutty flavor
Great haul there, man. The way I figure, I must like my cheeses like I like my women: sharp and nutty. ;-) Enjoy.
Submitted by Dan on 07/28/2008 11:00 PM





Add Comment