View Blargh


Uzbeki Food and Ice Cream in the NW Burbs


The northwest burbs are a haven for chain restaurants, but there are still plenty of local restaurants. Last week I decided to do a little exploration after some internet research. Some people bailed but I convinced Ashley to be adventurous.

Our first stop was Chaihanna for dinner. Chaihanna is an Uzbeki restaurant. Their food and decor reminded me of a cross between Russian and Middle Eastern cultures which makes sense since that region was once part of the USSR. Today Uzbekistan is located south of Kazakhstan and north of Turkmenistan and Afghanistan.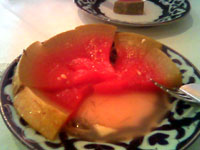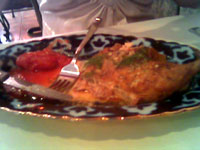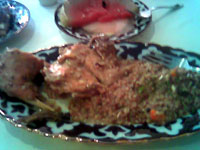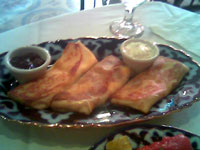 We ordered pickled watermelon, chicken tabaka, rabbit and cheese blintzes. The pickled watermelon tasted like a pretty strong pickle. If I didn't know it was watermelon, there's no way I would have known. The chicken tabaka was crusted with garlic and was very good. The rabbit with white "souse" (sauce) was good. It was very mild and tender. I don't think it tastes like chicken, but I definitely see how chicken is the closest thing you could compare it with. I believe it was served with kasha (buckwheat) but I did not really like it. It felt like tiny balls of half cooked potato. I would have preferred cous cous or rice.

Lastly, we had the blintzes and thought they were excellent with a very smooth cheese filling. They come with sour cream and strawberry jam on the side, but they were good enough to eat plain. I think those alone are worth returning for.


---

Afterwards, the hunt for dessert was on. First we tried out a couple Japanese bakeries. Both Mont Blanc Bakery and Bakery Crescent are in the same strip mall on Algonquin about 1/4 mile east of Mitsuwa. Mont Blanc specializes in cakes while Crescent has a larger variety of pastries and other bakery items. Unfortunately they both closed at 6pm so we were unable to try any.

Next we went to Coffee Haus a Korean cafe that serves bing soo (shaved ice) and also a Korean ice cream sunday with lots of toppings. We were surprised to see a large Korean family there with adult children and their parents. The sundaes looked pretty good, but we decided to search check out a genuine house-made ice cream company.

We ended up at Capanarri's Ice Cream and based on the line of customers we decided it was the right choice. All ice cream is made in small batches on site and they several classic and specialty flavors. Some of their special flavors at the time were Praline Pecan, Burgundy Cherry and Acai Berry Sorbet. If you can't decide, they offer an ice cream flight so you can try up to four mini scoops at a time.

I ordered the acai sorbet along with blueberry, praline and butter pecan ice cream. The acai sorbet was mild and tasty, but since I don't know what acai tastes like I can't give a good review. The blueberry ice cream was mild and creamy. The praline pecan was very tasty and had lots of pecans. After that the butter pecan didn't seem as good in comparison. Capanarri's has been mentioned in several ice cream books and proudly displays several celebrity photos with the owners. It may become our new northwest burb ice cream spot.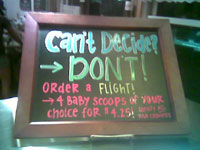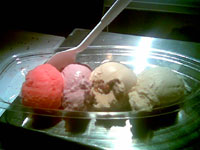 Posted 07/29/2008 09:54 PM in Chicago, Dessert, Food, Restaurants, Reviews | Total Comments: (8)
Link To This Blargh




Comments


HFItLcaBrtjMPf
comment2,
Submitted by kGCwCnoFLWRC on 10/04/2016 10:25 AM


GyWcEjnhdBiqu
comment2,
Submitted by nTyCeRLCMzVwhOLOeZ on 10/04/2016 02:01 PM


sauPxehFVVoGYXOqV
comment4,
Submitted by nTyCeRLCMzVwhOLOeZ on 10/04/2016 02:01 PM


vcilVALnPGMgCt
comment3,
Submitted by BdobXDLdqfA on 10/04/2016 04:51 PM


LLuyTsUyxOshmtFucE
comment1,
Submitted by ioQbcWUV on 10/04/2016 07:47 PM


OdUXeURDJY
comment2,
Submitted by cGthcHubV on 10/04/2016 10:43 PM


BEHQywRxeZtnb
comment1,
Submitted by KqOgoRJaO on 10/05/2016 01:13 AM


SwVNiVGIbx
comment3,
Submitted by ptDowZtd on 10/05/2016 03:14 AM





Add Comment