View Blargh


BMW Ultimate Drive
I guess it's been two weeks since my BMW Ultimate Drive and I'm finally talking about it. The first car I drove was the Alpina B7 with an MSRP of $115,000.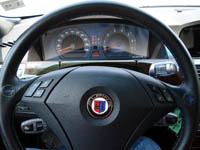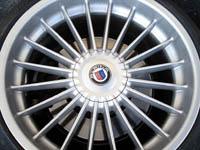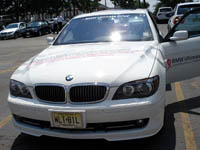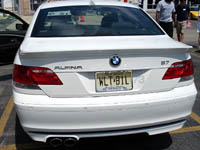 Personally, I didn't like the B7. It wasn't a bad car, but it's definitely luxury focused as opposed to performance focused like the M cars. The supercharged 500HP B7 has great acceleration and takes corners extremely flat and smoothly. The problem is that it's TOO smooth. There is little road feedback and it's no fun taking a corner fast if you can't feel it.

Also I did not like the transmission. If you look at the steering wheel, it does not have paddles for shifting. Instead it has little lumps on the back under the leather that are shift buttons (behind the + and - symbols) but unlike the SMG found in M series, it's a very slow (albeit smooth) transmission. Of course you can use full auto mode if you want. The other bummer is that there is only one change you can make to the driving system which is to turn of the Dynamic Stability Control (if you can figure out the iDrive). While turning off the DSC isn't bad, there is no option to turn off the Traction Control System. If I had $115K to spend, I would definitely go for a M5 or M6, especially after driving the next car.

After the B7, I drove the 650i convertible which I thoroughly enjoyed, even though it wasn't an M series. The convertible was very nice and lots of fun. The body was tight and responsive with good road feel and a nice fast, responsive transmission. Pressing the DSC button turns off the DSC but leaves the TCS on, just like the B7. However, in the 6 series, you can hold down the DSC button for 5 seconds and shut down the TCS as well, making this car a blast in the corners. Now, choosing between a 650i convertible and a M6 would be a tough choice... more sun or more power?

The one downside to this was choosing Patrick BMW in Schaumburg because all the roads in the area are straight and flat. The route I took was Golf to Higgins to Barrington to Algonquin to Meecham to Golf. Field's BMW near Northbrook has some curves and a nice highway on-ramp so its a much more interesting route, but oh well, it was worth it for being able to try the 650i and B7.

Oh, and here are a couple pics of the new X6 "Sport Activity Vehicle." This is the official Susan G. Komen X6 which volunteer and contributor signatures are proudly displayed.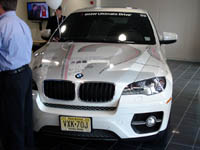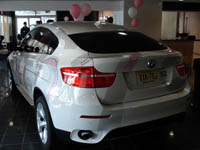 Posted 08/06/2008 09:54 PM in Cars, Pictures, Reviews | Total Comments: (0)
Link To This Blargh
Comments
No comments for this blargh.
Add Comment