View Blargh


Crepes
I thought I talked about my crepes but apparently not. After the blintzes at Chaihanna, Ashley wanted more stuffed crepes. She had a surplus of over-ripe peaches so she gave me a bunch so I could make sweet crepes. Of course, you can't make sweet crepes and not have savory crepes first.

My inspiration was The Magic Pan at Frontenac Plaza in St. Louis which closed in the mid 90's. I always loved their St. Jacques mushroom crepes and have thought many times about how to re-create it. I still haven't figured it out, but I did manage to make a decent alternative: mushroom, spinach and aged cheddar crepes (left picture).

For the sweet crepes, I made what I am calling Peaches and Molasses Cream Crepes with Grand Marnier sauce and Creme Fraiche. I was very happy with the result but will need to make it again to get the recipe right.

The creme fraiche is made from heavy cream and buttermilk. The base for the filling was sour cream mixed with brown sugar (molasses is what makes it brown). Then I blanched, peeled and sliced the peaches. These were simmered in a sauce of white grape juice, Grand Marnier and brown sugar until tender. The peaches were then removed, cooled and drained before mixing with the sour cream and used to fill a crepe. The remaining sauce was reduced to half then enriched with fresh Grand Marnier and butter and then flambed. Finally the crepes are drizzled with the sauce and topped with the creme fraiche.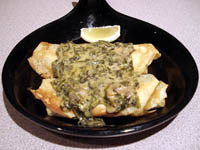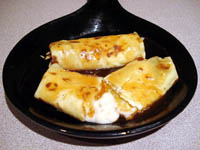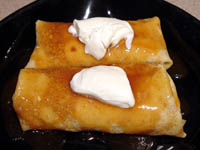 Here's a quick vid of the flambe, but it's not that special.
Posted 08/03/2008 08:58 PM in Cooking, Food, Videos | Total Comments: (0)
Link To This Blargh




Comments


No comments for this blargh.




Add Comment