View Blargh


Random Ramune
Ramune is a Japanese children's soda. I can't really describe the flavor except that it is quite artificial tasting. The biggest gimmick for Ramune is that instead of a cap, it is sealed from the inside with a glass marble.

To open it, it comes with a small plastic plunger that you place in the bottle opening, then hit with your palm to push the marble into the bottle. It's a little more fun if you shake the bottle vigorously first. The bottle is specially designed so that the marble doesn't fall to the bottom but is held in the neck. There are even special dimples added to hold the marble while you are drinking so it doesn't block the opening.

In recent years, Ramune has grown in popularity on the international market spurring the development of more flavors, primarily fruits, and more companies. However, I found this display of special "shocking" flavors at Mitsuwa a couple weeks ago. The flavors are: Green Tea, Curry, Annin (almond jelly) and Wasabi.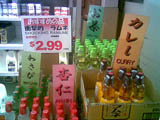 Posted 09/03/2008 09:04 PM in Food | Total Comments: (1)
Link To This Blargh




Comments


Ramune randomly popping everywhere...
So guess where I saw Ramune advertised this week? In the Sunday circular for World Market for $1.79 a bottle. The front-page description reads: "Ramune Japanese Sodas / Japan is wild over these fruity, fizzy sodas. Each bottle is sealed with a glass marble that pops into the neck when opened, creating a refreshing fizz. Try all 3 flavors: original, strawberry and lychee. 6.76 oz." ("Experience the latest craze from Japan!")
Submitted by Dan on 09/08/2008 05:32 PM





Add Comment