View Blargh


10/09 - Santorini
Sorry it took so long to post these...

Jump to the pictures.

Background
Santorini was once a large island but after a volcanic explosion, the island collapsed, leaving a caldera with five islands. The main island on the eastern edge of the caldera is Thera, but many people simply call it Santorini. The second large island, on the western edge of the caldera is Therasia. In the center are two small islands created by magma flows: Nea Kameni and Palea Kameni. To the southwest is the smallest island, Aspronisi. BTW, it was this volcanic explosion which generated a tsunami at least 100 meters tall and is attributed for the destruction of Knossos and the Minoan civilization.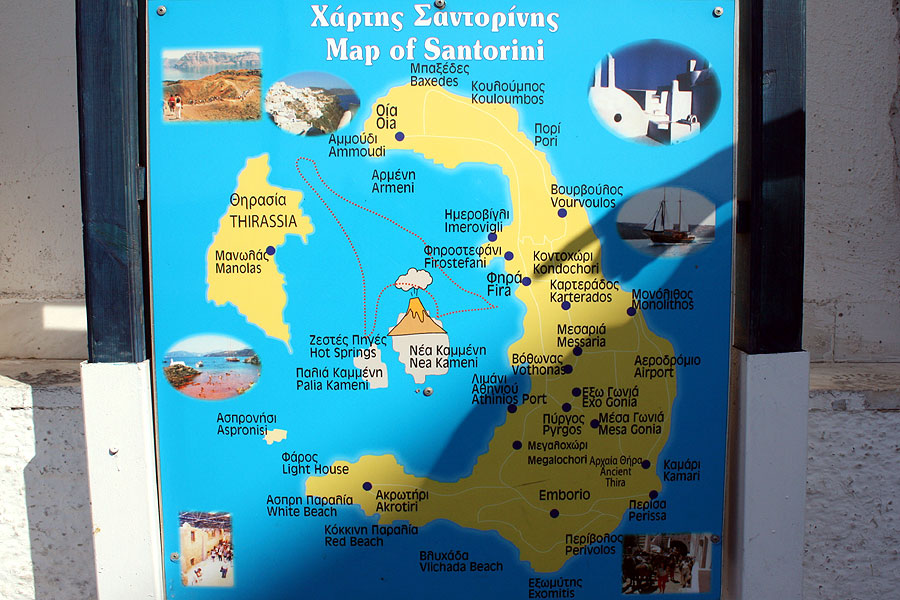 Morning
Our day started with a volcanic hiking tour to Nea Kameni, but first we had to get there. The port of Fira in Santorini is quite small so the ship had to simply weigh anchor off shore and use tenders, small transport ships, to ferry passengers to shore. During the morning, people who want to go ashore have to get a ticket for a specific tender, but since we were on a tour, we automatically got our own tender.

Nea Kameni is made primarily of volcanic rock. The island is quite beautiful in it's own special rocky way and there were several beautiful views. The island is still active with fumeroles and steam vents and three lava flows in the 20th century (the last was in 1950). After the hike we returned to the boat and sailed by the hot springs at Palea Kameni.

We returned to the ship to freshen up before hopping on a tender to Fira where we decided to take the donkeys up the switchbacks. The donkeys turned out to be 5 euros when the cable cars were only 4, but oh well, it was an experience. The main problem with the donkeys was the smell. They looked a bit greasy but even worse, there was manure everywhere. The entire way up the switchbacks, it was as if the cobblestone was grouted with dung.

I think that donkeys are probably at the bottom of the intelligence scale for beasts of burden. Unlike camels and horses which generally follow each other and stay relatively ordered, donkeys just sort of go wherever they happen to be pointed. When the guides yell at them, they just speed up and push on whatever happens to be in the way, whether it be other donkeys or an unfortunately pedestrian that decided to walk up or down the switchbacks. The donkeys didn't seem to have any qualms smashing my feet against the walls (luckily the stirrups were metal) or squashing pedestrians.

Afternoon
For lunch we decided to find a nice bakery to buy some snacks and then find a cafe with a view to sit and relax. The walkways of Santorini are very hilly and curvy so we wandered around quite a bit before finding a nice bakery with tons of selection. Unfortunately, I have no idea where it was.

After that we headed back where we came from and chose one of the dozens of restaurants with "the best view." It was a nice cafe but like many of the "nice view" restaurants, it was absurdly priced. My sister ordered a Greek fava spread, but it was not like hummus like I expected. It tasted more like a bean spread with olive oil. Personally, I was not a big fan, though my sister liked it. My cappuccino fredo (iced) was tasty but way too small. My sister's frappe with ice cream was good too, but alas, with a bottle of water, the bill came to over 20 euros, which is about $30.

After wandering around more looking for churches and various shops it was about time to head back to the boat. We had passed a few wonderfully smelling gyro restaurants for reasonable prices so we decided to get a couple to go and bring them to the ship. After walking down the switchbacks and not getting smashed by any donkeys, we arrived back at the port where we found out that the ship is pretty strict about not bringing food on board. My sister found a bench and ate our gyros which we both agreed were the tastiest we had so far.

Evening
We returned to the boat, got cleaned up then had a simple quick dinner at Blue Lagoon (the only 24 hour restaurant with a focus on comfort foods) after which we met up with our parents to play Mah-jong. I won a whopping 5 games in a row while I was dealer, unfortunately I started fading fast as I had developed a fever. I think it was from over-exerting myself with all the hill climbing on Santorini.

10/09 pictures are here.
Posted 11/11/2008 00:03 AM in Food, Greece, Pictures, Restaurants, Reviews, Travel | Total Comments: (0)
Link To This Blargh




Comments


No comments for this blargh.




Add Comment