View Blargh


10/10 - Mykonos
Jump to the pictures.

Mykonos is another beautiful Greek island, but unlike Santorini, it's pretty flat. It has similar winding streets that are described as "labyrinthine" and all walls are kept meticulously white. You can easily get lost in the city because of all the little paths that all look the same. The city has a night life as well and you can see that some stores and restaurants don't even open until the afternoon. Mykonos is particularly famous for two things: the windmills and Petros the pelican.

After another buffet breakfast, the whole group debarked and headed south from the port, then around the harbor to the west (map). My mom wanted to visit the island of Delos, but the ferries at the west end of the harbor only leave in the morning and we were too late.

While walking along the harbor my dad and I found that several stores sold cigars, including Cubans, which were proudly advertised. I'm not sure why Mykonos would sell Cubans and not other Greek isles, but we decided to buy some for fun. Prices varied widely, ranging from 12 to 20 Euros for a brand my dad says is famous (don't remember the name). We assumed that the stores along the harbor would be the most expensive, but the cheapest place we found also happened to be on the harbor at the west end. Several stores were sold out and since we are not cigar aficionados, we decided to buy a cheap Cuban to try. We never had a chance to sit down, relax and try it so I'll actually be trying it over Thanksgiving.

The group decided to separate so my sister and I picked a narrow street heading south west and quickly got lost (in a good way). We wandered around looking at shops and restaurants and exploring the maze like paths, taking time to snap some pictures of the narrow streets. We found some great restaurants on the western shore with tables just inches from the Aegean.

As we continued on our way we discovered the windmills at the southwestern side of the city. We hadn't been looking for them so it was quite a pleasant surprise to find them. My sister discovered that some of them are inhabited to this day! Looking back towards the city over the Aegean, we could see the restaurants we had just passed and saw them being batted by waves as the wind was picking up.

We headed back north east to explore more and found a few bakeries where we bought a few snacks including a spinach cheese pastry and some rice pudding. I asked for loukoumades but no one had them so I pretty much gave up. Then we headed back to the harbor to meet the rest of the group. At this point we were a little lost so we just headed in the direction of the sea was in and used that as our guide to get back.

Once the group was together again, we went to find the bus to Ornos beach. We asked a small shop where the bus station was and he said just up the hill to the left. We walked five minutes up the hill and to the left, then stopped to ask another person who said just up the hill. We repeated this about 3 more times before we finally found the bus stop (it was more like up the hill with 4 lefts and 4 rights).

We stopped for lunch along the way and picked up some gyros along with some fried fish and tomato keftedes (stuffed with rice). I was designated the coordinator and let me tell you that ordering lunch for 15 Asians in a Greek restaurant is a pain. The gyros only cost 2.5 Euros each but the meat was a bit salty and the pita a bit dry. Definitely not as good as the ones in Santorini. The fried fish was nice and fresh but had a ton of bones. It probably would have been more enjoyable if I was sitting down and could take my time with it, but we were standing in the street trying to share it quickly and that wasn't easy.

We finally found the bus stop. We bought tickets at a kiosk at the corner of the square and were lucky enough to be right on time for the hourly bus. At the beach we claimed some public beach chairs. One funny thing was the reed umbrellas which looked nice but were at the perfect height to hit with your head repeatedly. Watch your eyes, those reeds hurt!

We finally had a chance to sit and eat our tomato keftedes but I was a bit disappointed. After reading how great the tomatoes in Greece are supposed to be (though Santorini is supposed to be the best) these tomatoes seemed kind of bland. They weren't very tomato-ey (much like the ones you find in an American grocery store) and the filling wasn't very special. I think a little salt would have helped a lot.

After eating, we decided to play in the sand a bit with Tiffany and Daphne and we built several sand sculptures which got more and more detailed with every next project. After that we headed back to the "bus stop" which was just a flooded parking spot with a sign, purchased tickets at a kiosk across the street and waited for the next bus.

After arriving back we found some large octopus tentacles being hung to dry and a stone wall that I had seen being white washed a few hours earlier. I asked Daphne, who was wearing a bright pink sweater, to stand next to it so I could get a picture. Unfortunately it hadn't dawned on me that the newly white washed wall probably wasn't dry yet so she ended up with a little paint in her hair. Oops!

Next we found a gelato place called Pagato Mania which claims to make their own using fresh Greek milk. The large number of flavors was amazing and my scoop of dark cherry was excellent! After that we separated with the group again to wander the streets some more. We saw some awesome sea food on display including a giant tiger prawn, clams and urchin.

My sister also found a pelican! It turns out there are actually three pelicans in Mykonos (Petros, the original, died in 1986). It was quite large and was curled up because of the cold winds so at first we thought it might be fake. As we approached it, it's eyes opened and followed us but that's the only movement we detected in the five minutes that spent taking pictures.

Being the last day in Greece and with just an hour or two left, we decided to find a nice cafe and just relax and watch the sea. While looking at a couple cafes, I noticed a small sign at Gelarte cafe that said loukoumades. I hadn't noticed it before because it was only written in Greek. We went inside and discovered that this cafe makes them fresh while you wait so we quickly placed an order, informing the owner that we had been looking for loukoumades all over Greece.

We watched the woman drop batter into the deep fryer and cook the little donuts. One order had 12 but the lady accidentally made 13. Unfortunately, she threw the extra one away. :( After draining them, she placed them on a place and drenched them in honey, followed by ground walnuts and powdered sugar. They were absolutely delicious! Warm and crispy on the outside, hot and tender on the inside. There could have been more walnuts and less honey, but they were still excellent.

After relaxing for half an hour, we decided to head back to the ship. On the way we stopped at Mandarini bakery which had all sorts of delicious little pastries, but I was quite full so I saved them for the following day. Back at the ship we freshened up and watched the sunset.

I like these two pictures because they kind of look like fire, but they're actually sunlight coming through the edge of a cloud at sunset.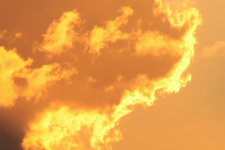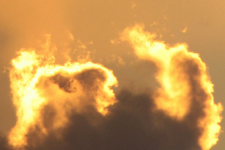 We decided to have a light dinner and elected to finally try the dinner buffet. Of course, light dinner and buffet are complete contradictions so that didn't work out so well. For the first time I discovered the pasta bar and invented my own pasta which took some effort since the pasta cook doesn't always know what you're trying to do.

My recipe was farfalle pasta with capers, garlic, tapenade and sundried tomatoes with pink sauce. The main problem is that the pasta chef uses too much sauce so I went back for a second bowl of the same pasta, but this time I instructed him to use the red sauce pan, but to add no additional sauce. The result was a nice pasta with lots of stuff but just a hint of red sauce. I mixed this with my pink sauce dish and the result was exactly what I wanted, a very light red sauce with just a touch of cream but lots of tasty bits.

After that I was full but went to the dessert bar anyway and ended up filling up a plate with coffee cheesecake, blueberry cheesecake, pumpkin pudding and peach cobbler which I took to my room and didn't eat until the following morning. None of them were spectacular, but the coffee cheesecake was pretty tasty.

10/10 pictures are here.
Posted 11/22/2008 05:06 PM in Food, Greece, Pictures, Restaurants, Reviews, Travel | Total Comments: (0)
Link To This Blargh




Comments


No comments for this blargh.




Add Comment