View Blargh


Fording the Mississippi-Missouri River System
Since I have my STi down in St. Louis, I figured I'd venture out toward winery country and check out the curvy roads in the area with my sister. This time I checked out Google maps first and plotted a nice curvy looking route.

Much to my surprise, Callaway Fork Road turned out to be a very small gravel road. There were only a few small houses on the road. Not far down the road, we hit a slight snag. A large stream (incidentally called Callaway Fork, which eventually connects to the Mississippi-Missouri river system) went right over the gravel road for about twenty feet. It appeared that a slab of concrete had been laid about four inches beneath the surface so I went ahead and forded it without a problem.

After a scant 1/8 mile or so, the stream crossed the gravel road yet again. Why the builder of this simple gravel road chose to cross the stream twice in such a short distance is beyond me. This time the water looked deeper, perhaps six inches and it looked like loose pebbles on the bottom, but closer inspection revealed that there was a concrete slab under the pebbles so we braved that as well.

We continued for another mile until we discovered yet another section where the stream flowed for 30 feet over a concrete slab 8 inches deep this time. Having driven a Legacy Outback through at least 18" of water before and knowing where my air intake is located, we forded that as well without incident.

It was around here that we got stuck behind a couple of dump trucks. From this point on, we hit the stream five more times but three times there was a small concrete overpass instead of a slab and two times it was a mere two feet across and two inches deep. No problem. Apparently the gravel road is used primarily for quarry trucks and someone purposely laid concrete slabs and bridges as necessary to allow them to pass through.

After that we returned to paved roads and the rest of the drive along the Katy Trail to the wineries near Augusta was spirited and fun. Unfortunately, my car is now filthy from fording the streams and driving on gravel. The bottom half of my car is basically white now...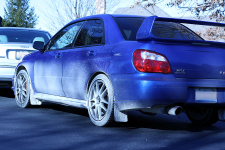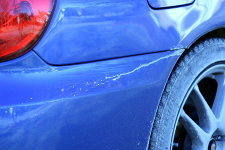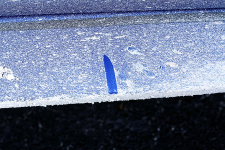 Posted 12/31/2008 03:43 AM in Cars, St. Louis, Travel | Total Comments: (1)
Link To This Blargh




Comments


1
1
Submitted by 1 on 02/27/2017 03:00 AM





Add Comment