View Blargh
Car DIY Weekend: TurboXS Short Ram Intake and Turbo Back Exhaust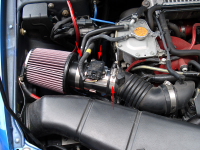 TurboXS Short Ram Intake

It's been quite a while since I've done a DIY car project. If you remember, I purchased a TurboXS User Tunable Engine Computer (UTEC) for my STi which I installed over 4 years ago (wow, has it really been that long?). The next step in my plan for my STi was to get it to Stage 2 but the condo and new car delayed that. However, paying off my Forester last month helped out my budget so I can restart my plans.

My project over Labor Day weekend was the installation of a TurboXS Short Ram Air Induction System and also a TurboXS Titanium Tip Turbo Back Exhaust with high flow catalytic converter. The project took twice as long as expected because everything was horribly corroded from 5 years of Chicago winters.

I spent Friday night under the car until 11pm trying to remove the old parts. I had several stripped bolts and one was so bad that Saturday morning I had to cut it out with a Dremel (flash backs to my Accord exhaust). The rest of Saturday went fine but I was extremely tired and sore from sliding around on concrete for two days.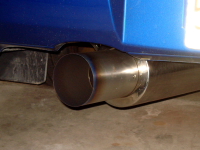 TurboXS Turbo Back Exhaust

After finishing the installation, I still wasn't done. After four years my UTEC was badly out of date and needed updates. I bought a USB-to-Serial adapter to connect and update the firmware but it failed. There was no help on-line and the tuner was closed but after playing with settings it eventually worked. I started the car only to get a flashing SRS (airbag) light and Check Engine Light (CEL a.k.a. malfunction indicator light or MIL). I was pretty freaked out only to realize that I hadn't uploaded any updated engine maps. After that everything finally ran peachy keen, just in time to meet up with my friend Annie and her parents for dinner.

After dinner I finally gave the car a test run. I definitely felt an increase in power, but the most surprising thing was just how loud the car is, way louder than the Accord which was borderline obnoxious. Oh well! The other thing I noticed was a tremendous rush of air and I thought I had forgotten to connect something. Then I realized I was hearing the sound of the turbo spooling. When I lift up on the throttle, I also hear the sound of releasing air pressure from the bypass valve, which is so loud it almost sounds like a blow-off valve. Sweet.

Now I just have to be careful that I don't blow up my engine as a result of boost creep from the new downpipe...
Posted 09/13/2009 09:01 PM in Cars, DIY, Ramblings | Total Comments: (2)
Link To This Blargh




Comments


uaMrGZoOVbbGSShXaQu
That's the best anwesr of all time! JMHO
Submitted by iUrQBazKnwmVi on 04/21/2011 11:35 PM


1
1
Submitted by 1 on 10/13/2017 02:10 AM





Add Comment