View Blargh


My Second Motorcycle Story
I wrote this a year ago and forgot to post it!

I posted a lengthy story about my first motorcycle two years ago. Now it's time for a lengthy story about my new motorcycle, but first, what led me to getting a new one in the first place.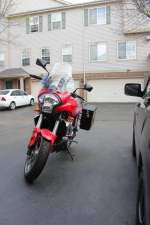 The Kawasaki Ninja 250 I had before was a great learner bike: moderate power, low weight, good maneuverability and low cost. However, my older 2001 model had a few issues that detracted from my enjoyment.

The first issue I had was an old battery (10 years). As a beginner I stalled the motorcycle several times which drained the battery and old batteries don't handle that well and start to lose the ability to hold a charge. Pretty soon it had trouble starting.

I purchased a battery charger to keep the battery fully charged but it ran rough and the carburetor required a lot of choke until it was fully warmed up. This was probably because the old battery couldn't provide consistent voltage. This made stalling a common occurrence, which is not good when you have trouble starting. The battery was on its last leg and couldn't hold a charge. It left me stranded me a couple times too, requiring me to call friends to jump start me or rely on random strangers with enough heart to help me.

I finally got a new battery which greatly improved the reliability of the motorcycle, but by that time the riding season was almost over and I had to winterize it and put it in storage (in my living room).



Then I went to Japan again in August and didn't ride it for another month. The gas left in the carb gummed up and when I finally got back to riding in September, it was running extremely poorly and it stalled a lot. I used Sta-Bil and carb cleaning gas treatment over a couple weeks before running it hard for several miles and finally the motorcycle was back to normal, but by this time it was almost the end of riding season again.

The final issue was such a moderately powered and light bike, while extremely nimble and maneuverable, did not feel very stable on the highway, especially at high speeds on a windy day. I knew it could handle it from the previous owner but I just didn't feel that comfortable, especially when it was windy. So I started looking for a newer motorcycle to upgrade to. After looking for a while, I decided on a Kawasaki Versys, which is similar to a Ninja 650R, but tailored as a half-touring, half-sport bike with more low end torque and softer suspension.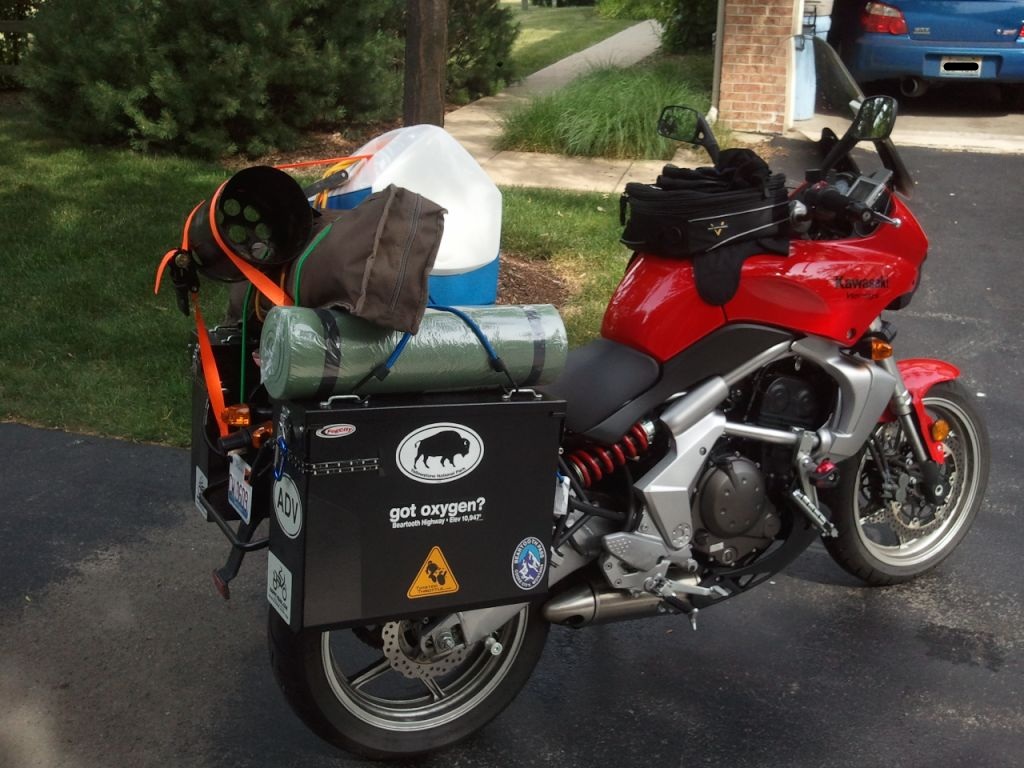 I visited the local dealer and found one that I liked and that even came with aftermarket accessories that I wanted. However, the price tag was high, at $5999. Since it was still fall, I was in no rush and left.

A few months later, I decided that the best way to part with the 250 was to donate it to Willow Creek Community Church which has a car repair ministry and could sell it for me as a tax write-off. It was still winter, but I decided to look around for deals in the off-peak season.

I returned to the same dealer and found that they still had the Versys that I liked, except this time it was $4999, which was a fair price, but still higher than I wanted. I talked to the sales woman and came right out and said, "I'll take it for $4500 if you can do layaway."

She went to do some math and said she couldn't do it, but then the manager walked by and she asked him. He said, "I can do it for $4500 but only if you pay in full." I said I could pay in full if they would store it for the rest of winter and let me use a credit card. And so, we had a deal.
Posted 04/02/2013 09:09 PM in Motorcycles, Ramblings | Total Comments: (3)
Link To This Blargh




Comments


1
1
Submitted by 1 on 08/04/2017 02:06 AM


1
1
Submitted by 1 on 11/30/2017 03:09 AM


1
1
Submitted by 1 on 01/13/2018 03:02 AM





Add Comment