Blargh Archive for




To view past blarghs, simply select the month or year you would like to view on the left and click "go." If you are searching for a specific word, enter the word and the year you think it was mentioned on the right and click "go."


Chorizo Stuffed Dates
This recipe was inspired by various tapas restaurants I've been to. Chorizo stuffed dates are delicious and pretty simple so why don't we see these more? If it's because people need a recipe, I'll fix that right now with one I made up at the grocery store.

Ingredients
24 Pitted dates (1-1.5" long, typical store bought, fewer if you can find big restaurant ones)
1 Chorizo sausage (1/3 lb, or substitute spicy sausage of your choice)
8 strips bacon (1/2 lb regular or 3/4 lb thick cut [preferred], hardwood smoked would be nice)
1/2 cup tomato sauce (I used homemade ketchup)
Instructions
Trim bacon if desired, cut each strip into thirds
Remove casing from sausage, use small knife or spoon to stuff ~ 3/4 tsp sausage into center of dates.
Wrap each stuffed date with a piece of the cut bacon
Arrange dates on cookie sheet and spoon ~1 tsp tomato sauce on top of each (or spread sauce first and place dates on top)
Bake dates at 375 until sausage is done (20-30 min)
Arrange dates on plate, pour accumulated juices over top and serve.
Posted 09/01/2010 07:50 AM in Food, Recipes
Link To This Blargh | View/Add Comments (14)
---

Lo-Mein Recipe for 100
Ingredients
10 pounds Cantonese noodles or similar pasta (spaghetti)

12 (14.5 ounce) cans chicken broth
1 cup sesame oil
4 tablespoons black pepper
1 cup white sugar
3 cups rice vinegar
6 cups soy sauce
4 cups Oyster sauce
2 large fresh ginger roots, cut into 1/4" slices
4 heads garlic, separated into cloves and lightly crushed
2 pounds green onions, halved
8 ounces cornstarch

1/2 cup vegetable oil
1 head garlic, minced
1/2 pound green onions, cut into 2" pieces
8 pounds tofu, cubed
5 pounds mushrooms, quartered
4 pounds (about 12) Peppers, chopped
4 pounds Broccoli, chopped

Directions
Day before:
Noodles
- Cook the noodles, remove from water, rinse until cool
- Distribute into trays, cover with foil and refrigerate.
- Reserve hot water for boiling vegetables

Sauce
- Combine chicken broth, sesame oil, black pepper, sugar, vinegar, soy sauce, oyster sauce, ginger, garlic, and green onions.
- Bring to boil, then let simmer 30 min
- Remove ginger, garlic and green onions, allow to cool partially before refrigerating.

Vegetables
- Boil reserved pasta water
- Chop tofu and veggies
- Mix garlic and vegetable oil
- Boil peppers and broccoli, 3 minutes. They should be undercooked.
- Remove peppers and broccoli and let cool.
- Heat 1-2 tbsp garlic oil and stir fry mushrooms and green onions
- Refrigerate vegetables.
- Heat 1-2 tbsp garlic oil and stir fry tofu in batches (non-stick pan recommended)
- Refrigerate tofu.

Day of:
- Pour 2 cups sauce into the vegetables and bring to a simmer over medium heat. Turn off.
- Make a slurry by mixing 2 cups of sauce with corn starch in a separate container, set aside.
- Bring remaining sauce to a boil
- When sauce boils, pour 1 cup sauce over cold noodles to warm and loosen up, mixing by hand is most effective.

If you need to wait until serving time, you can stop here for 1-2 hours max.

30 min before:
- Stir slurry until smooth, then add to sauce, bring to boil then simmer 2-3 minutes until thickened.
- Warm vegetables again.
- Toss noodles with vegetables (by hand is most effective)
- Pour 1-2 cups sauce over noodles and stir (with a utensil now as it will be too hot)
- Serve while hot.

Posted 03/29/2010 10:46 PM in Cooking, Recipes
Link To This Blargh | View/Add Comments (16)


---

Merlot Pear Crumble Recipe
One of my favorite dishes from the dinners I've cooked this year is the Merlot Pear Crumble. It's actually a combination of a Merlot Poached Pear recipe from About.com and a Crumble Topping recipe from RecipeZaar. A full version of the recipe is available here (pictures coming soon) otherwise here's a quick text version.

Merlot Pear Crumble
Ingredients:
4-6 Pears (recommend Bosc or Anjou)

Wine Sauce:
1 1/2 cups red wine (recommend Zinfandel, Shiraz or Merlot)
3/4 cups of granulated sugar
Zest from 1 lemon (remove zest with peeler)
Juice from 1 lemon (juice lemon after removing zest)
2 tsp vanilla
2 sticks cinnamon (or 2 tsp ground)
12 cloves
1/4 tsp salt

Crumble Topping:
6 tbsp butter
3/4 cup brown sugar
2/3 cup flour
2/3 cup oats (any type but instant)
1/2 tsp ground cinnamon
1/4 tsp salt

Instructions:
Pre-heat oven to 350. Mix sauce ingredients in a large pan and simmer over medium heat.

Meanwhile, peel pears, cut in half and remove seeds and fibrous core. Place pear halves in the simmering sauce.

Lower heat and simmer pears, covered, for 8-10 minutes per side, until tender.

Meanwhile, make the crumble topping. Mix brown sugar, flour, oats, cinnamon and salt in a bowl.

Cut butter up into small cubes and drop into crumb mixture. Using your hands, coat the butter with the crumbs, then smash each piece of butter once between your fingers. Continue mixing in this manner, smashing only large pieces of butter. Do not overmix, there should still be small but visible (1/8") lumps of butter. The mixture should still look dry and crumby, not doughy. Keep in refrigerator until the pears are ready.

Remove cinnamon sticks, zest and cloves from sauce (it's ok if you don't get everything). If your pan is oven safe, cover pears with crumb topping. If not, transfer pears and sauce into a 9x9 or 9x13 baking dish (depending on # of pears) and cover with crumb topping.

Bake pears at 350 for 20-30 minutes until crumb topping is crispy and sauce is bubbling.

Serve with whipped cream or ice cream.

Note: If desired, you can let the pears marinate in the wine sauce overnight to let the wine penetrate deeper. Then simply add the crumble and bake when ready.
Posted 01/21/2010 10:17 PM in Cooking, DIY, Food, Recipes
Link To This Blargh | View/Add Comments (1)


---

Reflections on Dinner
Dinner on Saturday was pretty good. Here is a PDF of the menu that I finally settled on.

Friday I shopped and prepared a couple things, specifically the English Summer Pudding and the pasta dough. Saturday started at 6AM when my house keeper came to clean and my cooking prep started at 7AM. I also had to step out to go shopping to pick up the freshest seafood I could. Here was my schedule:
Time - Recipe - Task
7:00 - Pasta - Make Pasta
9:00 - Shopping
11:00 - Misc - Mise en Place
11:30 - Clams - Wash
12:00 - Puffs - Make Batter
12:30 - Hollandaise - Make
1:00 - Pancakes - Make Compote
1:30 - Pancakes - Make Batter
2:00 - Salmon - Make Filling
2:30 - Pancakes - Beat Egg Whites
3:00 - Mushrooms - Sautee Mushrooms
3:15 - Duck - Poach Gooseberries
3:30 - Pancakes - Cook Pancakes
4:00 - Duck - Make Sauce
5:00 - Puffs - Prepare Batter
5:30 - Pasta - Boil Water
5:45 - Puffs - Bake
6:00 - Salmon - Make Parcel
6:15 - Duck - Score & Season
6:30 - Clams - Steam
6:30 - Duck - Render
6:30 - Salmon - Bake
6:45 - Mushrooms - Cook Pasta
7:00 - Clams - Cook Pasta
7:00 - Duck - Fry Duck
7:15 - Duck - Bake
7:30 - Duck Greens - Wilt
8:00 - Pudding - Whip Cream
This was a busy and tiring day, but it gave me some good experience in budgeting my time and also in juggling a lot of tasks. For the first time, I used just about every kitchen gadget I have, except for my can opener (that's a good thing!) Here's a partial list of various gadgets and cooking tools I used (not including the mundane stuff like spatulas):
Almost every pot and pan that I own
Every mixing bowl that I own
Every baking sheet that I own
Food Processor
MicroPlane
Salad Spinner
Pasta Maker
Electric Hand Mixer
Citrus Reamer
Piping Bag
Spider/Sift
Knife Sharpener and Steel
Mortar and Pestle
Spice Grinder
Scale
Pastry Board, Rolling Pin, Pastry Brush
I got a lot of compliments, more than usual, but honestly I'm still a bit disappointed in a few things. I'm glad people enjoyed it, but I'm always learning more and hope that I'll continue to get better. Here are the things that bugged me:
Mushrooms - Caputo's let me down as the crimini, button and portobella mushrooms they had were all sub-standard. Whole foods had better ones but at an outrageous cost that I couldn't justify, hence I ended up with the Japanese mushroom mix from Mitsuwa that didn't end up tasting the way I wanted
Duck - This was by far the most expensive single item and it was a lot of trouble tracking down a store that had them in stock (Meeske's Prime Meats in Barrington). I asked for 8 but they could only find 4, but when I looked at the price, I decided that 4 was enough. Next time I should just buy whole duck (frozen at Whole Foods or fresh from Chinatown) and butcher them myself. Then I could render out the fat and make duck fat fries too. Also I left these in the oven too long so they came out medium-well instead of medium-rare.
Currant Sauce - This was supposed to be gooseberry sauce but I couldn't find any. Luckily Caputo's had white currants, which even Whole Foods didn't have. Alas, I used an old Smoking Loon Cabernet as a base for the sauce and didn't really like it. I also used a Turkish honey with heavy floral notes that I thought ended up too pronounced in the final sauce. My guests said they liked the sauce but I have to say I really did not.
Gougeres - This is a new version of this recipe and I thought they came out a bit pasty and not cheesy enough. I might have to develop a hybrid with the other recipe I've used
Mint Hollandaise - I used EVOO instead of regular OO or butter. I felt the olive flavors were a little too strong and interfered with the egg and mint flavors
Rhubarb Pancakes - I'm annoyed at my fridge b/c it doesn't get cold enough so the ice cream was way too soft
Summer Pudding - I used Shoku white bread from Pastry House Hippo with is extremely soft, but perhaps too soft for a pudding. I should have gotten their Danish Bread which would have held up better and added some more flavor, like the Brioche that Gordon Ramsey suggested as an alternate.
Belgian Endive (Chicory) - Apparently these are pretty bitter and sauteing them didn't change that
Of course, there were also some good things:
Whole Foods' seafood department was very helpful. They suggested Manila Clams which are smaller than what they had in stock and offered to order some up for me, which I did. They also recommended wild caught salmon which they consider better and cheaper as well.
Tom's Farm on Lake (Route 20) in Hanover Park had the most amazing ripe strawberries. When I brought them home, my car and my kitchen were filled with the most lovely smell of fresh, ripe strawberries
Despite over-cooking the duck breasts and using an extremely simple spice rub (salt, pepper, red pepper flakes) it came out delicious. Next time I'll get a whole duck which should be cheaper and much more versatile.
I'm very happy with the egg pasta recipe from Gordon Ramsey and thought it turned out quite well. I made 2 Kg of pasta and only used one for the dinner so I have a good amount left for future use
With the leftover arugula, basil, parsley, Parmagiana Reggiano and some almonds I had in the closet I made a tasty pesto sauce, perfect for my leftover pasta
So, it was quite a busy and tiring weekend but it was good I'm glad my guests enjoyed themselves.
Posted 08/17/2009 10:07 PM in Cooking, Dessert, Food, Recipes, Reviews, Shopping
Link To This Blargh | View/Add Comments (13)


---
Cheesy Tuna Crunch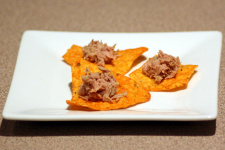 Ok, I have to admit that the title makes this sound fancier than it is, but it's such a simple and tasty snack that it deserves a fancy name that will make it sound as good as it tastes. I learned this "recipe" from one of my sister's friends when they were in high school (early 90's). It's a quick and easy snack that might sound a bit odd, but if you think about various incarnations of tuna noodle casserole, it's not that far off.

So what's the recipe? It's easy. Tuna packed in water with Nacho Cheese Doritos. That's it. You don't even need a plate. Just pop open a can of tuna and use the Doritos as a spoon. The crunchy corn and cheesy flavor actually goes well with the tuna. And if I may be so bold, I would like to confidently say that most flavors of Doritos should work equally well.
Posted 11/12/2008 10:26 PM in Food, Recipes, Snacks
Link To This Blargh | View/Add Comments (10)


---
Cheese Recipe #2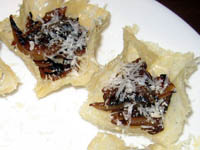 I mentioned these French Onion Cups in June when I invented this dish for a dinner party at Natatia's (pictures).

Well, I finally had a chance to make a new batch and put up the recipe and a few pics for it. It's missing a few pictures so I'll try to add those in later.
Posted 09/24/2008 07:25 PM in Cooking, DIY, Food, Recipes
Link To This Blargh | View/Add Comments (1)


---

Full English
While reading through the Chowhound forums for food recommendations I stumbled upon the term Full English. Simply put, a Full English is a proper English breakfast usually centered around bacon and eggs with other fixings such as sausge, black pudding, beans, tomatoes and others.

It is apparently getting harder and harder to find a proper breakfast in London which is where The London Review of Breakfasts, a site dedicated solely to the Full English, comes in. Breakfast reviews are organized by neighborhood and are written well with an entertaining touch of drama and comedy. I could only dream of writing so eloquently.

Following even more links, I stumbled upon this nice little article about how to find A Good Egg which includes some interesting and entertaining simple recipes on how to prepare an egg properly.
Posted 09/19/2008 10:59 AM in Cooking, Food, Ramblings, Recipes, United Kingdom
Link To This Blargh | View/Add Comments (2)


---

I should go into catering.
A couple more pics of my finished ribs from two weeks ago along with the whole barbecuing process. Also a picture of all the side dishes I made for the church picnic: Pepperjack Mac & Cheese and Corn Bread Stuffing.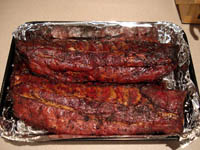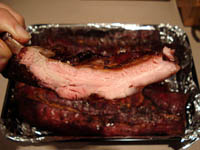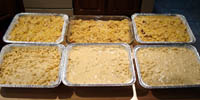 Posted 08/30/2008 09:41 AM in Cooking, DIY, Food, Pictures, Recipes
Link To This Blargh | View/Add Comments (1)
---

In anticipation of this weekend...
I applied my spicy sweet coffee spice rub to 20 pounds (6 racks) of pork loin (baby) back ribs in preparation for the several hours of hot smoking that will follow.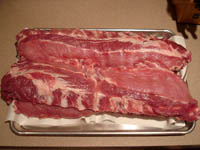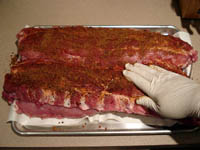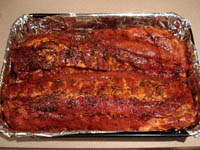 Posted 08/14/2008 08:46 PM in Cooking, Food, Pictures, Recipes
Link To This Blargh | View/Add Comments (1)
---

Dinner Party
Yesterday I had another dinner with Natatia, Caroline, Poyao and Stef. The main reason was to get rid of some supplies that I had from last week so the menu was very similar, with a few small changes.

I served mushroom risotto again since I had more stock and arborio rice leftover, but this time we served with rosemary rack of lamb and roasted brussels sprouts, peppers, onions and zucchini, both of which Natatia prepared. Dessert was a ginger peach and mango pie since I had extra pie crust.

The most interesting thing for me, however, was the appetizer that I invented. I call them French Onion Cups. I was inspired by the Grana Padana Parmagiano I had. If you grate a little pile of it onto a silicone pad or parchment paper, you can bake it and it melts into a nice little cheese round that you can mold while hot. Then I had to think about what to do with them.

For a while, I've been wanting to make French Onion soup so I decided to do a non-soup spin on the concept. I would caramelize the onions and add a little buttered crouton to round out the dish. The crisp earthy parmagiano cups with a crouton made from a tangy, buttered, toasted Tuscan bread topped with onions caramelized with a dry riesling turned out really well.

The crouton could probably be thicker, maybe 3/4 of an inch. Also, the onions were over caramelized a bit (i.e. burned) so I asked Poyao to help out by removing some of the especially blackened pieces and that did wonders (you couldn't really tell they had been burned). Otherwise, I think it was a very successful recipe. I will try a second time to tweak it and take a couple pictures.
Posted 06/14/2008 05:44 PM in Cooking, Food, Recipes
Link To This Blargh | View/Add Comments (0)


---

Japan Pictures and Earl Grey Poundcake
Ok, I finally finished posting my Japan pictures from last year. Sad. Really sad.

Also, I've got a new recipe up: Earl Grey Poundcake. Yummy!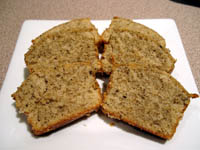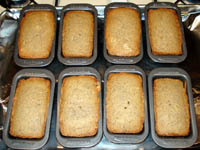 Posted 06/03/2008 06:16 AM in Cooking, Dessert, Japan, Pictures, Recipes
Link To This Blargh | View/Add Comments (0)
---