Blargh Archive for




To view past blarghs, simply select the month or year you would like to view on the left and click "go." If you are searching for a specific word, enter the word and the year you think it was mentioned on the right and click "go."


Cop Convo

Cop: Sir, I pulled you over for going 55 in a 40 on the parkway. Can I see your driver's license?
Me: Sure. You said on Forest Park Parkway?
[I pull my wallet out]
Cop: Yes.
[Cop looks at license but doesn't take it]
Cop: Okay, thanks. I actually pulled you over because there was a STi involved in a crime last night. It looked exactly like your car.
Me: Oh really?
Cop: Yeah. I was just checking and you're obviously not the person we're looking for. So how do you like the car?
[I put my wallet away, a bit stunned by the question]
Me: Uh, I've had it for a while but yeah, I like it. Though as you can see, it tempts me to drive a little fast.
Cop: What? 55? That's not fast. Well have a nice day.
Me: Uh, thanks.
Cop: Oh yeah, and, um, don't drive so fast.

Posted 06/04/2009 07:22 PM in Cars, Ramblings, St. Louis
Link To This Blargh | View/Add Comments (4)


---

Memorial Day Project
I'm heading to St. Louis for Memorial Day weekend and the rest of the week. I'll be going to a wedding on Saturday and also working on a wine shelf for my dad.

Unlike the pre-machined wine racks we put together last time, I'm going to be building this shelf completely from scratch. The shelf will fill a wall near the door and will hold bottles horizontally with a center section for display purposes.

Here are my plans so far: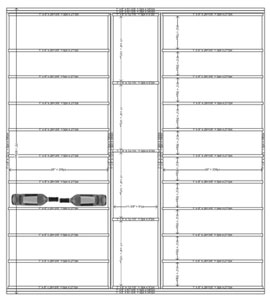 For the most part I already have all the tools I need for the project, the only thing I had to buy was a $50 crown molding router bit so I could put a round channel into the shelves so the wine bottles would stay put.

I'm looking forward to it... hopefully it works out well!
Posted 05/21/2009 11:00 PM in St. Louis, Woodworking
Link To This Blargh | View/Add Comments (3)


---

Wapango
Last night I met up with John and Elaine Mehn, my missionary friends from Japan. The last three times I've been in Japan they've opened up their home to me so when I heard they were going to be in St. Louis to share about their work with West Hills, I arranged my travel to be here this weekend.

Last night I invited them to dinner with my parents as well and we had a nice meal at Wapango, a pan-latin restaurant. Conveniently, this gives me an opportunity to finally share my Wapango pictures and review from when I went with my family in December. Here are a couple quick pics: their Carnivale appetizer sampler and their fresh cocoa fritters. Both are must-haves at Wapango.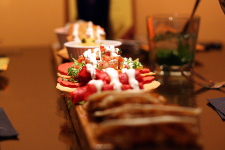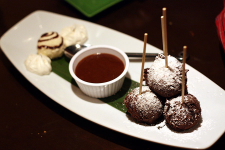 Posted 04/26/2009 10:47 AM in Food, Japan, Restaurants, Reviews, St. Louis
Link To This Blargh | View/Add Comments (5)
---

Fording the Mississippi-Missouri River System
Since I have my STi down in St. Louis, I figured I'd venture out toward winery country and check out the curvy roads in the area with my sister. This time I checked out Google maps first and plotted a nice curvy looking route.

Much to my surprise, Callaway Fork Road turned out to be a very small gravel road. There were only a few small houses on the road. Not far down the road, we hit a slight snag. A large stream (incidentally called Callaway Fork, which eventually connects to the Mississippi-Missouri river system) went right over the gravel road for about twenty feet. It appeared that a slab of concrete had been laid about four inches beneath the surface so I went ahead and forded it without a problem.

After a scant 1/8 mile or so, the stream crossed the gravel road yet again. Why the builder of this simple gravel road chose to cross the stream twice in such a short distance is beyond me. This time the water looked deeper, perhaps six inches and it looked like loose pebbles on the bottom, but closer inspection revealed that there was a concrete slab under the pebbles so we braved that as well.

We continued for another mile until we discovered yet another section where the stream flowed for 30 feet over a concrete slab 8 inches deep this time. Having driven a Legacy Outback through at least 18" of water before and knowing where my air intake is located, we forded that as well without incident.

It was around here that we got stuck behind a couple of dump trucks. From this point on, we hit the stream five more times but three times there was a small concrete overpass instead of a slab and two times it was a mere two feet across and two inches deep. No problem. Apparently the gravel road is used primarily for quarry trucks and someone purposely laid concrete slabs and bridges as necessary to allow them to pass through.

After that we returned to paved roads and the rest of the drive along the Katy Trail to the wineries near Augusta was spirited and fun. Unfortunately, my car is now filthy from fording the streams and driving on gravel. The bottom half of my car is basically white now...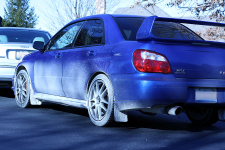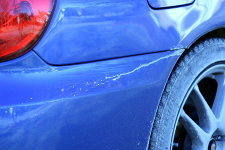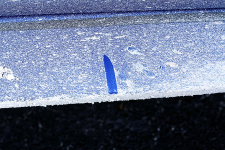 Posted 12/31/2008 03:43 AM in Cars, St. Louis, Travel
Link To This Blargh | View/Add Comments (1)
---

Ted Drewes


I once met a guy who claimed to be a frozen custard connoisseur. One of his top picks for best custard? Culver's. That's like claiming that McDonald's makes the best ice cream. Yes, there's no doubt that it's great and tasty, but it just doesn't come close to the genuine homemade stuff.

On top of that, the guy had never heard of Ted Drewes. I can understand that your average person may not have heard of Ted Drewes, but to consider yourself a connoisseur of frozen custard and have no clue about it is just plain freakin' absurd.

If you like frozen custard, you HAVE to try Ted Drewes for both the wonderfully rich creaminess and for the historical Route 66 significance. On Alton Brown's Feasting on Asphalt, Ted Drewes was the number one most requested absolutely must see stop from his fans.

So when I went down to St. Louis for Labor Day, I made sure to swing by for a nice, rich, cold treat for a hot summer's day. Here are some pictures. Apologies that the close-up is a bit over exposed, I forgot to clear a setting that I changed on my new camera.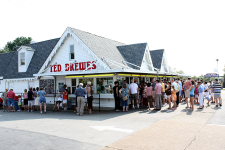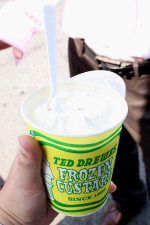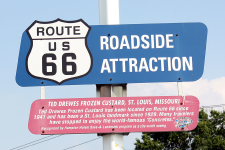 Posted 09/27/2008 07:12 PM in Dessert, Food, Ramblings, Restaurants, Reviews, St. Louis, Travel
Link To This Blargh | View/Add Comments (1)
---

Monarch and Sutton
Monarch Restaurant. Certainly it's not the caliber you'd expect in Chicago or NYC. It's a nice looking restaurant with an air of formality but not the snobbery. The six course tasting menu is fairly affordable and they happily accept shorts and jeans. These sort of restaurants are easily found in Chicago, but aren't so common in St. Louis. The funny thing is that Monarch Restaurant is on Sutton Street in St. Louis and I live on Monarch Drive on Sutton Road in Chicago.

The six course tasting menu costs $80 per person and each course was presented by the sous chef. The restaurant claims to be international fusion with influence from France, Asia and the American Southwest while several dishes included seafood. The food was excellent, though nothing was particularly daring or unique (except that the sorbet intermezzo was huge, instead of tiny like most places).

I will be honest and say that I was disappointed by dessert. That's not to say that dessert wasn't good, in fact it was very good, just not that special. There were three parts: chocolate custard, Red Velvet Cake and a bread pudding. The chocolate custard was good, but fairly standard and not memorable: despite it being the smallest item we did not finish it. The Red Velvet Cake had Cream Cheese Frosting with a hint of almond flavor which is very nice but in the end, it's just Red Velvet Cake: good comfort food I guess, but not very memorable. However, I will say that the Gooey Butter Cake Bread Pudding with Fried Ice Cream was most excellent and redeemed the rest of the plate.

So my final verdict is that it is a good restaurant, perhaps even excellent if you qualify it with "for St. Louis." If you're ever in St. Louis looking for a good meal with a modern flare that borders on fine dining, I can't think of another restaurant in St. Louis that fits that description with it's $100 per person target point.

The one other notable mention is that this dinner gave me an opportunity to try out my new camera in a low light situation. It took a few shots of trial and error but eventually I got the shutter speed where I wanted and managed some decent photos. You can see a little graininess from the high ISO that was needed but overall, I was pretty pleased by the larger, more sensitive CCD and the lens' Image Stabilization system.

Course descriptions and pictures are here.

Posted 09/01/2008 11:26 PM in Food, Restaurants, Reviews, St. Louis
Link To This Blargh | View/Add Comments (3)


---

Cops Galore
Driving down to St. Louis this weekend I saw a huge amount of cops. Even more than last year. Friday I saw five cops waiting to catch people and a few that had already pulled cars over. Coming home Sunday there were three waiting to catch people and few that pulled cars over.

On the last leg of my trip on 355N I noticed an unmarked car on the south-bound shoulder. I thought I was safe because it was on the other side, but that was actually a trap. Immediately after that, I saw a cop coming down the north bound ramp. He accelerated hard and swung over to the left lane behind a van that had just passed me. He turned on his lights to pull over the van just as we rounded a bend where I saw five other cars and cops on the side of the road. Good thing I was only going 65!
Posted 09/01/2008 01:59 AM in St. Louis, Travel
Link To This Blargh | View/Add Comments (1)


---