Blargh Archive for




To view past blarghs, simply select the month or year you would like to view on the left and click "go." If you are searching for a specific word, enter the word and the year you think it was mentioned on the right and click "go."


Lo-Mein Recipe for 100
Ingredients
10 pounds Cantonese noodles or similar pasta (spaghetti)

12 (14.5 ounce) cans chicken broth
1 cup sesame oil
4 tablespoons black pepper
1 cup white sugar
3 cups rice vinegar
6 cups soy sauce
4 cups Oyster sauce
2 large fresh ginger roots, cut into 1/4" slices
4 heads garlic, separated into cloves and lightly crushed
2 pounds green onions, halved
8 ounces cornstarch

1/2 cup vegetable oil
1 head garlic, minced
1/2 pound green onions, cut into 2" pieces
8 pounds tofu, cubed
5 pounds mushrooms, quartered
4 pounds (about 12) Peppers, chopped
4 pounds Broccoli, chopped

Directions
Day before:
Noodles
- Cook the noodles, remove from water, rinse until cool
- Distribute into trays, cover with foil and refrigerate.
- Reserve hot water for boiling vegetables

Sauce
- Combine chicken broth, sesame oil, black pepper, sugar, vinegar, soy sauce, oyster sauce, ginger, garlic, and green onions.
- Bring to boil, then let simmer 30 min
- Remove ginger, garlic and green onions, allow to cool partially before refrigerating.

Vegetables
- Boil reserved pasta water
- Chop tofu and veggies
- Mix garlic and vegetable oil
- Boil peppers and broccoli, 3 minutes. They should be undercooked.
- Remove peppers and broccoli and let cool.
- Heat 1-2 tbsp garlic oil and stir fry mushrooms and green onions
- Refrigerate vegetables.
- Heat 1-2 tbsp garlic oil and stir fry tofu in batches (non-stick pan recommended)
- Refrigerate tofu.

Day of:
- Pour 2 cups sauce into the vegetables and bring to a simmer over medium heat. Turn off.
- Make a slurry by mixing 2 cups of sauce with corn starch in a separate container, set aside.
- Bring remaining sauce to a boil
- When sauce boils, pour 1 cup sauce over cold noodles to warm and loosen up, mixing by hand is most effective.

If you need to wait until serving time, you can stop here for 1-2 hours max.

30 min before:
- Stir slurry until smooth, then add to sauce, bring to boil then simmer 2-3 minutes until thickened.
- Warm vegetables again.
- Toss noodles with vegetables (by hand is most effective)
- Pour 1-2 cups sauce over noodles and stir (with a utensil now as it will be too hot)
- Serve while hot.

Posted 03/29/2010 10:46 PM in Cooking, Recipes
Link To This Blargh | View/Add Comments (16)


---

Merlot Pear Crumble Recipe
One of my favorite dishes from the dinners I've cooked this year is the Merlot Pear Crumble. It's actually a combination of a Merlot Poached Pear recipe from About.com and a Crumble Topping recipe from RecipeZaar. A full version of the recipe is available here (pictures coming soon) otherwise here's a quick text version.

Merlot Pear Crumble
Ingredients:
4-6 Pears (recommend Bosc or Anjou)

Wine Sauce:
1 1/2 cups red wine (recommend Zinfandel, Shiraz or Merlot)
3/4 cups of granulated sugar
Zest from 1 lemon (remove zest with peeler)
Juice from 1 lemon (juice lemon after removing zest)
2 tsp vanilla
2 sticks cinnamon (or 2 tsp ground)
12 cloves
1/4 tsp salt

Crumble Topping:
6 tbsp butter
3/4 cup brown sugar
2/3 cup flour
2/3 cup oats (any type but instant)
1/2 tsp ground cinnamon
1/4 tsp salt

Instructions:
Pre-heat oven to 350. Mix sauce ingredients in a large pan and simmer over medium heat.

Meanwhile, peel pears, cut in half and remove seeds and fibrous core. Place pear halves in the simmering sauce.

Lower heat and simmer pears, covered, for 8-10 minutes per side, until tender.

Meanwhile, make the crumble topping. Mix brown sugar, flour, oats, cinnamon and salt in a bowl.

Cut butter up into small cubes and drop into crumb mixture. Using your hands, coat the butter with the crumbs, then smash each piece of butter once between your fingers. Continue mixing in this manner, smashing only large pieces of butter. Do not overmix, there should still be small but visible (1/8") lumps of butter. The mixture should still look dry and crumby, not doughy. Keep in refrigerator until the pears are ready.

Remove cinnamon sticks, zest and cloves from sauce (it's ok if you don't get everything). If your pan is oven safe, cover pears with crumb topping. If not, transfer pears and sauce into a 9x9 or 9x13 baking dish (depending on # of pears) and cover with crumb topping.

Bake pears at 350 for 20-30 minutes until crumb topping is crispy and sauce is bubbling.

Serve with whipped cream or ice cream.

Note: If desired, you can let the pears marinate in the wine sauce overnight to let the wine penetrate deeper. Then simply add the crumble and bake when ready.
Posted 01/21/2010 10:17 PM in Cooking, DIY, Food, Recipes
Link To This Blargh | View/Add Comments (1)


---

Reflections on Dinner
Dinner on Saturday was pretty good. Here is a PDF of the menu that I finally settled on.

Friday I shopped and prepared a couple things, specifically the English Summer Pudding and the pasta dough. Saturday started at 6AM when my house keeper came to clean and my cooking prep started at 7AM. I also had to step out to go shopping to pick up the freshest seafood I could. Here was my schedule:
Time - Recipe - Task
7:00 - Pasta - Make Pasta
9:00 - Shopping
11:00 - Misc - Mise en Place
11:30 - Clams - Wash
12:00 - Puffs - Make Batter
12:30 - Hollandaise - Make
1:00 - Pancakes - Make Compote
1:30 - Pancakes - Make Batter
2:00 - Salmon - Make Filling
2:30 - Pancakes - Beat Egg Whites
3:00 - Mushrooms - Sautee Mushrooms
3:15 - Duck - Poach Gooseberries
3:30 - Pancakes - Cook Pancakes
4:00 - Duck - Make Sauce
5:00 - Puffs - Prepare Batter
5:30 - Pasta - Boil Water
5:45 - Puffs - Bake
6:00 - Salmon - Make Parcel
6:15 - Duck - Score & Season
6:30 - Clams - Steam
6:30 - Duck - Render
6:30 - Salmon - Bake
6:45 - Mushrooms - Cook Pasta
7:00 - Clams - Cook Pasta
7:00 - Duck - Fry Duck
7:15 - Duck - Bake
7:30 - Duck Greens - Wilt
8:00 - Pudding - Whip Cream
This was a busy and tiring day, but it gave me some good experience in budgeting my time and also in juggling a lot of tasks. For the first time, I used just about every kitchen gadget I have, except for my can opener (that's a good thing!) Here's a partial list of various gadgets and cooking tools I used (not including the mundane stuff like spatulas):
Almost every pot and pan that I own
Every mixing bowl that I own
Every baking sheet that I own
Food Processor
MicroPlane
Salad Spinner
Pasta Maker
Electric Hand Mixer
Citrus Reamer
Piping Bag
Spider/Sift
Knife Sharpener and Steel
Mortar and Pestle
Spice Grinder
Scale
Pastry Board, Rolling Pin, Pastry Brush
I got a lot of compliments, more than usual, but honestly I'm still a bit disappointed in a few things. I'm glad people enjoyed it, but I'm always learning more and hope that I'll continue to get better. Here are the things that bugged me:
Mushrooms - Caputo's let me down as the crimini, button and portobella mushrooms they had were all sub-standard. Whole foods had better ones but at an outrageous cost that I couldn't justify, hence I ended up with the Japanese mushroom mix from Mitsuwa that didn't end up tasting the way I wanted
Duck - This was by far the most expensive single item and it was a lot of trouble tracking down a store that had them in stock (Meeske's Prime Meats in Barrington). I asked for 8 but they could only find 4, but when I looked at the price, I decided that 4 was enough. Next time I should just buy whole duck (frozen at Whole Foods or fresh from Chinatown) and butcher them myself. Then I could render out the fat and make duck fat fries too. Also I left these in the oven too long so they came out medium-well instead of medium-rare.
Currant Sauce - This was supposed to be gooseberry sauce but I couldn't find any. Luckily Caputo's had white currants, which even Whole Foods didn't have. Alas, I used an old Smoking Loon Cabernet as a base for the sauce and didn't really like it. I also used a Turkish honey with heavy floral notes that I thought ended up too pronounced in the final sauce. My guests said they liked the sauce but I have to say I really did not.
Gougeres - This is a new version of this recipe and I thought they came out a bit pasty and not cheesy enough. I might have to develop a hybrid with the other recipe I've used
Mint Hollandaise - I used EVOO instead of regular OO or butter. I felt the olive flavors were a little too strong and interfered with the egg and mint flavors
Rhubarb Pancakes - I'm annoyed at my fridge b/c it doesn't get cold enough so the ice cream was way too soft
Summer Pudding - I used Shoku white bread from Pastry House Hippo with is extremely soft, but perhaps too soft for a pudding. I should have gotten their Danish Bread which would have held up better and added some more flavor, like the Brioche that Gordon Ramsey suggested as an alternate.
Belgian Endive (Chicory) - Apparently these are pretty bitter and sauteing them didn't change that
Of course, there were also some good things:
Whole Foods' seafood department was very helpful. They suggested Manila Clams which are smaller than what they had in stock and offered to order some up for me, which I did. They also recommended wild caught salmon which they consider better and cheaper as well.
Tom's Farm on Lake (Route 20) in Hanover Park had the most amazing ripe strawberries. When I brought them home, my car and my kitchen were filled with the most lovely smell of fresh, ripe strawberries
Despite over-cooking the duck breasts and using an extremely simple spice rub (salt, pepper, red pepper flakes) it came out delicious. Next time I'll get a whole duck which should be cheaper and much more versatile.
I'm very happy with the egg pasta recipe from Gordon Ramsey and thought it turned out quite well. I made 2 Kg of pasta and only used one for the dinner so I have a good amount left for future use
With the leftover arugula, basil, parsley, Parmagiana Reggiano and some almonds I had in the closet I made a tasty pesto sauce, perfect for my leftover pasta
So, it was quite a busy and tiring weekend but it was good I'm glad my guests enjoyed themselves.
Posted 08/17/2009 10:07 PM in Cooking, Dessert, Food, Recipes, Reviews, Shopping
Link To This Blargh | View/Add Comments (13)


---

Dinner Menu Possibilities
I haven't cooked in ages and this weekend I'm making dinner for the Pace family. I've decided to finally crack open my Gordon Ramsay F Word Cookbook and tackle a few dishes. Here are the options I'm looking at (subject to availability and price of ingredients):

APPETIZER
Seared Beef Salad with Sweet Mustard
Tagliatelle of wild mushrooms
Parma ham, sage and Parmesan puffs
White Wine Clam Pasta
Scallops with Peas and Pancetta
MAIN
Salmon in a Parcel
Herb Crusted Brill with Tomato Salsa
Duck Breast with Spring Greens & Gooseberry Sauce
Chicken Marsala with Red Chicory
Chicken with tomato and fresh mozarella
Venison with red wine chocolate sauce
Herb-Crusted Rack of Lamb
DESSERT
Bread & Butter Pudding
Apple Pudding
Apple Tart Fine
Pear Tatin with Anise
Summer PUdding with Fresh Berries
Eton Mess with fresh Berries
Iced berries with white chocolate sauce
Lemon Posset
Souffled pancakes with rhubarb Compote
Rhubarb Creme Brulee
Rhubarb Crumble
Strawberry, Peach & Ginger Crumble
Swiss SPonge Roll
COffee & Chocolate Mousse Cups
Baked Alaska
Raspberry Souffle
Yeah, that dessert list is awefully long but I haven't even cracked open my Gordon Ramsay Just Desserts cook book yet...
Posted 08/10/2009 11:48 PM in Cooking, Dessert, Food
Link To This Blargh | View/Add Comments (2)


---
Cheese Recipe #2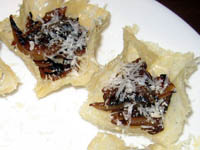 I mentioned these French Onion Cups in June when I invented this dish for a dinner party at Natatia's (pictures).

Well, I finally had a chance to make a new batch and put up the recipe and a few pics for it. It's missing a few pictures so I'll try to add those in later.
Posted 09/24/2008 07:25 PM in Cooking, DIY, Food, Recipes
Link To This Blargh | View/Add Comments (1)


---

Full English
While reading through the Chowhound forums for food recommendations I stumbled upon the term Full English. Simply put, a Full English is a proper English breakfast usually centered around bacon and eggs with other fixings such as sausge, black pudding, beans, tomatoes and others.

It is apparently getting harder and harder to find a proper breakfast in London which is where The London Review of Breakfasts, a site dedicated solely to the Full English, comes in. Breakfast reviews are organized by neighborhood and are written well with an entertaining touch of drama and comedy. I could only dream of writing so eloquently.

Following even more links, I stumbled upon this nice little article about how to find A Good Egg which includes some interesting and entertaining simple recipes on how to prepare an egg properly.
Posted 09/19/2008 10:59 AM in Cooking, Food, Ramblings, Recipes, United Kingdom
Link To This Blargh | View/Add Comments (2)


---

Smoke Line
After smoking another two racks of ribs this weekend, I found a perfect example of a smoke line, which tells you how far the smoke has penetrated the meat (and how long it's been smoked). I put an arrow on the picture to show where it is.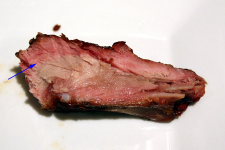 Posted 09/10/2008 11:01 PM in Cooking, Food, Pictures
Link To This Blargh | View/Add Comments (3)
---

I should go into catering.
A couple more pics of my finished ribs from two weeks ago along with the whole barbecuing process. Also a picture of all the side dishes I made for the church picnic: Pepperjack Mac & Cheese and Corn Bread Stuffing.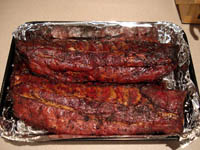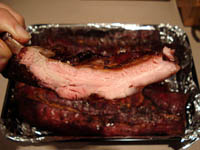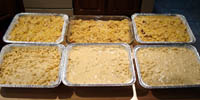 Posted 08/30/2008 09:41 AM in Cooking, DIY, Food, Pictures, Recipes
Link To This Blargh | View/Add Comments (1)
---

In anticipation of this weekend...
I applied my spicy sweet coffee spice rub to 20 pounds (6 racks) of pork loin (baby) back ribs in preparation for the several hours of hot smoking that will follow.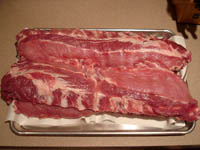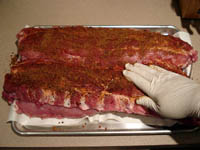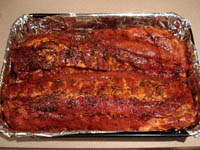 Posted 08/14/2008 08:46 PM in Cooking, Food, Pictures, Recipes
Link To This Blargh | View/Add Comments (1)
---

I want my baby back, baby back, baby back...
This weekend I did a test run on some ribs that I'll be making for next weekend's church barbecue.

I started with a coffee rub that Natatia and Caroline gave me two years ago. I had tried it on steak before but it didn't quite fit but I suspected it would be better on pork with a few tweaks. Those tweaks included mixing it with brown sugar, black pepper, chili pepper and some mesquite salt from Max's Downtown in Hartford, CT. I rubbed this on a rack and let the flavors meld overnight.

Saturday I barbecued it (meaning low indirect heat, as opposed to grilling) for 6 hours over mesquite charcoal with an hour of smoking with Applewood. Then I basted it with Sweet Baby Ray's barbecue sauce. Honestly, I wasn't that pleased with the result. It was not as tender as I hoped and not as tasty as I wanted so I put half of the rack directly over the coals for another hour. Then I refrigerated it overnight and today when I re-heated them, they were MUCH better. The tricky part is going to be reproducing the result next weekend...
Posted 08/10/2008 11:13 PM in Cooking, Food, Hartford, Restaurants
Link To This Blargh | View/Add Comments (1)


---

Cheese Recipe #1
As I start using up my 15 pounds of cheese, I'm going to be sharing some of the recipes that I come up with. I'll start with pretty basic stuff and then move on to more interesting things.

Up first is one of the simplest recipes: Cheese Grits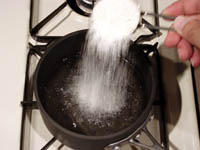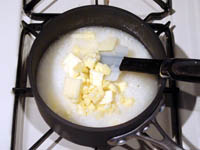 Posted 08/05/2008 07:18 PM in Cooking, Food, Pictures
Link To This Blargh | View/Add Comments (0)
---

Crepes
I thought I talked about my crepes but apparently not. After the blintzes at Chaihanna, Ashley wanted more stuffed crepes. She had a surplus of over-ripe peaches so she gave me a bunch so I could make sweet crepes. Of course, you can't make sweet crepes and not have savory crepes first.

My inspiration was The Magic Pan at Frontenac Plaza in St. Louis which closed in the mid 90's. I always loved their St. Jacques mushroom crepes and have thought many times about how to re-create it. I still haven't figured it out, but I did manage to make a decent alternative: mushroom, spinach and aged cheddar crepes (left picture).

For the sweet crepes, I made what I am calling Peaches and Molasses Cream Crepes with Grand Marnier sauce and Creme Fraiche. I was very happy with the result but will need to make it again to get the recipe right.

The creme fraiche is made from heavy cream and buttermilk. The base for the filling was sour cream mixed with brown sugar (molasses is what makes it brown). Then I blanched, peeled and sliced the peaches. These were simmered in a sauce of white grape juice, Grand Marnier and brown sugar until tender. The peaches were then removed, cooled and drained before mixing with the sour cream and used to fill a crepe. The remaining sauce was reduced to half then enriched with fresh Grand Marnier and butter and then flambed. Finally the crepes are drizzled with the sauce and topped with the creme fraiche.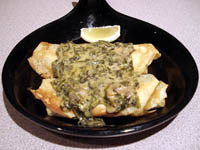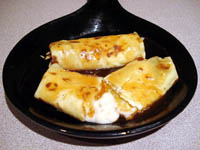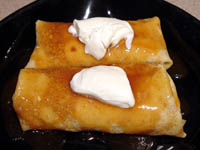 Here's a quick vid of the flambe, but it's not that special.
Posted 08/03/2008 08:58 PM in Cooking, Food, Videos
Link To This Blargh | View/Add Comments (0)


---

Last Week's Cooking
Last week I made the following:
Coconut Black Rice - using rice from China (though apparently I can find it at local Asian stores).
Braised Short Ribs - I hoped this would be more like kal-bi but I'll have to get a better recipe
Tropical Ambrosia - fresh pineapple, mango, papaya and kiwi with coconut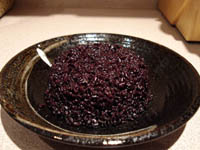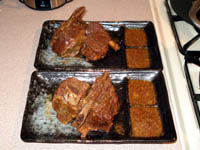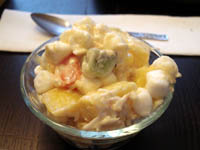 I also had a chance to use some of my new Japanese dishes so this is what the dinner setting looked like.


Posted 07/25/2008 01:47 AM in Cooking, Food, Pictures
Link To This Blargh | View/Add Comments (2)
---

Grilling Grills
Grill (verb): to examine thoroughly

Currently I'm in the middle of a grilling quandry and have been carefully examining my options.

When Ben moved away three years ago, I purchased his Aussie Bonza 4 propane grill for $250. Last year one of the cast iron burners was not operating very well. In an outdoor grill, exposed to alkaline ashes and moisture, cast iron has a tendency to corrode very quickly. Replacement burners (I need four) cost about $35 for cast iron and $100 for stainless. I considered just getting a couple but decided to hold off.

This year I noticed that the gas pressure was extremely poor, resulting in only two burners working properly. A new search revealed some not-so-favorable reviews of Aussie grills. Supposedly their warranty service is actually ok, but I have no original documentation and am probably beyond the coverage. I also discovered that Aussie Grills finally put up a consumer website with replacement parts with the burners costing just $20 each. However, given the poor pressure, I believe the gas manifold needs to be replaced as well for another $30.

If I replace all these parts, that totals $110 just to bring my grill to basic functioning level. The ignition electrodes and thermometer are also broken, the ceramic coated grates are starting to rust and crack, plus the metal housing is severely rusted as well and could soon turn into a bottomless grill. And I'm not so sure about any other parts that aren't so easily replaced.

On top of all that, the plastic grill cover has disappeared. This might be because someone took it off to steal the grill or to steal my propane. If it was the former, the wannabe thief was thwarted because the grill is cable locked to the house. If it was the latter, they were probably successful. I suspected someone was stealing propane last year and I'm convinced now because I found the propane canister on the ground instead of installed on the grill base.

So I'm considering getting a new grill instead. I might stick with a simple and reliable kettle style Weber charcoal grill, which can be had for about $90. I might wait until next year though.

In the mean time, the Bonza 4 is listed as charcoal compatible so I may just give up on the burners and use charcoal in it until the thing finally dies.
Posted 07/23/2008 09:04 PM in Cooking, Ramblings
Link To This Blargh | View/Add Comments (0)


---

I had an abysmal failure in the kitchen yesterday. I was trying to make Cashew Butter so I put the cashews in my Black & Decker food processor, followed by the oil and honey. It looked like it was headed in the right direction but it stayed super thick for some reason. I tried adding some more vegetable oil to thin it out, but after doubling the amount, it didn't get any better.

Just to see what would happen, I decided to add a tablespoon of butter. I was not surprised to find that was a bad idea. The nut butter seized and separated. I was left with a gummy blob in a pool of oil. I tried draining the oil and re-processing it. I also tried toasting the blob to drive out some water, but I think the proteins, or whatever is in the nuts, had permanently coagulated.

On top of that, I think the vegetable oil that I was using went bad. It smelled a bit like plastic and the end product tasted a bit like it as well. I tried to make a crust out of the cashew gunk with some extra ginger snaps I had, but the rancid oil was all I could taste so eventually, it all found it's way into the bin. All in all, a very disappointing result.
Posted 06/19/2008 11:39 PM in Cooking, Food, Ramblings
Link To This Blargh | View/Add Comments (0)


---

Dinner Party Pictures
Pictures from dinner on Friday are available in my Miscellaneous 2008 Pictures (scroll to bottom of linked page). Here are some highlights: French Onion Cups, Lamb & Mushroom Risotto and Peach Mango Pie with Peach Ice Cream.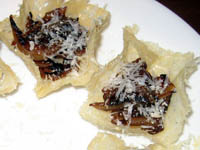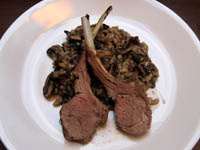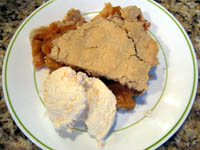 Posted 06/18/2008 05:36 PM in Cooking, Food, Pictures
Link To This Blargh | View/Add Comments (2)
---

Dinner Party
Yesterday I had another dinner with Natatia, Caroline, Poyao and Stef. The main reason was to get rid of some supplies that I had from last week so the menu was very similar, with a few small changes.

I served mushroom risotto again since I had more stock and arborio rice leftover, but this time we served with rosemary rack of lamb and roasted brussels sprouts, peppers, onions and zucchini, both of which Natatia prepared. Dessert was a ginger peach and mango pie since I had extra pie crust.

The most interesting thing for me, however, was the appetizer that I invented. I call them French Onion Cups. I was inspired by the Grana Padana Parmagiano I had. If you grate a little pile of it onto a silicone pad or parchment paper, you can bake it and it melts into a nice little cheese round that you can mold while hot. Then I had to think about what to do with them.

For a while, I've been wanting to make French Onion soup so I decided to do a non-soup spin on the concept. I would caramelize the onions and add a little buttered crouton to round out the dish. The crisp earthy parmagiano cups with a crouton made from a tangy, buttered, toasted Tuscan bread topped with onions caramelized with a dry riesling turned out really well.

The crouton could probably be thicker, maybe 3/4 of an inch. Also, the onions were over caramelized a bit (i.e. burned) so I asked Poyao to help out by removing some of the especially blackened pieces and that did wonders (you couldn't really tell they had been burned). Otherwise, I think it was a very successful recipe. I will try a second time to tweak it and take a couple pictures.
Posted 06/14/2008 05:44 PM in Cooking, Food, Recipes
Link To This Blargh | View/Add Comments (0)


---
Cooking Pictures and a Turtle?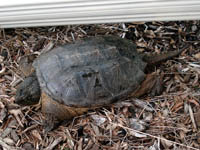 Turtle by my garage.



On the right is a random turtle I saw sitting next to my garage. It was a good foot long!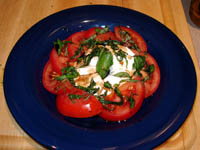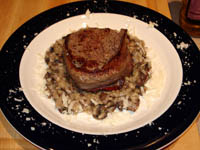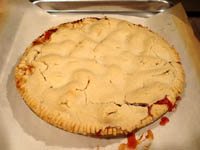 Posted 06/10/2008 05:12 PM in Cooking, Food, Pictures, Ramblings
Link To This Blargh | View/Add Comments (1)
---

Rhubarb and Risotto
Next week I get to work from home (unless I get called to Hartford last minute). I decided to go shopping and buy some supplies to cook this weekend and next week. I'm very glad that I did because with summer coming soon, the produce is starting to look good and I was a bit inspired by what I saw.

Specifically, I was inspired by some rhubarb and peaches that I saw so I made a peach rhubarb pie. I finally tried out my new Black & Decker Power Pro II food processor by making a pie crust with it. Unfortunately, I'm quite disappointed with it's performance. Despite the 10 cup capacity advertised on the box, it barely fit the 4.5 cups of flour and 1.5 cups of butter that a double batch of pie dough requires and it took a long time to make it mix, which resulting in an overly mixed dough. I don't have the receipt for it, but I will try to get store credit at Target and upgrade to a better one. That's one problem with shopping at the store: you can't read on-line reviews which may have tipped me off to some issues earlier...

I also made mushroom risotto which turned out awesome. Instead of using regular broth, I used the leftover boiling liquid from both my traditional and Guiness-Brown Sugar corned beef as a base for a mushroom stock. I was worried that the risotto might taste like corned beef but after absorbing into the arborio rice and mixing with sauteed white and crimini mushrooms, butter and some imported Grana Padana Parmagiano, it tasted downright wonderful.

I also got a bag of cherries which I used to make a great big bowl of cherries, cause they're just good on their own.
Posted 06/07/2008 07:26 PM in Cooking, Ramblings, Reviews
Link To This Blargh | View/Add Comments (5)


---

Japan Pictures and Earl Grey Poundcake
Ok, I finally finished posting my Japan pictures from last year. Sad. Really sad.

Also, I've got a new recipe up: Earl Grey Poundcake. Yummy!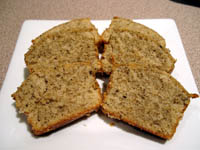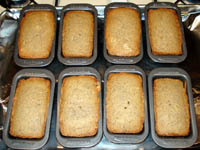 Posted 06/03/2008 06:16 AM in Cooking, Dessert, Japan, Pictures, Recipes
Link To This Blargh | View/Add Comments (0)
---