Blargh Archive for
To view past blarghs, simply select the month or year you would like to view on the left and click "go." If you are searching for a specific word, enter the word and the year you think it was mentioned on the right and click "go."
LED Brake/Signal Lights on Motorcycle DIY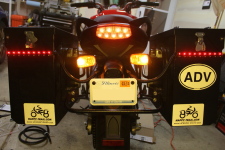 It's been years since I posted up a DIY, but here's one for putting LED brake/signal lights on my Kawasaki Versys.

I have Happy Trail Teton panniers but felt the signals were too hidden, even with the relocation kit they provide. So I decided to buy some red LED strips and wrap them around the rear corners of the panniers and connect them to my brake and signal lights to provide better visibility to other drivers. I used red for brakes and signals since I couldn't find yellow ones I liked.

One of my requirements was the ability to disconnect the lights when removing the panniers so I used Molex hard drive power extension cables that I got from Amazon and cut as needed and also sealed with RTV silicone to make more weather resistant. I wrapped the LED strips around the corners of the panniers and they work fine (some LED strips reviews say they can break on 90 degree turns)

I also kept things simple, no two stage brakes or relays or resistors. Just on/off brake and signal lights spliced directly into stock wiring. It's a pretty rough installation and a pretty atrocious solder job (the wires that came with the LED strips were probably 24 gauge... tiny...) because I didn't plan well enough and was doing this at 3am, but they work.

I also found that the 3M double sided tape that came with the strips isn't strong enough and I wouldn't trust it on the highway. In fact, some spots had come loose when I came back in the morning, so I used super glue which seems to be working well, even on the pannier powder coating.

Here's a quick vid of them working:

Posted 05/13/2012 09:02 PM in DIY, Motorcycles
Link To This Blargh | View/Add Comments (0)


---

Merlot Pear Crumble Recipe
One of my favorite dishes from the dinners I've cooked this year is the Merlot Pear Crumble. It's actually a combination of a Merlot Poached Pear recipe from About.com and a Crumble Topping recipe from RecipeZaar. A full version of the recipe is available here (pictures coming soon) otherwise here's a quick text version.

Merlot Pear Crumble
Ingredients:
4-6 Pears (recommend Bosc or Anjou)

Wine Sauce:
1 1/2 cups red wine (recommend Zinfandel, Shiraz or Merlot)
3/4 cups of granulated sugar
Zest from 1 lemon (remove zest with peeler)
Juice from 1 lemon (juice lemon after removing zest)
2 tsp vanilla
2 sticks cinnamon (or 2 tsp ground)
12 cloves
1/4 tsp salt

Crumble Topping:
6 tbsp butter
3/4 cup brown sugar
2/3 cup flour
2/3 cup oats (any type but instant)
1/2 tsp ground cinnamon
1/4 tsp salt

Instructions:
Pre-heat oven to 350. Mix sauce ingredients in a large pan and simmer over medium heat.

Meanwhile, peel pears, cut in half and remove seeds and fibrous core. Place pear halves in the simmering sauce.

Lower heat and simmer pears, covered, for 8-10 minutes per side, until tender.

Meanwhile, make the crumble topping. Mix brown sugar, flour, oats, cinnamon and salt in a bowl.

Cut butter up into small cubes and drop into crumb mixture. Using your hands, coat the butter with the crumbs, then smash each piece of butter once between your fingers. Continue mixing in this manner, smashing only large pieces of butter. Do not overmix, there should still be small but visible (1/8") lumps of butter. The mixture should still look dry and crumby, not doughy. Keep in refrigerator until the pears are ready.

Remove cinnamon sticks, zest and cloves from sauce (it's ok if you don't get everything). If your pan is oven safe, cover pears with crumb topping. If not, transfer pears and sauce into a 9x9 or 9x13 baking dish (depending on # of pears) and cover with crumb topping.

Bake pears at 350 for 20-30 minutes until crumb topping is crispy and sauce is bubbling.

Serve with whipped cream or ice cream.

Note: If desired, you can let the pears marinate in the wine sauce overnight to let the wine penetrate deeper. Then simply add the crumble and bake when ready.
Posted 01/21/2010 10:17 PM in Cooking, DIY, Food, Recipes
Link To This Blargh | View/Add Comments (1)


---
Car DIY Weekend: TurboXS Short Ram Intake and Turbo Back Exhaust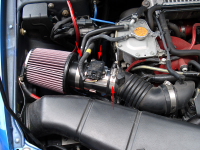 TurboXS Short Ram Intake

It's been quite a while since I've done a DIY car project. If you remember, I purchased a TurboXS User Tunable Engine Computer (UTEC) for my STi which I installed over 4 years ago (wow, has it really been that long?). The next step in my plan for my STi was to get it to Stage 2 but the condo and new car delayed that. However, paying off my Forester last month helped out my budget so I can restart my plans.

My project over Labor Day weekend was the installation of a TurboXS Short Ram Air Induction System and also a TurboXS Titanium Tip Turbo Back Exhaust with high flow catalytic converter. The project took twice as long as expected because everything was horribly corroded from 5 years of Chicago winters.

I spent Friday night under the car until 11pm trying to remove the old parts. I had several stripped bolts and one was so bad that Saturday morning I had to cut it out with a Dremel (flash backs to my Accord exhaust). The rest of Saturday went fine but I was extremely tired and sore from sliding around on concrete for two days.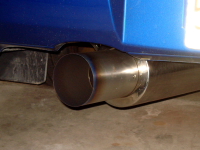 TurboXS Turbo Back Exhaust

After finishing the installation, I still wasn't done. After four years my UTEC was badly out of date and needed updates. I bought a USB-to-Serial adapter to connect and update the firmware but it failed. There was no help on-line and the tuner was closed but after playing with settings it eventually worked. I started the car only to get a flashing SRS (airbag) light and Check Engine Light (CEL a.k.a. malfunction indicator light or MIL). I was pretty freaked out only to realize that I hadn't uploaded any updated engine maps. After that everything finally ran peachy keen, just in time to meet up with my friend Annie and her parents for dinner.

After dinner I finally gave the car a test run. I definitely felt an increase in power, but the most surprising thing was just how loud the car is, way louder than the Accord which was borderline obnoxious. Oh well! The other thing I noticed was a tremendous rush of air and I thought I had forgotten to connect something. Then I realized I was hearing the sound of the turbo spooling. When I lift up on the throttle, I also hear the sound of releasing air pressure from the bypass valve, which is so loud it almost sounds like a blow-off valve. Sweet.

Now I just have to be careful that I don't blow up my engine as a result of boost creep from the new downpipe...
Posted 09/13/2009 09:01 PM in Cars, DIY, Ramblings
Link To This Blargh | View/Add Comments (2)


---

Wine Shelf Pictures
Well, I finally posted my pictures from the wine shelf I built! Enjoy the (very) brief DIY.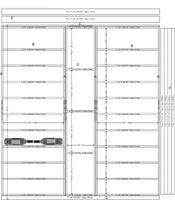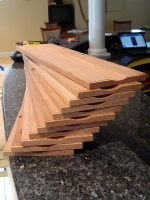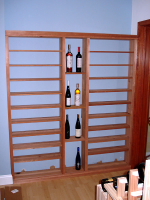 .
Posted 06/11/2009 10:37 PM in DIY, Pictures, Woodworking
Link To This Blargh | View/Add Comments (3)


---
Cheese Recipe #2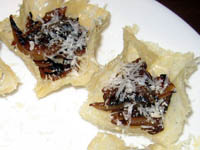 I mentioned these French Onion Cups in June when I invented this dish for a dinner party at Natatia's (pictures).

Well, I finally had a chance to make a new batch and put up the recipe and a few pics for it. It's missing a few pictures so I'll try to add those in later.
Posted 09/24/2008 07:25 PM in Cooking, DIY, Food, Recipes
Link To This Blargh | View/Add Comments (1)


---

Sew-sew camera bag
To transport my camera around the Mediterranean, I need a camera bag. There are tons of bags out there and most of them are over-priced and have mixed reviews. I researched them on various sites and even visited camera stores in St. Louis and Chicago. The first tip is to buy on-line. The prices at camera stores are incredible (anywhere from 50%-200% higher than on-line) and sometimes I wonder how they stay in business.

I finally settled on a Canon back pack at Amazon. I wanted a back pack so that my shoulders wouldn't get too tired. I also wanted configurable padding and space for packing other items and for future expansion. And of course I wanted a reasonable price.

The Canon bag can be found for $35-45 on-line which is a pretty good price. Overall the reviews were pretty good for the bag, but there was one major issue: The zippers on the bag aren't very heavy duty and aren't very tight, making them too easy to unzip.



Some people got around this by sealing the zippers with a carabiner but I decided to try another solution. As some reviewers noted, the bag needs a strap that wraps around the front to prevent it from opening all the way. This would make it easy to access the camera at the top of the bag while preventing it from opening all the way.

The interesting thins is that the bag has two extra straps on the sides that aren't very useful but are an excellent place to mount such a front strap. The question is where to get the strap.

When I received the bag, I found that it came with a buckle on the shoulder straps that clips across the chest in addition to a waist belt. The cross-chest strap seemed unnecessary to me so I decided to use those to build a front strap.

After cutting the stitches and removing the side straps, I reconfigured the cross-chest strap to anchor to the sides of the bag and wrap around the front. Once this was done I re-stitched the straps (note the blue stitches in the pictures).

I'm quite pleased with the result. The new front strap is perfectly positioned to allow quick access to the camera while keeping the rest of the bag secure but the clip is easy to release when needed. But, for security, I did end up buying a locking carabiner...
Posted 09/12/2008 10:06 PM in DIY, Geek Stuff, Pictures, Travel
Link To This Blargh | View/Add Comments (0)


---

I should go into catering.
A couple more pics of my finished ribs from two weeks ago along with the whole barbecuing process. Also a picture of all the side dishes I made for the church picnic: Pepperjack Mac & Cheese and Corn Bread Stuffing.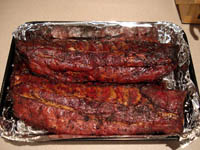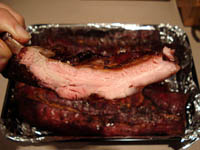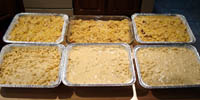 Posted 08/30/2008 09:41 AM in Cooking, DIY, Food, Pictures, Recipes
Link To This Blargh | View/Add Comments (1)
---
Counter Progress

The plans for the design.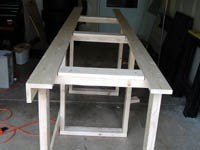 The completed base frame.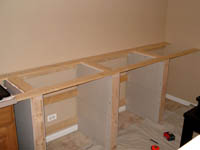 The installed base frame.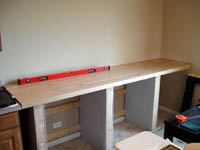 The installed counter top.

I've made a lot of progress on my counter top installation. The majority of work was done over Memorial Day weekend when I spent a good 12 hours straight working on it. I was exhausted, but I simply couldn't stop! That weekend I built the entire 2x4 base frame. I put a lot of care into it to make sure it was perfectly level and plumb and square, only to find out that my walls were none of those things and I had to saw off 1/2" pieces of wood all over my base frame to make it fit, and I even had to saw 1/2" off of my 9' long hard rock maple counter top that must weight at least 150 pounds. I tried to enlist help but schedules didn't work out so I had to do a lot of heavy lifting by myself. I think I lost weight that weekend!

The following weekend I attached the base to the wall and attached the counter to the base. I also started installing drywall. I had plenty of other glitches that slowed things down, such as what to do about an outlet that would be hidden by the counter. I also had additional design decisions to make, like exactly how to arrange the new space that I was building.

This weekend I installed the rest of the dry wall, the protective corner beads, an adjustable depth ring to extend the outlet (aptly nick-named a "goof ring") and started the three day process of mudding (applying drywall joint compound) the many corners and seams. Since I'm in town this week I'll be able to finish that up during my evenings at home.

I've been to Home Depot at least a dozen times to look at ideas and to get new supplies and new tools and to make exchanges. I'm sure I'll be making at least three more trips. I could easily cut that in half if I planned ahead and bought everything at once but I prefer to do it as I go in case things change (which they usually do). Even so, the end is finally in sight.

The tasks I have left are:
Finish applying mud (2 days)
Primer (1 day)
Paint (1 day)
Build and install sliding shelves (1 day)
Trim and install moulding (1 day)
Clean the gimongous mess(1 day)
So I'm looking at completion in the next week or two. Here are a few pictures of the progress so far. Total cost so far has been $97.61 for supplies, $83.44 for new tools, totaling $181.05 so far (plus tax). In the end I'm guessing that I will spend about $300 total. Hiring someone to do all of this probably would have been a couple thousand bucks.
Posted 06/09/2008 07:01 PM in DIY, Pictures, Woodworking
Link To This Blargh | View/Add Comments (1)


---

Two tasks done
Well, I bought the RF switch and hooked that up. Cable and PS2 look much nicer on a bigger screen, even if I still can't read how much ammo I have. That's one task off my list.

Last night I also got two more tasks off my list... I installed the computer chip for the Subaru and I finished installing the grounding kit as well.
Posted 04/21/2005 02:43 PM in Cars, DIY
Link To This Blargh | View/Add Comments (1)


---

Bible Study, Condo, Car Updates
A new bible study has started at church. Previously we had been meeting at Paul and Jina's but this year they are changing the format a little. Primarily, most of the groups will be moved to church instead of someone's house. This makes it difficult on the weekdays b/c it's a long commute to church. So I've joined the Sunday bible study and there's a lot of people I don't know so well, which is good. It should be a fun a group.

My only concern is... I can't remember the last time we actually studied the BIBLE in Bible Study. We seem to be doing a lot of book studies, which are good sometimes, but in the end, if we're not studying THE Book then reading as many other books as we want can misguide us or take our focus away from God. We'll see how it goes though.

I am one step closer to getting a house. I may have to pull some financial tricks to get it done but I've learned about more options. The big one is the 80/20 (or piggy back) loan. You take a 80% mortgage on your house to avoid PMI (mortgage insurance) and a home equity loan on the other 20%. No down payment necessary. Interest is higher, but the monthly payment is usually lower. There are risks and disadvantages but they are balanced against building equity in your own home instead of paying rent as well as tax benefits.

This way, I wont be dependent on my parents so much and I will be able to keep my savings and potentially pay off my car sooner, since that comprises a sizeable monthly bill. The other interesting development is that the unit (10A) directly under Ben (10B) went on the market yesterday. That is quite an interesting option...

The other thing that has been occupying my mind is the tuner equipment I ordered. It was created by a reputable Subaru tuner, TurboXS. It's called the User Tunable Engine Computer (UTEC) and is a piggyback Engine Control Unit (ECU) system. This means literally that it piggybacks to the top of the stock ECU and figuratively piggybacks (intercepts and modifies) the electric signals coming from and going to the engine from the ECU.

So far I've read about 150 pages of information on how to install and tune the UTEC. A stock STi, it should be good for about 20 extra HP using a conservative tune. Alas, I cannot do any serious tuning until I get the gauges and sensors to safely do so. Amazingly enough, all these gauges and sensors will cost at least twice as much as the UTEC so that's going to be a long time from now.

My favorite part is note on the cover page, "THE UTEC PROVIDES MORE THAN ENOUGH CONTROL FOR YOU TO DESTROY YOUR ENGINE!" Yee ha!
Posted 01/10/2005 02:06 PM in Cars, Christianity, DIY, Ramblings
Link To This Blargh | View/Add Comments (10)


---