Blargh Archive for




To view past blarghs, simply select the month or year you would like to view on the left and click "go." If you are searching for a specific word, enter the word and the year you think it was mentioned on the right and click "go."


Mosport International Raceway, Ontario
Wow, I totally forgot about this... it's almost a year late, but here are a couple videos from my weekend at Mosport International Raceway near Toronto, Ontario in May. I drove my STi from Chicago to Toronto (10 hour drive) where I met my friends Nick, Dave and Peter who drove a 325i and a 911 from Boston to Toronto (also 10 hours) for a nice racing weekend. The second day was pretty wet, but it was a blast none-the-less!

Side story: on the drive back home, I was pulled over by a state trooper a few miles after the border. He asked if I knew why he pulled me over. I said, "No? Speeding?" It turns out he pulled me over for passing a left-lane hog on the right, which is apparently illegal in Michigan (maybe other states too???). He asked me where I was coming from and I told him from racing at Mosport International Raceway.

He then asked if he could look in my trunk. I had nothing to hide so I popped my trunk, informing him it was full of tools. He took a quick glance then said "Have a nice day, I have to go," jumped in his car and drove off to pull over a minivan towing an extremely wide trailer while I went on my merry way.

Day 1 with my instructor Joe


Ricer Fly By with Nick driving

Posted 03/20/2012 06:02 PM in Cars, Videos
Link To This Blargh | View/Add Comments (1)


---

Driving in the Chicago Blizzard of 2011
Since I talk about how people shouldn't be afraid of driving in the snow, I figured I should make some videos with some tips and general ramblings.




Posted 02/03/2011 02:07 AM in Cars, Ramblings, Videos
Link To This Blargh | View/Add Comments (11)


---

2010 Subaru Challenge
2010 Subaru Challenge at Subaru Indiana Automotive in Lafayette, IN, sponsored by Subaru of America Central Region and the Indianapolis SCCA.

A few interesting cars there


My fourth run


My fifth run


A whole bunch of footage of Subarus continuously and dizzyingly driving by.

Posted 08/22/2010 02:34 AM in Cars, Videos
Link To This Blargh | View/Add Comments (1)


---

Autobahn South Race Track
Some vids from the 2010 Chicago Region SCCA PDX Event 2 on 8/13.






Posted 08/16/2010 00:03 AM in Cars, Videos
Link To This Blargh | View/Add Comments (0)


---

My Motorcycle Story
The story begins in 1984 when the Go-Bots were on TV. I remember getting the toy for Cy-Kill, leader of the Go-Bot Renegades which I had a lot of fun with. I also watched Transformers back then but they didn't have any cool motorcycles (at least not until 1986 when Wreck-Gar appeared in the movie, voiced by Eric Idle).

In 1985, Robotech was on the air (I remember running home from the bus to catch the last 15 minutes) and that got me really interested in motorcycles because of the Veritech Cyclone Ride Armor from the "New Generation" I totally wanted that toy but never got it, though I did pretend I had such a suit and could transform and all of that.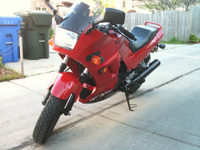 In 1986 the Kawasaki Ninja debuted in America and I remember seeing the commercials and thinking, "I want one of those!" This was well before I ever became seriously interested in cars (other than toys like Transformers), but of course, I was just a kid and dreams came and went pretty quickly.

Several years later, after I received my driver's license and was a Senior in high school, I got the itch again. I asked my mom for a motorcycle and of course she said no. IIRC, her reasoning wasn't so much around safety, but simply because I would be spoiled as I already had a car to use.

The next time I thought about motorcycles was around 2001 when Jordan Ho and some other folks around Chicago bought motorcycles. That piqued my interest so I used some of my expiring Delta airline miles to get a subscription to Sport Rider magazine. Then I was put in contact with an old MICDS friend, Allen McCoy, who was looking to sell his motorcycle (a Suzuki GS500 I think) in St. Louis. I didn't have the money and had no way to get it to Chicago so I passed on the deal. I even ended up transferring Sport Rider to Jordan as well.

Then in 2002, the Subaru WRX was released in America and suddenly there were two toys that I wanted. I started saving money as much as I could and even biked (on a bicycle) to work instead of taking the bus.

In 2003, I moved to Wheaton to save more money, but as it turns out my new landlord, Bryan Hsueh, also had a bike. Then, a couple months later, my housemate Adam bought a bike. I asked why he decided to get it and he responded, "A motorcycle isn't really something you think about, you just get it."


At this point, I had gone back and forth several times between the WRX and a motorcycle. What sealed the deal was when I was sitting at work one day, I hopped onto MSN and watched Subaru's presentation at the 2003 Detroit International Auto Show and nearly lost bladder control when it was announced that the Subaru Impreza WRX STi version would be coming to America.

That day, I made the decision that I would give up on my hopes for a motorcycle and stick with the car route. Within a year, I had the STi and started autocrossing it with Ben Huh in his TT and another guy we met named Bob in his Mitsubishi Lancer (not an Evo). Add in the purchase of a condo and motorcycles disappeared from my thoughts again.

Then, last year Bob told me he had bought a motorcycle. I was pretty surprised when he told me he got a Ninja 250 to learn on, a model I had considered as a starter bike myself. I told him to let me know if he ever planned to sell it.

Well, just two weekends ago, Bob e-mailed me to tell me it was for sale. It turns out Bob found a deal on a Suzuki SV650 and needed to sell his bike fast. So last Thursday I bought it. Now I just have to learn how to ride it...
Posted 05/14/2010 08:20 PM in Cars, Motorcycles, Ramblings
Link To This Blargh | View/Add Comments (53)


---

Another near accident. Learn to drive in the snow people!
Yesterday morning, after all the snow in the northeast (greatly exagerated in some areas, there were only 3-4" in the New Haven area) I was driving a couple co-workers to the client site in a Saturn Outlook (large, heavy, 7 passenger SUV with front wheel drive). I took my exit, a long sweeping cloverleaf ramp, behind three other cars going about 30.

Car 1, an old red compact, got a little wiggly and slammed on her brakes until she came to a complete stop in the middle of the road. Obviously, that exacerbated the situation instead of helping.

Car 2 had no choice but to brake and veer to the right to avoid a collision. They actually did an ok job, avoiding Car 1 and coming to a controlled stop on the shoulder.

Car 3 also slammed on their brakes, but swerved violently to the left causing the car's rear end to skid. The car slid to a stop, inches from the guard rail, perpendicular to the road, right in front of me.

So what was I to do? Obviously I hit the brakes, instantaneously setting off the ABS. With such a freaking large vehicle I knew there was no way I could stop. With Car 3 heading to the left and Car 2 heading to the right, I saw an opening.

I released the brake so I wouldn't skid and eased the steering wheel to the right and drove around Car 3, then turned back to the left, hugging the guard rail and quickly drove around Car 2 and Car 1.

While it wasn't as dramatic as my last near accident, my heart was beating pretty hard, though I didn't have any cool time-slowing-down effect. My co-workers complimented my quick thinking and we continued on our way.

A couple quick tips for anyone in a similar situation:
No sudden braking, you'll lock the tires and lose control (Car 1). Go easy on the brakes and don't expect ABS to save you since it is only marginally effective in low traction situations.
No sudden steering, you'll upset the car's balance and lose control (Car 3). Turn smoothly to help the car along the turn.
Your car is probably more capable of turning than braking, so evaluate options such as going around an obstacle instead of trying to stop (Car 2 and myself), keeping in mind the previous tip.
If you do lose a little traction, don't panic (Car 1). Instead, brake and steer lightly to maintain control and come to an easy and controlled stop in a safe place. The middle of the road is not a safe place.
Posted 02/12/2010 04:34 PM in Cars, Ramblings, Travel
Link To This Blargh | View/Add Comments (1)
---

Ice Racing!
I already posted these on YT/Twitter/FB but thought I'd compile them all in one place.

FVSCC Event 5-1


FVSCC Event 5-4


FVSCC Event 5-7


FVSCC Event 5-8


FVSCC Event 5 Extras


WAG 1


WAG 2


WAG 3

Posted 02/10/2010 09:04 PM in Cars, Ramblings, Videos
Link To This Blargh | View/Add Comments (10)


---

Track Day and Subaru Go Kart
Here's a video of my driving from last week's track day at Black Hawk Farms:

And here is Ken Block's latest Gymkhana video which is just silly:
Posted 10/15/2009 10:48 PM in Cars, Videos
Link To This Blargh | View/Add Comments (0)


---

Vids from SCCA Event 6
Here are a few vids from today's event, three different angles, external from the side, external from the top and one interior.






Posted 10/04/2009 09:31 PM in Cars, Videos
Link To This Blargh | View/Add Comments (0)


---

Map and Vids from TSSCC AutoX 8
Using MyTracks and GPS on my Google phone I recorded this week's AutoX at Route 66 Raceway in Joliet, IL. You can view the map on Google Maps along with some annotations I made.

And with a cheap $30 camera mount I got on Amazon, I managed to get a few decent runs recorded. It was a rainy day and you can see lots of puddles in the vids. This was after a couple runs during Heat 1 so things started to dry out. Unfortunately, it started to pour during Heat 2 when I was working so I got pretty soaked running after cones (good thing I bought extra socks)!

When it was my turn to run again in Heat 3 it was still to wet so I couldn't take any more vids so you don't get to see me drifting through the slalom or spinning out. However, the big bummer of the day was that on my last run, I was feeling really good and didn't make any big mistakes. I was certain that it was my best run and that I had met my goal of the day but when I crossed the finish line, my time read 0:00 due to a timing error! I got a re-run but I spun out, so I'll never know if I managed to get a good time finally. :(




Posted 10/03/2009 07:22 PM in Cars, Geek Stuff, Videos
Link To This Blargh | View/Add Comments (0)


---

WRX ranks No. 1 on list of cars with highest insurance losses
Today the Wall Street Journal printed an article about auto insurance premiums, highlighting the Subaru Impreza WRX which received the highest (worst) score for highest losses for all types of coverage. That's not really a big surprise though.

The WRX is as powerful as many much more expensive performance cars but is still pretty affordable for young drivers. That's a recipe for high insurance premiums right there. Out of curiosity, I decided to look up my historical insurance payments and see if I could detect any patterns. I present them here with what I perceive to be the reasons for any premium changes.

Started with just a 98 Accord
3/01/2000, Geico, 666.5, living in Evanston (Cook County)
8/16/2000, Geico, 642.8, 
3/17/2001, Geico, 642.8, 
9/21/2001, Geico, 643.3, 
3/03/2002, Geico, 658.5, Moved to Chicago (Cook County)
9/12/2002, Geico, 490.8, Turned 25
3/12/2003, Geico, 490.8, 
9/03/2003, Geico, 436.3, Moved to Wheaton (not Cook County)
3/22/2004, Geico, 799.2, Bought Sti
9/10/2004, Geico, 799.2, 
3/25/2005, Geico, 1168.69, Moved to Streamwood and raised coverage (Cook County)
9/27/2005, Geico, 1178.1, 
1/19/2006, AAA, 997, Switched to AAA
7/28/2006, AAA, 983, 
1/15/2007, AAA, 531.1, Turned 30
8/09/2007, AAA, 642.3, Traded Accord for 07 FXT
1/29/2008, AAA, 802.3, 
7/10/2008, AAA, 643.4, 
1/21/2009, AAA, 666, 
8/05/2009, AAA, 666,

Posted 09/23/2009 08:56 PM in Cars, Finances, Ramblings
Link To This Blargh | View/Add Comments (1)
---
Car DIY Weekend: TurboXS Short Ram Intake and Turbo Back Exhaust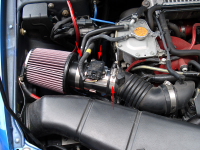 TurboXS Short Ram Intake

It's been quite a while since I've done a DIY car project. If you remember, I purchased a TurboXS User Tunable Engine Computer (UTEC) for my STi which I installed over 4 years ago (wow, has it really been that long?). The next step in my plan for my STi was to get it to Stage 2 but the condo and new car delayed that. However, paying off my Forester last month helped out my budget so I can restart my plans.

My project over Labor Day weekend was the installation of a TurboXS Short Ram Air Induction System and also a TurboXS Titanium Tip Turbo Back Exhaust with high flow catalytic converter. The project took twice as long as expected because everything was horribly corroded from 5 years of Chicago winters.

I spent Friday night under the car until 11pm trying to remove the old parts. I had several stripped bolts and one was so bad that Saturday morning I had to cut it out with a Dremel (flash backs to my Accord exhaust). The rest of Saturday went fine but I was extremely tired and sore from sliding around on concrete for two days.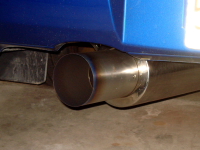 TurboXS Turbo Back Exhaust

After finishing the installation, I still wasn't done. After four years my UTEC was badly out of date and needed updates. I bought a USB-to-Serial adapter to connect and update the firmware but it failed. There was no help on-line and the tuner was closed but after playing with settings it eventually worked. I started the car only to get a flashing SRS (airbag) light and Check Engine Light (CEL a.k.a. malfunction indicator light or MIL). I was pretty freaked out only to realize that I hadn't uploaded any updated engine maps. After that everything finally ran peachy keen, just in time to meet up with my friend Annie and her parents for dinner.

After dinner I finally gave the car a test run. I definitely felt an increase in power, but the most surprising thing was just how loud the car is, way louder than the Accord which was borderline obnoxious. Oh well! The other thing I noticed was a tremendous rush of air and I thought I had forgotten to connect something. Then I realized I was hearing the sound of the turbo spooling. When I lift up on the throttle, I also hear the sound of releasing air pressure from the bypass valve, which is so loud it almost sounds like a blow-off valve. Sweet.

Now I just have to be careful that I don't blow up my engine as a result of boost creep from the new downpipe...
Posted 09/13/2009 09:01 PM in Cars, DIY, Ramblings
Link To This Blargh | View/Add Comments (2)


---

SWAG from Subaru
So I went to three Subaru sponsored events (Guinness World Record attempt, Factory Tour, Subaru Challenge AutoX) this summer and came away with a good amount of SWAG. Here's a breakdown of what I received:
3 Subaru Rally Team USA Posters
3 Subaru Temporary Tattoos
3 STi Temporary Tattoos
2 Subaru Carabiners
2 Subaru Chip Clips
2 Guinness Work Record Koozies
2 Subaru Baseball Caps
2 Subaru Tote Bags
1 STi Koozie
1 Subaru Koozie
1 STi Draw-String Bag
1 Subaru Wooden Ruler
1 Subaru Mini Fan with LEDs
1 SIA Lip Balm
1 Subaru Eco-Button (USB instant sleep button for PC)
1 Subaru Card Holder with lanyard
1 SIA 512MB USB Drive w/ soft copies of current product brochures
1 STi T-Shirt
1 Subaru Mechanical Pencil
Oh, I also received my certificate from Subaru for participating in the Guinness World Record for Largest Parade of Subaru Cars (339)
Posted 09/06/2009 10:38 PM in Cars, Ramblings, Sales & Deals
Link To This Blargh | View/Add Comments (3)


---

W New York - Union Square Review


This was my first hotel in NYC and I expected a big silver W in front like they have in some locations so I drove right by the hotel. I had to circle the block once before I saw the W flag a few stories up. Service wasn't quite what I expected from a SPG Category 6 hotel, though I did arrive at 3AM so I can't fault that. The only way to tell who the employees were was from a small W pin they wore. The valet assumed I was already checked in, but I was not and he had to get the attendant for me. The systems were down at that time and they couldn't merge my two reservations so after 2 nights I had to get my key re-coded. The one time I went to the concierge to get a map, there was no-one in sight so I just used Google Maps on my phone.

In typical W fashion, the lobby is dark. The double sided elevators open into a similarly dark hallway leading to the rooms. My room has typical dark and modern W styling but nice big windows to let in lots of natural light. The room was clean and the W bed was super comfy. The bathroom was nice, though a tad small with the shower door hitting the sink. My one complaint was that the A/C was a little off. THe room was nice and cool but it felt clammy and humid. I like the Bliss toiletries so I kept them as I can't stand the ginger stuff that I get at the Marriott I'm currently staying at in Hartford.

And now for parking... First, valet service is a whopping $55 per night, plus tax. When you call for your car they say 10-15 minutes, but I never waited less than 20 minutes. When I checked out, they hadn't billed me and correcting that took a long 10 minutes. Due to my dual-reservation problem they also mixed up the valet tickets and brought me a black Hyundai Sonata (I had a Grey Elantra). 15 minutes later they showed up with a Silver Hyundai Accent, saying it was the only other Hyundai they had. The bellman told me to go to the garage so after the valet shoved a bunch of someone's stuff in the Accent out of the way, I rode in awkward silence with the valet to the garage where I had to find my own car. When that was finally cleared up, I was 45 minutes late leaving the city to go to work.

Overall, I think the W in Union Square is a good hotel with nice rooms. Their service could use some polish and I guess that people who are paying big bucks may expect more but as a business traveler I'm ok with that. I would recommend this hotel if you don't have a car, however, if you do have a car, you may want to find a garage and park it yourself
Posted 08/10/2009 07:03 AM in Cars, New York, Reviews, Travel
Link To This Blargh | View/Add Comments (8)


---

Subaru Guinness World Record Pics
Here are a few pics from the event. Click to see more.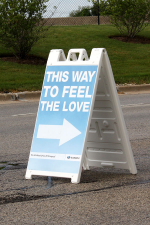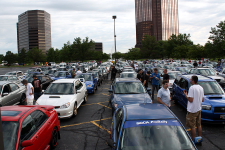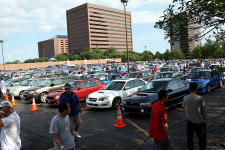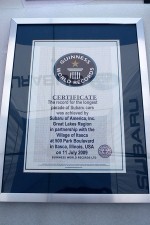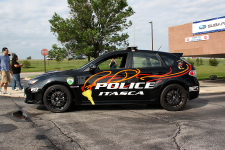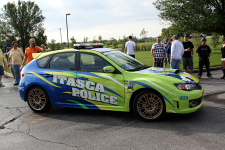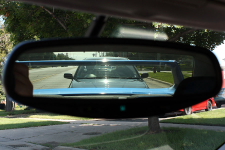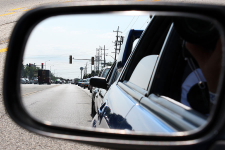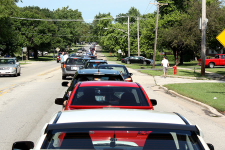 Posted 07/11/2009 10:54 PM in Cars, Pictures
Link To This Blargh | View/Add Comments (1)
---

Subaru sets Guinness World Record!
The Guinness World Record event was fun today. The record we set was Largest Parade of Subaru Cars (or any single manufacturer) with 339 vehicles.

Some people have pointed out that there have been larger car meets, but I think the "parade" part from Guinness is a significant requirement. It's not just a bunch of people showing up at a meet, but it's a coordinated parade that requires each VIN to be registered as proof. My guess is there are other requirements that Guinness has, such as a minimum length of the parade.

Even if there has been a larger meet or parade, it wasn't officially verified by Guinness. It's quite possible that a group in Cali, PNW or NE could easily break it in the near future, but isn't that half the fun of a world record?

I was also interviewed by a guy from the Daily Herald. Will I make it on-line or in print? We'll see. In the meantime, here is a compilation of vids I took from my phone. I couldn't take anything from the actual parade since I had to drive, but I did get some pics here.


Posted 07/11/2009 02:26 PM in Cars, News, Ramblings, Videos
Link To This Blargh | View/Add Comments (3)


---

Subaru Stuff
Yeah, yeah, it's been ages since I've posted... work is just too busy and I'm too brain dead at night to go through my pictures or write stuff... either that or I'm too busy watching NetFlix On Demand.

But with Subaru's attempt to set at Guinness World Record for Largest Parade of Subaru Cars tomorrow, I've been cruising the Subaru forums.

Last year I talked about how fun it would be to snowboard with a Subaru. That same Subaru driver, up and coming American rally driver Ken Block, has a couple more interesting vids which I present for your viewing pleasure.

2007 Rally Highlights


Ken Block's Hit Gymkhana Training (watch for the Segway)


Gymkhana Two "Infomercial"


Ken Block Special on Top Gear

Posted 07/10/2009 09:17 PM in Cars, Chicago, Videos
Link To This Blargh | View/Add Comments (0)


---

Cop Convo

Cop: Sir, I pulled you over for going 55 in a 40 on the parkway. Can I see your driver's license?
Me: Sure. You said on Forest Park Parkway?
[I pull my wallet out]
Cop: Yes.
[Cop looks at license but doesn't take it]
Cop: Okay, thanks. I actually pulled you over because there was a STi involved in a crime last night. It looked exactly like your car.
Me: Oh really?
Cop: Yeah. I was just checking and you're obviously not the person we're looking for. So how do you like the car?
[I put my wallet away, a bit stunned by the question]
Me: Uh, I've had it for a while but yeah, I like it. Though as you can see, it tempts me to drive a little fast.
Cop: What? 55? That's not fast. Well have a nice day.
Me: Uh, thanks.
Cop: Oh yeah, and, um, don't drive so fast.

Posted 06/04/2009 07:22 PM in Cars, Ramblings, St. Louis
Link To This Blargh | View/Add Comments (4)


---
How to get out of a locked car.
Posted 04/10/2009 00:18 AM in Cars, Videos
Link To This Blargh | View/Add Comments (0)
---

Recession Rentals
With the economy dragging along and the auto industry teetering on the edge, rental car companies have been hit hard as well, which is starting to show in my travels. With cars sales next to nil, rental companies cannot sell their used cars, let along buy new ones, resulting in older cars becoming quite common.

In previous years, rentals were usually sold when they had about 25k miles. I used to get about half of my cars with less than 10K miles and it was pretty rare to see cars with more than 25k, let alone 30k but this year the mileage on rental cars has definitely been creeping up. The vast majority of cars now have 20k or more miles and that number continues to go up.

The reason that rental car companies sell cars around 25k is because that's when things start wearing out. One interesting thing to see is how well rental cars with more mileage have been holding up. Imports such as Toyotas or Hyundais seem to hold up well, but it's quite apparent that domestics still can't keep up in quality.

Case in point, the Dodge Caliber I received last week. It had 31k miles on it and it had a host of problems. First, the car just sounded bad when I started it. It had funny wheezing and whining noises. Something seemed to be wrong with the power steering which whined loudly anytime you turned it. If you turned it while moving, it was accompanied by a rough grating noise, which I guessed to be a bad CV joint or wheel bearing (which the attendant also guessed when I turned in the car and described it). When driving on the highway, there was a faint flapping noise as well, which I would guess was a torn CV boot (it's a rubber seal that can lead to a damaged CV joint if it's torn)

On top of that, the transmission was slipping like crazy. Usually when you press the gas, RPMs rise while the speed rises, but in this car, the RPMs would go straight to 4000 or so and the speed would slowly creep up until the car reached the appropriate speed for that RPM. Basically, the transmission was slipping about 90% of the time. Then, during braking the car would occasionally squeal as if one of the brake pads was nearing its wear indicator. In one instance, I think a brake failed as well as I felt a sudden loss in braking at a stop light.

That's a lot of problems for a car with 31k miles, even for a rental. It must be because it's a Dodge, which I've felt has been lagging in quality even more than Ford or GM.
Posted 03/30/2009 07:19 AM in Cars, Ramblings, Reviews, Work
Link To This Blargh | View/Add Comments (8)


---

Fast and Furious
I've got an extra ticket to see Fast and Furious at 7:30pm on Thursday April 2 at the South Barrington AMC, if anyone is interested in going. That's the day before it officially opens, courtesy of Subaru.
Posted 03/20/2009 12:20 PM in Cars, Movies
Link To This Blargh | View/Add Comments (0)


---

That's my fate, for a missing front plate.
A few weeks ago I got a ticket for missing a front license plate. I got it when I was parked on the street in Chicago as I was eating lunch on Devon. Jina and Paula were pretty shocked, as was I since the ticket says I can see photo evidence on-line. Does that mean some meter maid took the time to take a picture and give me a ticket? Boo.

I guess I could just put my front plate on, but that would require me to drill holes in my front bumper (Subarus that are made in Japan only come with Japanese spec bumper holes). Since that's a pain and front plates don't look very good, I just paid the fine.

But that's a good segue to introduce Mr. Chi-City. If you don't know who he is, he's been making quite a splash on YouTube thanks to his humorous videos about life in Chicago and his refusal to show his face. Here's a video about a parking ticket that he received. Be warned that there is bad language.


Posted 02/25/2009 09:36 PM in Cars, Ramblings
Link To This Blargh | View/Add Comments (2)


---

Elantra Mantra: Get new tires!
I complained about the snow in Hartford, but I have to say my rental Hyundai Elantra was a painful reminder of why I never want to buy another front wheel drive car.

Don't get me wrong, the latest model of the Hyundai Elantra is actually a pretty decent car (a worthy improvement over my mediocre review from 2003). Based on my initial impressions driving it out of the lot, I thought the Elantra was a 2008 with less than 10K miles. I was wrong. I was impressed to find that the car had 28K miles, so it was probably a 2007. The only indications of it's age were a funny rattling noise inside the dash when stopped at a light and an unbalanced tire that shook the steering wheel on the highway.

Usually a rental with that sort of mileage is pretty dingy, beat down and abused. Fords and GMs with that many miles are quite obvious based on how they look and feel and often times how they smell as well. This Elantra, however, did not show it's age, a testament to the strides Hyundai has made in the last 5 years (that Genesis Coupe they advertised on the SuperBowl looked pretty slick too).

In terms of driveability, the Elantra feels good. It has nice firm and responsive steering with good feedback. Suspension is stiff but not unpleasant (except when going over speed bumps) and the brakes are firm and quick. Even the parking brake was nice and sensitive (good for yanking to make turns in the snow). The four gear transmission is slow but not any worse than your average economy car. The interior was decent and didn't have that worn look or smell, plus the overall fit was still good. The heater was a bit weak and I had to crank it pretty high to maintain a comfortable temperature but it wasn't too bad.

Unfortunately, the poorly plowed snowy icy Hartford roads revealed one major disappointment: the tires. With a couple inches of snow on the roads, everything decent about the car went out the door. The car had absolutely no traction so even starting from a stop on a flat road was difficult. Sometimes just slightly touching the gas would cause the tires to spin.

As a result, I got stuck in a relatively flat parking lot that had some lumps of slush blocking the parking spots. It took a good 10 minutes of rocking back and forth before I finally got the car out of the small pit I was stuck in and could drive the remaining 10 feet into the parking spot. Unfortunately for me, someone waiting in the parking lot got to watch the whole ordeal and probably had a good laugh.

On the opposite end, when braking, the slightest touch would cause the ABS to go crazy. Since there was no traction to work with, the ABS was as worthless as if I had locked the tires, but more annoying. I was very tempted to pull out the ABS fuse because it was just too frustrating to have it activating all the time.

In conclusion, Hyundai has definitely come a long way in making their entry level car much nicer and competitive with others in it's range. Overall I'm quite pleased by the Elatnra, but to have such crappy tires is a shame. The car desperately needs better all-seasons from the factory. However, saving money with such poor tires may justify the cost of buying a separate set of winter tires and summer tires. The improved safety and handling alone may be worth it.
Posted 02/02/2009 08:23 PM in Cars, Reviews
Link To This Blargh | View/Add Comments (1)


---

Run in with a State Trooper
It was 9:00PM on a crisp winter night illuminated by a near full moon. I was heading east on I-70 to Eric and Caroline's in Effingham. The speed limit was 65 and I was driving 82. No, 83. No, 82. I had no need for cruise control.

I passed a white Chevy Impala who fell in line behind me. He was a cunning driver who followed me but gave me plenty of space, an excellent strategy since it allows the leading speeder to spring any speed traps. He stalked me from a distance for at least 20 minutes. I know this because watching the mirror is one of the more mentally stimulating activities available on a dark and inauspicious midwestern highway.

All of a sudden, something wasn't right with the picture stretched out in front of my headlights. Entering a lazy left turn, I noticed an 18-wheeler quickly but smoothly switching into the left lane. There was no one in front of him so I knew he was switching out of courtesy to some poor bloke on the shoulder. It could have been anyone but instinctively, I lifted up on the gas.

As the towering truck continued around the curve, I saw the bright red brake lights of a car on the shoulder, glowing like an evil beacon. I too switched to the left out of courtesy, then carefully watched the car as I passed. My suspicions were confirmed as I passed a State Trooper in a white Dodge Charger, sporting Illinois' yellow and brown state trooper stripe along it's shoulder line.

The adrenaline began to pump and my senses heightened as time slowed. Thanks to engine braking and my symmetrical AWD, I heard the whir of the gears winding down as the car coasted to 75, then 70 without touching the brakes. My eyes were riveted to my mirror as I switched back to the right lane.

The Impala passed the trooper and caught up to me. My avoidance of the brakes had caught the Impala off guard and he hadn't slowed much. I saw the trooper pull onto the highway and begin to follow us. What would he do?

My eyes remained focused on the trooper as the drama unfolded, like lasers painting the target of a guided missile in my mirror. Seconds passed, though they seemed like minutes or even hours in my adrenaline rushed mind. In that moment, my mind felt synchronized with the Impala driver. "Who would it be?"

Suddenly, an explosion of red and blue lights erupted from the trooper as he picked his target. In utter disbelief, neither car slowed down. The trooper was not pleased by this reaction and responded to the silent, "Who me? Couldn't be!" with flashing high beams.

The target was not me. As reality set in, the Impala began to slow and our mind meld was broken by the increasing distance. Even so, I knew what the Impala driver was thinking: "Why isn't HE getting pulled over?"

In the remaining 30 minutes of my trip to Effingham, I replayed the event in my mind. I can only surmise that the cop had clocked me with his radar gun after I had slowed down and then clocked the Impala before he had slowed down. If that truck had been in a slightly different position, if my instinct had kicked in a second later, if the Impala had been following a little closer or a little farther, if I had been using cruise control...

There were many tiny factors that created a perfect storm for that Impala. Perhaps one day we will meet again and the tables will be turned.
Posted 01/21/2009 09:34 PM in Cars, Ramblings, Travel
Link To This Blargh | View/Add Comments (2)


---

Route 66 Roadtrip Part 3
Jump to the pictures.

Day 3 of the trip had some difficulties. Leaving Flagstaff we headed to Williams, AZ for Pete's Route 66 Gas Station Museum. Before that, we stopped for our own gas where a mechanic pointed out that our right front tire was severely worn. I had checked that particular tire before the trip and estimated 10-20k more miles. Discovering that the tire was nearly bald was quite a surprise.

The mechanic offered to replace the tire for $269 plus tax. He graciously offered to waive any labor fees but a quick Google search of the exact tire model showed the tire cost $133 on-line. We thanked him and carefully drove back to Flagstaff for a AAA approved tire installer where they recommended two new tires, installation and an alignment for $389, a much more reasonable price. The result of the alignment showed that the right front toe was 5/32", 2.5 times over Volvo's maximum recommended value of 2/32" explaining the severe wear.

Two hours later, we were back on the road to Williams, AZ. Unfortunately a pending snow storm hit so we took pictures from the car and continued on to Kingman, AZ for lunch. Unfortunately, things didn't turn out so well there either.

I had three potential restaurants picked out for lunch in Kingman. One was closed on weekends and two were out of business, in addition to a fourth potential restaurant. Kingman seemed to be full of dead businesses and I was frustrated but we eventually settled on Silver Spoon Family Restaurant for lunch.

Our next stop was supposed to be Mojave National Preserve but due to the tire fiasco, we had to scrap those plans, in addition to plans to see the original McDonald's and a giant Route 66 coffee cup. Instead we set our sights on our destination in Anaheim, only to be hindered again by traffic after merging onto I-15. We finally arrived hours late and tired.

Pictures are here.
Posted 01/12/2009 02:00 AM in Cars, Food, Restaurants, Reviews, Travel
Link To This Blargh | View/Add Comments (1)


---

Route 66 Roadtrip Part 2
Jump to the pictures.

Today we got up at 7 AM to get a good start on our long day of driving (859 miles, 12-13 hours). After a free hotel breakfast. Our first stop was Conoco Tower, just over the border in Shamrock, TX. It may not sound special, but you may recognize it as the tower that inspired Ramone's Body Shop in the Pixar movie, Cars.

The next point of interest was the giant cross in Groom, TX, which is claimed to be the largest cross in the Western Hemisphere (large than the one in Effingham, IL?).

After that was lunch at Dyer's in Amarillo, based on some Chowhound recs. Unfortunately, I was a tad dissappointed. The brisket was dry and not very flavorful: it had a pink line that may have been the smoke line, but it was no more than one millimeter from the surface. The beef ribs, which are award winning, were better with a little more flavor and and more smokey pink, but they weren't spectacular. The one redeeming item was the straight beef that was tender and very flavorful.

Luckily the barbecue sauce, served warm in a Coronita (mini Corona) bottle, was the right amount of sweet and tangy, though not particularly stand-out. The potato salad and creamy coleslaw were decent but the beans were only so-so and a bit bland despite a good amount of meat. For dessert, the homemade cherry cobbler a la mode was good, though subtle so my sister thought it was a bit boring. If you savored the cherry flavor you could get a good taste of fresh cherries, though I could see it being better if it were a bit more tart or had a few more cherries.

The next stop was Cadillac Ranch, a set of 10 early style Cadillacs (with fins) half buried nose first in the ground, supposedly at the same angle as the Cheops Pyramid in Egypt.

Next we stopped at The Bent Door Philips 66 in Adrian Texas at the midway point of Route 66. Despite it being bought and partially renovated a few years ago, the location remains closed and run down and their blog hasn't been updated since early 2007.

After passing into New Mexico and Mountain Time Zone, we stopped in Albequerque to grab a quick dinner at Mary & Tito's Café. We ordered a Carne Adovada Sopapilla, which is kind of like a gigantic empanada, with red chili sauce. We also ordered chicharrones, which are a type of fried pork skins.

The sopapilla (kind of like a fried tortilla) was filled with marinated pork and cheese. The pork was very tasty, especially mixed with the cheese. The spices were not as strong as I would have liked (compared to say, tacos al pastor at El Tapatio) but it had a good salty flavor that balanced well with the sopapilla. The addition of lettuce, tomatoes and chili sauce really brought it together. Unfortunately, I felt that the chile sauce, no doubt made from fresh real chilies, could have benefited from a touch of salt or even better, an acid such as lime juice.

The chicharrones were pretty tasty and much to my surprise, they were not crispy like cracklin. The pieces included both skin and some underlying meat and were fried, but not enough to be crispy. The result is meaty cubes up to 3/4". They were pleasantly salty but we felt that they'd be better with some of the red chili sauce. Indeed they were better, but again we felt it could have used some lime juice.

Next we headed toward Arizona. After being pulled over by a cop and given a verbal warning for passing him at high speed on the highway, we stopped at the 2nd Largest Route 66 Map Mural. By this time it was extremely dark at night so we attempted to light up the area with our headlights with limited success. My mom's Nikon Coolpix couldn't quite get it right, but my Canon XSi managed to turn out some halfway decent pics using the on-board flash and a fairly high-speed lens.

On our way back to the interstate, we discovered the Wigwam Motel, which has rooms shaped like tee pees and inspired the motel in Pixar's Cars. Each room also had a classic car parked in front, including a truck just like Tom Mater.

Finally, we drove the last hour to Flagstaff to spend the night.

Pictures are here.
Posted 01/07/2009 09:58 PM in Cars, Food, Restaurants, Reviews, Travel
Link To This Blargh | View/Add Comments (7)


---

Route 66 Road Trip Part 1
Jump to the pictures.

Since our road trip to California would follow Route 66, we decided to see some interesting sites along the way. I found Waymarking.com, a great geo-caching site for finding interesting things. The first day of our trip to California took us down I-44 from St. Louis to Oklahoma City, passing Rolla, Springfield and Tulsa.

There are a few interesting things along the way, but we had to be selective so I chose things more Route 66 centric and close to the highway. Our first stop was the A&W family, saved and maintained from the days when figures were a common advertising medium. After that, there wasn't much until Oklahoma.

We stopped in Tulsa for a Country Fried Steak and pie dinner but since it was New Year's day, all of our choices were closed so we pressed on to Oklahoma City.

Just before Oklahoma city we got off the interstate and hopped on historic Route 66 where we stopped at Pops, a soda pop themed gas station, store and diner. They have unlimited, customizable fountain drinks and over 500 brands of soda available for purchase.

Beyond that, it's mostly the pictures that tell the story...

Pictures are here.
Posted 01/02/2009 12:26 PM in Cars, Food, Restaurants, Reviews, Travel
Link To This Blargh | View/Add Comments (0)


---

Fording the Mississippi-Missouri River System
Since I have my STi down in St. Louis, I figured I'd venture out toward winery country and check out the curvy roads in the area with my sister. This time I checked out Google maps first and plotted a nice curvy looking route.

Much to my surprise, Callaway Fork Road turned out to be a very small gravel road. There were only a few small houses on the road. Not far down the road, we hit a slight snag. A large stream (incidentally called Callaway Fork, which eventually connects to the Mississippi-Missouri river system) went right over the gravel road for about twenty feet. It appeared that a slab of concrete had been laid about four inches beneath the surface so I went ahead and forded it without a problem.

After a scant 1/8 mile or so, the stream crossed the gravel road yet again. Why the builder of this simple gravel road chose to cross the stream twice in such a short distance is beyond me. This time the water looked deeper, perhaps six inches and it looked like loose pebbles on the bottom, but closer inspection revealed that there was a concrete slab under the pebbles so we braved that as well.

We continued for another mile until we discovered yet another section where the stream flowed for 30 feet over a concrete slab 8 inches deep this time. Having driven a Legacy Outback through at least 18" of water before and knowing where my air intake is located, we forded that as well without incident.

It was around here that we got stuck behind a couple of dump trucks. From this point on, we hit the stream five more times but three times there was a small concrete overpass instead of a slab and two times it was a mere two feet across and two inches deep. No problem. Apparently the gravel road is used primarily for quarry trucks and someone purposely laid concrete slabs and bridges as necessary to allow them to pass through.

After that we returned to paved roads and the rest of the drive along the Katy Trail to the wineries near Augusta was spirited and fun. Unfortunately, my car is now filthy from fording the streams and driving on gravel. The bottom half of my car is basically white now...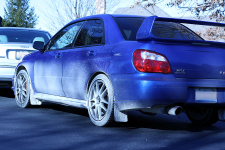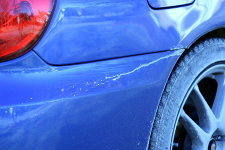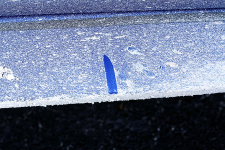 Posted 12/31/2008 03:43 AM in Cars, St. Louis, Travel
Link To This Blargh | View/Add Comments (1)
---

Road Trippin'
My sister needs a car. My mom has an old car she no longer needs. It must be divine planning. All that remains is to get the car to Orange County so the three of us will hit the road on New Year's day. We've got hotels booked in Oklahoma City, OK and Flagstaff, AZ. Our first day will have about eight hours of driving; our second, thirteen hours; our third, seven hours. We should arrive Saturday afternoon.

Sunday afternoon I'll be flying straight to Hartford for work, then Thursday back to St. Louis so I can drive back up to Chicago. So that will be the third time I've been gone from Chicago for three weeks at a time in the last four months. Including my other regular work travel, that means I've been out of town much more than I've been in town.
Posted 12/27/2008 03:24 AM in Cars, Travel
Link To This Blargh | View/Add Comments (2)


---

Subaru sales are UP.
Much to my surprise, Subaru sales so far this year are ahead of last year. Even the criticized Impreza is doing fairly well considering the economy. It's still not their best year ever and numbers are pretty small compared to other Asian manufacturers (though they're still only 4th smallest) but any growth in this economy is pretty good news. The only other manufacturer that grew was Daimler (Mercedes, Maybach, Smart).

US November YTD sales for comparison:
Isuzu: 4,570 (-30.8%)
Suzuki: 81,215 (-14.1%)
Mitsubishi: 92,687 (-24.7%)
Subaru: 170,412 (1.2%)
Daimler: 228,893 (1.2%)
Mazda: 245,984 (-9.3%)
BMW: 281,956 (-6.8%)
VAG: 288,139 (-3.5%)
Hyundai/Kia: 636,458 (-9.3%)
Nissan: 889,249 (-9.1%)
Honda: 1,342,680 (-5.4%)
Chrysler: 1,363,309 (-27.7%)
Ford: 1,863,954 (-20.6%)
GM: 2,734,789 (-21.9%)
Toyota: 2,075,709 (-13.4%)
As proof of how small Subaru is, some model sales in comparison:
Toyota sold more Corollas (342,808) and more Camrys (411,342) than Subaru sold all models.
Honda sold more Accords (350,441), Civics (321,987) and CR-V's (183,346) than Subaru sold all models.
Nissan sold more Altimas (252,357) than Subaru sold all models.
A complete and detailed list is available from Automotive News (scroll down to U.S. Monthly Sales)
Posted 12/03/2008 09:12 PM in Cars, News
Link To This Blargh | View/Add Comments (2)


---

We need more of God's love
I was really surprised to see a commercial on TV declaring in a catchy tune that "we need more of God's love to help us love one another." I was even more surprised to find that the commercial was from Interstate Batteries. Here's a message from their CEO, Norm Miller, followed by the commercial, "God's Love."


Posted 09/13/2008 06:25 PM in Cars, Christianity, Videos
Link To This Blargh | View/Add Comments (3)


---

Red Light Violation


The most interesting thing for me is the ability to observe my driving form. You can see me brake hard just before the line and then release the brakes just before the apex. Based on the squatting of my car's back I was on the gas soon after the apex. I think the turn looks pretty good. If only I had the footage from the opposite camera. Audio would be nice too as I'm certain my tires were squealing like crazy (as they always do).

Despite it being a moving violation and the ticket costing $100 (as much as a speeding ticket), the interesting thing is in the fine print:
The ticket appearing on this notice is not a uniform traffic citation. Payment will not impact your driving privileges. However, failure to pay or timely contest the violation may subject you to additional enforcement activities, including the immobilization of your vehicle.
What this means is that even though this is a traffic violation, since it is automated (and servies primarily to make revenue for the government) the ticket is equivalent to a non-moving violation (e.g. a parking ticket) so there shouldn't be an effect on insurance.

In addition to the pictures they provide, you can also view a video of the offense on the City of Chicago website. Being one of those new fangled flash movies, it was a bit of a pain to export it off the site, but here it is:


Posted 09/11/2008 04:19 PM in Cars, Videos
Link To This Blargh | View/Add Comments (2)


---

Is gas cheap again?
In the last month, as gas prices have eased a little bit, interesting auto sales numbers have come in. Manufacturers have found that sales for small cars have actually slowed down. Now that gas prices have come down a little, it seems people are getting a little more optimistic. It will take a little more time to see if this is a trend, but it seems that it may be harder than expected for Americans to change their buying habits.

This bugs me though. Do people think that gas prices are going to continue to drop? If that is indeed the trend, I hope people aren't expecting to see $2 gas any time soon. This is the same typical behavior that got us into the housing market situation. People are not looking long term: they see deals and make impulsive decisions. Then, a year or two later, they complain about rising prices and have trouble making ends meet.

I'm pretty impulsive too, but if increasing gas prices means someone cannot afford to drive their gas guzzling vehicle, then that is some pretty poor financial planning. And if someone sees gas prices easing up a little and thinks that puts them in the clear to purchase an inefficient car, they'll get no sympathy from me if gas prices go back up.
Posted 08/18/2008 00:14 AM in Cars, Ramblings
Link To This Blargh | View/Add Comments (1)


---

Court Supervision
I got a speeding ticket back in April. It was the first time I've been caught by the Illinois State Police and apparently the rules for dealing with tickets are quite different from city or county cops.

First, you do not have a 14 day payment deadline. In fact, you don't receive a court date automatically, instead they mail your court date within 14 days. The court date is usually within 2-3 months and you have until 4 days before to plead guilty and pay your fines.

Second, the state police do not offer the ability to plead guilty and avoid a conviction by taking a defensive driving course, let alone the on-line version by Northwestern.

Third, the court date assignment process is different. In Chicago, if you continue (postpone) your court date, the chances of the officer appearing in court decreases. You can continue your court date a second time and the chances of the officer appearing on the third date is even smaller, increasing your chances of getting the case thrown out. This is not true for the state. State officers are assigned one day a month to go to court and court dates are automatically assigned based on this date. The result is that officers rarely miss their court dates so cases are rarely dismissed.

Fourth, fines and fees are cheaper with the state. The largest fine you can get without having to go to court is a scant $95. I believe the basic fine in Chicago is $115 and $135 for the higher fine. Of course, the state does break triple digits with their $5 credit card payment fee.

Fifth, the only way to avoid a conviction is to request court supervision. If you get another ticket while under court supervision, your original ticket will be re-instated and entered as a conviction, along with your new ticket. On the plus side, court supervision by the state only lasts 90 days instead of 12 months.

Unfortunately I didn't realize all these differences. If I had requested court supervision in April, my time would already be done. Instead I continued my case and then procrastinated, which means I have to behave for another 90 days until my record is clear again.


Posted 08/12/2008 09:03 PM in Cars, Who knew?
Link To This Blargh | View/Add Comments (0)


---

BMW Ultimate Drive
I guess it's been two weeks since my BMW Ultimate Drive and I'm finally talking about it. The first car I drove was the Alpina B7 with an MSRP of $115,000.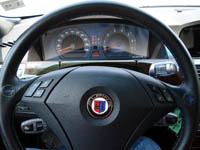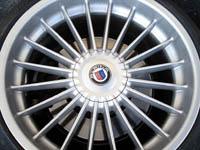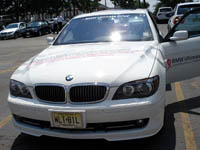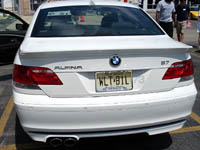 Personally, I didn't like the B7. It wasn't a bad car, but it's definitely luxury focused as opposed to performance focused like the M cars. The supercharged 500HP B7 has great acceleration and takes corners extremely flat and smoothly. The problem is that it's TOO smooth. There is little road feedback and it's no fun taking a corner fast if you can't feel it.

Also I did not like the transmission. If you look at the steering wheel, it does not have paddles for shifting. Instead it has little lumps on the back under the leather that are shift buttons (behind the + and - symbols) but unlike the SMG found in M series, it's a very slow (albeit smooth) transmission. Of course you can use full auto mode if you want. The other bummer is that there is only one change you can make to the driving system which is to turn of the Dynamic Stability Control (if you can figure out the iDrive). While turning off the DSC isn't bad, there is no option to turn off the Traction Control System. If I had $115K to spend, I would definitely go for a M5 or M6, especially after driving the next car.

After the B7, I drove the 650i convertible which I thoroughly enjoyed, even though it wasn't an M series. The convertible was very nice and lots of fun. The body was tight and responsive with good road feel and a nice fast, responsive transmission. Pressing the DSC button turns off the DSC but leaves the TCS on, just like the B7. However, in the 6 series, you can hold down the DSC button for 5 seconds and shut down the TCS as well, making this car a blast in the corners. Now, choosing between a 650i convertible and a M6 would be a tough choice... more sun or more power?

The one downside to this was choosing Patrick BMW in Schaumburg because all the roads in the area are straight and flat. The route I took was Golf to Higgins to Barrington to Algonquin to Meecham to Golf. Field's BMW near Northbrook has some curves and a nice highway on-ramp so its a much more interesting route, but oh well, it was worth it for being able to try the 650i and B7.

Oh, and here are a couple pics of the new X6 "Sport Activity Vehicle." This is the official Susan G. Komen X6 which volunteer and contributor signatures are proudly displayed.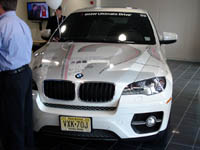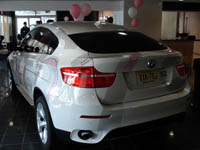 Posted 08/06/2008 09:54 PM in Cars, Pictures, Reviews
Link To This Blargh | View/Add Comments (0)
---

Wrecked!
There's a new "reality" show on Speed TV called Wrecked! It follows the heavy duty O'hare Towing Company in Chicago which is often called for specialty towing jobs such as removing 18 wheelers that are too tall and get stuck under Lower Wacker Drive or a sump truck that has turned over in the Stevenson. Who knows, you may even see them clean up an accident that caused traffic that you were stuck in. Fascinating.
Posted 07/31/2008 07:07 PM in Cars, Chicago, TV
Link To This Blargh | View/Add Comments (2)


---

New is the new Old
Some time in the last month, my 2007 Forester XT passed my 2004 WRX STi in mileage. In 15 months I have put 14,000 miles on my FXT, 10,000 of which was done in the first 6 months when I was commuting to Bensenville. My STi has just under 14,000 miles after 4.5 years. That's one reason I prefer travelling for work: less wear and tear and gas for my cars when I'm not here.
Posted 07/20/2008 10:58 PM in Cars, Travel
Link To This Blargh | View/Add Comments (0)


---

Drive a BMW Alpina B7 to support breast cancer research
BMW's 12th annual Ultimate Drive to support the Susan G. Komen foundation is coming soon. For every mile you drive in one of their cars, they will donate $1. Much like past years, their goal is to have people drive a total of 1 million miles to bring their 12 year total donation to $12 million.

Last time I went you could pick any two BMWs to drive so I drove the Z4 and 325i w/ Sport Package for two 6 mile drives. This year they will also have the new X3 and X6 available to drive. If you're interest in trying out a BMW while supporting a good cause, check out the BMW Ultimate Drive site.

There are events throughout the week and weekend, depending on which BMW dealer you go to. It looks like the weekend slots are filling up quickly with only X3 and X5 slots still available so I opted for the Friday event at Patrick BMW in Schaumburg and signed up to drive a 650Cic and an Alpina B7. Sweet.

One note, they've put in new age requirements. You must be 21 to drive any regular car, 25 to drive nicer cars (e.g. 5, 6 and 7 series) and 30 to drive the Alpina. I guess age has SOME benefits.
Posted 06/28/2008 02:29 AM in Cars
Link To This Blargh | View/Add Comments (2)


---

Snow Rally Fun
This looks like something fun to do in a Subaru...


Posted 06/11/2008 11:11 PM in Cars, Videos
Link To This Blargh | View/Add Comments (2)


---

Old cars are stolen more than new
Here is the 2006 list of Cars Stolen Most Often according State Farm. Not surprisingly, the Civic, Accord and Camry make up the most commonly stolen. But that's a grossly misunderstood statistic because it is the model years 1995, 1991, 1989 respectively that are on the list. Apparently, it's only the old models that are frequently stolen.

In fact, the only model on the top 10 from this millennium is the 2005 Dodge Ram. Everything else is from the 90's or 80's. That refutes the idea that "I have an old car, no one will steal it." In reality, your old car is more likely to be stolen. I can think of a few reasons why:
Simpler (or non-existent) security systems
Owners less likely to lock or protect a car "because it's old and nobody would want it."
Greater demand for used and cheap (i.e. black market) parts to fix aging cars
Larger pool of cars that need parts and thus a larger pool to pick from (compared to new models that have only been on the market a couple years)
Less conspicuous and harder to find an old stolen car than a shiny new car
Less urgency from police and insurance companies to recover lower value older cars
Posted 06/04/2008 05:04 PM in Cars, News
Link To This Blargh | View/Add Comments (2)
---

Sportsman-like Conduct
This past weekend the Subaru WRC 2008 car, based on the redesigned 5-door Impreza, made it's debut at WRC Acropolis (Greece). The result? Petter Solberg earned second place. To debut a car in one of the most punishing rallies and to pull off second place is impressive.

Rally is an interesting sport and you see some crazy things, but here is an example of good sportsmanship. Due to close running times and dry conditions, Solberg had to race through extremely poor visibility caused by dust kicked up by competitor Mikko Hirvonen. Despite having absolutely no control over it, Hirvonen took the time to apologize to Solberg for the dusty conditions.
Posted 06/03/2008 05:06 PM in Cars, News
Link To This Blargh | View/Add Comments (0)


---

Near Accident
Wow, I almost had a major accident on my way home from Mike's place. I was in the Subaru driving south on 53. I was in the left lane and there were cars in the middle lane and right lane as well.

The person in the right lane decided to switch to the middle lane but didn't check his blind spot. As a result, the SUV in the middle lane had to take evasive maneuvers and switch to the left lane. Of course, he didn't have time to check his blind spot so the big black SUV swerves towards me. I had no choice but to drive onto the shoulder, which is covered by 6 inches of snow and ice.

I'm not entirely sure what happened, but I think the initial hit into the snow and ice caused my car to pull to the left. I corrected by steering right, but with no traction on the left at highway speed my rear started to slip. As soon as my left tires got back onto pavement they regained grip and pulled the car hard to the right. I steered back to the left but at highway speeds this was an over correction and I started to fishtail. At that moment I thought to myself, "I hope nothing happens to my car."

This time I steered to the right but once again I over-corrected and as soon as my tires re-gripped the road I knew what was going to happen: a clockwise spin. As I hit the 90 degree mark, I remembered that I needed to stay calm, disengage the clutch and ride it out or I would just make it worse. At the 180 degree mark I stared at a dozen headlights shining on me and thought, "Oh good, no one is close to me."

At the 270 mark I noticed the smell of burning rubber from my tires. When I hit the 360 degree mark I could tell I had slowed to about 20 mph so I revved up the the engine, shifted into first gear and took off as if nothing had happened, except that I was inexplicably in the right lane.

That certainly got my adrenaline pumping and I can count a dozen different ways it could have ended so I thank God that everything worked out ok. But I think I got a little high on the adrenaline b/c the experience as a whole was actually kind of fun... Is that messed up?
Posted 12/03/2006 05:19 AM in Cars, Ramblings
Link To This Blargh | View/Add Comments (9)


---

Two tasks done
Well, I bought the RF switch and hooked that up. Cable and PS2 look much nicer on a bigger screen, even if I still can't read how much ammo I have. That's one task off my list.

Last night I also got two more tasks off my list... I installed the computer chip for the Subaru and I finished installing the grounding kit as well.
Posted 04/21/2005 02:43 PM in Cars, DIY
Link To This Blargh | View/Add Comments (1)


---

Bible Study, Condo, Car Updates
A new bible study has started at church. Previously we had been meeting at Paul and Jina's but this year they are changing the format a little. Primarily, most of the groups will be moved to church instead of someone's house. This makes it difficult on the weekdays b/c it's a long commute to church. So I've joined the Sunday bible study and there's a lot of people I don't know so well, which is good. It should be a fun a group.

My only concern is... I can't remember the last time we actually studied the BIBLE in Bible Study. We seem to be doing a lot of book studies, which are good sometimes, but in the end, if we're not studying THE Book then reading as many other books as we want can misguide us or take our focus away from God. We'll see how it goes though.

I am one step closer to getting a house. I may have to pull some financial tricks to get it done but I've learned about more options. The big one is the 80/20 (or piggy back) loan. You take a 80% mortgage on your house to avoid PMI (mortgage insurance) and a home equity loan on the other 20%. No down payment necessary. Interest is higher, but the monthly payment is usually lower. There are risks and disadvantages but they are balanced against building equity in your own home instead of paying rent as well as tax benefits.

This way, I wont be dependent on my parents so much and I will be able to keep my savings and potentially pay off my car sooner, since that comprises a sizeable monthly bill. The other interesting development is that the unit (10A) directly under Ben (10B) went on the market yesterday. That is quite an interesting option...

The other thing that has been occupying my mind is the tuner equipment I ordered. It was created by a reputable Subaru tuner, TurboXS. It's called the User Tunable Engine Computer (UTEC) and is a piggyback Engine Control Unit (ECU) system. This means literally that it piggybacks to the top of the stock ECU and figuratively piggybacks (intercepts and modifies) the electric signals coming from and going to the engine from the ECU.

So far I've read about 150 pages of information on how to install and tune the UTEC. A stock STi, it should be good for about 20 extra HP using a conservative tune. Alas, I cannot do any serious tuning until I get the gauges and sensors to safely do so. Amazingly enough, all these gauges and sensors will cost at least twice as much as the UTEC so that's going to be a long time from now.

My favorite part is note on the cover page, "THE UTEC PROVIDES MORE THAN ENOUGH CONTROL FOR YOU TO DESTROY YOUR ENGINE!" Yee ha!
Posted 01/10/2005 02:06 PM in Cars, Christianity, DIY, Ramblings
Link To This Blargh | View/Add Comments (10)


---

Yes, you can drive through 18 inches of water.
Last night we had a little adventure on the way to P.F. Chang's for dinner. It was pouring down rain like crazy when we left and in addition to the poor condition of the Detroit roads, they also have an extremely poor water drainage system (most cities have separate water drainage and raw sewage systems, but Chicago doesn't. I wonder about Detroit...). Detroit's roads, in many cases, didn't seem to have drains at all! I saw one drain that was working and one drain what was flooding and otherwise there were 4-6 inch deep puddles all over the roads AND on the interstates! Talk about ghetto.

But here was our adventure. Driving down E Grand heading toward I-75, we noticed an aweful lot of people turning toward the I-75 entrance, then stopping, reversing out and driving away. Some of these were compacts, which was understandable, but we also saw a large number of SUVs stopping and reversing. There were four of us in the Subaru Outback and since we had all-wheel drive, we decided to take a better look. There was a good 40-50 foot diameter lake in the middle of the street under a bridge so there was no shoulder. The three passengers and I unanimously agreed that we could make it. I started driving in, but once we got in about 15 feet, I lost my nerve and slammed on the brakes (a rather poor judgement since it made the front dip deeper in the water) and started reversing back.

The guy sitting next to me was like "What the he** are you doing? Just go!" We sat in front of the lake for a minute trying to decide what to do. At about 15 feet into the lake the water had reached our headlights making it about 18 inches deep, and yet no water had seeped into the doors. One guy and I were skeptical about whether we could make it, one guy was pretty quiet and one guy was like "Dude, you can make it!"

I reversed out a little more and decided to build up some momentum and go for it. We hit the water going about 20 and made some huge waves. The car slowed down quite a bit but kept going until the water was over our headlights and starting to wash up on the hood a little, meaning the water was approximately 2 feet deep. By this time a van and sedan had pulled up to the water and were watching us to see what would happen. Well, we made it without incident. Not a drop of water seeped in through the doors and the engine didn't struggle at all.

Yeah, yeah, I'm sure someone's going to tell me how dumb that was and how some guy driving through the water in Chesterfield got his car swept into the creek where he drowned, but my co-workers assured me that there was no river or creek nearby. Worst case scenario would be that we'd get stranded in the middle and get wet and perhaps lose our laptops if the water got into the trunk. But otherwise, it was a rental car and we had our cell phones in case we needed to call for help. To be honest, I'm amazed that the engine didn't get water-logged at that depth since water was surely in the engine compartment. It was probably good that I had a full car because it gave us more weight to anchor us to the ground. It was quite an adventure and the van waiting for us decided to follow us after seeing our success. The sedan, however, with it's low clearance and engine wisely chose not to.
Posted 06/27/2002 08:38 AM in Cars, Travel
Link To This Blargh | View/Add Comments (0)


---