Blargh Archive for




To view past blarghs, simply select the month or year you would like to view on the left and click "go." If you are searching for a specific word, enter the word and the year you think it was mentioned on the right and click "go."


NYC Trip 1 (6/26-6/28)
At the end of June I had to fly to Chattanooga for work and stay through Friday. With a short weekend, I decided to fly back to Hartford and drive to NYC to visit Hewson and Celeste.

Thursday I got a text from Hewson asking if it was ok to have a dinner party on Saturday. Of course that was fine, but his next message was, "Tell us what you want and we'll make sure we get the ingredients for you." Apparently this dinner party would feature food from my own hands...

On Friday, after flying to Hartford I drove down to Brooklyn and arrived around 1AM after which we stayed up until 3 before I collapsed on their futon.

Saturday I woke up around noon and Hewson and I went to the city for some Ethiopian food. After that we went to Fairway Market to shop for the dinner party which was attended by Hewson's sister Maria, Celeste's childhood friend Antoinette and two of their other friends, Mike and Christine. For dinner I made fettuccini putanesca and farfalle with smoked salmon cream sauce while Celeste made strawberry shortcake for dessert.

Sunday we mostly chilled and played Wii before heading out for a pizza lunch and driving around Coney Island. After that we drove through Green Wood cemetery looking at the amazing mausoleums and tombs (apparently this was a nice way to spend your afternoons in the 70's or something). Also in the cemetery was Battle Hill, the site of the original battle for American independence from Britain.



After our afternoon, we went to Manhattan for dinner at WD-50. In terms of atmosphere, the restaurant has no dress code and allows walk-ins, giving it a nice comfortable feel. The tables actually have cutouts so the servers can stand by your table without blocking foot traffic. As a bonus, they had half price wines that night so (much to my surprise) we finished a bottle of a malbec and a rose.

Overall, I think the dinner was excellent (pics below). There were a couple dishes that were not that special, though there was some debate between us as to which ones they were. However, the final lamb entree was perfect and made the dinner worth it across the board. The two desserts after it were amazing as well. In the end, we were all quite happy, though the final bill did come out to $205 per person.

Pics are here
Posted 08/04/2009 09:04 PM in Dessert, Food, Pictures, Ramblings, Restaurants, Reviews, Travel
Link To This Blargh | View/Add Comments (11)


---

Wapango
Last night I met up with John and Elaine Mehn, my missionary friends from Japan. The last three times I've been in Japan they've opened up their home to me so when I heard they were going to be in St. Louis to share about their work with West Hills, I arranged my travel to be here this weekend.

Last night I invited them to dinner with my parents as well and we had a nice meal at Wapango, a pan-latin restaurant. Conveniently, this gives me an opportunity to finally share my Wapango pictures and review from when I went with my family in December. Here are a couple quick pics: their Carnivale appetizer sampler and their fresh cocoa fritters. Both are must-haves at Wapango.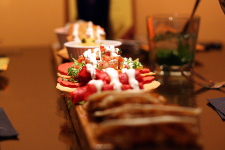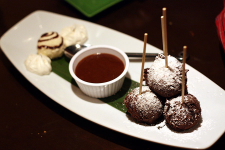 Posted 04/26/2009 10:47 AM in Food, Japan, Restaurants, Reviews, St. Louis
Link To This Blargh | View/Add Comments (5)
---

Japanese Foie Gras
I keep hearing east coasters talk about how seafood on the east coast is so good and how it's too bad that I live in Chicago. I don't know what they're talking about, there's tons of good seafood in Chicago and being centrally located means we can get fresh fish from both coasts. I have no doubt that seafood in New York and Boston is excellent but Hartford remains the blight of the east coast in this regard as well. I eat sushi fairly regularly in Hartford but the quality and variety just isn't that good.

On the other hand, last year I found Sakuma, a nice sushi restaurant in a strip mall near my home. I had a sudden craving for some good sushi on Saturday so I returned to Sakuma and was pleasantly surprised again.

This week they had a new special with Japanese delicacy called Ankimo. It is sometimes called "Japanese foie gras" and is a specially prepared, seasoned, sake washed Monkfish liver.

The dish was basically ankimo wrapped in unagi and drizzled with terriyaki sauce, pretty simple. I took my first bite and with the distinct unagi and sauce flavor, I couldn't really taste the ankimo, so I had a piece on it's own. It did not taste like a typical liver and tasted more like other Asian roasted fish eggs such as salted mullet roe a.k.a. karasumi except it was soft and tender. I thought it was quite good.
Posted 04/06/2009 08:01 AM in Food, Japan, Restaurants, Reviews
Link To This Blargh | View/Add Comments (13)


---

10/15 - London
Jump to the pictures.

It was the last day of the trip for most of the group. My sister and I woke up at 5AM so we could get ready and pack. Then we caught a taxi to our parents' hotel where the whole group boarded a shuttle bus to the airport. We arrived 2 hours early to quell the worries of some nervous Asian travellers. I checked in and the British Airways representative let me check both of my bags all the way to Chicago, despite having a 20 hour layover in London (the policy is not to store luggage over 3 hours in London, if you remember my luggage fiasco two weeks earlier). After we were all checked in, our family camped out at Gloria Jean's for coffee and to eat some of the many baklava treats we had collected.

When it was time to head to the gate we left my sister at Gloria Jean's since her flight didn't leave for another 4 hours. The rest of us proceeded to the gate and had an uneventful British Air flight to London Heathrow's Terminal 5. There the whole group went through security to transfer to Terminal 4 where AA is located. I followed them, only to discover that it is extremely difficult to exit the departure area of Terminal 4!

I asked one airport employee how to get out to the city and they had me walking all over Terminal 4 before I found out I had to go backwards through security to return to Terminal 5 and then follow a different route to go through immigration and customs. Finally I got to the Tube (a route I remembered well due to my luggage fiasco two weeks earlier) and made it to my Hilton hotel.

After Gloria Jean's and snacks on the plane, I wasn't really hungry even though it was noon (3pm in Turkey) but I had a 1:00 reservation for Afternoon Tea at The Promenade in The Dorchester hotel, just down the street from my Hilton. It had gotten a good 20 degrees colder in London in the two weeks since I had been there so it was a brisk, but refreshing 5 minute walk. The Dorchester is a beautiful classically decorated hotel and makes you feel a bit regal when sitting in The Promenade, a long hallway full of couches and chairs for lounging and for Afternoon Tea.

Afternoon Tea proved to be quite nice and is much more elaborate than just tea. There was champagne, amuse bouche, finger sandwiches, a main course, dessert, pastries and finally a small pot of tea. Since I wasn't really hungry when I started, I ended up quite full, which did not bode well for my dinner plans.

I had two other things to do before dinner and I hoped that a decent amount of walking would let me build up an appetite before my 10:00pm reservation. First, I walked to the Green Park Tube which took me to Bond Street (one stop). I walked north to find La Fromagerie, a highly reviewed cheese and gourmet food shop. I took a few pictures of the area to help people locate it (see below). They have a a nice selection of locally produced foods from yogurts to cured meats to fresh vegetables to fruit preserves. They also have a small dining area for cheese flights and sandwiches. Of course, the main attraction is their temperature and humidity controlled, glass walled cheese room.

A small sign sets forth some rules, the most notable ones being: keep the door closed, maximum of 6 persons in the room (2 of which are the cheese mongers) and no pictures allowed without permission. I asked to try some smoked cheese and ended up buying a half pound of smoked cheddar. I also asked for any aged cheeses but since they tend to buy locally, there were no aged italian parmesans. The oldest thing they had was a 1.5 year aged Gruyere which was quite tasty and had lots of really tasty salt crystals in it so I bought a half pound of that as well. I also asked for permission to take photos, which they allowed after a couple seconds of contemplation.

After that I had to go clothes shopping because BA had unexpectedly allowed me to check both my big bags and I did not have any dress pants for dinner. I walked south to Marks & Spencer to buy some cheap khakis (cheap meaning 15 GBP, about $30) and since it was in the same direction as my hotel, I went ahead and walked all the way back. It was still a bit early so I took a nap for an hour before getting ready.

When 9:30 rolled around, I was still not hungry, but when you have a reservation at a three Michelin Star restaurant, you go anyway. I jumped in a cab and told him I was going to Restaurant Gordon Ramsay on Royal Hospital Road. After 10 minutes of driving and listening to his phone conversation with his wife, he dropped me off and I walked in. I immediately knew that I was in the wrong place. I was actually at Claridge's, one of Ramsay's one Michelin Star restaurants. It is another restaurant worth trying, but not where my reservation was. The hostess kindly called ahead to RGR to inform them I was on my way and I hopped into another cab.

I finally arrived at RGR where they promptly seated me in a corner overlooking the rest of the dining room. I was the only person eating alone and I think they took pity on me and were a little extra attentive, though you could potentially mark that as a sign of service. After ordering a Pilsner Urquell, I briefly perused the menu even though I knew I was going to order the Prestige Chef's Menu.

While I did so, I noticed the Maitre'D walking from table to table with a wooden box. When it was my turn, he approached my table and opened it. The top of the inside had a polished brass plaque lining it, which created a golden glow, just like the briefcase in Pulp Fiction. In the center of the box, sitting on a layer of Arborio rice, were three lumps. The Maitre'd explained that they were whole white truffles from Alba, Italy, the most expensive type and available just one month a year. I could have them shaved over a mushroom risotto for 25GBP ($50) a la carte or for 16GBP ($32) as a substitution for an appetizer on the Chef's Menu.

Personally, I think black truffles are a bit over rated and are a bit too earthy for my tastes, but the smell from these white truffles was heavenly. I thought to myself, "Hey, I'm at Gordon Ramsay's three star restaurant in London and I have an opportunity to try white truffles. How often does that happen?" I figured I was already spending an arm and a leg on the meal so I went ahead and ordered it.

You can read about the individual dishes below, but as I was eating, I was writing notes and taking pictures. The Maitre'D noticed of course and asked if I was a chef. I told him I was an aspiring cook, but not a chef. He asked if I'd like to see Ramsay's book about the restaurant. I knew the book he was referring to and gladly accepted the offer. He brought the autographed oversized silver book, "Gordon Ramsay: Three Star Chef" to my table and and indicated it was the restaurants only copy. I wish I could get a copy of my own but it's been out of print and sold-out for a while.

A couple courses later, I overheard the couple next to me talking about me taking photos, after which the gentleman leaned toward me and asked if I was taking pictures for a blog. We had a brief conversation about why I was in London and how I was enjoying my trip, and then the cheese cart came. I wanted to try some cheese (an additional 12GPB, $24) but I was way too full so I passed. Next were the dessert courses; of which there were quite a few. There were about as many pre-dessert, dessert and post-dessert courses as there were other courses on the tasting menu, but I'm fully in favor that!

In the end, the RGR meal was excellent and definitely one of my favorite meals of all time. It was a more traditional french 6-7 course meal instead of the over-the-top 10-20 course meals popping up in America and I like that. It's too bad the exchange rate was so bad, making my 160 GBP meal cost a whopping $331.29.

I returned to the hotel and watched an interesting documentary about how British Airlines has dropped in the rankings. BA now has the 3rd most cancelled flights in the world. BA also loses the most baggage in the world and that doesn't mean temporarily delayed or mis-routed, that means luggage that is straight up lost and never recovered or identified. In fact, they have an entire warehouse full of hundreds of thousands of unclaimed and unidentified luggage that they sell at auction after one year. Apparently the opening of Heathrow Terminal 5 was supposed to fix some of these problems but it ended up being a giant cluster. Apparently, BA is now becoming famous for UN-friendly customer service and policies. I can understand that given the issues I had in Athens...

Shortly after that, I fell asleep for the last night of my trip.

10/15 pictures are here.
Posted 02/09/2009 11:04 PM in Food, Pictures, Restaurants, Reviews, Travel, United Kingdom
Link To This Blargh | View/Add Comments (2)


---

10/14 - Istanbul 3
Jump to the pictures.

Today was our free day to roam Istanbul. Our parents, who were staying near the historic district (Sultanahmet) on the south European side, went to the Grand Bazaar and Egyptian Spice Market. My sister and I, staying near the young, modern business district (Beyoglu) on the north European side, elected to explore modern Istanbul before venturing to the Spice Market. After being directed to the bus station by the concierge, we set off on foot.

Since the W doesn't have free breakfast or a concierge lounge, we decided to scope out a local eatery on our way to the bus. We found a pita shop called Karadeniz. I don't remember the exact location but the address appeared to be 50 and it was on Catlak Cesme Sokak. The staff didn't speak much English but they invited us in anyway. We watched as their baker made Ramazan Pidesi (Ramadan Pitas) at lightning speed, tossed them into the wood fired brick oven for a few minutes then extracted them, boxed them up and gave them to the delivery scooter driver.

We ordered a lahmacun, pita spread with ground lamb and spices before being baked and a tomato cucumber salad, as recommended by the owner/waiter. I also saw a large beverage dispenser filled with a white liquid. I pointed to it and the owner replied "aryran." I was hoping for sahlep, but decided to try it anyway. After looking at the menu, I found ayran with a picture of fruit yogurt on it. Basically it was an unsweetened yogurt drink, much like an Indian plain lassi.

After breakfast, the owner pointed us up a hill toward the bus stop we needed. Along the way we asked an Asian (of Eastern, Oriental descent) for directions. I was a little surprised when he didn't seem to know English but that's a pretty arrogant expectation on my part. He pointed us further up the hill and said "Thirty." We thought he meant 30 meters and were starting to doubt his direction after 100 meters or so. We exited a small park and suddenly found ourselves on a large, busy street where we found a bus stop with the number 30 on it. After asking if we could get to our destination, Istiklal Caddessi (Independence Avenue) a nice lady indicated we were in the right spot.

Five minutes later, bus 30 came along and we followed the lady onto the bus at which point the lady stopped and waved us off the bus. She turned to the bus driver and asked a question, then turned back to us and said, "Istiklal, no." Then the bus closed it's doors and left us. We were a bit confused until we asked another man who also didn't speak English but he indicated a different bus number (sorry, I don't remember what the right number is) and so we sat and waited for a good 20 more minutes before the correct bus came.

After a mere 10 minute ride (we probably could have walked) we arrived at Taksim square on the east end of Istiklal. In the center of the square was the Cumhuriyet Aniti or Republic Monument, commemorating the formation of the Turkish Republic and Mustafa Kemel Ataturk, the father of the Turkish Republic. Between the square and the end of Istiklal is the Taksim reservoir. Taksim means "division" or "distribution" and this reservoir once served as the central gathering and distribution point for northern Istanbul (hence the name Taksim Square).

Istiklal was a busy and bustling place with shops, vendors, cafes and restaurants on both sides. The large road, approximately four lanes across, is for pedestrians only, except for a ground level tram line that runs in the center. Shops range from high end fashion to Western fast food to century old establishments, while lacking some of the tourist traps common in the historical district.

After a stop at Saray Muhallabecisi for baklava, kataifi and other baked goods, we also stopped at Ali Muhaddin Haci Bekir for Turkish Delight and Halva. I also stopped at a random shop for dried mulberries and local chocolate variations. We also walked by Mado which makes sahlep ice cream but we weren't hungry enough to have any. Upon reaching the opposite end of Istiklal, we found the subway station for Tunel, a one stop train to Karakoy where we could transfer to the main tram line that we took before.

Our next stop was the Egyptian Spice Market where we took a little rest room break. For 0.50 YTL (just under 50 cents) you received entrance to the rest room and, if you needed paper, a single small square beverage napkin.

Inside the Spice Market is a dimly lit L-shaped hallway full of shopping tourists. There were shops for spices, pastries, honey, snacks, purses, cheese, caviar, clothing and plenty of other things. We ran into some of the parents who indicated that our parents were searching for caviar. We never managed to find them so we continued on our own. My sister picked up a purse, I picked up some honey.

We also found Gulluoglu, a famous baklavaci (balkava bakery). There they had plain baklava or baklava with walnuts, hazelnuts, pistachios, almonds or pecans. They also had kataifi and other baked desserts. It was hot and crowded in this tiny shop which made ordering a bit of an adventure but we eventually got a box of goodies.

Once we had finished exploring the inside of the Spice Market, we left via the exit at the bottom corner of the "L," and discovered tons more shops with tons more crowds, but I was looking for a specific shop, Namli Pastirmaci. It turned out to be a big store with tons of food products, including their flagship pastrami, many examples of which were hanging from the ceiling and walls as they cured.

Once we finished all of our shopping, we took the tram again to the Cemberlitas stop and walked to our parents' hotel. Unlike the W, their room was quite small and due to a malfunctioning air conditioner, their room was boiling hot, despite it being quite cool outside. We dropped off some stuff that we didn't want to lug back to the W and then we went out for dinner.

We walked towards Sultanahmet looking for restaurants. There was a decent looking seafood restaurant just a block from their hotel but we decided to keep looking for other local cuisines. We ended up walking a good 15 minutes and found ourselves near the tourist traps of Sultanahmet and decided to turn around and check out Ortaklara, a kofte restaurant we had passed. It turned out to be a pretty good choice as the restaurant had good pita bread, lahmacun and meat dishes. The entrees all tasted a bit similar with tangy tomato and yogurt sauces, but they were still good.

After dinner we dropped our parents back at their hotel then took the tram to it's northern point, Kabatas, where we got a taxi the rest of the way to the W. Including a generous tip we paid 15 YTL (just over $10), reasonable for two people. After dropping our stuff off, we decided to walk to a super market to pick up some drinks. The W is located at the edge of a high class shopping area surrounded by fancy hotels so we got to see lots of famous stores, including Jimmy Choo's, although the only reason I know him is because his son Danny Choo is the Dancing Stormtroooper in Tokyo.

At the supermarket we discovered that manti is so popular you can get it in bulk, along with halva and all your standard deli items. After picking up some drinks, we returned to the hotel to get some rest as we prepared to head back home in the morning.

10/14 pictures are here.
Posted 01/23/2009 00:56 AM in Food, Pictures, Restaurants, Reviews, Travel, Turkey
Link To This Blargh | View/Add Comments (0)


---

Route 66 Roadtrip Part 3
Jump to the pictures.

Day 3 of the trip had some difficulties. Leaving Flagstaff we headed to Williams, AZ for Pete's Route 66 Gas Station Museum. Before that, we stopped for our own gas where a mechanic pointed out that our right front tire was severely worn. I had checked that particular tire before the trip and estimated 10-20k more miles. Discovering that the tire was nearly bald was quite a surprise.

The mechanic offered to replace the tire for $269 plus tax. He graciously offered to waive any labor fees but a quick Google search of the exact tire model showed the tire cost $133 on-line. We thanked him and carefully drove back to Flagstaff for a AAA approved tire installer where they recommended two new tires, installation and an alignment for $389, a much more reasonable price. The result of the alignment showed that the right front toe was 5/32", 2.5 times over Volvo's maximum recommended value of 2/32" explaining the severe wear.

Two hours later, we were back on the road to Williams, AZ. Unfortunately a pending snow storm hit so we took pictures from the car and continued on to Kingman, AZ for lunch. Unfortunately, things didn't turn out so well there either.

I had three potential restaurants picked out for lunch in Kingman. One was closed on weekends and two were out of business, in addition to a fourth potential restaurant. Kingman seemed to be full of dead businesses and I was frustrated but we eventually settled on Silver Spoon Family Restaurant for lunch.

Our next stop was supposed to be Mojave National Preserve but due to the tire fiasco, we had to scrap those plans, in addition to plans to see the original McDonald's and a giant Route 66 coffee cup. Instead we set our sights on our destination in Anaheim, only to be hindered again by traffic after merging onto I-15. We finally arrived hours late and tired.

Pictures are here.
Posted 01/12/2009 02:00 AM in Cars, Food, Restaurants, Reviews, Travel
Link To This Blargh | View/Add Comments (1)


---

Route 66 Roadtrip Part 2
Jump to the pictures.

Today we got up at 7 AM to get a good start on our long day of driving (859 miles, 12-13 hours). After a free hotel breakfast. Our first stop was Conoco Tower, just over the border in Shamrock, TX. It may not sound special, but you may recognize it as the tower that inspired Ramone's Body Shop in the Pixar movie, Cars.

The next point of interest was the giant cross in Groom, TX, which is claimed to be the largest cross in the Western Hemisphere (large than the one in Effingham, IL?).

After that was lunch at Dyer's in Amarillo, based on some Chowhound recs. Unfortunately, I was a tad dissappointed. The brisket was dry and not very flavorful: it had a pink line that may have been the smoke line, but it was no more than one millimeter from the surface. The beef ribs, which are award winning, were better with a little more flavor and and more smokey pink, but they weren't spectacular. The one redeeming item was the straight beef that was tender and very flavorful.

Luckily the barbecue sauce, served warm in a Coronita (mini Corona) bottle, was the right amount of sweet and tangy, though not particularly stand-out. The potato salad and creamy coleslaw were decent but the beans were only so-so and a bit bland despite a good amount of meat. For dessert, the homemade cherry cobbler a la mode was good, though subtle so my sister thought it was a bit boring. If you savored the cherry flavor you could get a good taste of fresh cherries, though I could see it being better if it were a bit more tart or had a few more cherries.

The next stop was Cadillac Ranch, a set of 10 early style Cadillacs (with fins) half buried nose first in the ground, supposedly at the same angle as the Cheops Pyramid in Egypt.

Next we stopped at The Bent Door Philips 66 in Adrian Texas at the midway point of Route 66. Despite it being bought and partially renovated a few years ago, the location remains closed and run down and their blog hasn't been updated since early 2007.

After passing into New Mexico and Mountain Time Zone, we stopped in Albequerque to grab a quick dinner at Mary & Tito's Café. We ordered a Carne Adovada Sopapilla, which is kind of like a gigantic empanada, with red chili sauce. We also ordered chicharrones, which are a type of fried pork skins.

The sopapilla (kind of like a fried tortilla) was filled with marinated pork and cheese. The pork was very tasty, especially mixed with the cheese. The spices were not as strong as I would have liked (compared to say, tacos al pastor at El Tapatio) but it had a good salty flavor that balanced well with the sopapilla. The addition of lettuce, tomatoes and chili sauce really brought it together. Unfortunately, I felt that the chile sauce, no doubt made from fresh real chilies, could have benefited from a touch of salt or even better, an acid such as lime juice.

The chicharrones were pretty tasty and much to my surprise, they were not crispy like cracklin. The pieces included both skin and some underlying meat and were fried, but not enough to be crispy. The result is meaty cubes up to 3/4". They were pleasantly salty but we felt that they'd be better with some of the red chili sauce. Indeed they were better, but again we felt it could have used some lime juice.

Next we headed toward Arizona. After being pulled over by a cop and given a verbal warning for passing him at high speed on the highway, we stopped at the 2nd Largest Route 66 Map Mural. By this time it was extremely dark at night so we attempted to light up the area with our headlights with limited success. My mom's Nikon Coolpix couldn't quite get it right, but my Canon XSi managed to turn out some halfway decent pics using the on-board flash and a fairly high-speed lens.

On our way back to the interstate, we discovered the Wigwam Motel, which has rooms shaped like tee pees and inspired the motel in Pixar's Cars. Each room also had a classic car parked in front, including a truck just like Tom Mater.

Finally, we drove the last hour to Flagstaff to spend the night.

Pictures are here.
Posted 01/07/2009 09:58 PM in Cars, Food, Restaurants, Reviews, Travel
Link To This Blargh | View/Add Comments (7)


---

Route 66 Road Trip Part 1
Jump to the pictures.

Since our road trip to California would follow Route 66, we decided to see some interesting sites along the way. I found Waymarking.com, a great geo-caching site for finding interesting things. The first day of our trip to California took us down I-44 from St. Louis to Oklahoma City, passing Rolla, Springfield and Tulsa.

There are a few interesting things along the way, but we had to be selective so I chose things more Route 66 centric and close to the highway. Our first stop was the A&W family, saved and maintained from the days when figures were a common advertising medium. After that, there wasn't much until Oklahoma.

We stopped in Tulsa for a Country Fried Steak and pie dinner but since it was New Year's day, all of our choices were closed so we pressed on to Oklahoma City.

Just before Oklahoma city we got off the interstate and hopped on historic Route 66 where we stopped at Pops, a soda pop themed gas station, store and diner. They have unlimited, customizable fountain drinks and over 500 brands of soda available for purchase.

Beyond that, it's mostly the pictures that tell the story...

Pictures are here.
Posted 01/02/2009 12:26 PM in Cars, Food, Restaurants, Reviews, Travel
Link To This Blargh | View/Add Comments (0)


---

10/13 - Istanbul Day 2
Jump to the pictures.

I'll try to make this entry a little less verbose. This was our last morning on the cruise ship. We had to be off the ship by 9:00AM but we still managed to have a nice breakfast at the Grand Pacific. I also managed to use 26 of the last 27 minutes of over-priced internet access left on my account before getting shooed off the boat at 10:00 to meet up with the other families for our private bus tour at 11:00.

Since we spent a good amount of time at the Hagia Sophia the previous day, we requested that we focus on the Blue Mosque which was beautiful (see pics).

After that we went to the Topkapi Palace, where the Ottoman Sultans resided before it was converted to a museum in the 20th century. The palace was huge and there was so much to see and so little time. Unfortunately, there was just too much information and we only got the highlights from our tour guide as we had limited time (you could easily spend an entire day there alone). Check out the pics for some of the information that I managed to vaguely recall...

Next was the Basilica Cistern of Constantinople which didn't sound too interesting to most of us. I thought cisterns were just huge ceramic pots dug into the ground to store some water but I decided to tag along with my mom while 2/3 of the group lounged at a cafe instead. I was quite glad I did because the cistern was simply amazing. It wasn't just a ceramic pot, it was a 30 foot tall cavern stretching over 100,000 square feet to store fresh water for the entire ancient city. It was quite impressive and I managed to get some halfway decent pics despite the darkness.

After that we finished up our tour we were dropped off at the Aziyade Hotel with the rest of the group. The rooms were quite small so my sister and I we were quite thankful that we had a nicer hotel reserved for after dinner...

Meanwhile, the Aziyade hotel arranged for us to have dinner at Kalamar Restaurant. The restaurant sent vans to pick us up and drove us into a dark looking alley. We all got a bit worried that they were going to take us to some hole in the wall but we were pleasantly surprised when we turned the corner and found a nice city full of lit up restaurants. Dinner was quite good, though it took them a while to prepare the fish. Some people got a bit restless and felt the mezes were too sour, but I enjoyed it all quite a bit (see pictures).

After dinner, my sister and I hopped in a taxi which whisked us off the beautiful modern W Istanbul. It was quite a treat (paid by my SPG points) and we were quite impressed by the amenities. Pictures of the room are below with more pictures to come on the following day.

10/13 pictures are here.
Posted 01/01/2009 11:52 PM in Food, Restaurants, Reviews, Travel, Turkey
Link To This Blargh | View/Add Comments (1)


---

Super Sad Japanese Food


A few months ago I found a nice looking Japanese restaurant called Tanuki's Japanese Noodle Kitchen with a cute little raccoon mascot (tanuki is a Japanese raccoon dog) on a flag outside their entrance. I finally had a chance to try them out. They had nice decor inside with nice granite tables and even the plastic models of food you see in restaurants in Japan. They looked promising based on their wide array of noodle dishes in traditional Japanese styles.

Wanting to try a couple things I ordered the katsudon and a children's ramen. The meal started with a "potato" salad even though it had no potato in it. Instead it had daikon radish and carrots in a ginger dressing which I think is much better and more appropriate. I'm just not sure why they called it potato; perhaps to make it sound more appetizing to local Hartford residents.

Next came the katsudon which looked promising with the traditional onions and egg on top. Unfortunately, I found it too soggy: the katsu might as well have been boiled. I complained and the owner, a Japanese chef, came and informed me that I must be mistaken. Being from Japan he assured me that he was right and that the katsu is supposed to be soggy and all the restaurants I had tried in Japan were making it wrong. I can understand that the katsu wouldn't be crispy like with tonkatsu but my complaint was that it was too soggy after which he said it was probably my fault for ordering brown rice instead of white.

After that the owner told me that his other restaurant had been rated the best in the country by Zagat and had a waiter fetch a letter from them. It turned out to be a letter saying that his other restaurant had been included in the "Best Japanese Restaurants of 2007" list which is quite different from being THE best Japanese restaurant. He then said, "If all my customers were like you, then how did I get that award?"

After leaving me be, I had a chance to try the ramen. It was equally disappointing. The first thing I noticed was that it tasted like bean sprouts, which is ok, except that's all it tasted like. The broth was flavorless like it had been watered down. The "fresh" noodles were forgettable as well, they weren't al dente or springy or stretchy or anything. They had no flavor or character of any sort: the perfect match for the broth, I guess. I've had better instant ramen and would take a Nissin Cup Noodle out of a vending machine any day.

They also failed to give me the dessert that is supposed to come with the childrens ramen and failed to ask me if I even wanted dessert. You may be thinking that the ramen was poor b/c it was for kids but it wouldn't make sense to have different broth and noodles for kids and even if they did, I wouldn't respect that decision either.

To me, Tanuki is a perfect example of a Hartford restaurant: nice looking with a promising menu that falls flat on it's face in terms of quality, service and price. I will not be returning.
Posted 12/08/2008 08:22 PM in Restaurants, Reviews
Link To This Blargh | View/Add Comments (4)


---

Cho Sun Ok


Cho Sun Ok is one of my fav Korean restaurants, particularly for their chadol-gui (sp?). They bring out a big stone griddle (along with a dozen side dishes) for cooking unmarinated beef which you dip in sesame oil with salt and pepper (and MSG?). Once all the meat is gone, they bring out rice and use the griddle to cook your leftover side dishes to make kim chi fried rice. Yummy.

These pictures are actually from BEFORE my cruise, although I did go to Cho Sun Ok after my cruise as well. I just remembered that I had them to put up, so here they are. I'm sure some of my Korean friends can correct some of my info...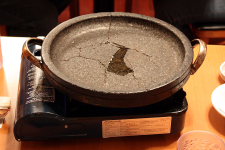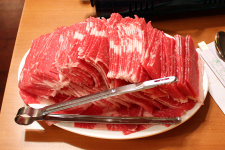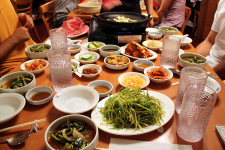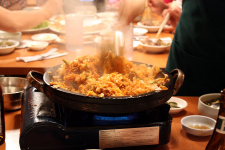 Posted 12/01/2008 09:02 PM in Chicago, Food, Restaurants, Reviews
Link To This Blargh | View/Add Comments (5)
---
restaurant.com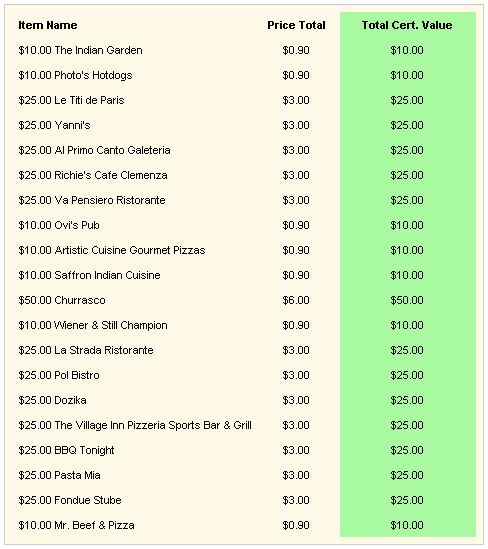 Poyao told me about this deal at restaurant.com
Update on this great deal, they are offering a thanksgiving promotion that allows you to buy $25 gift certificates for participating restaurants for $3 instead of the usual $10.

Use Promo Code: Thanks
I already bought several gift certificates and will use them as a springboard to try out several restaurants that I've been interested in. Anyone interested in restaurant hopping with me, let me know.

As clarification, the promo code is for 70% off any GC amount and I do not know when it will expire.

Also note that there are restrictions: one GC per party per month, minimum orders, minimum gratuity and valid days of the week. Each restaurant and each GC may have it's own rules, so note the fine print and of course, you may want to check out on-line reviews for the restaurants beforehand. You must print the GCs, but when you create an account you can save them for later.
Posted 11/27/2008 01:52 PM in Food, Restaurants, Sales & Deals
Link To This Blargh | View/Add Comments (14)


---

10/11 - Izmir
Jump to the pictures.

Izmir is located on the west side of Turkey and is very close to ancient Ephesus. My sister went on a tour to Ephesus while I decided to explore Izmir a little and try to find an internet connection. Izmir seemed to be a pretty young and hip city with lots of cafes, restaurants and night life. As I walked east along the shore I was surprised to find a long park with a rubberized running path and lots of grass extending the entire shore, much like Chicago's Lake Shore Park.

I walked about a mile looking at cafes trying to find one with a wireless hotspot sign with little luck until I reached the end. When I turned on my computer I found out why no cafes had signs. They ALL had wireless internet access, I just needed to ask the staff for the WEP key to connect. Alas, the cafe I chose didn't have any English speakers so when I couldn't get it to work, I couldn't really ask for help.

After my battery was drained I went back to the ship and met up with my sister. We got cash at a local ATM and then found the largest road in our area, Kibris Sehitleri, and started walking. We were both quite hungry and found a small shop with only a few tables on the parking lot. The owner presumably lives upstairs and while he cooked on an electric griddle, his son mopped the floor. The place wasn't particularly dirty, but seemed a bit unkempt so we were a little concerned about food safety but threw caution to the wind.

The owner didn't speak English so we just let him make a grilled doner kebab (sausage) sandwich which he insisted was "very good." It was a simple sandwich with butter, lettuce, tomatoes, mayo and the doner sausages. It wasn't amazing, but I'll tell you that it certainly hit the spot.

Continuing down the road we found a small bakery with a very friendly owner who pulled us in. He didn't speak very much English so there was a lot of pointing and going back and forth with his friend to tell us that some items had cheese or tomato or chocolate. We ended up with a small box. Now, pastries in Greece tended to be overly sweet and phyllo based. In this Turkish bakery, we found everything to be dry and bland. Despite all the flavors, we didn't really taste any cheese or tomato or chocolate. Everything just kind of tasted like shortbread and tended to be more savory than sweet. When we finished, we wanted more of the Greek stuff.

Next we stopped at a snack shop which had lots of nuts and sweets. Several items were described as being made from grapes. Presumably, they take pureed grapes, or perhaps just grape juice, and reduce it down until it caramelizes into a fruit roll-up consistency that can then be manipulated. My sister chose two items that were coated with pistachios and coconut or hazelnuts, while I chose a string of walnuts that had been dipped in the stuff. I didn't think any of it was that memorable. The nuts were good but the grape stuff didn't really add much, except it was a good binder that allowed the nuts to sticks.

As we continued on, we arrived at a bustling intersection. Turning down the side street we found a whole street full of pedestrians, cafes, restaurants and stores. We wandered around and considered trying some local specialties like kumpir or lahmacun (more details when I get to Istanbul) but soon found that we had to head back to the ship due to an early departure time.

For dinner we returned to the Grand Pacific and ate pretty lightly. After that we played mahjohng for a few hours before sleeping early to prepare for Istanbul.

10/10 pictures are here.
Posted 11/23/2008 01:12 PM in Food, Pictures, Restaurants, Turkey
Link To This Blargh | View/Add Comments (1)


---

10/10 - Mykonos
Jump to the pictures.

Mykonos is another beautiful Greek island, but unlike Santorini, it's pretty flat. It has similar winding streets that are described as "labyrinthine" and all walls are kept meticulously white. You can easily get lost in the city because of all the little paths that all look the same. The city has a night life as well and you can see that some stores and restaurants don't even open until the afternoon. Mykonos is particularly famous for two things: the windmills and Petros the pelican.

After another buffet breakfast, the whole group debarked and headed south from the port, then around the harbor to the west (map). My mom wanted to visit the island of Delos, but the ferries at the west end of the harbor only leave in the morning and we were too late.

While walking along the harbor my dad and I found that several stores sold cigars, including Cubans, which were proudly advertised. I'm not sure why Mykonos would sell Cubans and not other Greek isles, but we decided to buy some for fun. Prices varied widely, ranging from 12 to 20 Euros for a brand my dad says is famous (don't remember the name). We assumed that the stores along the harbor would be the most expensive, but the cheapest place we found also happened to be on the harbor at the west end. Several stores were sold out and since we are not cigar aficionados, we decided to buy a cheap Cuban to try. We never had a chance to sit down, relax and try it so I'll actually be trying it over Thanksgiving.

The group decided to separate so my sister and I picked a narrow street heading south west and quickly got lost (in a good way). We wandered around looking at shops and restaurants and exploring the maze like paths, taking time to snap some pictures of the narrow streets. We found some great restaurants on the western shore with tables just inches from the Aegean.

As we continued on our way we discovered the windmills at the southwestern side of the city. We hadn't been looking for them so it was quite a pleasant surprise to find them. My sister discovered that some of them are inhabited to this day! Looking back towards the city over the Aegean, we could see the restaurants we had just passed and saw them being batted by waves as the wind was picking up.

We headed back north east to explore more and found a few bakeries where we bought a few snacks including a spinach cheese pastry and some rice pudding. I asked for loukoumades but no one had them so I pretty much gave up. Then we headed back to the harbor to meet the rest of the group. At this point we were a little lost so we just headed in the direction of the sea was in and used that as our guide to get back.

Once the group was together again, we went to find the bus to Ornos beach. We asked a small shop where the bus station was and he said just up the hill to the left. We walked five minutes up the hill and to the left, then stopped to ask another person who said just up the hill. We repeated this about 3 more times before we finally found the bus stop (it was more like up the hill with 4 lefts and 4 rights).

We stopped for lunch along the way and picked up some gyros along with some fried fish and tomato keftedes (stuffed with rice). I was designated the coordinator and let me tell you that ordering lunch for 15 Asians in a Greek restaurant is a pain. The gyros only cost 2.5 Euros each but the meat was a bit salty and the pita a bit dry. Definitely not as good as the ones in Santorini. The fried fish was nice and fresh but had a ton of bones. It probably would have been more enjoyable if I was sitting down and could take my time with it, but we were standing in the street trying to share it quickly and that wasn't easy.

We finally found the bus stop. We bought tickets at a kiosk at the corner of the square and were lucky enough to be right on time for the hourly bus. At the beach we claimed some public beach chairs. One funny thing was the reed umbrellas which looked nice but were at the perfect height to hit with your head repeatedly. Watch your eyes, those reeds hurt!

We finally had a chance to sit and eat our tomato keftedes but I was a bit disappointed. After reading how great the tomatoes in Greece are supposed to be (though Santorini is supposed to be the best) these tomatoes seemed kind of bland. They weren't very tomato-ey (much like the ones you find in an American grocery store) and the filling wasn't very special. I think a little salt would have helped a lot.

After eating, we decided to play in the sand a bit with Tiffany and Daphne and we built several sand sculptures which got more and more detailed with every next project. After that we headed back to the "bus stop" which was just a flooded parking spot with a sign, purchased tickets at a kiosk across the street and waited for the next bus.

After arriving back we found some large octopus tentacles being hung to dry and a stone wall that I had seen being white washed a few hours earlier. I asked Daphne, who was wearing a bright pink sweater, to stand next to it so I could get a picture. Unfortunately it hadn't dawned on me that the newly white washed wall probably wasn't dry yet so she ended up with a little paint in her hair. Oops!

Next we found a gelato place called Pagato Mania which claims to make their own using fresh Greek milk. The large number of flavors was amazing and my scoop of dark cherry was excellent! After that we separated with the group again to wander the streets some more. We saw some awesome sea food on display including a giant tiger prawn, clams and urchin.

My sister also found a pelican! It turns out there are actually three pelicans in Mykonos (Petros, the original, died in 1986). It was quite large and was curled up because of the cold winds so at first we thought it might be fake. As we approached it, it's eyes opened and followed us but that's the only movement we detected in the five minutes that spent taking pictures.

Being the last day in Greece and with just an hour or two left, we decided to find a nice cafe and just relax and watch the sea. While looking at a couple cafes, I noticed a small sign at Gelarte cafe that said loukoumades. I hadn't noticed it before because it was only written in Greek. We went inside and discovered that this cafe makes them fresh while you wait so we quickly placed an order, informing the owner that we had been looking for loukoumades all over Greece.

We watched the woman drop batter into the deep fryer and cook the little donuts. One order had 12 but the lady accidentally made 13. Unfortunately, she threw the extra one away. :( After draining them, she placed them on a place and drenched them in honey, followed by ground walnuts and powdered sugar. They were absolutely delicious! Warm and crispy on the outside, hot and tender on the inside. There could have been more walnuts and less honey, but they were still excellent.

After relaxing for half an hour, we decided to head back to the ship. On the way we stopped at Mandarini bakery which had all sorts of delicious little pastries, but I was quite full so I saved them for the following day. Back at the ship we freshened up and watched the sunset.

I like these two pictures because they kind of look like fire, but they're actually sunlight coming through the edge of a cloud at sunset.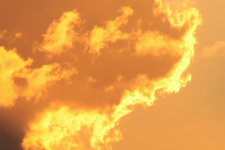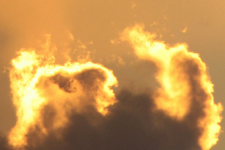 We decided to have a light dinner and elected to finally try the dinner buffet. Of course, light dinner and buffet are complete contradictions so that didn't work out so well. For the first time I discovered the pasta bar and invented my own pasta which took some effort since the pasta cook doesn't always know what you're trying to do.

My recipe was farfalle pasta with capers, garlic, tapenade and sundried tomatoes with pink sauce. The main problem is that the pasta chef uses too much sauce so I went back for a second bowl of the same pasta, but this time I instructed him to use the red sauce pan, but to add no additional sauce. The result was a nice pasta with lots of stuff but just a hint of red sauce. I mixed this with my pink sauce dish and the result was exactly what I wanted, a very light red sauce with just a touch of cream but lots of tasty bits.

After that I was full but went to the dessert bar anyway and ended up filling up a plate with coffee cheesecake, blueberry cheesecake, pumpkin pudding and peach cobbler which I took to my room and didn't eat until the following morning. None of them were spectacular, but the coffee cheesecake was pretty tasty.

10/10 pictures are here.
Posted 11/22/2008 05:06 PM in Food, Greece, Pictures, Restaurants, Reviews, Travel
Link To This Blargh | View/Add Comments (0)


---

Japanese Bakeries


I finally got a chance to return to Mont Blanc Bakery and Bakery Crescent. With a hungry stomach making my eyes quite optimistic, I loaded up on $20 worth of baked goods. As a Pastry House Hippo (PHH) fan for several years, that will be the bar to which the others are compared.

First up was Bakery Crescent which specializes in breads and buns. I picked up katsu-curry buns, sweet potato buns, mocha buns, pizza buns and blueberry cream cheese pastries. Overall, I would say that this is a good bakery that is on par with PHH, but since they are located in a separate strip mall and close at 5 or 6, I can't see a reason to go here over PHH.

The regular curry buns at PHH are quite oily and so were these katsu-curry buns. I guess all American curry buns are oily. The katsu (fried breaded pork cutlet) gives these the edge over PHH, but the oiliness of both versions is a major detractor. The sweet potato buns were pretty good and are not available at PHH. The mocha buns are pretty good: creamy and tasty but not overly rich. PHH has coffee danishes or chocolate creme filled buns but I'd have to give the mocha bun a slight edge. The Japanese style pizza buns have hot dogs instead of sausage or pepperoni and were pretty tasty. I have not had the ones from PHH so cannot compare. Lastly the blueberry cream cheese pastry was pretty good, about the same as PHH.

Next up is Mont Blanc Bakery (next door to Bakery Crescent) which specializes in cakes. Their signature dessert is the Mont Blanc which is a cupcake with a special chestnut topping (below left). This stringy looking frosting is popular in Japan and I saw several uses of this style at bakeries in Tokyo last year. Unfortunately, I did not quite understand the draw of this stuff. It wasn't particularly tasty in Japan and this version at Mont Blanc Bakery wasn't very special either.

The next dessert I tried was a Kahlua cake (below middle). It looked good but I couldn't really taste Kahlua. It tasted like a pretty average tira misu. Also, it had too much cocoa on top: when I was about to eat some, I ended up inhaling the cocoa which resulted in a bout of coughing. The last dessert was a Blueberry Cassis (below right). I couldn't taste the Cassis and other than a very mild blueberry flavor, the rest of the cake wasn't anything special.

Unfortunately, I was not impressed by Mont Blanc Bakery and I probably won't return. I'd rather pick up an Earl Grey or Green Tea pound cake, a tiramisu, or a specialty cake from PHH where they seem much tastier to me.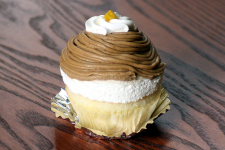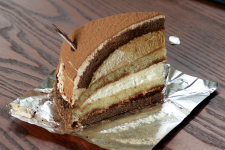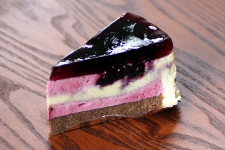 Posted 11/22/2008 01:17 AM in Chicago, Dessert, Food, Japan, Restaurants, Reviews
Link To This Blargh | View/Add Comments (2)
---

Better than a Pot Belly Sandwich?


Breakfast sandwiches are delicious by definition (at least the ones with bacon are). Pot Belly's toasted sandwiches with their lovely combination of lettuce, tomatoes, ultra thin pickles sliced lengthwise, mayo, brown mustard and hot giardiniera are also delicious. Put them together and you have the best of both worlds.

Maybe I should write to CERN and tell them that they didn't need to build the Large Hadron Collider. They just needed to have a Pot Belly breakfast sandwich to see what happens when two great things collide.

There's just one tiny little caveat which is that not all locations serve breakfast. Luckily, the one right across the street from my office does.
Posted 11/17/2008 08:14 PM in Chicago, Food, Geek Stuff, Restaurants, Reviews, Work
Link To This Blargh | View/Add Comments (3)


---

10/09 - Santorini
Sorry it took so long to post these...

Jump to the pictures.

Background
Santorini was once a large island but after a volcanic explosion, the island collapsed, leaving a caldera with five islands. The main island on the eastern edge of the caldera is Thera, but many people simply call it Santorini. The second large island, on the western edge of the caldera is Therasia. In the center are two small islands created by magma flows: Nea Kameni and Palea Kameni. To the southwest is the smallest island, Aspronisi. BTW, it was this volcanic explosion which generated a tsunami at least 100 meters tall and is attributed for the destruction of Knossos and the Minoan civilization.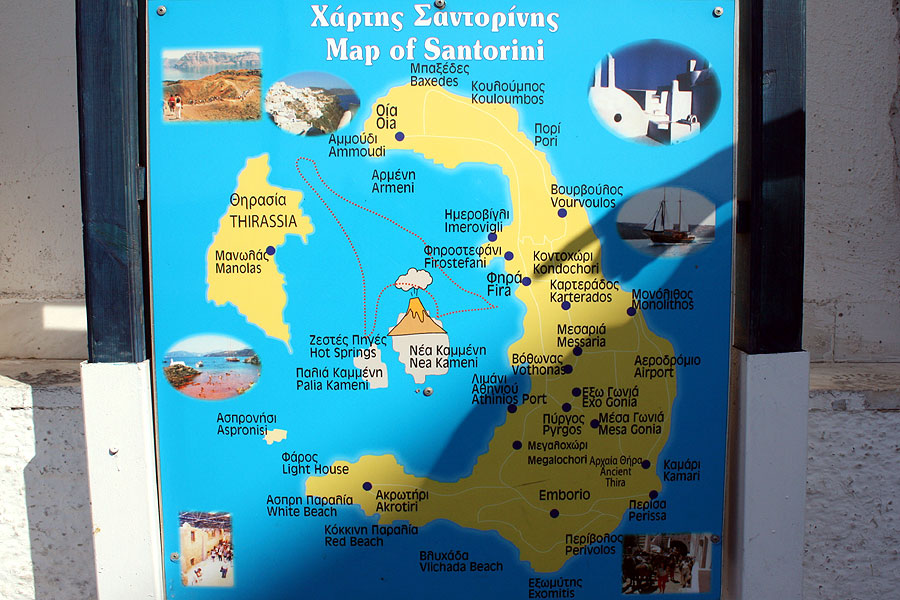 Morning
Our day started with a volcanic hiking tour to Nea Kameni, but first we had to get there. The port of Fira in Santorini is quite small so the ship had to simply weigh anchor off shore and use tenders, small transport ships, to ferry passengers to shore. During the morning, people who want to go ashore have to get a ticket for a specific tender, but since we were on a tour, we automatically got our own tender.

Nea Kameni is made primarily of volcanic rock. The island is quite beautiful in it's own special rocky way and there were several beautiful views. The island is still active with fumeroles and steam vents and three lava flows in the 20th century (the last was in 1950). After the hike we returned to the boat and sailed by the hot springs at Palea Kameni.

We returned to the ship to freshen up before hopping on a tender to Fira where we decided to take the donkeys up the switchbacks. The donkeys turned out to be 5 euros when the cable cars were only 4, but oh well, it was an experience. The main problem with the donkeys was the smell. They looked a bit greasy but even worse, there was manure everywhere. The entire way up the switchbacks, it was as if the cobblestone was grouted with dung.

I think that donkeys are probably at the bottom of the intelligence scale for beasts of burden. Unlike camels and horses which generally follow each other and stay relatively ordered, donkeys just sort of go wherever they happen to be pointed. When the guides yell at them, they just speed up and push on whatever happens to be in the way, whether it be other donkeys or an unfortunately pedestrian that decided to walk up or down the switchbacks. The donkeys didn't seem to have any qualms smashing my feet against the walls (luckily the stirrups were metal) or squashing pedestrians.

Afternoon
For lunch we decided to find a nice bakery to buy some snacks and then find a cafe with a view to sit and relax. The walkways of Santorini are very hilly and curvy so we wandered around quite a bit before finding a nice bakery with tons of selection. Unfortunately, I have no idea where it was.

After that we headed back where we came from and chose one of the dozens of restaurants with "the best view." It was a nice cafe but like many of the "nice view" restaurants, it was absurdly priced. My sister ordered a Greek fava spread, but it was not like hummus like I expected. It tasted more like a bean spread with olive oil. Personally, I was not a big fan, though my sister liked it. My cappuccino fredo (iced) was tasty but way too small. My sister's frappe with ice cream was good too, but alas, with a bottle of water, the bill came to over 20 euros, which is about $30.

After wandering around more looking for churches and various shops it was about time to head back to the boat. We had passed a few wonderfully smelling gyro restaurants for reasonable prices so we decided to get a couple to go and bring them to the ship. After walking down the switchbacks and not getting smashed by any donkeys, we arrived back at the port where we found out that the ship is pretty strict about not bringing food on board. My sister found a bench and ate our gyros which we both agreed were the tastiest we had so far.

Evening
We returned to the boat, got cleaned up then had a simple quick dinner at Blue Lagoon (the only 24 hour restaurant with a focus on comfort foods) after which we met up with our parents to play Mah-jong. I won a whopping 5 games in a row while I was dealer, unfortunately I started fading fast as I had developed a fever. I think it was from over-exerting myself with all the hill climbing on Santorini.

10/09 pictures are here.
Posted 11/11/2008 00:03 AM in Food, Greece, Pictures, Restaurants, Reviews, Travel
Link To This Blargh | View/Add Comments (0)


---

10/08 - Iraklio
Jump to the pictures.

While Egypt was great with it's food and excellent exchange rate, part of me was happy to return to Greece which is more modern and western, for instance random restrooms in Greece tend to be pretty nice and clean, more people speak English, etc.

The group decided to rent cars in Iraklio, Crete (also called Heraklion) but it took hours to get every one off the boat and agreeing on how to split up. The tough part was that the rental cars were quite small, fitting just four passengers instead of five.

My family got a Hyundai Atos Prime which I estimated to have 60-70HP only. I later looked it up and found it to have a mere 58HP. It was quite a small car and even with the seat all the way back, I was unable to straighten my legs, especially when driving. The pedals were so close that I could never rest my thighs on the seat.

The rental guy asked if I was comfortable driving in Greece and I told him that I had driven in Corfu to which he replied, "Corfu? They're civilized there!" That didn't worry me though and I will say that I rather enjoyed driving in Crete.

The main rule for driving in Crete is that you should drive as far right as you can unless passing. Often this means driving on the line or driving on the shoulder so that people can easily pass you on the left. There is no such thing as a person driving slowly in the left there and if you block others you will get flashed.

People pass others all the time on Crete and it's very easy b/c everyone else is driving on the right side. Even with only 58HP going up hill with four passengers, it was easy to pass. As a result, it's not uncommon for a two lane road to have four cars across: two cars going one way and two cars going the opposite way, passing each other.

Traffic was interesting as well. In general, no one yields right of way, you just have to force yourself into traffic and people will then slow down for you. Turning left onto a big busy street was a bit tough and I got honked at for waiting too long. Basically, as soon as there is the slightest gap between cars, you just force your way through and if you end up blocking traffic, oh well.

Our first stop was the Palace of Knossos. The Knossos civilization was considered one of the most advanced in the ancient world, but the civilization was mysteriously destroyed. Most historians believe that the volcanic eruption that created what is now Santorini was the cause. It is estimated that the explosion created a tsunami 30 meters tall, more than enough to wipe out Knossos on nearby Crete.

After Knossos we drove west to Rethymno where we had a very nice local meze lunch. After visiting the beach and driving by the Venetion fortress, we found ourselves low on time and had to head back. Unfortunately, our delays in the morning meant we didn't have time to check out Iraklio. My advice, if you ever plan to rent a car and drive around an Greek island, is to wake up early and make the most of your day!

Once we returned to the ship for an early departure, my sister and I sat on our balcony and watched as the ship left port before heading to Grand Pacific for dinner.

10/08 pictures are here.
Posted 10/28/2008 09:43 PM in Dessert, Food, Greece, Pictures, Restaurants, Reviews, Travel
Link To This Blargh | View/Add Comments (9)


---

10/07 - At Sea
Jump to the pictures.

Returning to the Greek Isles from Egypt meant another full day at sea so I'll talk about some of the other strange things around the ship at the end.

After stuffing ourselves repeatedly for days on end, I found that my appetite was not as strong as previously. I would get a little hungry, but would never just want to devour everything. In fact, sometimes I had to force myself to go to dinner, especially since my parents preferred to eat earlier to get the early bird discounts. In the following days, I even had to force myself to try local foods b/c I just wasn't hungry!

So on this day, my sister and I slept in again. We decided to skip breakfast and instead planned to meet our mom for a fancy jazz brunch at Le Bistro. They were charging the full $15 cover price so I wanted to get the most out of it, but I ran out of steam pretty quickly.

Brunch was a combination of a buffet and an a la carte menu. Either one alone would be enough for a full meal, but putting them both together is just an act of cruelty because you end up with one of two outcomes. 1) You feel guilty not eating enough and passing up all this good food and spending money or 2) You feel horrible eating WAY too much. No wait, there's one more option which is what happened to me: I felt horrible for eating WAY too much but also felt guilty b/c I should have been able to eat more!

After lunch my sister and I vowed to do something semi-active instead of sleeping. Of course we were so full that we had to spend some time watching some movies to digest before we managed to get ourselves to the ship's gym. The gym had several treadmills and a few bikes and elliptical machines, all overlooking the sea through large glass windows. They also had several weight machines and, much to my surprise, a set of free weights (dumb-bells).

After working out, I took a shower... which is a nice segue into another note about ship life. When they converted the ship to the Norwegian Jade (it was previously the Pride of Hawaii) they decided to remove the self-service laundry room and put in more staterooms. Being on vacation for three weeks and trying to pack light means that at some point, you have to do laundry somehow.

You could do it yourself in your sink, but that's pretty slow and tedious. But using the ship laundry service is expensive since they charge per the item. A pair of socks or knickers are $1.50, Regular shirts are $1.75 and pressed shirts are $2.50. Slacks and skirts go up from there, so laundry can add up pretty quickly. When the ship announced a special, all the clothes you can fit in a laundry bag for $19.99, my sister and I crammed our bag as full as possible.

That was two days ago so this was the day that our laundry was supposed to come back. Alas, it did not arrive on this day and unfortunately, this was also the day that I ran out of shirts. And socks. And knickers.

Since I had expected my laundry, I didn't bother hand washing anything as a backup, so I was stuck. I decided to hand washed a set, but they had to dry overnight, so what was I to do until then? The answer, if it isn't obvious to you, is disposable underwear.

Disposable underwear? I didn't know such a thing existed but apparently my Dad picked up a set when he was in China and they are a perfect last resort on a long vacation. They are made of the thinnest cotton possible and compressed into 1.5" long x 1" diameter rolls. I couldn't tell which direction was the front but I don't think it could have been any less comfortable either way. They were kind of like semi-translucent white speedos. I imagine this is what girls underwear must be like, except these were not flattering in any way. I actually considered going commando for a moment...

Next was dinner. It was about time for us to check out the Asian food selections. The Jade Garden offered Teppan-yaki, Shabu-Shabu, Sushi and Chinese/Pan-Asian fare. I really wanted to check out the Shabu-Shabu but I got poo-pooed by everyone else. They all said that the quality wouldn't be good, but since when is that important? Shabu-Shabu is all about the QUANTITY and based on some of the other patrons' carts of food, the ship would not have disappointed (ooh, with winter coming, I guess I'll have to satisfy my craving with a trip to Lao Szechuan in Chinatown).

I was so enamored by the Shabu-Shabu that a couple noticed me leaning over to look at their table. The wife smiled at me so I asked if I could take a look at their food. Apparently, you can pick from a few different themes for your Shabu-Shabu and they had picked noodles. Their spread included udon noodles, ramen noodles, bean noodles, rice noodles, shu-mai and dumplings, on top of chicken and Chinese cabbage. I assume they probably had a meat lovers theme too so I'm pretty bummed that I didn't get a chance to have it.

Our choice for dinner that night was sushi. The edamame was odd b/c it wasn't the same as what you get in a regular restaurant (which btw, don't look like the soy beans used to make soy milk which are yellow and rounder). These edamame looked like thin kidney beans, or maybe long red/green (azuki) beans. They tasted and had the same texture as azuki beans too, just not sweet. The miso soup was salty, but I thought it was acceptable. My mom, on the other hand, considered it inedible.

For the sushi, we found the quality of the fish to be good overall. An interesting item on the menu was a funny long Japanese name that was translated as crab. I had a hunch that it was just a way to make Krab sound better, and that turned out to be the case.

They also offered bonito as a sushi option. Normally, bonito is smoked, dried and shaved thin for use as the primary aromatic, along with kampyo (kelp), for dashi, the most basic Japanese stock and the primary ingredient in miso soup. To have it as a fresh fish seemed a bit odd to me so I tried it. It came seared on the outside and had a similar color and texture as tuna, but it was not as firm and slightly fishy tasting.

They also had an item listed translated as tuna belly, but it was not chu-toro or o-toro. When it arrived, it looked, smelled, felt and tasted exactly the same as regular tuna. The white tuna and hamachi were both good and the unagi was average, about the same as Todai in Schaumburg. My mom did not like the unagi, or the terriyaki sauce on it.

We also had California rolls but apparently the cucumber had seeds in it and my mom considered that unacceptable as well. For dessert we had green tea and coconut ice cream which were good, but most likely out of a 3 gallon tub (Edy's maybe? Nothing wrong with that!)

When the manager asked us how we were doing, my mom let him know about all the things she didn't like. This resulted in a rather long conversation where she explained all the things that seemed wrong. She was pretty nice about it and when the bill came several minutes later we discovered he had given us 50% off the bill.

The last note I wanted to make about living on a cruise ship is the strange emphasis on sanitation. Being on a ship with thousands of people for an extended amount of time makes disease transmission very easy. To reduce this, they've implemented some interesting sanitary measures.

Any person boarding the ship must use hand sanitizer and there is always someone standing at the gangway with an alcohol spray. Any person entering a restaurant must also use hand sanitizer and every entrance has an automated sanitizing gel dispenser. At buffets, passengers may not serve themselves: only gloved crew members can hand out dinnerware, handle tongs, touch food and pour drinks. On top of that, one of the first things they announced on day one was that passengers should avoid shaking hands with anyone.

It all sounds pretty OCD, but it's not. The handling of food at buffets makes sense, but the use of hand sanitizer is improper. A quick spritz of alcohol or a squirt of gel rubbed between the hands is not enough to sanitize your hands. The rule of thumb is soap or sanitizer must be in contact with your hands for 30 seconds to be sanitary (60-90 seconds to be considered sterile). A single squirt is not enough to last 30 seconds and may actually increase the chance that only resistant bacteria survive.

In reality, the sanitation policies on ships like this may be creating the perfect environment for a super bug, just like the resistant bacteria that have resulted from excessive and improper use of antibiotics. As usual, it's a ploy to make people think they're safer, regardless of whether they actually are. The funny thing is, now that I'm back to the real world, I'm less inclined to wash my hands than before the cruise!

10/07 pictures are here.
Posted 10/24/2008 07:03 PM in Egypt, Food, Greece, Pictures, Restaurants, Reviews, Travel
Link To This Blargh | View/Add Comments (3)


---

An exciting evening
It was nice getting back home tonight and I was happy to play with my new G1 Google phone. I've been playing with that for a bit now. It was a pain transferring a couple custom ring tones over and I actually had to go back to my old Motorola phone and MMS my ringtones to my Gmail account. Then I had to use my PC to detach the embedded MMS ringtones as actual files, then e-mail them as attachments so that I could use my Gphone to check my mail and download them.




More pictures at the bottom of this link.

The other exciting thing was exploring the Arboretum, the new outdoor mall at Higgins and 59. It's an interesting mall set up to feel like a small town with lots of small streets and parking in front of each store instead of in a single large surface lot. Also, some roads are one way and there are tons of stop signs. It looks nice, but I think that traffic could get quite congested as people would be tempted to drive from store to store, especially in the holidays.

In the mall is the new Pinstripes location. Also there is the newest LL Bean location, which means I now have easy access to Subaru gear like hats, which I keep losing. There's an interesting looking chocolate bar there and coming soon is a Ruth's Chris. There's also a new Italian casual dining restaurant called Asta la Pasta (a play on "Hasta la Vista?") I'll check that out some time.

However, what pumped me up the most was the discovery of a new Pot Belly's location. Jimmy John's has been opening up a lot of locations in the burbs near me, but I've been waiting for a while to have a convenient Pot Belly's.

This is all good news to me. In the last 2 years, the number of new commercial developments in my area has been very encouraging. They're all close, but not too close, which should be good for my property value which has actually managed to increase in value by almost 2% (as of September) in the last 3.5 years. Hopefully that'll help me to ride out the bottom of the housing market over the next couple years.
Posted 10/24/2008 00:00 AM in Chicago, Food, Geek Stuff, Ramblings, Restaurants, Shopping
Link To This Blargh | View/Add Comments (2)


---

10/06 - Alexandria
Jump to the pictures.

In Alexandria, my sister and I signed up for a half day tour so that we would have free time to search for some local eats. After breakfast, we hopped on the tour bus and went the Alexandria catacombs.

The catacombs were pretty interesting, but they do not allow pictures inside. The catacombs are a family grave site that was accidentally discovered when a drunk man lost his donkey down a hole. When he sobered up the following morning and went to find his donkey, he discovered the tomb.

The tomb was of a Roman citizen who had moved to Egypt and begun to adopt Egyptian traditions. This is apparent in the primary tombs for the Roman and his wife which were decorated in a combination of Roman and Egyptian designs and artwork. Additionally, both bodies were embalmed in Egyptian fashion. After this time, the tombs were expanded for the rest of the family and possibly for public use as well.

With the temperature in the 90's and the sun beating down on us, I was eager to descend the spiral staircase surrounding the well to the bottom, unfortunately, the small passages full of tourists turned out to be hot, humid and stuffy. Several tour buses arrived at the same time so there were hundreds of people in the catacombs which had multiple passages and levels to accommodate hundreds of tombs. My sister and I explored several passageways before returning to the surface.

The next stop was the Alexandria National Museum. The building once belonged to the US Embassy but after they moved to a larger, newer building, this location remained uninhabited until Alexandria purchased it from the US at half the asking price. This building is fairly modern and, unlike the big museum in Cairo, is air conditioned. The three levels are dedicated to different eras in Egyptian history with the Pharaonic era in the basement, the Greco-Roman period on the ground floor and the Coptic (Christian) and Islamic periods on the first floor. I was pretty tired so after we perused the basement and first floor, I took a 15 minute nap on a bench while my sister explored the ground floor.

The next stop was the Montaza Gardens, which belonged to the Royal Family until Egypt became a Republic. Since then the grounds have been a national park and the Montaza Palace has been used for foreign dignities because the Egyptian President is not royal or divine and therefore should not be given such a luxurious residence.

The gardens are full of huge date palm trees and lie on the coast line where a boardwalk is decorated with lion sculptures leading to a hotel and lighthouse. On the other side of the gardens lies the Palace and another hotel and casino.

Next we piled back on the bus and drove on the Alexandrian coastal road along miles and miles of beaches. We saw all sorts of things from a statue of Muhammad Ali (founder of modern Egypt), the tram system, the football stadium, the Alexandria Library and more.

The next stop was Fort Qaitbay but we only had time to explore the boardwalk and vendors in the area outside of the fort. I saw some interesting ice cream carts and potato chips and some local sweets that some vendors were carrying around in clear plastic boxes. I didn't have a chance to buy any of them, besides the tour guide warned us about the lack of hygiene in Egypt, especially from random street vendors.

Our last stop on the tour was Abu el Abbas mosque. Our tour was almost 1 hour behind schedule (which is a good thing since it means our 4 hour tour was 5 hours) and my sister and I were concerned we wouldn't have enough time to explore Alexandria on our own so we requested that the tour guide leave us behind at the mosque. We then walked to a nearby bank to get some Egyptian pounds and then headed west in search of food.

We had only walked a couple blocks when we started smelling something tasty. It was a trio of small restaurants so we walked up to the single host desk and asked for a table. They stared at us blankly as they apparently knew no English. After some useless gesturing, they somehow figured out what we wanted and gave us a table.

A few moments later, the waiter came by and I asked what they had. His answer was, "Pizza, Koshari." At the mention of Koshari, a word I learned from Anthony Bourdain's "No Reservations," I quickly repeated it and asked for one order. After the waiter left, my sister took a look at the restaurants sign and discovered that their logo was Fido Dido holding up a pizza.

When the waiter brought our koshari (see pictures) I read a list of Egyptian foods off my list to see if they had any of them. He acknowledged two desserts: belial and sahleb, both of which turned out to be excellent and tasty. In terms of local food, I think these three Egyptian foods top my list as my favorite items during the whole trip (and I'm starting to drool over them as I type this).

I finished the meal with a Turkish coffee and then we flagged down a taxi. The driver did not speak English but the tour guide had been nice enough to write down directions in Arabic so we could get back to the port. The driver took us there and waved us out of the taxi. We weren't sure how much the ride was so I just waived a 10 pound note ($2) which he grabbed and drove off with.

Back on the ship, we cleaned up and took a nap before heading to dinner at Paniolo's, the TexMex and tapas restaurant with the rents a few family friends. They were all interested in tapas so I went ahead and ordered two of everything for our appetizers. Unfortunately, they weren't that good. Most of us ate light for dinner since we'd all been eating a lot recently.

10/06 pictures are here.
Posted 10/21/2008 08:12 PM in Dessert, Egypt, Food, Pictures, Ramblings, Restaurants, Reviews, Travel
Link To This Blargh | View/Add Comments (1)


---

10/05 - Cairo
Jump to the pictures.

The ship docked in Alexandria but we took a 12 hour excursion to Cairo. The tour started at 7:15am, though my sister and I almost missed it because it was so early. We made it to the bus in time for the two hour drive to Cairo, or more specifically, Giza, where the major pyramids are.

Now, Egypt as a country is not that poor, but according to our tour guide, corruption has caused a huge gap between the lower class and upper class. As a result, the poor are extremely poor and it's quite apparent. Driving through Cairo you can see the poverty and the guides also warned us that everywhere we go, people would be doing their best to get money from us.

What that means is that if you ask someone to take a picture of you, or you ask someone to be in a picture with you, or you drop something and someone picks it up for you, they will expect a tip and be quite persistent about it. They will also hike up prices to make as much profit as possible, though they will negotiate back to a reasonable price. They will also be happy to accept any form of currency whether it be Euros, Dollars or British Pounds since they're all worth more than the Egyptian Pound.

For instance, I saw a couple having trouble pushing their baby stroller through the sand (who brings a stroller to the desert?) so an Egyptian man helped them pick the stroller up onto a walkway, after which he demanded a tip. Then there are the historical artifacts security guards who watch the pyramids. You are not allowed to cross lines, touch or climb on the pyramids or you will be reprimanded by security. However, they eagerly indicate they will let you go, or will allow you to cross lines if you simply provide them with a tip.

Once you've realized how things work, Egypt is not that difficult to navigate. Since we were on a guided tour, the day was pretty much laid out for us so I pretty much sat back and snapped an excessive number of pictures while absorbing random tidbits of info.

First we saw the most famous pyramids of Khafre and Khufu along with the Sphinx. We then drove to Saqqara to see the funery grounds of Ka-Gmni including hieroglyphics and artwork that still exhibits the original paint from thousands of years ago.

After that was a buffet lunch at a large restaurant. It didn't look like that good a place and I wasn't surprised that the food was a bit disappointing. Not only was most of the food mediocre, none of it was labeled so I have no idea what some of it was. One interesting thing about the restaurant was the traditional oven they had outside to bake a pita-like bread. Too bad none of that bread was at the buffet.

After lunch we checked out Zoser's Step Pyramid complex where a gust of wind blew away my sister's new visor. We then went on to the Jeep tour where we piled into a series of 4x4 vehicles. Most prevalent were Jeep Cherokees and Toyota Land Cruisers. My sister and I ended up in a Land Cruiser which is supposed to be the preferred model for nomadic Bedouins as the FJ chassis coded Land Cruisers are well known for their off-road abilities (hence Toyota's homage to the old Land Cruiser, by releasing the new FJ Cruiser).

The Jeep tour was pretty fun, particularly driving up and down blind dunes as can be see in the video below. I was fortunately enough to get the front seat, though the back was probably rougher. The people talking in the video are other passengers.

After the Jeep tour was the Camel tour. Getting on the camel was a bit hairy. They lay on the ground and when they get up, they lift up their back end first, then their front end, giving the sensation that you're going to fall forward off the camel, then back off the camel, before leveling out. The camel's gait isn't the most pleasant either, it's much less smooth than a horse and rocks quite a bit front and back, requiring you to shift your hips a lot to compensate. The saddles aren't that comfortable either and after 20 minutes I was starting to get saddle sore.

At the end of the camel tour, getting off the camel was equally precarious. There was no warning either; one second I was sitting on top of the camel, the next second I thought I was falling off as the camel pitched forward, then pitched backwards, then after leveling out the remaining foot of descent was even and smooth, like a hydraulic platform. You can sort of see it in this vid summary.

After the camel tour we went to a papyrus shop where they demonstrated how papyrus reeds were turned into paper then turned us "free" to browse the papyrus art so we could buy some. After that we took the 2 hour trip back to Alexandria. For dinner my family ate at Grand Pacific, the formal restaurant where we had an excellent meal.

10/05 pictures are here.
Posted 10/19/2008 02:01 AM in Egypt, Food, Pictures, Restaurants, Reviews, Travel, Videos
Link To This Blargh | View/Add Comments (12)


---

10/04 - At Sea
Jump to the pictures.

On our way to Egypt, we were at Sea for over 36 hours which means an entire day on the ship, so here's a chance for me to ramble on about some other topics. Honestly, I don't really remember what we did with our time primarily because we slept in until 10.

Getting out of our room by 10:30, there weren't many optiosn so breakfast was pretty typical: hit the buffet, make a bacon and egg sandwich, grab some pastries and off we go to... um... sit around on the ship.

Actually no, we didn't sit around the ship. After breakfast around 11:30 we went back to our room and napped for a few hours, finally catching up on the sleep we'd lost the last few nights from traveling and jet lag. In the afternoon my sister and I played Wii. The Medusa Lounge on the ship has "Whatever Rooms" that you can reserve and simply hang out in, but if you want, they also offer Karaoke and Wii. My sister hadn't played a Wii yet so we played some Wii Sports for an hour or so then watched a movie before heading to dinner.

So while I've got time, here is how meals work on Norwegian Free-Style cruises.
There is always at least one restaurant open 24/7 so yes, you can eat at any time of the day. On the Jade, this is the Blue Lagoon which serves simple food like paninis, fish and chips, etc.
There are only two buffet restaurants, all others are sit down. Garden Cafe and The Great Outdoors are actually the same restaurant, except one of them has tables and the food bars outside. Any dress code is allowed.
There are five restaurants that are completely included in the cost of the cruise: Grand Pacific, Alizar, Blue Lagoon, Garden Cafe and The Great Outdoors
Grand Pacific is the designated formal restaurant and does not allow jeans or shorts after 5.
All non-buffet restaurants do not allow shorts after 5.
Specialty Restaurants have cover charges that range from $10-$25 per person. Specialty restaurants include, Paniolo Tex Mex, Paniolo Tapas, Jade Garden Asian fusion, Shabu-Shabu, Teppanyaki, The Sushi Bar, Cagney's Chicago Steakhouse, Papa's Italian Ristorante and Le Bistro French.
All specialty restaurants (except Sushi and Cagney's) have 2-for-1 early bird specials from 5:30pm-6:30pm when all cover charges are discounted 50%
Soft drinks, alcoholic drinks and certain special items cost extra.
10/04 pictures are here.
Posted 10/12/2008 02:19 AM in Food, Greece, Ramblings, Restaurants, Reviews, Travel
Link To This Blargh | View/Add Comments (2)


---

10/03 - Corfu
Jump to the pictures.

In Corfu we started breakfast at the Grand Pacific restaurant, one of the free restaurants on the ship. See the pictures for details.

After breakfast we met up with the other families around 10:00 and went out to see Corfu. We decided to rent a car and drive around. There was a rental agency at the port with cars waiting, but they informed us they had only one car left for 60 euros, which was a discount off their normal 75 euro price. We tried bargaining down to 50 but they refused.

I then noticed another rental car agency, Sunrise Rent-A-Car, located outside of the port. It was only 100-200 feet away but on the other side of the fence. We decided to walk to Sunrise but the exit for the port was a good 1/8 mile away so we had to walk about 1/4 mile to get to Sunrise where we got a manual transmission car for 50 euros including insurance and taxes (auto transmission costs extra). We tried to bargain down since we only had a few hours of time and the woman said we could return the car without filling up the gas. We paid cash with no credit card authorization and were quickly on our way (credit card payments cost extra).

Our car was a red Hyundai Getz and turned out to be pretty comfortable for a compact. It wasn't a very fast car but for the most part did everything it needed to. I estimate it had 70-80 HP. The trickiest part was figuring out the roads which are written primarily in Greek and don't seem to follow a numbering system on these small islands. My sister worked hard as navigator though we still had to make several u-turns.

First we drove to Paleokastritsa to check out the Monastary of the Blessed Virgin, some mountain views and beaches. We had a beautiful drive there and stopped multiple times for pictures. Unfortunately, we misread a sign and didn't realize that we had made it to the Monastary at the top of a hill so we took several other pictures and descended only to discover our mistake. We decided not to back track and continued on our way.

Next we took the scenic route through Pelekas to Perama. We stopped several more times for views but since we were short on time we couldn't stop for lunch. When we arrived in Perama, we stopped at Achillion Palace and Mouse Island before driving back to Corfu Town.

In Corfu we attempted to drive to Old Town, only to get stuck in traffic. We followed it until the traffic ended, only to discover that the road also ended. It turns out that most of Old Town is pedestrian only roads so we had to make our way back out and formulate a new plan. We decided to take the coastal road to Old Town and park and walk the rest. Unfortunately, we lost a lot of time.

After driving around the New Venetian Fortress and taking pictures, we parked in an attempt to find the Temple of the Virgin Mary but only got far enough to find the Temple of St. Anthony before heading back to the ship.

One fortunate thing about our rental agency is that even though the shop is outside the port, we could drop the car off in the port, leave the keys under the floormat, leave the door unlocked and an attendant would find the car later. Since they did not have our credit card, this was not a worry for us and was actually quite convenient.

In retrospect, our biggest mistake was leaving the ship too late in the morning. With a big group of people, we didn't actually make a decision until 10:30 and probably didn't get into our rental car until almost 11:00. This resulted in a trip where we were constantly watching the clock. If we had left the ship at 8 or 9, we would have had more time at our destinations and time for lunch.

Also, my mom and sister think we should have went to Mount Repo instead of Perama. We wanted to do both but due to our schedule we could only do one and we were alreay en route to Perama before we realized the time constraint along with the slight more circuitous route required for Mount Repo.

For dinner we went to Papa's Italian Ristorante, again for an early bird special. This was my personal favorite restaurant because the food was all excellent and it really hit the spot, yet it did not feel excessively heavy. Much of the group was concerned about eating too much and I was the only one to order a pasta course in addition to an entree and just about everyone else regretted it. Despite having an extra course, I was still hungry at the end, not because I didn't eat a lot, but because it was all so good and tasty that I just wanted more. See the pictures for more specific details.

10/03 pictures are here.
Posted 10/11/2008 10:59 PM in Food, Greece, Ramblings, Restaurants, Reviews, Travel
Link To This Blargh | View/Add Comments (1)


---

10/02 - Katakolon
Jump to the pictures.

Breakfast
First, a quick stop for breakfast at the Great outdoors breakfast buffet. The funny thing about cruises is that they're ultra picky about hygiene and require everyone to use hand sanitizer before entering a restaurant, although they don't provide enough to properly sanitize your hands (your hands should remain wet for 30 seconds to be sanitized, 60 seconds to be sterile). In addition, only gloved staff may serve food from the buffet which reduces efficiency since there are usually only one or two attendants for any given section of food. The drink station is consistently busy serving coffee, tea, juice and water.

The food itself is decent, but obviously mass produced: not bad, but not particularly good, though I will say the best items on the bar are probably the fresh fruits, particularly the honey dew and green cantaloupe (musk melon?) which were consistently sweet and juicy. Bacon is a close second simply because, well, it's bacon.

The pastries vary from day to day but some are fairly bland. The tasty ones were strawberry and blueberry pastries or chocolate croissants. The everyday standards were cinnamon rolls, apple, lemon or poppy seed danishes and plain croissants. The most disappointing was the bear claw which had no flavor inside or out.

There were about a dozen types of yogurt. We tried the Passion Fruit Peach yogurt which tasted like a pretty basic mixed peach yogurt. The Mango yogurt was quite tangy and I personally thought it tasted more like Passion Fruit than the other yogurt. The last one I tried was from Turkey (I'm assuming based on the Arabic name) and was a tart plain yogurt. I was full by that time but I imagine it would be good with some marmalade or jam and might make a decent tzatziki sauce. However, it wasn't as flavorful and robust as the Greek yoghurt I had at the Heathrow Starbucks.

Other items varied greatly in quality. The 2.5" pate patty rounds were quite livery and not very tasty. I'm not surprised, I can't imagine that pate in 2.5" diameter cylinders is particularly high quality. The stewed plums were pretty good, much tastier than a prune. The raisin french toast is pretty good, despite every piece being the exact same sized isosceles triangle. The pancakes were pretty plain and a tad rubbery, but they made a decent McGriddle style sandwich with eggs and bacon.

Katakolon
Our first port stop was Katakolon (pronounced cut-TACK-oh-lo). This is a small town known primarily as the port of entry for visiting Olympia, the birthplace of the ancient Olympics. It is also known for its jewelry stores but my sister and I were not particularly interested in either of those.

There were three streets set up for tourists (read tourist traps) so we decided to start the day wandering aimlessly around the area to see what was there. Although the ambiant temperature was in the mid 70's, the strong sun beat down on us and made us quite warm as we wandered through the largest of the three streets. We passed store after store pawning off cheap trinkets and souvenirs that we mostly ignored.

We stopped at a couple shops selling Greek products such as herb and spice mixes, ouzo (anise infused liquor), honey, olive oil and boxed loukomi (Turkish Delight) but nothing interested us enough to purchase anything.

Pretty soon we arrived at the end of the tourist area where the primarily residential road was blocked off for construction. There, on the side of the road in a rather unassuming position was a small bakery called Psomi. We ventured in and found a tiny little sweet shop with just a couple display cases. One was filled with small buns and cakes that didn't look particularly special. The other was full of baklava and another pastry called ktaifi (sp?) which is composed of custard and tiny strings of dough. I only got a chance to try the ktaifibut my sister's favorite was the apricot baklava.

Lunch
Next we wanted to check out the beach but it turned out to be pretty rocky and hard packed in this section of the town so we turned back and decided to look for some food. We passed a cafe on the main street serving gyros and other streets but due to it's proximity to the tourist traps it didn't look as cheap as we wanted. The prices were still decent at 5-6 euros per item but we decided to venture out a bit more.

At the end of the third tourist street we found a small cafe with a chalkboard sign listing Greek Coffee, Nescafe, Fresh Fish and Ouzo (sorry, forgot to get a picture and name) . It was not very full but there were some locals eating there so we decided to give it a whirl. We sat down at a table covered with a paper table cloth that was basically a gigantic sheet of Brawny or Dixie. Apparently the waiter did not speak English because he walked out of the restaurant and disappeared down the street.

A minute later the waiter reappeared followed by the owner who did speak some basic English. We asked for the fresh fish, ouzo and Greek coffee and she suggested a tomato salad as well. Within seconds, a small stray cat appeared, eagerly anticipating the arrival of some food. Equally random, a middle aged man sat down at the table next to us with a Heineken and a pack of cigarettes and began asking us where we were from and what our ethnicity was. He then started telling us all about his trips to Asia and how he was from Olympia and had carried the Olympic torch 4 or 5 times (his stories didn't seem to consistent).

Our food then arrived along with two additional stray cats. The fish turned out to be sardines that had been gutted and fried. They were sufficiently small that I could eat them whole without worrying about bones, although my sister decided not to attempt it and ate around the tiny spines.

The salty fish perfectly complimented the tangy tomato salad. It had red onions, olives, green peppers, cucumbers, tomatoes and a light vinaigrette. The tomatoes were just as bright red as the ones I saw in Athens Central Market and they were as good as I expected. Firm yet tender, vividly red inside and out, sweet and tasting like a sun ripened tomato should. I haven't had tomatoes that good in years! The onions were mild, the cucumber light and crisp and the peppers sweet.

For drinks, the Greek coffee, medium sweet, was tasty and had the traditional finely ground coffee at the bottom of the cup. I haven't figured out if you're supposed to drink that or not. The ouzo was interesting as it was served with a small dish of ice. When you drop the ice into the ouzo, it formed wisps of cloudiness that eventually turned all of the liquor a translucent white. The ouzo had a very strong anise/licorice flavor that my sister did not like. The stuff is pretty strong (38-48%) and is generally meant to be sipped while relaxing but as Americans we're always in a rush to the next planned event so trying to down the stuff quickly was a bit tough.

Meanwhile the three cats were doing their best garner attention and act cute by laying on their backs, mewing quietly but pitifully and staring at us with big sad eyes (like the Puss in Boots in Shrek). I was very tempted to give them our last sardine but they were so good that my sister stopped me and we ended up eating it ourselves. Sorry cats!

Also during this time, the Olympian sitting next to us offered to buy me another round of ouzo and provided us a postcard showing him at the Olympic torch ceremonies many years ago. He offered us the chance to hold an old Olympic torch and take pictures if we simply dropped by his Jewelery store. We smelled a tourist trap and politely declined. Happy with our lunch, we returned to the ship.

Dinner
For dinner we had early bird reservations at Le Bistro, the French restaurant on board. To celebrate my mom's birthday, we had the whole group of 17 people join us. The restaurant was beautifully set up and I noticed the extremely fancy dinner plates. My mom noticed them too and also checked to see who made them and they turned out to be part of the Versace collection. See the pictures for descriptions of the individual dishes. Overall, we were quite pleased with the food. I will note that the main reason I ordered the cassoulet was because it was on Top Chef this year and I wanted to try it for myself.

10/02 pictures are here.
Posted 10/10/2008 02:29 PM in Food, Greece, Pictures, Restaurants, Reviews, Travel
Link To This Blargh | View/Add Comments (1)


---

10/01 - Athens
Jump to the pictures.

After losing time getting lost at the Acropolis, I decided to branch out and do some less touristy stuff in Athens while my sister went to explore the Acropolis on her own. My number one goal was to find Ktistakis a shop that specializes in Loukomades (Lokomathes?, a fried dough with walnuts and honey) and has a history dating back to 1912. All I knew was that it was near Omonia Square on Socratos street so I took the Metro there and started walking.

I walked a few blocks and didn't really see anything that would be a small bakery or shop so I walked around the block looking. Instead I happened upon a street vendor selling koulouri, a circular bread covered with sesame seeds. These are similar to pretzels but without the chewy shiny exterior. Mine was crusty on the outside but kind of dry on the inside. The taste of sesame was very pronounced and I think it would go very well with a drizzle of honey or even some mustard but the people I saw buying them didn't seem to require any such thing. I'm not a big sesame fan so next time I would probably pass on these but if you like sesame they would probably be pretty good.

As I munched on my koulouri, I returned to Socratos street and walked further down only to discover myself at the Athens Central Market, one of my key destinations. I happened upon a small corner shop and decided to moisten my parched mouth after the koulouri. I ordered a Frappe which is a whipped coffee drink. I didn't see exactly how they made it but I believe they mixed milk and espresso with a high speed shake machine to produce a nice airy, frothy head. Even after I finished drinking it there was a good inch of foam left in the cup. I would have liked to finish it but I had to continue exploring the market.

First I walked through the meat section where butchers displayed the finest cuts whether they be steaks or chickens or primal cuts or organs. Whole skinned animals dangled in clean glass and stainless steel display carts. All around me men were hacking away with long cleavers to chop up steaks according to their customers' orders. It seemed that just about everything was for sale whether it be heads or intestines or stomachs or brains or knuckles.

Peering between two carts I saw a small passage way leading to the sea food section so I darted through the narrow opening into a completely different world where stacks of styrofoam containers and piles of ice showcased the day's freshest sea fare. I saw fish, octopus, squid and even a basket of live snails that were crawling upon the very sign that pronounced the price of their lives.

I moved on to the rest of the market that was filled with small shops and vendors with various fruits, vegetables and other supplies. I saw a haloumi and sausage store and several egg shops that had stacks of eggs of various sizes and colors priced anywhere from 6 to 15 cents per egg. The produce also looked amazing, whether it be peaches or plums or apples or tomatoes. Several items were cut open so you could see their quality inside and out. The tomoatoes were so red, you knew they were vine ripened. I wanted to just buy one and eat it straight but I did not. I was lured by some delicious looking black (purple) figs which were so ripe they were bursting at a mere 2 euros per kilo.

One stand I saw had several piles of plants of herbs and by luck I happened to notice one bag labeled Tau-Sigma-Alpha-Iota, which spells TSAI. I thought it might be tea but wasn't sure until a tour guide later confirmed it, pronouncing it like chai.

The last stand I stopped by had a case full of small gelatin cubes marked 3.1 euros per kilo. It made me think of Turkish Delight but being in Greece I wasn't sure. The owner did not speak English so I pointed at a pink tray and a white tray and held up one euro after which he proceeded to pick up pieces and fill a small bag. The pink one turned out to have a very strong rose flavor, confirming that it was Turkish Delight. I liked it and so did my dad but my sister did not like the strong rose flavor. The white ones were coconut flavor but alas, I left the bag somewhere and never got to try it.

Having completed the market, I resumed my search for the loukomades. I returned to Socratos street and walked up and down again, even turning down some of the small alleys and shopping strips. With time running a little short, I stopped at a cafe and asked. I had to say the word a few times before the woman understood and told me to go up Socratos street. So I went and explored Socratos again, pushing farther north a couple blocks as well but still had no luck.

Next I stopped at a woman's fruit cart next to Omonia square. She was busy counting money from another customer and initially seemed a little annoyed that I didn't speak Greek. She didn't look up from her money and had a bit of a frown until she realized what I was asking for at which point she looked up with a smile and a glint in her eye. She pointed ambiguously down Socratos street north of the square so I returned to search again but to no avail.

Finally, I asked a security guard who said there was a bakery in the square that sold them. This didn't seem to match what anyone else had said but I followed his directions and ended up at a chain bakery. I asked a woman there if they had loukomades and she said yes so I ordered two. She gave me were two sugar coated doughnuts that had no walnuts or nuts of any kind. Perhaps these were some simplified version of loukomades or perhaps they were something completely different. Either way, they were not what I had hoped for and since it was time to return to my hotel, I reluctantly declared my quest a failure.

After checking out of the hotel my sister and I stopped at Starbucks. I ordered a Greek coffee and the barista told me that Starbucks' Greek coffee is no good because they use they wrong equipment and that I should go elsewhere. Since we really just wanted internet access I ordered a double iced espresso instead where I wrote the first three days of posts.

We returned to the hotel and with all of our baggage the hotel recommended that we take a taxi instead of the metro since it would only cost about 12 euros. We agreed and paid 15 after tip and arrived at our cruise ship with plenty of time to spare. In fact, it turns out there was a problem with the fuel ship which arrived three hours late so our departure was pushed from 6pm to 9pm.

For dinner we met up with our parents for the 2-for-1 early bird special at Tex Mex at Paniolo Salsa on the ship (more on how dinner works on the ship on a less eventful day). Take a look at the pictures for names, descriptions and thoughts on the dishes we ordered.

Afterwards we relaxed and got settled into our rooms, watched a movie and then slept early to prepare for our first day on the cruise.

10/01 pictures are here.
Posted 10/08/2008 02:27 PM in Food, Greece, Pictures, Restaurants, Reviews, Travel
Link To This Blargh | View/Add Comments (1)


---

Tuesday 9/30 - Athens
Jump to the pictures.

Shortly after falling asleep, my sister finally arrived around 3:30am. We talked for a bit and then she got settled in while I spent at least an hour attempting to fall asleep again. At 7:30 my alarm went off and I got up for a free continental breakfast on the Executive Level of the Marriott (yay for Gold status). The breakfast included a large cereal/muesli bar, a selection of cold cuts, cheeses and fruit as well as your standard continental bakery items. Pretty darn good for free.

I then ventured out to meet up with my parents and their friends at their hotel while my sister slept in. It's funny how much faster it is to get to the train station when you're not lost and lugging around crappy luggage. On the Metro I made my way to the Omonia (pronounced like Ammonia) and walked a couple blocks to the Best Western Zinon. It's an older hotel and it shows. The elevators have swing open doors and only hold four people and that's only if they're feeling very friendly. The inner doors are hinged like closet doors and open inward forcing the fourth passenger to squeeze against the other passengers to allow them to open and close. Also, the elevators don't differentiate between up and down when stopping at floors, you just have to ride it until it stops at the floor you actually want. The rooms are also tiny and the showers barely have enough space to turn around. I'm glad I stayed at the Marriott.

At 9:00 our private tour guide and bus showed up and we headed to Corinth. The tour guide provided some historical background as we visited the Corinth canal which is 4km long and 250 meters almost straight down to water level. We then continued on to Corinth to see the temple of Apollo as well as the Corinth Agora. Agora was the name of the public market which was so busy and crowded that the word agora became synonymous with crowds, hence the term agoraphobia, the fear of people and crowds. The Agora was also where the apostle Paul would have sold the tents he made to support himself while in Corinth. Next to the Agora were the ruins of an ancient church, believed to be the one that Paul started in Corinth and addressed in his two letters to the Corinthians, as well as the spot in the market that Paul is believed to have publicly preached.

We also learned that Corinth was destroyed by barbarians that killed all the men and enslaved all the women and children, leaving no one behind to rebuild the city. Today, the region is as famous for it's oil production as it's sun-dried raisins, pistachios and olives. Also at the peak of a mountain stands a strategic fortress that overlooked both the Aegean Sea and the Sardonic Gulf.

After our tour, we went to the Plaka market area surrounding the Acropolis. We found a restaurant to have lunch for decent prices, about 10 euros per person after the 10% discount the restauranteurs offered us as we walked by. I ordered a pork gyro since lamb wasn't offered. My pork was a bit under seasoned though the thick and flavorful authentic tzatziki sauce was delicious. Overall the food was good, but not great but at least prices were reasonable, though not cheap. I wasn't particularly surprised by this since the menu was available in 6 different languages which is a tourist trap warning sign.

Apparently pork is a traditional gyro meat in Greece, though chicken is quite common as well. I have yet to see the same lamb meat loaf cylinders that are common in America. I suppose that lamb loaf may be the American version that is purported to have originated in Chicago but I'll see what other regions in the Mediterranean have before I make my conclusions. Note that the pork and chicken cylinders are made by stacking slices of meat together on a spit and roasting them, unlike the American lamb loaf that is finely ground and formed into a cylinder around the spit.

After lunch the group walked up to the Acropolis to see the Parthenon and Athena's temple. It was a bit of a trek up the hill but there were some very nice views along the way. On our way down we split up and unfortunately our group took a wrong turn and ended up on the wrong side of the Acropolis. It took about 40 minutes to find our way back to the entrance we started at and about 20 more minutes to find the rest of our group. By that time I was completely pooped from walking up and down hills searching. I also missed my opportunity to go to the Athens central market, which might be closed on Wednesday, and some of the specialty shops I had hoped to visit.

My parents and I separated from the group to meet up with my sister and then we wandered around the Plaka looking at shops. As we were all tired and it was starting to get late, we chose a quick restaurant to eat at which had essentially the same menu as the lunch restaurant. Once again I had the pork gyros. This time the pork was well seasoned which was a dramatic improvement on the previous restaurant, except that the pitas, which came off a big stack in a plastic bag, were dry and tough. I also ordered a Cappuccino Fredo (iced, but unfortunately not frozen).

After dinner my sister and I sent my parents to their hotel in a taxi while we did some last minute exploring. We got some gelato for dessert (Hazelnut or her, Pistachio for me) and checked out a few other stores. I was interesting in buying some Ouzo, an anise flavored liquor and I also discovered that Absinthe liquors are easily obtainable (they are still outlawed in America even though the warning on the bottles indicate that the dangerous side affects of Absinthe no longer exist). If I can find a liquor store that ships to America, I'll buy a bit of both.

After that my sister and I hopped on the Metro and went back to our hotel to clean up and get a good night's rest. One last thing observation was the large numbers of stray animals. I knew about this from my research on Athens but seeing the actual problem up close was another thing entirely. Some of the dogs have survived pretty well and managed to stay pretty clean, but others are a little rough around the edges or even injured. In the highly trafficed tour areas (e.g. Corinth and the Plaka) the large numbers of humans mean that the dogs are quite tame and socialized and are not aggressive. In fact, if you feed them or offer to pet them, they seem pretty happy to sit down and soak it all in while they can. In the evening, they seemed to appear all over the place in the plaka and they'd simply lie in the middle of heavily trafficed walkways. There are also many stray cats and I even fed some leftover lamb from one of the other parent's dish to a skinny little cat, though they tend to stay in doorways and on the side of the road instead of lying in the middle. It's really kind of sad and every other dog I see I wish I could take home. I decided to take pictures of several of the animals and will share those tomorrow.

9/30 pictures are here.
Posted 10/02/2008 06:48 AM in Drinks, Food, Greece, Ramblings, Restaurants, Reviews, Travel
Link To This Blargh | View/Add Comments (13)


---

Monday 9/29 - Travelling to Athens
Jump to the pictures.

After 90 minutes of sleep, I headed to Heathrow with my crippled bag to catch my 8:20 flight to Athens. Of all the things to forget, I failed to check which terminal my British Airways flight was in. I knew they were in Terminal 4 or 5 but I wasn't sure which it would be. I chose 4 because it was the closer stop on the Tube but I turned out to be wrong. Unfortunately, to get to Terminal 5, I would have to back track to another station and then transfer to another train. I finally arrived at Terminal 5 at 7:15, perfect timing to check in. But the kiosk gave me an error and told me to go to "Zone A." I went to Zone A and the Queue Host (line manager) told me to go to customer service in Zone B where a single representative was trying to help a dozen people. I stood anxiously in line and watched as the minutes counted down.

It wasn't my turn until 7:50 and of course the flight had already been closed. The rep told me I should have gone to Zone A and now I had been dropped off the flight. Unlike AA which allows you to just jump on standby for another flight, British is very strict about this sort of thing. They basically assume it was your fault and cancel your ticket. Since it wasn't my fault that I had been mis-directed, they had to enact some absurd exception process.

First the rep flagged down a manager who told her to call some guy who handles this stuff. The guy didn't answer the phone so the manager escorted me to Zone A and handed me off to another guy who proceeded to call the same guy who handles this stuff who once again didn't answer. Then he called one of his friends in another department and called in a favor to get my ticket reinstated. Then, he called the first guy again, who finally answered after the phone rang for a good two minutes and had me put onto the standby list for the next flight. Then he called the second guy again to have my standby status upgraded to cleared. Then he could finally confirm a seat and check me in. It took at least 30 minutes to complete this process. I thought British Airways was supposed to have good service!

Since I had three more hours to kill, I decided to sit down for breakfast at Carluccio's, as recommended by the London Review of Breakfast. I had the colleccione which was toast with sauteed mushrooms, scrambled eggs, pancetta and roasted tomato. It was decently priced for the airport at 7£. They don't get any awards for presentation but the mushrooms and eggs were tasty. The toast was a bit tough, the pancetta was salty but not that flavorful (would have preferred American bacon) and the tomato was good but not roasted enough. But those were all minor gripes and I was pretty pleased with my breakfast.

I also ordered a coffee drink called Bicerin. It is a traditional Torino drink of espresso, Florentine drinking chocolate and cream that you mix together as you please. The drinking chocolate was pretty thick like a soft ganache and if I had let it cool more it would have been pretty solid. It was also a pretty cocoa intensive and not very sweet. That was mixed with the espresso and about half of the cream. I considered adding more sugar but thought I should probably enjoy it as it was served. I thought it was extremely tasty, though not very healthy.

I then proceeded through security where they have a nice automated tray return system so that trays are automatically moved back to the front of the line instead of having to wait for some non-observant TSA rep to realize there's a backup caused by a lack of trays. Then in my search for a power outlet for my laptop, I ended up at Starbucks and bought a yogurt so I could sit and mooch their electricity.

Starbucks has much nicer food products in Europe. Their yogurts and granola all looked excellent and had extra seeds mixed in for added fiber and nutrition. I chose a Greek yogurt with granola and honey and was wowed by how thick, rich and tangy the yogurt was. Mixed with the granola, sunflower seeds and honey, this was a delicious yogurt mix.

After losing track of time and almost missing my new flight to Athens, I finally settled in my flight. The British Air 757 I was on seemed nicer and roomier than any American 757s. I think I had one or maybe even two inches of extra seat width and I suspect that American planes have eight seats crammed in a row instead of the seven on this plane. I'll have to check SeatGuru to see.

To my surprise, breakfast was served on this flight and it wasn't a crummy continental breakfast (pun intended here too); it was a hot fish pie. I don't particularly like the sounds of fish pie on an airline because it makes me think of the movie Airplane. But this fish pie (cod and salmon) was very good. The sauce was tasty and there were big chunks of fish coated with panko crumbs (the one negative being that the panko wasn't crispy). The caesar salad, while simple, was good thanks to the tasty croutons and substantial parmaggiano shavings. The bread rolls, which were a wheat and white baked together, were pretty good. And the rice pudding was decent though it was basically standard strawberry sauce mixed into plain rice pudding. I guess that's the one place that British Air has good service.

I finally landed in Athens and found customs and immigration to be very easy. There was no form to fill out and it looked like any valid passport gained instant access to the country. There wasn't anyone in customs either, you just walked out from the baggage claim to the oustide world. I lugged my crippled bag to the Metro which was thankfully still open (it was supposed to be closed for construction but contractor issues have already postponed the start date which was originally April).

I arrived at my station and using my compass quickly determined which direction to head to find my hotel. I walked for 10 minutes but couldn't find it. The address, 115 didn't seem to exist. I walked back and forth for another 10 minutes until finally walking into a Peugeot dealer to ask for directions. Turns out that the numbers on one side of a street don't necessarily line up with the other side so even though I was at 110-120 on the north side, 115 on the south side was another 10 minutes farther down the road.

Then I had to find a pedestrian underpass to get to the other side and I found the sign but not the underpass. I spent another 5 minutes looking for that until I walked into a Citroen dealer and asked for help. Turns out the underpass was about 100 more meters past the sign. 10 minutes later I was across the street at the Marriott and I was soaked with sweat from dragging my stupid cheap-ass bag back and forth and up and down curbs because Greek drivers don't care if their parked cars block the cross walks (if there happens to be one at a particular street intersection) or fire hydrants for that matter. I finally got into my hotel room at 7:30 and decided to scrap my plans to go to the happening night spot for dinner and try to get some sleep.

9/29 pictures are here.
Posted 10/01/2008 06:41 AM in Food, Greece, Ramblings, Restaurants, Reviews, Travel, United Kingdom
Link To This Blargh | View/Add Comments (1)


---

Sunday 9/28 - London
Jump to the pictures.

My trip did not start off as well as I had hoped it would. First, they wouldn't let me check my big bag all the way to Athens because the layover was too long so I would have to pick it up in London. The 7 hour flight itself was fine for the most part. I seat 31B which is an exit row that has lots of leg room. Note that 31A has the emergency slide blocking it so if you want to stretch out you have to sit at a funny angle and then you feel lopsided for the rest of the day.

The AA 777s now have pseudo on-demand movies. Basically each title restarts every 15-20 minutes so you can start a movie almost whenever you want. You can choose to wait for the next one or start the one that is in progress. The one problem is that the controller is docked in the side of the arm rest. If you remove it, there's no problem but if you leave it you can accidentally hit a button and exit out of the movie. I did this and had to restart Hancock, then I did it again, and had to restart it again so I ended up losing about 45 minutes of movie watching time. Hancock was good overall, nothing all that special, but pretty entertaining. I also watched Swing Vote which was decent but lacked a lot of depth that I think it could have gone into. I wanted to watch Get Smart as well but b/c of my Hancock blunder, I didn't have time.

Food on the flight was decent. The choices were barbecue chicken and beef lasagna. I chose the latter which was fairly tasty, (almost as good as a Stouffer's frozen dinner, which are some of the tastiest ones out there since they're not geared as dieting dinners). The salad, dressing and bread were the exact same kinds that AA always uses that are fairly blah. Dessert was a little different though, it was an Oatmeal Chewie. It had a consistency like a brownie crossed with an oatmeal cookie and was pretty tasty in it's manufactured and shrink wrapped goodness.

Breakfast was a pretty simple continental breakfast: a single croissant. The croissant was actually pretty good: it was toasted and had a nice tender center with a flakey outside and was served with butter and strawberry jam. Airline water always tastes funky even though it's in a sealed container, maybe it's the container that tastes funky but it's been that way on AA for as long as I can remember. The strawberry yogurt was run of the mill pre-mixed which is slightly ironic since Britons and Europeans are more picky about their yogurt. For instance, I prefer Danon fruit on the bottom yogurt and one reason they make yogurt that way is to keep the sugars from the fruit separate from the active cultures so as not to interfere. Well in Europe, even fruit on the bottom yogurt causes too much interference so they actually sell yogurt that has the fruit flavors in a separate compartment so you can mix them just when you're ready to eat it.

After we finally landed in London, I picked up my bag and went to British Airways to see if I could check in the bag for the next morning and they said they only allow check-ins three hours before the flight. So I accepted the fact that I would need to lug around my big bag as well as my small bag and backpack. This is the first time I used my cheap new 25" bag and I didn't pack it all that full. In fact it weighed about the same as my small bag (which was extra heavy b/c of my laptop). So in preparation for the walk to the London Underground (Tube) I latched my small bag onto my big bag started walking. All of you who said I should invest in a good set of luggage instead of a cheap set, you were right. After walking through the terminal and through the hallways for about 10 minutes, I lost a wheel.

So now I have to carry the big bag on top of the little bag (a Samsonite) which seems to be holding the weight of both bags without a problem. Darn that ghetto generic Embark brand from target! Having to lug around a big bag was bad enough but to not have wheels for it has really made my plans to travel easily by subway and foot a big pain in the butt. Even my hands are feeling a bit raw from wrassling with the bag. I considered buying a new one but being in London, that's not a good idea as a decent bag could easily cost $200. I may try to buy a new one in Athens (or maybe Egypt where it would be cheap, but probably not any higher in quality).

So anyway, I finally checked in at my hotel and set out for Arbutus, a fairly fancy restaurant that has a cheap prix fixe lunch set. Of course, I wanted to be daring so I went a la carte. For my starter, I had Braised Pig's Head, Potato Puree and Caramelized Onions (see pics). There was a block of meat on the left of the plate (reminiscent of head cheese) which was tasty and reminded me of the ham hocks my mom used to make. The potatoes were very smooth and creamy. However, on the right side of the plate there was something on top of the caramelized onions. My guess is brains which I kind of had to choke down as the taste was as little too offal (pun intended).

For my main course I had the Plat du Jour (dish of the day): Elway Valley Lamb, Hot Pot "Breast and Sweetbreads." This was very tasty and had some fatty pieces of lamb and a whole sweetbread (referred to as a neck gland, haven't had a chance to look up which one it is) topped with gratin potatoes. The dish was a bit lamby plus some offal flavor, but pretty good overall. Unfortunately, I suddenly got really full halfway through and decided to stop. It was odd because 30 minutes prior my stomach had been growling like crazy. I think it was because my body considered it breakfast time and simply didn't want that much food.

After the main I had treacle tart for dessert which was simply the best I've ever had (ok, I've only had it once before, but it was absolutely delicious). I also had the house Apertif to drink which was Prosecco and pear puree.

Now, being extremely full and jet-lagged don't go together so well because I become extremely tired. I wandered around, checked out Chinatown a bit and then sat to rest in Hyde Park where I saw joggers, skateboarders, in-line skaters, horse riders and even a roller-skater (see below). Then things went downhill.

I was so full and exhausted that even though it was only 3:30, I went to my hotel room and plopped on the bed. I set my alarm for 4:30 so I could venture out to find La Fromagerie, a well known cheese shop. Well I woke up and was still very tired and very full, so I thought I'd sleep for another hour. The same thing happened an hour later, and every hour until 9:30pm. I finally made myself get up and despite the rest, I stumbled out of the hotel with bleary eyes. My mission was to find The Golden Hind, one of the best places in London for Fish and Chips. I wandered the area for an hour and never found it and by that time, all the restaurants I had passed started to close.

I headed back to the hotel and saw that Hard Rock Cafe was open but decided that wasn't worth going to. So I went to the concierge and asked who was open late and they told me what area to look in. However, by the time I found them, they too were closed. I headed back again and even Hard Rock was closed. So even worse, I ended up eating at Trader Vic's, one of the hotel's restaurants and I believe an American chain. I decided not to get too much and ended up with Singapore Noodles which were decent but a little light on the curry. I ordered my first European diet coke notied that it was much less fizzy than in the US. I also ordered Phoenix Beer which was smooth and crisp and doesn't seem very strong since I didn't have much problem finishing it.

I considered asking the cute Asian hostess to join me at Restaurant Gordon Ramsay in three weeks, but decided against it. Then I returned to my room and of course I couldn't sleep. Luckily Gordon Ramsay kept me entertained with Kitchen Nightmares and The last episode of The F Word season 3 (he raised and slaughtered sheep this time). I finally went to bed at 4AM, just in time to get some shut eye before I had to get up at 5:30.

9/28 pictures are here.
Posted 10/01/2008 06:35 AM in Food, Ramblings, Restaurants, Reviews, Travel, United Kingdom
Link To This Blargh | View/Add Comments (12)


---

Ted Drewes


I once met a guy who claimed to be a frozen custard connoisseur. One of his top picks for best custard? Culver's. That's like claiming that McDonald's makes the best ice cream. Yes, there's no doubt that it's great and tasty, but it just doesn't come close to the genuine homemade stuff.

On top of that, the guy had never heard of Ted Drewes. I can understand that your average person may not have heard of Ted Drewes, but to consider yourself a connoisseur of frozen custard and have no clue about it is just plain freakin' absurd.

If you like frozen custard, you HAVE to try Ted Drewes for both the wonderfully rich creaminess and for the historical Route 66 significance. On Alton Brown's Feasting on Asphalt, Ted Drewes was the number one most requested absolutely must see stop from his fans.

So when I went down to St. Louis for Labor Day, I made sure to swing by for a nice, rich, cold treat for a hot summer's day. Here are some pictures. Apologies that the close-up is a bit over exposed, I forgot to clear a setting that I changed on my new camera.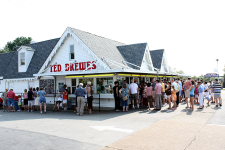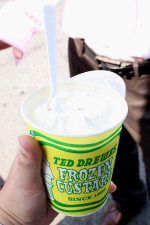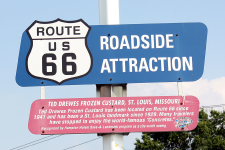 Posted 09/27/2008 07:12 PM in Dessert, Food, Ramblings, Restaurants, Reviews, St. Louis, Travel
Link To This Blargh | View/Add Comments (1)
---

I'm a sad tourist
I've been trying to find some info on eating in Alexandria. I understand that Egypt is not well known for it's culinary delights and that it is generally a poor country, but I'm a little surprised how tough it's been. While there are some traditional restaurant recommendations on-line, there aren't as many as I expected. Just look at this pitiful list of top restaurants to eat at in Alexandria according to tripadvisor.com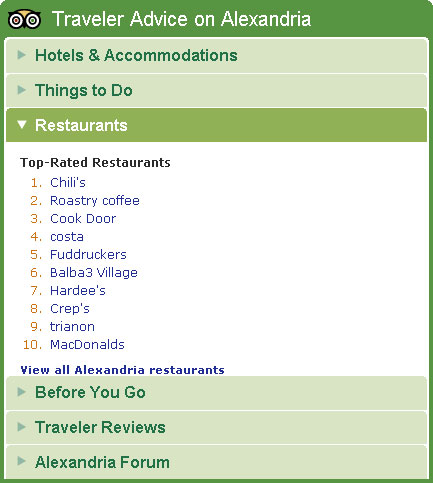 I'm saddened that four of the top ten restaurants are American chains and even more saddened that one of them somehow earned the number one spot.
Posted 09/21/2008 06:47 PM in Food, Restaurants, Travel, Turkey
Link To This Blargh | View/Add Comments (1)


---

Monarch and Sutton
Monarch Restaurant. Certainly it's not the caliber you'd expect in Chicago or NYC. It's a nice looking restaurant with an air of formality but not the snobbery. The six course tasting menu is fairly affordable and they happily accept shorts and jeans. These sort of restaurants are easily found in Chicago, but aren't so common in St. Louis. The funny thing is that Monarch Restaurant is on Sutton Street in St. Louis and I live on Monarch Drive on Sutton Road in Chicago.

The six course tasting menu costs $80 per person and each course was presented by the sous chef. The restaurant claims to be international fusion with influence from France, Asia and the American Southwest while several dishes included seafood. The food was excellent, though nothing was particularly daring or unique (except that the sorbet intermezzo was huge, instead of tiny like most places).

I will be honest and say that I was disappointed by dessert. That's not to say that dessert wasn't good, in fact it was very good, just not that special. There were three parts: chocolate custard, Red Velvet Cake and a bread pudding. The chocolate custard was good, but fairly standard and not memorable: despite it being the smallest item we did not finish it. The Red Velvet Cake had Cream Cheese Frosting with a hint of almond flavor which is very nice but in the end, it's just Red Velvet Cake: good comfort food I guess, but not very memorable. However, I will say that the Gooey Butter Cake Bread Pudding with Fried Ice Cream was most excellent and redeemed the rest of the plate.

So my final verdict is that it is a good restaurant, perhaps even excellent if you qualify it with "for St. Louis." If you're ever in St. Louis looking for a good meal with a modern flare that borders on fine dining, I can't think of another restaurant in St. Louis that fits that description with it's $100 per person target point.

The one other notable mention is that this dinner gave me an opportunity to try out my new camera in a low light situation. It took a few shots of trial and error but eventually I got the shutter speed where I wanted and managed some decent photos. You can see a little graininess from the high ISO that was needed but overall, I was pretty pleased by the larger, more sensitive CCD and the lens' Image Stabilization system.

Course descriptions and pictures are here.

Posted 09/01/2008 11:26 PM in Food, Restaurants, Reviews, St. Louis
Link To This Blargh | View/Add Comments (3)


---

Grand Flights
I had a bottle of regular Grand Marnier at home that I've used mostly for cooking for the last few years. With just a little bit left and inspired by the Grand Marnier Centennaire I had at L2O, I decided I should finish it off. For the last month I've been sipping little glasses of it while doing various chores around the house. I think I've become quite a fan of it...

Now, I found a restaurant in Hartford called Peppercorn's Grill that has a Grand Marnier flight. You get three round bottom Grand Marnier shot-glasses with about 1.5oz each of classic Grand Marnier, Grand Marnier Centennaire (100th anniversary) and Centcinquantennaire (150th anniversary) in a Grand Marnier holder and a dessert of your choice for a very decent $25. If I had that Canon DSLR I could take a picture...

So I tried all three of them in different combinations to compare them. I started with the classic Grand Marnier which was basically the same as what I had at home. It has a nice light orange flowery bouquet and generates nice warming sensation as it coats your tongue. It finishes with a slightly rough spicy sensation.

The Centennaire is slightly darker and has a deeper bouquet reminiscent of dried apricots. The taste is smoother and deeper with more complexity.

The Centcinquantennaire is in between the two, not as floral as the regular and not as dark as the 100. I actually prefer the flavor of the 100, but the great thing about the 150 is how smooth and soft it is, it's very pleasant to drink. Even more shocking is how different the regular tastes after trying the 150. After the 100 or 150, the regular tasted rough and dry with a much sharper spiciness and a hint of chemical harshness. 100 or 150 is definitely the way to go.

Then there was the after taste. I'm not sure which one it came from since I tried them all but even 10 minutes after I left the restaurant I could still taste some Grand Marnier on the back of my tongue. It reminded me of the fruitiness of Haw Flakes and Chinese Gyem-seung-dee (salty-sour-sweet) preserved plums. Now I want some more...

Oh, yeah their homemade gnocchi of the day and the free Italian sundae were pretty tasty too.
Posted 08/26/2008 08:14 PM in Drinks, Hartford, Restaurants, Reviews, Travel
Link To This Blargh | View/Add Comments (8)


---

No Reservations
I'm trying to make reservations for dinner when I'm passing through London on my way to and from my family's Mediterranean cruise. First on the list is Le Manoir aux Quat'Saison (2 Michelin stars) by Raymond Blanc, a celebrity Chef in the UK and host of Last Restaurant Standing (simply The Restaurant in the UK). Alas, Le Manoir has no reservations available because they reserve ALL seats for guest residents at Le Manoir hotel. I'm on the waiting list and at the mercy of whether a resident decides to cancel.

The second restaurant is Restaurant Gordon Ramsay (3 Michelin stars). Apparently, only three chefs currently have three Michelin stars in the UK. Per instructions, I called exactly 2 months ahead of the date and at 2:00PM UK time, the only slot left was at 10:00pm. Like many fine dining restaurants, they require a credit card to secure the reservation. The no-show fee is a whopping 150GBP ($280) instead of the standard $50 around Chicago.

My next task is to decide where to eat lunch, perhaps a famous London Fish and Chips establishment. I also need to figure out what to do about Le Manoir which is in Oxford. If I cannot get a reservation there, then that affects my hotel options. Perhaps I will go to another Ramsay restaurant such as Pétrus (two stars), Gordon Ramsay at Claridge's (one star), Maze (one star). If I'm not in the mood for a Michelin rated restaurant, perhaps I'll check out the slightly relaxed Boxwood Cafe or just drop by Plane Food at London Heathrow Airport Terminal 5 to see if I there's such a thing as decent airport food.

BTW, here are a couple handy links. To quickly determine exchange rates I usually use x-rates.com. And for calling internationally, I discovered this International Dialing Code at timeanddate.com which also provides many other international planning tools such as times and dates (obviously).
Posted 08/16/2008 11:03 PM in Food, Restaurants, Travel, United Kingdom
Link To This Blargh | View/Add Comments (2)


---

I want my baby back, baby back, baby back...
This weekend I did a test run on some ribs that I'll be making for next weekend's church barbecue.

I started with a coffee rub that Natatia and Caroline gave me two years ago. I had tried it on steak before but it didn't quite fit but I suspected it would be better on pork with a few tweaks. Those tweaks included mixing it with brown sugar, black pepper, chili pepper and some mesquite salt from Max's Downtown in Hartford, CT. I rubbed this on a rack and let the flavors meld overnight.

Saturday I barbecued it (meaning low indirect heat, as opposed to grilling) for 6 hours over mesquite charcoal with an hour of smoking with Applewood. Then I basted it with Sweet Baby Ray's barbecue sauce. Honestly, I wasn't that pleased with the result. It was not as tender as I hoped and not as tasty as I wanted so I put half of the rack directly over the coals for another hour. Then I refrigerated it overnight and today when I re-heated them, they were MUCH better. The tricky part is going to be reproducing the result next weekend...
Posted 08/10/2008 11:13 PM in Cooking, Food, Hartford, Restaurants
Link To This Blargh | View/Add Comments (1)


---

Uzbeki Food and Ice Cream in the NW Burbs


The northwest burbs are a haven for chain restaurants, but there are still plenty of local restaurants. Last week I decided to do a little exploration after some internet research. Some people bailed but I convinced Ashley to be adventurous.

Our first stop was Chaihanna for dinner. Chaihanna is an Uzbeki restaurant. Their food and decor reminded me of a cross between Russian and Middle Eastern cultures which makes sense since that region was once part of the USSR. Today Uzbekistan is located south of Kazakhstan and north of Turkmenistan and Afghanistan.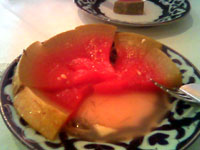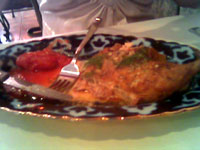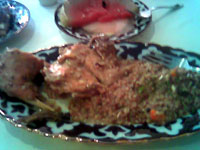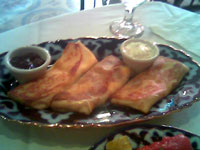 We ordered pickled watermelon, chicken tabaka, rabbit and cheese blintzes. The pickled watermelon tasted like a pretty strong pickle. If I didn't know it was watermelon, there's no way I would have known. The chicken tabaka was crusted with garlic and was very good. The rabbit with white "souse" (sauce) was good. It was very mild and tender. I don't think it tastes like chicken, but I definitely see how chicken is the closest thing you could compare it with. I believe it was served with kasha (buckwheat) but I did not really like it. It felt like tiny balls of half cooked potato. I would have preferred cous cous or rice.

Lastly, we had the blintzes and thought they were excellent with a very smooth cheese filling. They come with sour cream and strawberry jam on the side, but they were good enough to eat plain. I think those alone are worth returning for.


---

Afterwards, the hunt for dessert was on. First we tried out a couple Japanese bakeries. Both Mont Blanc Bakery and Bakery Crescent are in the same strip mall on Algonquin about 1/4 mile east of Mitsuwa. Mont Blanc specializes in cakes while Crescent has a larger variety of pastries and other bakery items. Unfortunately they both closed at 6pm so we were unable to try any.

Next we went to Coffee Haus a Korean cafe that serves bing soo (shaved ice) and also a Korean ice cream sunday with lots of toppings. We were surprised to see a large Korean family there with adult children and their parents. The sundaes looked pretty good, but we decided to search check out a genuine house-made ice cream company.

We ended up at Capanarri's Ice Cream and based on the line of customers we decided it was the right choice. All ice cream is made in small batches on site and they several classic and specialty flavors. Some of their special flavors at the time were Praline Pecan, Burgundy Cherry and Acai Berry Sorbet. If you can't decide, they offer an ice cream flight so you can try up to four mini scoops at a time.

I ordered the acai sorbet along with blueberry, praline and butter pecan ice cream. The acai sorbet was mild and tasty, but since I don't know what acai tastes like I can't give a good review. The blueberry ice cream was mild and creamy. The praline pecan was very tasty and had lots of pecans. After that the butter pecan didn't seem as good in comparison. Capanarri's has been mentioned in several ice cream books and proudly displays several celebrity photos with the owners. It may become our new northwest burb ice cream spot.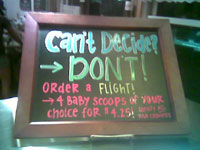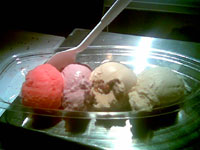 Posted 07/29/2008 09:54 PM in Chicago, Dessert, Food, Restaurants, Reviews
Link To This Blargh | View/Add Comments (8)
---

Incredible Hulk of Ice Cream


Thursday I went to see the Incredible Hulk with Ashley and Jina, which was pretty good, though I felt it lacked some smooth transitions between events. I enjoyed seeing Lou Ferrigno, though I don't recall seeing Captain America who was supposed to be hidden somewhere. Afterwards we met up with Paul for cheap ribs at O'Donovan's and then decided to grab dessert.

First we went to Cafe Wicked b/c it had good reviews according to mobile Google. When we arrived, the place was almost deserted except for two customers. We decided to try another spot and Margie's Candy was recommended by one of Paul's co-workers.

Immediately we knew we made the right choice as the quaint and cozy little shop was full and had great looking desserts. Their World's Largest Terrapin (Turtle Sundae) has a whopping 25 scoops of ice cream for $45, which put's Ghirardelli's Earthquake Sundae to shame.

Each of us got a sundae or split. I chose an Engligh Toffee sundae with their extremely tasty and buttery house-made toffee. Every sundae is huge and comes with a sauce boat of house made fudge or caramel sauce. If that's not enough, you can make any sundae jumbo. It's open late (11:00 I believe) and is a great dessert spot, as witnessed by the fact that the line kept getting longer.

Here are a few pictures from my cell phone. I'm not sure what Paul is doing... Oh and Margie's only con is the single small and dingy bathroom.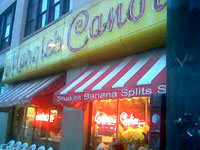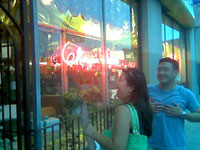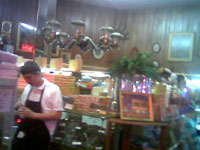 Posted 07/22/2008 05:41 PM in Chicago, Dessert, Food, Restaurants, Reviews
Link To This Blargh | View/Add Comments (0)
---

L2O Review
L2O. I was planning to take lots of pictures and notes of the dinner but with the dim lighting I couldn't get a decent picture. Flashes don't work so well with macro shots and I'm sure it would have been distracting to the other patrons. There are some related pictures at LTH Forums and on the L2O Flickr Pool. I should get a DSLR...

I went to L2O with my parents, Natatia and one of her friends. To start with, my mom and I ordered the L2O Gimlet which is Plymouth gin with Aperol, an Italian orange-rhubarb apertif, and a house made lime cordial. It was quite good, which it had better be for $17.

For dinner we ordered four 12-course meals at $165 per person and a 4-course meal for $110. In addition to these courses we had two amuse-bouches, two pre-desserts and two post-desserts (mignardise). At this point I can't remember all the details and the menu doesn't have everything described, but here's what I found or remember:
Amuse 1: Oyster and Caviar
Amuse 2: Shimaaji, Red Miso, Radish, Soy Salt
Raw 1: Geoduck, Citrus, Wasabi
Raw 1*: Fluke, Lemon Vinegar, Caviar, Basil Seeds
Raw 2: Kinmedai, Cherry Wood Scented, Shiso Bud
Raw 3: Tuna, Hamachi, Yuzu, Soy Sauce, Olive Oil
Raw 4: Hokkaido Scallop, Jalapeno, Parsley, Bergamot
Bread 1: Pain au Lait - tender milk bread
Bread 2: Pain au Campagne - Naturally leavened country bread
Bread 3: Mini Baguette
Bread 4: Bacon Epi
Bread 5: Anchovie Brioche
Warm 1: Morel, Asparagus, Parmesan Parsley
Warm 1*: Lobster Bisque, Chestnut, Lobster Dumpling
Warm 2: Halibut, tomato water gelee, tomato heart, golden spinach, Chablis-tomato bouillon, potato emulsion
Warm 3: King Salmon, Corn, Cilantro, Chorizo Boullion
Main 1: Sturgeon
Main 2: Black Bass, Shellfish Boullion, Saffron, Rhode Island Mussels
Main 3: Crispy Skin Pork Belly, Truffle, Potato
Main 4: Shabu Shabu Medai, Kombu Boullion, Citrus, Porcini, Noodles
Pre-Dessert 1: Melon Ice
Pre-Dessert 2: Passion Fruit Marshmallow
Dessert 1: Mango Sorbet, Exotic Fruit consomme, lemongrass meringue, pineapple & mango brunoise, papaya seeds
Dessert 1*: Chocolate Raspberry - Ganache, Cherry Sorbet, Cotton Candy
Dessert 2: Praline Soufflé
Dessert 2*: Grand Marnier Soufflé
Mignardise 1: Canelé - custard bread
Mignardise 2: Pistachio Macaroon
* indicates this was served with the 4-course meal.

Overall, I enjoyed the dinner quite a bit, though I do understand why some people get a bit tired of all that seafood. I was glad they broke that up a bit with the pork belly. After dinner, I ordered a Grand Marnier cent-cinquantennaire, unfortunately, they only had the centennaire edition ($37). It wasn't quite as wonderful as the cent-cinquantennaire, but it was still beautifully smooth and wonderfully tasty.

My dad thought it was the best dinner he's ever had. My mom took home some of her black bass and even the doggie bag was beautiful. Total cost of the dinner, drinks and a bottle of wine was $1222.46 after which they provided us with a tour of the kitchen. I will note that the kitchen seemed much busier than Trotter's for some reason. I also wonder about the large private room they have in the kitchen which can seat a good 20 people. I'd like to work for a company that would hold meetings there!

From a food view point, if you love seafood, then I'd definitely recommend L2O as a fine dining destination. If you want more variation and want to try intriguing and new items, then I recommend Charlie Trotters. If you want an excellent classic french meal then go for Everest. If you want modern ecclectic, then go for Tru.

From an ambiance view point, Tru is stiffer and more sterile with it's amazingly choreographed service. Everest is intimate and comfortable. L2O is right in the middle: there is more space and less stiffness than Tru but it does feel more structured and modern than Everest. I can't do a comparable rating of Trotter's b/c we ate at the kitchen table which is very different from the restaurant.
Posted 07/21/2008 09:34 PM in Chicago, Food, News, Restaurants, Reviews
Link To This Blargh | View/Add Comments (4)


---

Rents and Ribs
My parents came in early last night so I took them to San for dinner.

Today we went to the Garfield Park Conservatory which was a very nice garden that is primarily indoors (in a huge greenhouse). We found all the areas pretty interesting, whether it be the palm room, fern room, sensory garden or the "Sugar from the sun," exhibit. Since it was a holiday and we went fairly early (11AM) parking was extremely easy and free. Since it is run by the Chicago Park District admission was free as well, though we did leave a small donation since we enjoyed it quite a bit.

For lunch we went to Joy Yee's in Chinatown, only to turn around and head straight to the Naperville Ribfest which is a huge food fair focusing on barbecue. Since we arrived earlier at 4:00 it was not too crowded which was nice, and much better than the Taste, IMHO. With the dinner rush starting at 5:00 and the Naperville fireworks planned for 9:30, we elected to leave before it got too packed. Naperville's Ribfest is much better than the Lincoln Park ribfest that I went to a few years ago with Ben.

Since we weren't that hungry due to our late lunch, we only tried three of seventeen rib vendors. The first was Armadillo's Rib and Que Company which we weren't too impressed with. I found the ribs, which appeared to be St. Louis short ribs, to be over charred and a bit on the lean side.

The second was Sweet Baby Ray's which is the same company that makes the bottled bbq sauce you can find in grocery stores (at least around here). Sweet Baby Ray's originated in Chicago and has two restaurants locally. Again we got St. Louis ribs and we found them to be tastier, meatier and tenderer (yes, I know that's not a real word).

The third was Pigfoot b/c we overheard some other folks talking about them. Their ribs are extremely meaty and they have their special Applelicious sauce, in addition to their sweet, mild, hot and killer sauces. I tried each of their sauces and liked them overall. Killer didn't taste that special, but it did have a good lingering kick. Mild didn't leave much of an impression either. I liked the sweet but thought I didn't want too sweet a sauce, so the two I went with were the hot and Applelicious. Unfortunately, we were full so I've still got the half rack of Pigfoot ribs in the fridge and will probably have them for lunch tomorrow.
Posted 07/04/2008 11:34 PM in Food, Ramblings, Restaurants, Reviews
Link To This Blargh | View/Add Comments (0)


---

L2O, here I come!
My parents are planning to visit Chicago over Independence Day Weekend so I'm going to treat them to L2O, which has been getting some good reviews including this review from Hungry Magazine that thinks L2O deserves three Michelin stars.

If you don't know, the Michelin Guide is a French fine dining guide that is renowned world wide for it's high caliber restaurants and scrutinizing reviewers. In 2005, only 54 restaurants achieved the maximum 3 stars in the entire world. In case you're wondering if there's any relation to Michelin tires, they are owned by the same company, officially named Compagnie Générale des Établissements Michelin

The question for me right now is whether to request a tatami room. Tatami rooms are private rooms where patrons receive a dedicated staff and special 14-20 course meal for $225 per person (standard meals are a la carte, 4 course for $110 and 12 course for $165). After tax and gratuity, the tatami rooms come to about $300 per person. Pretty steep. Maybe I should stick with 12 course meals that will come to about $215 per person.

The main reason I can afford this is because of my AmEx points and a gift I got from work which I again redeemed for Lettuce Entertain You gift certificates.
Posted 06/29/2008 08:31 PM in Food, Ramblings, Restaurants
Link To This Blargh | View/Add Comments (10)


---

Hot Doug's Review


I forgot to mention that I visited Hot Doug's Sausage Superstore and Encased Meat Emporium on Friday. With a name like that I thought it was a restaurant and a store, but it turned out just to be a restaurant. They have a wide variety of sausages that vary every day.

Natatia and I arrived around 1:30 and it took almost 45 minutes to get through the line, though we're not sure why since placing the order and receiving it was pretty quick. Natatia had the Ostrich Sausages with Strawberry Dijonnaise and Queijo Sao Jorge and I had the Mushroom and Swiss Pork Sausage with Blue Cheese Dijonnaise and Shitake Mushrooms. Both were quite excellent.

We also shared a corndog, which was good, but pretty standard. For sides, we tried both their duck fat fries and cheese fries. I thought the duck fries were good, but since it didn't really taste like duck, I preferred my classic cheese fries. Just note that the small size is pretty darn big.
Posted 06/17/2008 01:32 AM in Chicago, Food, Restaurants, Reviews
Link To This Blargh | View/Add Comments (1)


---

LEYE & L2O
So I've earned some more gift certificates at Lettuce Entertain You so I was looking at their website to see if there were any other fancy restaurants I wanted to try out after Tru and Everest. I thought about Wildfire, but even though it's nice, it's still primarily a steakhouse. First I noticed a recent addition called Pizzeria via Stato. But then I noticed a small entry with just three letters: L2O.

L20 is a brand new fine dining restaurant with a focus on seafood. It opened just three weeks ago on May 14th in Lincoln Park. The most interesting thing for me is the L2O blog where the chef and some of the staff have been sharing information ever since they started renovating the space in December. They have shared pictures of the construction and new dish concepts. They have even shared recipes, techniques and suppliers. It's really nice to see a chef that has embraced technology (e.g. blogging, flickr, youtube) and is willing to open himself up for public scrutiny.

Here's an interesting picture that I like of one of their sashimi dishes. In case you're wondering, yes, there are two types of fish in that picture.


Posted 06/06/2008 05:59 PM in Food, Ramblings, Restaurants
Link To This Blargh | View/Add Comments (0)
---

Hawaii Wrap Up
Finally got the last day done!

Sunday, May 11

More pictures and detailed reviews available here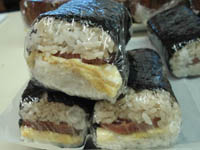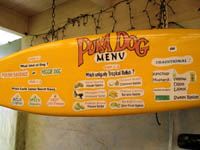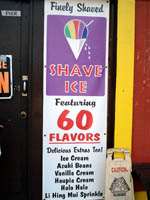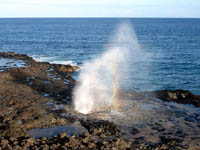 Posted 06/02/2008 07:05 AM in Food, Hawaii, Pictures, Restaurants, Reviews, Travel
Link To This Blargh | View/Add Comments (0)
---

Sweets & Savories


Well this was a busy weekend. It all started Friday night when I worked until 11pm. Saturday morning I worked a couple more hours then went to Home Depot to get some paint for my counter and take care of several errands and then managed to make a very small amount of progress on the installation (I drove 10 screws). After that was Weber Grill for dinner followed by a night of Wii Tennis and Karaoke Revolution.

Sunday morning I went to church then went to lunch at Sweets and Savories for lunch with Poyao. The food there was pretty good. For $19 per person for brunch you get a selection of pastries, a beverage (screwdriver, mimosa, wine) a starter (soup, salad, fruit) and a brunch entree (eggs benedict, duck confit hash, bacon risotto and some others). In addition to Sunday brunch, they offer a la carte dinner dining. Dan points out that they have a coupon available on-line for dinner.

Unfortunately, their service was lacking: I felt like we spent a lot of time waiting. The restaurant was only 2/3 full (the restaurant seats about 30 people) but the two members of the wait staff struggled to keep up and I wonder if maybe they were missing someone.

There were three people in our party but the waiter only brought two of us water. He said he would bring a third but never did. He also put in the wrong order for me so when the waitress brought our entrees out, I had to send mine back. Poyao and Stef didn't want to start before me and then we realized that we never received our pastries. Once those finally arrived they got started and my seared salmon benedict came out a few minutes later.

So the food was good but the service kind of put a damper on things. I think the food may warrant a return, but the service prevents me from giving it a better rating. If you want to go, I'd take advantage of the coupon and plan on having a slow paced meal.

After that I drove downtown to check out the PAWS dogs and cats on Oak and Michigan (it took 45 minutes to find parking though). The dogs were SO CUTE, especially an adorable 8 week old black retriever mix that I got to hold while (now that I think about it) several attractive females told me I should adopt him. There were lots of other dogs, from little Pugs to big St. Bernards and Bull Mastiffs.

I got home and managed to fit in a nap, then did a ton of dishes, a batch of laundry and made a bunch of mini earl grey pound cakes. Around 11PM I found out that I had work to do so I worked for 90 minutes on that, then spent an hour balancing my checkbook and paying bills. Around 3AM I had to go out to the ATM, drop off a water bill and send some mail. After getting back I had to take a shower then pack. In 10 minutes my taxi comes to whisk me off to O'hare and Hartford again. Hopefully I can get a couple hours of sleep on the plane.
Posted 06/02/2008 04:34 AM in Chicago, Food, Restaurants, Reviews
Link To This Blargh | View/Add Comments (2)


---