Blargh Archive for




To view past blarghs, simply select the month or year you would like to view on the left and click "go." If you are searching for a specific word, enter the word and the year you think it was mentioned on the right and click "go."


Subaru sets Guinness World Record!
The Guinness World Record event was fun today. The record we set was Largest Parade of Subaru Cars (or any single manufacturer) with 339 vehicles.

Some people have pointed out that there have been larger car meets, but I think the "parade" part from Guinness is a significant requirement. It's not just a bunch of people showing up at a meet, but it's a coordinated parade that requires each VIN to be registered as proof. My guess is there are other requirements that Guinness has, such as a minimum length of the parade.

Even if there has been a larger meet or parade, it wasn't officially verified by Guinness. It's quite possible that a group in Cali, PNW or NE could easily break it in the near future, but isn't that half the fun of a world record?

I was also interviewed by a guy from the Daily Herald. Will I make it on-line or in print? We'll see. In the meantime, here is a compilation of vids I took from my phone. I couldn't take anything from the actual parade since I had to drive, but I did get some pics here.


Posted 07/11/2009 02:26 PM in Cars, News, Ramblings, Videos
Link To This Blargh | View/Add Comments (3)


---

CNN Sears Tower FAIL
This is a couple weeks old, but on March 12, CNN reported a story on how the Sears Tower would be renamed the Willis Tower. There is no longer a picture on that article, but for about an hour, they did have a picture up and I managed to catch it just before they took it down. Here is that picture, demonstrating journalism at its finest.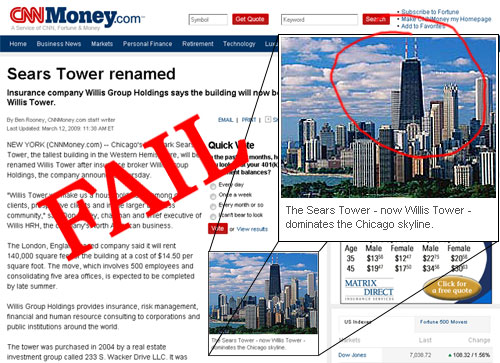 Posted 04/03/2009 03:48 PM in Chicago, News
Link To This Blargh | View/Add Comments (4)
---

Formosa Betrayed
About a month ago, my mom invited me to go to LA to see the world premier of the film, "Formosa Betrayed." It's an interesting movie focused on a murder that has ties to US-Taiwan politics. The premier will take place on 2/28, a nod to Taiwan's 228 Incident in 1947.

When I first heard about it, I wasn't sure I wanted to go but about two weeks ago my Mom said that she was going to LA alone and wanted me to mail my GPS to her as she would be driving between LA, Hollywood and Anaheim. As I've gotten older, I guess I've started worrying about my parents more so I decided to tag along. Little did I know the difficulties that would ensue.

First, I wanted to see if the ticket prices were reasonable from Hartford so I could do alternative travel through my company. They weren't. So I decided to buy a ticket myself using points. For 50,000 miles I could get a direct, first class, round trip ticket. I wasn't quite sure whether to go or not, so I didn't book it.

The next day after talking to my mom I decided to book the ticket for Thursday, 2/26, only to find that the first class seats were no longer available so I had to get a coach ticket, but still for 50,000 miles because all the 25,000 mile tickets were gone as well.

Things were pretty settled there as well, until last Thursday when I got a call from Countrywide. I was refinancing my home through them and I hadn't heard from them in almost three weeks. I finally got in contact with them on Friday and the reason they were calling was to set a closing date. My rate expires March 3rd, but since I travel every week, that means the only day I had left to close was today, 2/27, when I was supposed to be in LA.

I called AA and changed my flight to today so I could close on my mortgage in the morning. You can read my two previous posts to learn about the fiasco I went through with that. I hope this movie is worth the two day trip across the continental divide!
Posted 03/01/2009 02:05 AM in Finances, Movies, News, Ramblings, Taiwan, Travel
Link To This Blargh | View/Add Comments (1)


---
Show some respect for
The 6th Annual Joel Nebrida Classic Champions!
Together with Ashley, we are this year's Foosball champions. After a perfect record we advanced to the finals for a double elimination showdown with Courtney and Natasha. The first game resulted in our shameful defeat but spurred us on to a more focused and serious second match. The result was a dramatic come-back and crowning of a new set of champions.

History was also made in the White Elephant Grab Bag. With seven participants, not a single gift was stolen. Every person ended up pretty content with their chosen present and nothing changed hands. I wonder if that's ever happened in the history of White Elephant...
Posted 12/15/2008 02:22 AM in News, Ramblings
Link To This Blargh | View/Add Comments (0)


---

Subaru sales are UP.
Much to my surprise, Subaru sales so far this year are ahead of last year. Even the criticized Impreza is doing fairly well considering the economy. It's still not their best year ever and numbers are pretty small compared to other Asian manufacturers (though they're still only 4th smallest) but any growth in this economy is pretty good news. The only other manufacturer that grew was Daimler (Mercedes, Maybach, Smart).

US November YTD sales for comparison:
Isuzu: 4,570 (-30.8%)
Suzuki: 81,215 (-14.1%)
Mitsubishi: 92,687 (-24.7%)
Subaru: 170,412 (1.2%)
Daimler: 228,893 (1.2%)
Mazda: 245,984 (-9.3%)
BMW: 281,956 (-6.8%)
VAG: 288,139 (-3.5%)
Hyundai/Kia: 636,458 (-9.3%)
Nissan: 889,249 (-9.1%)
Honda: 1,342,680 (-5.4%)
Chrysler: 1,363,309 (-27.7%)
Ford: 1,863,954 (-20.6%)
GM: 2,734,789 (-21.9%)
Toyota: 2,075,709 (-13.4%)
As proof of how small Subaru is, some model sales in comparison:
Toyota sold more Corollas (342,808) and more Camrys (411,342) than Subaru sold all models.
Honda sold more Accords (350,441), Civics (321,987) and CR-V's (183,346) than Subaru sold all models.
Nissan sold more Altimas (252,357) than Subaru sold all models.
A complete and detailed list is available from Automotive News (scroll down to U.S. Monthly Sales)
Posted 12/03/2008 09:12 PM in Cars, News
Link To This Blargh | View/Add Comments (2)


---

A Salute to Peet
This is a bit of old news, but I just thought that people might like to read up a bit on Alfred Peet who passed away just over a year ago. You may not recognize his name immediately, but he was the founder of Peet's Coffee and Tea. However, his real legacy is not opening that one company. Most people don't know it but Alfred Peet is one of the most influential coffee pioneers in America, if not the world.
Posted 11/14/2008 09:13 PM in Drinks, News, Ramblings
Link To This Blargh | View/Add Comments (0)


---

Paperless Boarding Passes Arrive!
I'm psyched that AA has rolled out paperless boarding passes in Chicago O'hare (and will be rolled out in Los Angeles and Orange County on 11/17). When you check-in on-line, a special bar code is sent to your PDA and airport security will have special readers to read them.

This means that if I'm in a rush, I don't to worry about printing a boarding pass or keeping my computer on. Instead I can check in on the way to the airport using my phone. In theory, this should work on my PSP as well. I'll be able to give it a try soon because I'm actually flying to Orange County (SNA) for Thanksgiving week. Unfortunately, I'm still bummed that I'm stuck taking United to Hartford...
Posted 11/13/2008 11:14 PM in Geek Stuff, News, Travel
Link To This Blargh | View/Add Comments (0)


---

Trick or Treating Illegal?
At Northwestern, I was once told that Evanston had banned trick-or-treating due to safety reasons. So all these years since 1999, I've thought T-O-T was illegal in Evanston. It turns out that T-O-T is perfectly legal and the reason that many NU students think otherwise is mostly unknown. Perhaps it was a way to rile up students against Evanston, which seems to have a history of being not so Northwestern-friendly?

Also check out these unofficial T-O-T rules

In my search to find last minute pumpkins to decorate my porch I quickly looked at Target. Pie Pumpkins, which are about 8" in diameter cost $3.99. A 10" jack-o-lantern pumpkin cost $7.99. That just didn't seem right.

I debated going to Goebbert's farm, but thought they might not be the cheapest since that's where lots of people go, so I decided to try Caputo's, my de facto produce purveyor.

Turns out I made the right decision because all pumpkins, which varied in size from 10" to 16" were a mere $0.99 each. Startled by the price, I bought four. Looks like I will be making a ton of pumpkin products in the next week.

The other funny thing I noticed for the holiday is that Caputo's now requires an ID to buy eggs and you must be 21. I wonder how long that rule lasts, was it for this whole week or only today?
Posted 10/31/2008 06:43 PM in News, Ramblings
Link To This Blargh | View/Add Comments (2)


---

Grand Theft Auto saves lives?
Violent video games CAN save lives and proof is right in Streator a mere one hour drive from Chicago.
Many disparage the value of video games and their effect on today's youths.

Karen Norris, of Streator [IL], will say no such thing. Not after her quick-witted 11-year-old daughter, Audrey Plique, sprung to the rescue of their family because a popular video game showed a potential danger of a vehicle rollover.

"She just knew, from playing 'Grand Theft Auto.' She saw on there that when a car rolls over, it can blow up. She knew that could happen to us," Norris said.
Read the full story here.
Posted 09/06/2008 06:09 PM in Games, News
Link To This Blargh | View/Add Comments (0)


---

Second Life
One of the famous (or infamous) virtual worlds out there, is Second Life due to their large amount of controversial content and stories such as this most recent one: Woman Attempts To Kidnap Ex-Virtual Boyfriend. It's a bit creepy and includes some sad information about a dog as well.
Posted 08/24/2008 08:46 PM in Geek Stuff, News
Link To This Blargh | View/Add Comments (0)


---

Dinner:Unpossible
For the last four years, chef Robert Irvine has hosted Food Network's Dinner: Impossible. However, it recently came to light that he exaggerated his experience on his resume. As a result, Food Network has dropped Robert Irvine and replaced him with Michael Symon, the next Iron Chef.

Unfortunately, I really liked Robert Irvine in that role and I enjoyed his show. I don't think Michael Symon will carry the show in the same way and couldn't care less that Irvine embellished details on his resume (isn't that what you're supposed to do on a resume)? This sentiment seems to be echoed on some on-line forums and I hope that Food Network will re-consider as they have not made a final decision about his contractual standing with the company.
Posted 07/26/2008 01:29 AM in Food, News
Link To This Blargh | View/Add Comments (0)


---

L2O Review
L2O. I was planning to take lots of pictures and notes of the dinner but with the dim lighting I couldn't get a decent picture. Flashes don't work so well with macro shots and I'm sure it would have been distracting to the other patrons. There are some related pictures at LTH Forums and on the L2O Flickr Pool. I should get a DSLR...

I went to L2O with my parents, Natatia and one of her friends. To start with, my mom and I ordered the L2O Gimlet which is Plymouth gin with Aperol, an Italian orange-rhubarb apertif, and a house made lime cordial. It was quite good, which it had better be for $17.

For dinner we ordered four 12-course meals at $165 per person and a 4-course meal for $110. In addition to these courses we had two amuse-bouches, two pre-desserts and two post-desserts (mignardise). At this point I can't remember all the details and the menu doesn't have everything described, but here's what I found or remember:
Amuse 1: Oyster and Caviar
Amuse 2: Shimaaji, Red Miso, Radish, Soy Salt
Raw 1: Geoduck, Citrus, Wasabi
Raw 1*: Fluke, Lemon Vinegar, Caviar, Basil Seeds
Raw 2: Kinmedai, Cherry Wood Scented, Shiso Bud
Raw 3: Tuna, Hamachi, Yuzu, Soy Sauce, Olive Oil
Raw 4: Hokkaido Scallop, Jalapeno, Parsley, Bergamot
Bread 1: Pain au Lait - tender milk bread
Bread 2: Pain au Campagne - Naturally leavened country bread
Bread 3: Mini Baguette
Bread 4: Bacon Epi
Bread 5: Anchovie Brioche
Warm 1: Morel, Asparagus, Parmesan Parsley
Warm 1*: Lobster Bisque, Chestnut, Lobster Dumpling
Warm 2: Halibut, tomato water gelee, tomato heart, golden spinach, Chablis-tomato bouillon, potato emulsion
Warm 3: King Salmon, Corn, Cilantro, Chorizo Boullion
Main 1: Sturgeon
Main 2: Black Bass, Shellfish Boullion, Saffron, Rhode Island Mussels
Main 3: Crispy Skin Pork Belly, Truffle, Potato
Main 4: Shabu Shabu Medai, Kombu Boullion, Citrus, Porcini, Noodles
Pre-Dessert 1: Melon Ice
Pre-Dessert 2: Passion Fruit Marshmallow
Dessert 1: Mango Sorbet, Exotic Fruit consomme, lemongrass meringue, pineapple & mango brunoise, papaya seeds
Dessert 1*: Chocolate Raspberry - Ganache, Cherry Sorbet, Cotton Candy
Dessert 2: Praline Soufflé
Dessert 2*: Grand Marnier Soufflé
Mignardise 1: Canelé - custard bread
Mignardise 2: Pistachio Macaroon
* indicates this was served with the 4-course meal.

Overall, I enjoyed the dinner quite a bit, though I do understand why some people get a bit tired of all that seafood. I was glad they broke that up a bit with the pork belly. After dinner, I ordered a Grand Marnier cent-cinquantennaire, unfortunately, they only had the centennaire edition ($37). It wasn't quite as wonderful as the cent-cinquantennaire, but it was still beautifully smooth and wonderfully tasty.

My dad thought it was the best dinner he's ever had. My mom took home some of her black bass and even the doggie bag was beautiful. Total cost of the dinner, drinks and a bottle of wine was $1222.46 after which they provided us with a tour of the kitchen. I will note that the kitchen seemed much busier than Trotter's for some reason. I also wonder about the large private room they have in the kitchen which can seat a good 20 people. I'd like to work for a company that would hold meetings there!

From a food view point, if you love seafood, then I'd definitely recommend L2O as a fine dining destination. If you want more variation and want to try intriguing and new items, then I recommend Charlie Trotters. If you want an excellent classic french meal then go for Everest. If you want modern ecclectic, then go for Tru.

From an ambiance view point, Tru is stiffer and more sterile with it's amazingly choreographed service. Everest is intimate and comfortable. L2O is right in the middle: there is more space and less stiffness than Tru but it does feel more structured and modern than Everest. I can't do a comparable rating of Trotter's b/c we ate at the kitchen table which is very different from the restaurant.
Posted 07/21/2008 09:34 PM in Chicago, Food, News, Restaurants, Reviews
Link To This Blargh | View/Add Comments (4)


---

Puzzling Muscle Pain
Sunday after church I hung out with Jina and Ashley and got to play with Chance. The other thing we did was work on a puzzle for several hours. All that stretching and leaning over the table to look at puzzle pieces and reaching across the table actually made my hamstrings slightly sore (a result of my recent couch potato lifestyle).

That got me thinking about jigsaw puzzles and how large they can be. A quick search resulted in this story of a Nevada man working on a 18,240 piece puzzle (for some reason I ignored the first result). This giant puzzle, along with a few others of the same size, can be found at Puzzle Warehouse.

Returning to the search results and picking the first link revealed the current Guiness World Record holder for largest puzzle (just over 14' x 5'). The homepage for the puzzle is suitably available at WorldsLargestPuzzle.com. The site provides links to stores that carry it, pictures and stories from various people who have completed it and even a guide on how to mount such a large item.

I'd like to work on such a puzzle but the price and size are major hurdles. Perhaps I'll try out the slightly smaller 3000 piece version. In the mean time, I decided to walk 20 blocks (round trip) from work in the 90 degree heat to the Chicago Architecture Foundation store to pick up a 750 piece Chicago Skyline panoramic puzzle. That was on Tuesday and I finished it already. :shrug:
Posted 07/18/2008 07:19 PM in Excercise, News, Ramblings, Who knew?
Link To This Blargh | View/Add Comments (2)


---

A little change means lots of change
Well, my flight has been delayed 2 hours due to weather in Chicago so I'm stuck at the Hartford Bradley airport for a while.

In my airport security system entry a couple days ago I forgot to mention that I always put my change into my bag so I don't have to worry about losing money either.

What's the big deal about losing a little change? In October 2004 a law was changed allowing the TSA to use collected change and to offset some of their costs. Since then, TSA has collected over $1 million in lost change.
Posted 06/26/2008 04:49 PM in News, Ramblings
Link To This Blargh | View/Add Comments (1)


---

Old cars are stolen more than new
Here is the 2006 list of Cars Stolen Most Often according State Farm. Not surprisingly, the Civic, Accord and Camry make up the most commonly stolen. But that's a grossly misunderstood statistic because it is the model years 1995, 1991, 1989 respectively that are on the list. Apparently, it's only the old models that are frequently stolen.

In fact, the only model on the top 10 from this millennium is the 2005 Dodge Ram. Everything else is from the 90's or 80's. That refutes the idea that "I have an old car, no one will steal it." In reality, your old car is more likely to be stolen. I can think of a few reasons why:
Simpler (or non-existent) security systems
Owners less likely to lock or protect a car "because it's old and nobody would want it."
Greater demand for used and cheap (i.e. black market) parts to fix aging cars
Larger pool of cars that need parts and thus a larger pool to pick from (compared to new models that have only been on the market a couple years)
Less conspicuous and harder to find an old stolen car than a shiny new car
Less urgency from police and insurance companies to recover lower value older cars
Posted 06/04/2008 05:04 PM in Cars, News
Link To This Blargh | View/Add Comments (2)
---

Sportsman-like Conduct
This past weekend the Subaru WRC 2008 car, based on the redesigned 5-door Impreza, made it's debut at WRC Acropolis (Greece). The result? Petter Solberg earned second place. To debut a car in one of the most punishing rallies and to pull off second place is impressive.

Rally is an interesting sport and you see some crazy things, but here is an example of good sportsmanship. Due to close running times and dry conditions, Solberg had to race through extremely poor visibility caused by dust kicked up by competitor Mikko Hirvonen. Despite having absolutely no control over it, Hirvonen took the time to apologize to Solberg for the dusty conditions.
Posted 06/03/2008 05:06 PM in Cars, News
Link To This Blargh | View/Add Comments (0)


---