Blargh Archive for




To view past blarghs, simply select the month or year you would like to view on the left and click "go." If you are searching for a specific word, enter the word and the year you think it was mentioned on the right and click "go."


Mosport International Raceway, Ontario
Wow, I totally forgot about this... it's almost a year late, but here are a couple videos from my weekend at Mosport International Raceway near Toronto, Ontario in May. I drove my STi from Chicago to Toronto (10 hour drive) where I met my friends Nick, Dave and Peter who drove a 325i and a 911 from Boston to Toronto (also 10 hours) for a nice racing weekend. The second day was pretty wet, but it was a blast none-the-less!

Side story: on the drive back home, I was pulled over by a state trooper a few miles after the border. He asked if I knew why he pulled me over. I said, "No? Speeding?" It turns out he pulled me over for passing a left-lane hog on the right, which is apparently illegal in Michigan (maybe other states too???). He asked me where I was coming from and I told him from racing at Mosport International Raceway.

He then asked if he could look in my trunk. I had nothing to hide so I popped my trunk, informing him it was full of tools. He took a quick glance then said "Have a nice day, I have to go," jumped in his car and drove off to pull over a minivan towing an extremely wide trailer while I went on my merry way.

Day 1 with my instructor Joe


Ricer Fly By with Nick driving

Posted 03/20/2012 06:02 PM in Cars, Videos
Link To This Blargh | View/Add Comments (1)


---

Commuting in Tokyo
During my trip to Japan for disaster relief, I spent some time commuting to the CRASH Japan office and decided to put together some vids about the train system. The result is a three part series providing some background and tips for commuting in Japan.

Part 1 - Determining Your Route


Part 2 - At the Station


Part 3 - Example Commute


The key items listed in these videos:
Posted 06/09/2011 08:38 AM in Japan, Travel, Videos
Link To This Blargh | View/Add Comments (0)


---

Driving in the Chicago Blizzard of 2011
Since I talk about how people shouldn't be afraid of driving in the snow, I figured I should make some videos with some tips and general ramblings.




Posted 02/03/2011 02:07 AM in Cars, Ramblings, Videos
Link To This Blargh | View/Add Comments (11)


---

2010 Subaru Challenge
2010 Subaru Challenge at Subaru Indiana Automotive in Lafayette, IN, sponsored by Subaru of America Central Region and the Indianapolis SCCA.

A few interesting cars there


My fourth run


My fifth run


A whole bunch of footage of Subarus continuously and dizzyingly driving by.

Posted 08/22/2010 02:34 AM in Cars, Videos
Link To This Blargh | View/Add Comments (1)


---

Autobahn South Race Track
Some vids from the 2010 Chicago Region SCCA PDX Event 2 on 8/13.






Posted 08/16/2010 00:03 AM in Cars, Videos
Link To This Blargh | View/Add Comments (0)


---

Ice Racing!
I already posted these on YT/Twitter/FB but thought I'd compile them all in one place.

FVSCC Event 5-1


FVSCC Event 5-4


FVSCC Event 5-7


FVSCC Event 5-8


FVSCC Event 5 Extras


WAG 1


WAG 2


WAG 3

Posted 02/10/2010 09:04 PM in Cars, Ramblings, Videos
Link To This Blargh | View/Add Comments (10)


---

How to get ready in 5 minutes
There are some darn good tips in this Japanese video on how to get ready in five minutes in the morning. It's not translated, but you should get the gist of it.


Posted 12/08/2009 07:23 PM in Japan, Ramblings, Videos, Who knew?
Link To This Blargh | View/Add Comments (18)


---

The Train Man
When I was in Japan, my friend Mappe introduced me to a Japanese program (from 2005) called Densha Otoko, literally "Train Man" about an Otaku (uber-geek, i.e. an anime obsessed, socially awkward internet dweller) who falls in love with a beautiful woman on the subway.

I watched the TV series and enjoyed it so much that I decided to do a little more research on it. The story is based on the unfolding threads on the 2Chan Japanese forums in 2004, and are generally accepted to be a real story. The original compiled forum threads are available in the original Japanese and translated into English if you like to read internet forums.

The series of threads were so popular that they were compiled and published into a book and eventually made into a movie and also into a TV series. The movie is available on Netflix and the TV series is available for streaming at MySoju.com

If you're a bit of a geek, or would like a look into the Japanese geek world, this is an amusing and touching (though slightly over dramatized) series to look into and I highly recommend it.
Posted 11/13/2009 02:05 AM in Geek Stuff, Japan, Movies, Reviews, Videos
Link To This Blargh | View/Add Comments (5)


---

Devin Faraci's review of Transformers
I was debating purchasing Transformers 2 and then I was watching Attack of the Show on G4 and heard this amusing review from Devin Faraci of Chud.com:
The reason why it's popular is because most people are stupid. If Michael Bay told people staring into the sun was fun, they'd do it. This movie is like staring into a retarded sun.
Posted 10/26/2009 00:02 AM in Movies, Videos
Link To This Blargh | View/Add Comments (0)
---
Going to Japan for this:
Posted 10/21/2009 09:56 PM in Christianity, Japan, Travel, Videos
Link To This Blargh | View/Add Comments (10)
---

Track Day and Subaru Go Kart
Here's a video of my driving from last week's track day at Black Hawk Farms:

And here is Ken Block's latest Gymkhana video which is just silly:
Posted 10/15/2009 10:48 PM in Cars, Videos
Link To This Blargh | View/Add Comments (0)


---

Vids from SCCA Event 6
Here are a few vids from today's event, three different angles, external from the side, external from the top and one interior.






Posted 10/04/2009 09:31 PM in Cars, Videos
Link To This Blargh | View/Add Comments (0)


---

Map and Vids from TSSCC AutoX 8
Using MyTracks and GPS on my Google phone I recorded this week's AutoX at Route 66 Raceway in Joliet, IL. You can view the map on Google Maps along with some annotations I made.

And with a cheap $30 camera mount I got on Amazon, I managed to get a few decent runs recorded. It was a rainy day and you can see lots of puddles in the vids. This was after a couple runs during Heat 1 so things started to dry out. Unfortunately, it started to pour during Heat 2 when I was working so I got pretty soaked running after cones (good thing I bought extra socks)!

When it was my turn to run again in Heat 3 it was still to wet so I couldn't take any more vids so you don't get to see me drifting through the slalom or spinning out. However, the big bummer of the day was that on my last run, I was feeling really good and didn't make any big mistakes. I was certain that it was my best run and that I had met my goal of the day but when I crossed the finish line, my time read 0:00 due to a timing error! I got a re-run but I spun out, so I'll never know if I managed to get a good time finally. :(




Posted 10/03/2009 07:22 PM in Cars, Geek Stuff, Videos
Link To This Blargh | View/Add Comments (0)


---

Subaru sets Guinness World Record!
The Guinness World Record event was fun today. The record we set was Largest Parade of Subaru Cars (or any single manufacturer) with 339 vehicles.

Some people have pointed out that there have been larger car meets, but I think the "parade" part from Guinness is a significant requirement. It's not just a bunch of people showing up at a meet, but it's a coordinated parade that requires each VIN to be registered as proof. My guess is there are other requirements that Guinness has, such as a minimum length of the parade.

Even if there has been a larger meet or parade, it wasn't officially verified by Guinness. It's quite possible that a group in Cali, PNW or NE could easily break it in the near future, but isn't that half the fun of a world record?

I was also interviewed by a guy from the Daily Herald. Will I make it on-line or in print? We'll see. In the meantime, here is a compilation of vids I took from my phone. I couldn't take anything from the actual parade since I had to drive, but I did get some pics here.


Posted 07/11/2009 02:26 PM in Cars, News, Ramblings, Videos
Link To This Blargh | View/Add Comments (3)


---

Subaru Stuff
Yeah, yeah, it's been ages since I've posted... work is just too busy and I'm too brain dead at night to go through my pictures or write stuff... either that or I'm too busy watching NetFlix On Demand.

But with Subaru's attempt to set at Guinness World Record for Largest Parade of Subaru Cars tomorrow, I've been cruising the Subaru forums.

Last year I talked about how fun it would be to snowboard with a Subaru. That same Subaru driver, up and coming American rally driver Ken Block, has a couple more interesting vids which I present for your viewing pleasure.

2007 Rally Highlights


Ken Block's Hit Gymkhana Training (watch for the Segway)


Gymkhana Two "Infomercial"


Ken Block Special on Top Gear

Posted 07/10/2009 09:17 PM in Cars, Chicago, Videos
Link To This Blargh | View/Add Comments (0)


---
How to get out of a locked car.
Posted 04/10/2009 00:18 AM in Cars, Videos
Link To This Blargh | View/Add Comments (0)
---

The Guild
After watching Dr. Horrible, I decided to look up more about Felicia Day and her show, The Guild which I've been meaning to watch for a while. Note that the latest episodes are published on MSN/Zune/XBox Live before anywhere else.

I was pleasantly surprised and found The Guild highly entertaining. In this story of a group of on-line gamer geeks, the awkward situations and humor can be appreciated by all. However, those who are not familiar with fantasy worlds or MMORPGs may not get some of the references or jokes (even I had to look up a couple terms). Even so, I definitely recommend this web series to anyone who's a self proclaimed geek or anyone who would like to know a little bit more about the geek world.
Posted 01/28/2009 09:47 PM in Games, Geek Stuff, Music, Reviews, Videos
Link To This Blargh | View/Add Comments (7)


---

Dr. Horrible's Sing-Along Blog
This is a bit late considering it's been out for quite a while and already has plenty of rave reviews, but I thought I'd chime in since Dr. Horrible's Sing-Along Blog is only available free on Hulu for 2 more days.

In case you didn't know, the show was an on-line only musical by Joss Whedon (Firefly, Buffy, Angel) that was put together during the writer's strike. It is the story of Dr. Horrible (Neil Patrick Harris of Doogie Howser, How I Met Your Mother), a second rate evil scientist, and his attempts to take over the world. At the same time he must struggle with his nemesis, semi-super-hero Captain Hammer (Nathan Fillion of Firefly) while trying to get noticed by a girl at the laundromat (Felicia Day of The Guild).

I have to say that NPH is the star of the show and deservedly so. His character is quite loveable despite having a PhD in horribleness. The songs are sweet and entertaining and the script is sarcastically witty and humorous. I highly recommend catching it while it's still free on Hulu. If that doesn't work out, don't bother paying for it on iTunes when you can buy the DVD along with lots of extras for a mere $10.49 from Amazon. Extras include two commentaries (one sung as a musical itself), fan videos and a making-of featurette.
Posted 01/26/2009 10:27 PM in Geek Stuff, Movies, Music, Reviews, Videos
Link To This Blargh | View/Add Comments (1)


---

Dollar Menu-nairres
For you McDonald's lovers out there.

Posted 10/19/2008 06:09 PM in Food, Videos
Link To This Blargh | View/Add Comments (1)


---

10/05 - Cairo
Jump to the pictures.

The ship docked in Alexandria but we took a 12 hour excursion to Cairo. The tour started at 7:15am, though my sister and I almost missed it because it was so early. We made it to the bus in time for the two hour drive to Cairo, or more specifically, Giza, where the major pyramids are.

Now, Egypt as a country is not that poor, but according to our tour guide, corruption has caused a huge gap between the lower class and upper class. As a result, the poor are extremely poor and it's quite apparent. Driving through Cairo you can see the poverty and the guides also warned us that everywhere we go, people would be doing their best to get money from us.

What that means is that if you ask someone to take a picture of you, or you ask someone to be in a picture with you, or you drop something and someone picks it up for you, they will expect a tip and be quite persistent about it. They will also hike up prices to make as much profit as possible, though they will negotiate back to a reasonable price. They will also be happy to accept any form of currency whether it be Euros, Dollars or British Pounds since they're all worth more than the Egyptian Pound.

For instance, I saw a couple having trouble pushing their baby stroller through the sand (who brings a stroller to the desert?) so an Egyptian man helped them pick the stroller up onto a walkway, after which he demanded a tip. Then there are the historical artifacts security guards who watch the pyramids. You are not allowed to cross lines, touch or climb on the pyramids or you will be reprimanded by security. However, they eagerly indicate they will let you go, or will allow you to cross lines if you simply provide them with a tip.

Once you've realized how things work, Egypt is not that difficult to navigate. Since we were on a guided tour, the day was pretty much laid out for us so I pretty much sat back and snapped an excessive number of pictures while absorbing random tidbits of info.

First we saw the most famous pyramids of Khafre and Khufu along with the Sphinx. We then drove to Saqqara to see the funery grounds of Ka-Gmni including hieroglyphics and artwork that still exhibits the original paint from thousands of years ago.

After that was a buffet lunch at a large restaurant. It didn't look like that good a place and I wasn't surprised that the food was a bit disappointing. Not only was most of the food mediocre, none of it was labeled so I have no idea what some of it was. One interesting thing about the restaurant was the traditional oven they had outside to bake a pita-like bread. Too bad none of that bread was at the buffet.

After lunch we checked out Zoser's Step Pyramid complex where a gust of wind blew away my sister's new visor. We then went on to the Jeep tour where we piled into a series of 4x4 vehicles. Most prevalent were Jeep Cherokees and Toyota Land Cruisers. My sister and I ended up in a Land Cruiser which is supposed to be the preferred model for nomadic Bedouins as the FJ chassis coded Land Cruisers are well known for their off-road abilities (hence Toyota's homage to the old Land Cruiser, by releasing the new FJ Cruiser).

The Jeep tour was pretty fun, particularly driving up and down blind dunes as can be see in the video below. I was fortunately enough to get the front seat, though the back was probably rougher. The people talking in the video are other passengers.

After the Jeep tour was the Camel tour. Getting on the camel was a bit hairy. They lay on the ground and when they get up, they lift up their back end first, then their front end, giving the sensation that you're going to fall forward off the camel, then back off the camel, before leveling out. The camel's gait isn't the most pleasant either, it's much less smooth than a horse and rocks quite a bit front and back, requiring you to shift your hips a lot to compensate. The saddles aren't that comfortable either and after 20 minutes I was starting to get saddle sore.

At the end of the camel tour, getting off the camel was equally precarious. There was no warning either; one second I was sitting on top of the camel, the next second I thought I was falling off as the camel pitched forward, then pitched backwards, then after leveling out the remaining foot of descent was even and smooth, like a hydraulic platform. You can sort of see it in this vid summary.

After the camel tour we went to a papyrus shop where they demonstrated how papyrus reeds were turned into paper then turned us "free" to browse the papyrus art so we could buy some. After that we took the 2 hour trip back to Alexandria. For dinner my family ate at Grand Pacific, the formal restaurant where we had an excellent meal.

10/05 pictures are here.
Posted 10/19/2008 02:01 AM in Egypt, Food, Pictures, Restaurants, Reviews, Travel, Videos
Link To This Blargh | View/Add Comments (12)


---

Take On Me
Literal version. Awesome.

Posted 10/18/2008 07:04 AM in Videos
Link To This Blargh | View/Add Comments (1)


---

We need more of God's love
I was really surprised to see a commercial on TV declaring in a catchy tune that "we need more of God's love to help us love one another." I was even more surprised to find that the commercial was from Interstate Batteries. Here's a message from their CEO, Norm Miller, followed by the commercial, "God's Love."


Posted 09/13/2008 06:25 PM in Cars, Christianity, Videos
Link To This Blargh | View/Add Comments (3)


---

Red Light Violation


The most interesting thing for me is the ability to observe my driving form. You can see me brake hard just before the line and then release the brakes just before the apex. Based on the squatting of my car's back I was on the gas soon after the apex. I think the turn looks pretty good. If only I had the footage from the opposite camera. Audio would be nice too as I'm certain my tires were squealing like crazy (as they always do).

Despite it being a moving violation and the ticket costing $100 (as much as a speeding ticket), the interesting thing is in the fine print:
The ticket appearing on this notice is not a uniform traffic citation. Payment will not impact your driving privileges. However, failure to pay or timely contest the violation may subject you to additional enforcement activities, including the immobilization of your vehicle.
What this means is that even though this is a traffic violation, since it is automated (and servies primarily to make revenue for the government) the ticket is equivalent to a non-moving violation (e.g. a parking ticket) so there shouldn't be an effect on insurance.

In addition to the pictures they provide, you can also view a video of the offense on the City of Chicago website. Being one of those new fangled flash movies, it was a bit of a pain to export it off the site, but here it is:


Posted 09/11/2008 04:19 PM in Cars, Videos
Link To This Blargh | View/Add Comments (2)


---

Japan + Star Wars + Olivia Munn = Spontaneous Dancing
Japan, Star Wars and Olivia Munn, co-host of G4 TV's Attack of the Show. What's not to like about spontaneous dancing in the middle of Shibuya?


Behind the scenes with Danny Choo (the dancing storm trooper).
Posted 09/07/2008 08:54 PM in Geek Stuff, Japan, Videos
Link To This Blargh | View/Add Comments (2)


---
Gross
Japanese Bug Fights
Posted 08/21/2008 09:30 PM in Japan, Videos
Link To This Blargh | View/Add Comments (2)
---

It's my money and I need it now!
I'm not sure why, but I find this commercial pretty entertaining. I've been seeing it a lot of commercials from this guy including this one which I think is quite catchy.


Posted 08/11/2008 10:12 PM in Videos
Link To This Blargh | View/Add Comments (0)


---

Attack of the Rainbows!
Wow, this is so amazing that I had to post it. The lady is absolutely right, "We as a nation have got to ask ourselves what the hell is going on?"


Posted 08/07/2008 11:55 PM in Videos
Link To This Blargh | View/Add Comments (2)


---

Crepes
I thought I talked about my crepes but apparently not. After the blintzes at Chaihanna, Ashley wanted more stuffed crepes. She had a surplus of over-ripe peaches so she gave me a bunch so I could make sweet crepes. Of course, you can't make sweet crepes and not have savory crepes first.

My inspiration was The Magic Pan at Frontenac Plaza in St. Louis which closed in the mid 90's. I always loved their St. Jacques mushroom crepes and have thought many times about how to re-create it. I still haven't figured it out, but I did manage to make a decent alternative: mushroom, spinach and aged cheddar crepes (left picture).

For the sweet crepes, I made what I am calling Peaches and Molasses Cream Crepes with Grand Marnier sauce and Creme Fraiche. I was very happy with the result but will need to make it again to get the recipe right.

The creme fraiche is made from heavy cream and buttermilk. The base for the filling was sour cream mixed with brown sugar (molasses is what makes it brown). Then I blanched, peeled and sliced the peaches. These were simmered in a sauce of white grape juice, Grand Marnier and brown sugar until tender. The peaches were then removed, cooled and drained before mixing with the sour cream and used to fill a crepe. The remaining sauce was reduced to half then enriched with fresh Grand Marnier and butter and then flambed. Finally the crepes are drizzled with the sauce and topped with the creme fraiche.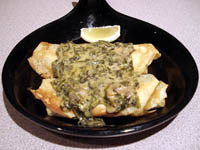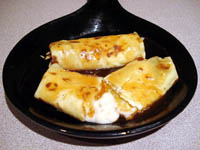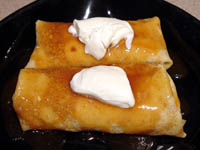 Here's a quick vid of the flambe, but it's not that special.
Posted 08/03/2008 08:58 PM in Cooking, Food, Videos
Link To This Blargh | View/Add Comments (0)


---

I'm now on YouTube
I finally decided to create an account on YouTube so I've posted a few of my more interesting videos on my YouTube page.
Posted 07/28/2008 10:01 PM in Geek Stuff, Videos
Link To This Blargh | View/Add Comments (1)


---

Snow Rally Fun
This looks like something fun to do in a Subaru...


Posted 06/11/2008 11:11 PM in Cars, Videos
Link To This Blargh | View/Add Comments (2)


---