Blargh Archive for




To view past blarghs, simply select the month or year you would like to view on the left and click "go." If you are searching for a specific word, enter the word and the year you think it was mentioned on the right and click "go."


Reflections on Dinner
Dinner on Saturday was pretty good. Here is a PDF of the menu that I finally settled on.

Friday I shopped and prepared a couple things, specifically the English Summer Pudding and the pasta dough. Saturday started at 6AM when my house keeper came to clean and my cooking prep started at 7AM. I also had to step out to go shopping to pick up the freshest seafood I could. Here was my schedule:
Time - Recipe - Task
7:00 - Pasta - Make Pasta
9:00 - Shopping
11:00 - Misc - Mise en Place
11:30 - Clams - Wash
12:00 - Puffs - Make Batter
12:30 - Hollandaise - Make
1:00 - Pancakes - Make Compote
1:30 - Pancakes - Make Batter
2:00 - Salmon - Make Filling
2:30 - Pancakes - Beat Egg Whites
3:00 - Mushrooms - Sautee Mushrooms
3:15 - Duck - Poach Gooseberries
3:30 - Pancakes - Cook Pancakes
4:00 - Duck - Make Sauce
5:00 - Puffs - Prepare Batter
5:30 - Pasta - Boil Water
5:45 - Puffs - Bake
6:00 - Salmon - Make Parcel
6:15 - Duck - Score & Season
6:30 - Clams - Steam
6:30 - Duck - Render
6:30 - Salmon - Bake
6:45 - Mushrooms - Cook Pasta
7:00 - Clams - Cook Pasta
7:00 - Duck - Fry Duck
7:15 - Duck - Bake
7:30 - Duck Greens - Wilt
8:00 - Pudding - Whip Cream
This was a busy and tiring day, but it gave me some good experience in budgeting my time and also in juggling a lot of tasks. For the first time, I used just about every kitchen gadget I have, except for my can opener (that's a good thing!) Here's a partial list of various gadgets and cooking tools I used (not including the mundane stuff like spatulas):
Almost every pot and pan that I own
Every mixing bowl that I own
Every baking sheet that I own
Food Processor
MicroPlane
Salad Spinner
Pasta Maker
Electric Hand Mixer
Citrus Reamer
Piping Bag
Spider/Sift
Knife Sharpener and Steel
Mortar and Pestle
Spice Grinder
Scale
Pastry Board, Rolling Pin, Pastry Brush
I got a lot of compliments, more than usual, but honestly I'm still a bit disappointed in a few things. I'm glad people enjoyed it, but I'm always learning more and hope that I'll continue to get better. Here are the things that bugged me:
Mushrooms - Caputo's let me down as the crimini, button and portobella mushrooms they had were all sub-standard. Whole foods had better ones but at an outrageous cost that I couldn't justify, hence I ended up with the Japanese mushroom mix from Mitsuwa that didn't end up tasting the way I wanted
Duck - This was by far the most expensive single item and it was a lot of trouble tracking down a store that had them in stock (Meeske's Prime Meats in Barrington). I asked for 8 but they could only find 4, but when I looked at the price, I decided that 4 was enough. Next time I should just buy whole duck (frozen at Whole Foods or fresh from Chinatown) and butcher them myself. Then I could render out the fat and make duck fat fries too. Also I left these in the oven too long so they came out medium-well instead of medium-rare.
Currant Sauce - This was supposed to be gooseberry sauce but I couldn't find any. Luckily Caputo's had white currants, which even Whole Foods didn't have. Alas, I used an old Smoking Loon Cabernet as a base for the sauce and didn't really like it. I also used a Turkish honey with heavy floral notes that I thought ended up too pronounced in the final sauce. My guests said they liked the sauce but I have to say I really did not.
Gougeres - This is a new version of this recipe and I thought they came out a bit pasty and not cheesy enough. I might have to develop a hybrid with the other recipe I've used
Mint Hollandaise - I used EVOO instead of regular OO or butter. I felt the olive flavors were a little too strong and interfered with the egg and mint flavors
Rhubarb Pancakes - I'm annoyed at my fridge b/c it doesn't get cold enough so the ice cream was way too soft
Summer Pudding - I used Shoku white bread from Pastry House Hippo with is extremely soft, but perhaps too soft for a pudding. I should have gotten their Danish Bread which would have held up better and added some more flavor, like the Brioche that Gordon Ramsey suggested as an alternate.
Belgian Endive (Chicory) - Apparently these are pretty bitter and sauteing them didn't change that
Of course, there were also some good things:
Whole Foods' seafood department was very helpful. They suggested Manila Clams which are smaller than what they had in stock and offered to order some up for me, which I did. They also recommended wild caught salmon which they consider better and cheaper as well.
Tom's Farm on Lake (Route 20) in Hanover Park had the most amazing ripe strawberries. When I brought them home, my car and my kitchen were filled with the most lovely smell of fresh, ripe strawberries
Despite over-cooking the duck breasts and using an extremely simple spice rub (salt, pepper, red pepper flakes) it came out delicious. Next time I'll get a whole duck which should be cheaper and much more versatile.
I'm very happy with the egg pasta recipe from Gordon Ramsey and thought it turned out quite well. I made 2 Kg of pasta and only used one for the dinner so I have a good amount left for future use
With the leftover arugula, basil, parsley, Parmagiana Reggiano and some almonds I had in the closet I made a tasty pesto sauce, perfect for my leftover pasta
So, it was quite a busy and tiring weekend but it was good I'm glad my guests enjoyed themselves.
Posted 08/17/2009 10:07 PM in Cooking, Dessert, Food, Recipes, Reviews, Shopping
Link To This Blargh | View/Add Comments (13)


---

Fan Financials
The electrician came by and based on the wiring in my home, which isn't in a convenient spot, the work will require drilling laterally through a ceiling runner. That will require punching a hole in my ceiling to drill the hole and fish a power line then hiring a drywaller to patch and paint the ceiling. The total estimate comes to about $575, almost twice the price of the actual fan. Is it worth it?
Posted 04/22/2009 06:48 PM in Home, Shopping
Link To This Blargh | View/Add Comments (4)


---

Fan Fare
My living room faces west which means summer afternoons can get pretty toasty. In an effort to save money, I started keeping my A/C set between 78 and 80 last year and I open the windows at night when it's cooler. But sometimes those hot afternoons are a little too much to bear.

For the last couple years I've been thinking of getting a ceiling fan to circulate air and keep me cool but I've found it a little tougher than expected because I have a lot of requirements:

Must act as a primary light source, therefore it must support at least three standard lightbulbs (so I can use CFLs)
Must be mountable on an extension rod since I have a vaulted ceiling that is about 16' high where I want it
Must be mountable on an angle since my vaulted ceiling is not horizontal
Must be designed for large rooms (52"+) since I have a vaulted ceiling and an open floor plan to the kitchen and dining room
Must have a remote control because who wants to move and stretch to reach a dangling chain when it's hot?
Should have classic styling (i.e. wood patterns, brushed metal finishes), should not be too modern, too simple or too fancy.
With summer coming soon, I decided to finally go fan shopping. I started out at Home Depot which has an okay selection. I found a Hampton Bay Garrison which seemed to meet my criteria. I went to customer service and asked what I had to do to get it installed and they said they no longer do ceiling fan installations. Boo.

After that I went to Lowe's where I was disappointed because they had mostly small room fans that only supported candle bulbs. On the other hand, they still offer ceiling fan installations so I inquired about that only to find out they won't conduct installations unless there is already a load bearing power receptacle installed.

Unfortunately, my vaulted ceiling has no receptacle and probably no electric lines either, so my final option was to call an electrician to do a full installation job. I managed to find Al's Accurate Electric which offers free quotes. I called them and got to speak to Al who seemed quite friendly so hopefully things will work out with him when he comes to give me a quote Saturday at 8AM.
Posted 04/17/2009 06:43 PM in Home, Shopping
Link To This Blargh | View/Add Comments (0)


---

Need fast Amazon shipping?
Thanks to my procrastinating, I had to sign up for a free one month trial of Amazon Prime, which means I get free two day shipping on most products sold by Amazon. If anyone wants free fast shipping for the next couple weeks, let me know...
Posted 12/17/2008 11:05 PM in Sales & Deals, Shopping
Link To This Blargh | View/Add Comments (4)


---
"Everything should taste like bacon."
That's the tagline for J & D's Bacon Salt. They offer bacon flavored seasonings that are fat free, zero calorie, vegetarian and kosher. They also offer Baconnaise and bacon flavored lip balm. Maybe I should try some out...
Posted 12/07/2008 12:27 PM in Food, Shopping
Link To This Blargh | View/Add Comments (5)


---
Luxury Movie Theatre open near me


The Arboretum will have America's second Village Roadshow Gold Class Cinema, an upscale luxury movie theatre complete with server call buttons and reclining leather seats (they have several locations in Australia). Tickets cost $32 but they offer gourmet food options. If you're looking for a deal, take advantage of their free martini Quantum of Solace offer. If luxury is your thing, then splurge for the $99 Coke Zero Bond Package (PDF Flyer) or the $149 Bond Package(PDF Flyer) which include drinks and dinner.

The Arboretum will also have Sur La Table, a chocolate cafe and a Japanese restaurant. Just down the street at Prairie Hill mall (I90 and 59) they have been opening up new shops as well. They first opened two years ago with Petco, BW3, Claim Jumper and several others, but this year they've expanded and almost doubled in size with Sports Authority, another Jimmy John's and more. Of course, I still have to check out Cabela's in more detail some time, and perhaps review their in-store restaurant that serves various game meats.
Posted 10/25/2008 12:34 PM in Movies, Shopping
Link To This Blargh | View/Add Comments (2)


---

An exciting evening
It was nice getting back home tonight and I was happy to play with my new G1 Google phone. I've been playing with that for a bit now. It was a pain transferring a couple custom ring tones over and I actually had to go back to my old Motorola phone and MMS my ringtones to my Gmail account. Then I had to use my PC to detach the embedded MMS ringtones as actual files, then e-mail them as attachments so that I could use my Gphone to check my mail and download them.




More pictures at the bottom of this link.

The other exciting thing was exploring the Arboretum, the new outdoor mall at Higgins and 59. It's an interesting mall set up to feel like a small town with lots of small streets and parking in front of each store instead of in a single large surface lot. Also, some roads are one way and there are tons of stop signs. It looks nice, but I think that traffic could get quite congested as people would be tempted to drive from store to store, especially in the holidays.

In the mall is the new Pinstripes location. Also there is the newest LL Bean location, which means I now have easy access to Subaru gear like hats, which I keep losing. There's an interesting looking chocolate bar there and coming soon is a Ruth's Chris. There's also a new Italian casual dining restaurant called Asta la Pasta (a play on "Hasta la Vista?") I'll check that out some time.

However, what pumped me up the most was the discovery of a new Pot Belly's location. Jimmy John's has been opening up a lot of locations in the burbs near me, but I've been waiting for a while to have a convenient Pot Belly's.

This is all good news to me. In the last 2 years, the number of new commercial developments in my area has been very encouraging. They're all close, but not too close, which should be good for my property value which has actually managed to increase in value by almost 2% (as of September) in the last 3.5 years. Hopefully that'll help me to ride out the bottom of the housing market over the next couple years.
Posted 10/24/2008 00:00 AM in Chicago, Food, Geek Stuff, Ramblings, Restaurants, Shopping
Link To This Blargh | View/Add Comments (2)


---

Cabela's
After getting home from the airport I decided to pick up a compass so I could get my bearing when wandering through the streets of various non-English-speaking cities in the next couple weeks. I decided to finally visit the brand new Cabela's Store and Museum that opened earlier this year just a couple miles away.

I've heard many things about Cabela's. In short, it is a Mecca for sportsmen. And I don't mean athletes, I mean hard core outdoorsmen like hunters, campers, hikers and fishers. As I was looking around, I heard the perfect example of the type of place it is when a middle aged woman standing near me excitedly told her husband, "Look, honey, bows are on sale!"

The place is huge and quite impressive and I could totally get lost for hours in there. As a kid, my friends and I would get these cool catalogs of hunting gear and we would flip through them looking at all the cool knives and weapons, wishing we were 18 and could buy them. Well, Cabela's is that catalog, but in real life.

In the center of store is a large display, approximately 50 feet long and 25 feet wide, adorned with stuffed animals and signage describing the different species and characteristics. The middle of the display has a passage carved out and surrounded by aquariums as well so you can check out fish. They even have equipment I never knew existed, such as UnderArmor camouflage that actually blocks your body's scent so as not to scare wild animals away.

This store has everything a man could want. A gigantic fishing pole section? Check. Racks of composite bows? Check. A lot full of boats? Check. All sorts of crazy knives? Check. Multiple calibers of paintball guns? Check. BB guns? Check. Racks and racks of used and new rifles and shot guns? Check. A 100 foot long counter full of hand guns? Check.

It's a pretty sweet store (and I found a compass). When I get back from vacation, I'll take my camera in there and get some pics.
Posted 09/25/2008 10:39 PM in Chicago, Ramblings, Shopping
Link To This Blargh | View/Add Comments (11)


---

Amazonian Pricing
I reported that Amazon reduced the price of the XSi to 679 on Sunday night and raised it back to 699 on Monday morning. Well Monday night it went back down to 684 and Tuesday night it went down again to 674. Tonight it is 671. I wonder what is causing them to fluctuate their prices so frequently.

Anyway, I decided to try the Bill Me Later $20 off promotion code (BMLDEALS). The code is supposed to be valid one time only and I used it for a PSP game in July but this is apparently a new deal (valid 8/11-8/31) and Amazon honored it. So I placed my XSi order last night for $654.88 with free shipping, no tax and 20 free prints (worth $26.80). Not bad, though it doesn't get to the deal Dan posted a few hours ago, but at least I don't have to wait two months to get cash back from live.com.

There was one other minor bonus. Normally the free shipping at Amazon is a bit of a gamble in terms of delivery date. They estimated it would ship on 9/2 and arrive by 9/13 so I was pleasantly surprised to find out that it shipped today!
Posted 08/27/2008 10:06 PM in Geek Stuff, Pictures, Shopping
Link To This Blargh | View/Add Comments (2)


---

Rebel Without a Case
For the last couple years I've been pretty frustrated by the poor low light performance of my Sony W50 digicam. I also tried a Canon SD250 which was equally poor in low light. Surprisingly, my old Canon (A200?) that ran on AA batteries was better than both of of them in those situations.

Since the abysmal performance of my W50 at the dimly lit L2O (one of the reasons that I ended up with no pictures) I've been looking for an entry level DSLR (digital single lens reflex). Based on various reviews and some recommendations from Yone, I've finally settled on a Canon Digital Rebel since the dim light performance seems to be much better than similarly priced Sonys and a little better than Nikons.

Of course, the newest generation is the best as it comes with an Image Stabilization lens. There are two options in this area, the one year old XSi and the 2 week old XS. The XSi is slightly higher than the XS but being a year old, prices are actually comparable so I've been looking for XSi prices.

I've looked on ebay (where people seem to be buying cameras for more than they are being sold on-line) as well as Buy Dig, New Egg, Costco, Amazon and Dell which seem to be at the forefront of price cutting. The interesting thing is that when I started looking, the XSi was pretty much going for $799. Since then, Yone showed me a DealNews offer for $699. Shortly after that, all the other vendors started dropping prices on a daily basis until they reached about $670 (most likely due to the release of the XS).

Unfortunately, prices actually went back up and settled between 687 and 719 with various combinations of free shipping or memory cards. Then last week, a new deal was announced at Dell: the XSi with lens and free shipping for $589. Alas, this great deal sold out within hours, before I had a chance to act on it. Since then I've been watching prices every day and nothing has budged. After checking prices Sunday morning and seeing no changes, I just about gave up hope for another price drop before my family vacation in October (I need a couple weeks lead time to place an order).

Sunday night, I checked again and Amazon dropped the price from $699 to $679. I was hoping this would spur another round of price drops or deals and perhaps this week will be a good time to order but after checking prices again today, several merchants raised their prices again back to $699, including Amazon. Sneaky. The only vendor that hasn't raised prices yet is BuyDig where it is $687.90. Oh well. Eventually I'll find a deal and pull the trigger. Then I just have to pick out a bag or case for the camera...
Posted 08/25/2008 07:19 PM in Geek Stuff, Pictures, Shopping
Link To This Blargh | View/Add Comments (12)


---
45 Pounds of Cheese for $65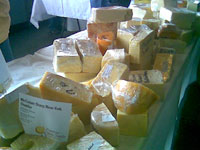 Example table at the ACS sale

Today was the American Cheese Society's sale that I mentioned a couple weeks ago. Dairies and farms submit cheese for judging which occurred yesterday. The results are available here (pdf). They become property of the ACS so on Sunday they must all be sold.

I actually ended up going twice. At 11:00 there were five folding tables piled a foot high with cheese. The tables started at 10:00 by category (one for prize winners, cheddars, colbies, jacks, etc.) but when I got there it was pretty much a free-for all. My second visit with Ashley at 12:30, saw just a single table remaining.

Some key information about what to expect:
Cheese may or may not be labeled. Prize winners usually had basic info but others were labeled with a level of detail ranging from "4 year cheddar" to "colby" to simply "?"
There is no cheese tasting at the sale. Everything is bought as-is.
The volunteers may or may not know anything about the cheese. Your sense of sight (labels, color, texture), smell (whatever appeals most to you) and touch (soft, hard, crumbly) as well as basic cheese knowledge are your best tools for identifying them.
Sometimes the best finds are the ones that aren't labeled and are overlooked by others.
The smallest block of cheese is 1 pound but this is rare. The average block will be 3-4 pounds with large blocks or wheels weighing 5-20 pounds.
Prices for small pieces start at $2 while large pieces or prize winners may be as much as $20.
If buying more than one block, you can negotiate. My first visit I picked up $50 of cheese but only paid $45.
Prize winners sell out in the first 30-60 minutes so get there early for the best cheeses, but prices will be higher (though still very reasonable).
Prices are cut as time passes so go later to get more deals, however your selection will dwindle. The last table of cheese in the last 15 minutes offered $20 for as much cheese as you want. People walked out with trash bags full of dozens of pounds of cheese.
These cheeses were submitted for a competition so all of them are high quality. Everything will be good, if not excellent, even the mystery pieces left at the end.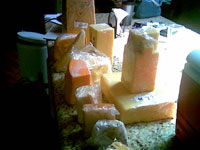 Most of the cheeses we bought.

Here are the cheeses I bought on my first visit (15 pounds, $45):
Prize Winning Colby (not sure which) - smooth and mild. 4 pounds.
Unknown 4 Year White Cheddar - Sharp, semi-intense, soft. 2 pounds.
Beecher Flagship - artisan cheddar style from Seattle. 2 pounds.
Unknown Asiago - Sharp, deep flavor. 2 pounds.
Unknown Very Old Cheddar - this great find was an unmarked hard cheddar must be at least 6 years old because it's almost as hard and dry as parmagiano with a highly developed, deep nutty flavor, 1 pounds.
3rd Place Smoked Cheddar, Beecher Smoked Flagship - This great find was a long piece proudly displaying a winning ribbon but somehow managed to be overlooked by everyone else. It is a smoked version of Beecher's Flagship cheddar style cheese. 4 pounds.

Here are the cheeses we bought on the second visit (30 pounds, $20):
Unknown Organic Colby - Mild and smooth. 2 pounds.
Unknown White Cheddar 1 - Shaped like the Sears Tower, semi-firm. 2 pounds.
Unknown White Cheddar 2 - Young, soft, smooth and mild, with a milk or mozarella flavor. 3 pounds
Unknown White Cheddar 3 - Young, soft, slightly sharp. 3 pounds.
Unknown Orange Cheddar - Young, soft and smooth. 3 pounds.
Unknown Garlic White Cheddar - Very mild cheddar with very nice garlic flavor. 2 pounds.
Unknown Pepper Jack - This great find was carved to look like the Hancock Tower. The pepper flavor and the spicy kick were awesome. It was by far the most amazing and tastiest pepper jack I've ever tasted and puts the cheap stuff in grocery cheese plates to shame. I don't think Pepper Jack is usually highly regarded and due to it's large size, this was overlooked until the very end. 15 pounds!
So what do you do with 45 pounds of cheese? You share it! Ashley probably took home 15 pounds, Natatia bought about 10 pounds and various church goers bought about 5 pounds, leaving me with 15 pounds for myself.
Posted 07/27/2008 07:15 PM in Chicago, Food, Shopping
Link To This Blargh | View/Add Comments (1)


---