Blargh Archive for




To view past blarghs, simply select the month or year you would like to view on the left and click "go." If you are searching for a specific word, enter the word and the year you think it was mentioned on the right and click "go."


Wine Shelf Pictures
Well, I finally posted my pictures from the wine shelf I built! Enjoy the (very) brief DIY.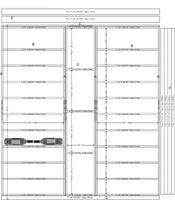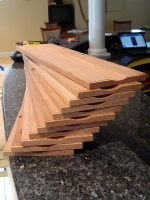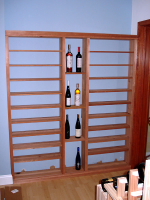 .
Posted 06/11/2009 10:37 PM in DIY, Pictures, Woodworking
Link To This Blargh | View/Add Comments (3)


---

Memorial Day Project
I'm heading to St. Louis for Memorial Day weekend and the rest of the week. I'll be going to a wedding on Saturday and also working on a wine shelf for my dad.

Unlike the pre-machined wine racks we put together last time, I'm going to be building this shelf completely from scratch. The shelf will fill a wall near the door and will hold bottles horizontally with a center section for display purposes.

Here are my plans so far: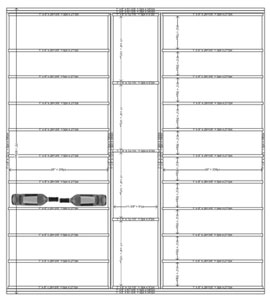 For the most part I already have all the tools I need for the project, the only thing I had to buy was a $50 crown molding router bit so I could put a round channel into the shelves so the wine bottles would stay put.

I'm looking forward to it... hopefully it works out well!
Posted 05/21/2009 11:00 PM in St. Louis, Woodworking
Link To This Blargh | View/Add Comments (3)


---

My counter is officially done.
The last picture I posted was attaching the counter top. After semi-diligently working evenings and weekends for the last couple weeks, I've finally finished everything (except cleaning). Here are some key progress pictures. As usual, I've documented way too much if you're interested in the details.

Drywall Mud, Primer, Paint & Tracks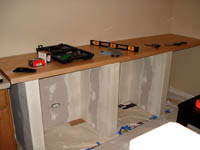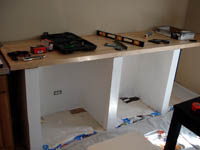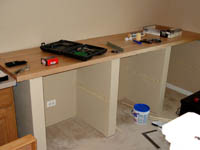 Baseboards, Trim & Drawers, Organized Drawers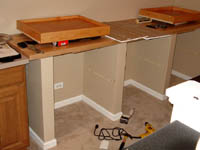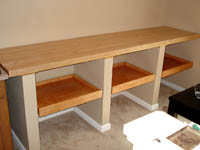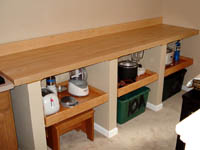 I'm quite happy with the counter, especially the extra storage space which will clear up a few spots on my old counter. Next I just need to get some wine racks and other accessories to spruce it up.
Posted 06/30/2008 08:29 PM in Pictures, Woodworking
Link To This Blargh | View/Add Comments (1)


---

So close and yet so far
I estimate that I have three or four hours of labor left on my counter. The drawers are fixed and installed and I have only one 6" piece of trim left to sand, poly and attach. After that, I just have to re-paint the baseboards, clean up and start organizing my small appliances. Hopefully I can finish this weekend.
Posted 06/24/2008 08:03 PM in Woodworking
Link To This Blargh | View/Add Comments (0)


---

DOH!
Argh, I made another mistake with my counter. Apparently my fixes to the mis-sized drawer were not enough so I have to fix it again. Argh.
Posted 06/23/2008 01:12 AM in Woodworking
Link To This Blargh | View/Add Comments (0)


---

Weekend Update
Friday night I was totally lazy. I didn't even work on my counter because new work keeps popping up and I was just feeling lazy. I was hoping to finish the counter on Thursday but I found out that one of my drawers didn't fit correctly so I knew I would have to spend time trimming it to fit. Then I had an issue with some of the trim not fitting properly because of a design flaw. I also failed to account for time prepping the pieces (sanding, paint and polyurethane).

Saturday I finally got back to work. I trimmed the drawer with my router, sanded it and applied the first coat of polyurethane. I bought new trim and poly'd that and put a first coat of paint on the baseboards before installing it.

Tomorrow I'll be sanding all the poly pieces and putting the second coat on. I also have to re-paint the baseboards. After that, I think I'll be able to install the last drawer and the trim and I'll finally be done!
Posted 06/22/2008 01:28 AM in Ramblings, Woodworking
Link To This Blargh | View/Add Comments (0)


---
Counter Progress

The plans for the design.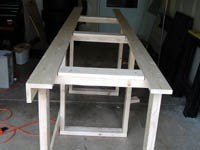 The completed base frame.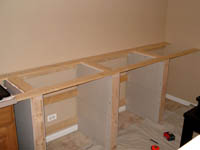 The installed base frame.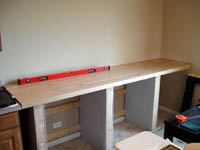 The installed counter top.

I've made a lot of progress on my counter top installation. The majority of work was done over Memorial Day weekend when I spent a good 12 hours straight working on it. I was exhausted, but I simply couldn't stop! That weekend I built the entire 2x4 base frame. I put a lot of care into it to make sure it was perfectly level and plumb and square, only to find out that my walls were none of those things and I had to saw off 1/2" pieces of wood all over my base frame to make it fit, and I even had to saw 1/2" off of my 9' long hard rock maple counter top that must weight at least 150 pounds. I tried to enlist help but schedules didn't work out so I had to do a lot of heavy lifting by myself. I think I lost weight that weekend!

The following weekend I attached the base to the wall and attached the counter to the base. I also started installing drywall. I had plenty of other glitches that slowed things down, such as what to do about an outlet that would be hidden by the counter. I also had additional design decisions to make, like exactly how to arrange the new space that I was building.

This weekend I installed the rest of the dry wall, the protective corner beads, an adjustable depth ring to extend the outlet (aptly nick-named a "goof ring") and started the three day process of mudding (applying drywall joint compound) the many corners and seams. Since I'm in town this week I'll be able to finish that up during my evenings at home.

I've been to Home Depot at least a dozen times to look at ideas and to get new supplies and new tools and to make exchanges. I'm sure I'll be making at least three more trips. I could easily cut that in half if I planned ahead and bought everything at once but I prefer to do it as I go in case things change (which they usually do). Even so, the end is finally in sight.

The tasks I have left are:
Finish applying mud (2 days)
Primer (1 day)
Paint (1 day)
Build and install sliding shelves (1 day)
Trim and install moulding (1 day)
Clean the gimongous mess(1 day)
So I'm looking at completion in the next week or two. Here are a few pictures of the progress so far. Total cost so far has been $97.61 for supplies, $83.44 for new tools, totaling $181.05 so far (plus tax). In the end I'm guessing that I will spend about $300 total. Hiring someone to do all of this probably would have been a couple thousand bucks.
Posted 06/09/2008 07:01 PM in DIY, Pictures, Woodworking
Link To This Blargh | View/Add Comments (1)


---