Blargh Archive for




To view past blarghs, simply select the month or year you would like to view on the left and click "go." If you are searching for a specific word, enter the word and the year you think it was mentioned on the right and click "go."


Reflections on Dinner
Dinner on Saturday was pretty good. Here is a PDF of the menu that I finally settled on.

Friday I shopped and prepared a couple things, specifically the English Summer Pudding and the pasta dough. Saturday started at 6AM when my house keeper came to clean and my cooking prep started at 7AM. I also had to step out to go shopping to pick up the freshest seafood I could. Here was my schedule:
Time - Recipe - Task
7:00 - Pasta - Make Pasta
9:00 - Shopping
11:00 - Misc - Mise en Place
11:30 - Clams - Wash
12:00 - Puffs - Make Batter
12:30 - Hollandaise - Make
1:00 - Pancakes - Make Compote
1:30 - Pancakes - Make Batter
2:00 - Salmon - Make Filling
2:30 - Pancakes - Beat Egg Whites
3:00 - Mushrooms - Sautee Mushrooms
3:15 - Duck - Poach Gooseberries
3:30 - Pancakes - Cook Pancakes
4:00 - Duck - Make Sauce
5:00 - Puffs - Prepare Batter
5:30 - Pasta - Boil Water
5:45 - Puffs - Bake
6:00 - Salmon - Make Parcel
6:15 - Duck - Score & Season
6:30 - Clams - Steam
6:30 - Duck - Render
6:30 - Salmon - Bake
6:45 - Mushrooms - Cook Pasta
7:00 - Clams - Cook Pasta
7:00 - Duck - Fry Duck
7:15 - Duck - Bake
7:30 - Duck Greens - Wilt
8:00 - Pudding - Whip Cream
This was a busy and tiring day, but it gave me some good experience in budgeting my time and also in juggling a lot of tasks. For the first time, I used just about every kitchen gadget I have, except for my can opener (that's a good thing!) Here's a partial list of various gadgets and cooking tools I used (not including the mundane stuff like spatulas):
Almost every pot and pan that I own
Every mixing bowl that I own
Every baking sheet that I own
Food Processor
MicroPlane
Salad Spinner
Pasta Maker
Electric Hand Mixer
Citrus Reamer
Piping Bag
Spider/Sift
Knife Sharpener and Steel
Mortar and Pestle
Spice Grinder
Scale
Pastry Board, Rolling Pin, Pastry Brush
I got a lot of compliments, more than usual, but honestly I'm still a bit disappointed in a few things. I'm glad people enjoyed it, but I'm always learning more and hope that I'll continue to get better. Here are the things that bugged me:
Mushrooms - Caputo's let me down as the crimini, button and portobella mushrooms they had were all sub-standard. Whole foods had better ones but at an outrageous cost that I couldn't justify, hence I ended up with the Japanese mushroom mix from Mitsuwa that didn't end up tasting the way I wanted
Duck - This was by far the most expensive single item and it was a lot of trouble tracking down a store that had them in stock (Meeske's Prime Meats in Barrington). I asked for 8 but they could only find 4, but when I looked at the price, I decided that 4 was enough. Next time I should just buy whole duck (frozen at Whole Foods or fresh from Chinatown) and butcher them myself. Then I could render out the fat and make duck fat fries too. Also I left these in the oven too long so they came out medium-well instead of medium-rare.
Currant Sauce - This was supposed to be gooseberry sauce but I couldn't find any. Luckily Caputo's had white currants, which even Whole Foods didn't have. Alas, I used an old Smoking Loon Cabernet as a base for the sauce and didn't really like it. I also used a Turkish honey with heavy floral notes that I thought ended up too pronounced in the final sauce. My guests said they liked the sauce but I have to say I really did not.
Gougeres - This is a new version of this recipe and I thought they came out a bit pasty and not cheesy enough. I might have to develop a hybrid with the other recipe I've used
Mint Hollandaise - I used EVOO instead of regular OO or butter. I felt the olive flavors were a little too strong and interfered with the egg and mint flavors
Rhubarb Pancakes - I'm annoyed at my fridge b/c it doesn't get cold enough so the ice cream was way too soft
Summer Pudding - I used Shoku white bread from Pastry House Hippo with is extremely soft, but perhaps too soft for a pudding. I should have gotten their Danish Bread which would have held up better and added some more flavor, like the Brioche that Gordon Ramsey suggested as an alternate.
Belgian Endive (Chicory) - Apparently these are pretty bitter and sauteing them didn't change that
Of course, there were also some good things:
Whole Foods' seafood department was very helpful. They suggested Manila Clams which are smaller than what they had in stock and offered to order some up for me, which I did. They also recommended wild caught salmon which they consider better and cheaper as well.
Tom's Farm on Lake (Route 20) in Hanover Park had the most amazing ripe strawberries. When I brought them home, my car and my kitchen were filled with the most lovely smell of fresh, ripe strawberries
Despite over-cooking the duck breasts and using an extremely simple spice rub (salt, pepper, red pepper flakes) it came out delicious. Next time I'll get a whole duck which should be cheaper and much more versatile.
I'm very happy with the egg pasta recipe from Gordon Ramsey and thought it turned out quite well. I made 2 Kg of pasta and only used one for the dinner so I have a good amount left for future use
With the leftover arugula, basil, parsley, Parmagiana Reggiano and some almonds I had in the closet I made a tasty pesto sauce, perfect for my leftover pasta
So, it was quite a busy and tiring weekend but it was good I'm glad my guests enjoyed themselves.
Posted 08/17/2009 10:07 PM in Cooking, Dessert, Food, Recipes, Reviews, Shopping
Link To This Blargh | View/Add Comments (13)


---

Dinner Menu Possibilities
I haven't cooked in ages and this weekend I'm making dinner for the Pace family. I've decided to finally crack open my Gordon Ramsay F Word Cookbook and tackle a few dishes. Here are the options I'm looking at (subject to availability and price of ingredients):

APPETIZER
Seared Beef Salad with Sweet Mustard
Tagliatelle of wild mushrooms
Parma ham, sage and Parmesan puffs
White Wine Clam Pasta
Scallops with Peas and Pancetta
MAIN
Salmon in a Parcel
Herb Crusted Brill with Tomato Salsa
Duck Breast with Spring Greens & Gooseberry Sauce
Chicken Marsala with Red Chicory
Chicken with tomato and fresh mozarella
Venison with red wine chocolate sauce
Herb-Crusted Rack of Lamb
DESSERT
Bread & Butter Pudding
Apple Pudding
Apple Tart Fine
Pear Tatin with Anise
Summer PUdding with Fresh Berries
Eton Mess with fresh Berries
Iced berries with white chocolate sauce
Lemon Posset
Souffled pancakes with rhubarb Compote
Rhubarb Creme Brulee
Rhubarb Crumble
Strawberry, Peach & Ginger Crumble
Swiss SPonge Roll
COffee & Chocolate Mousse Cups
Baked Alaska
Raspberry Souffle
Yeah, that dessert list is awefully long but I haven't even cracked open my Gordon Ramsay Just Desserts cook book yet...
Posted 08/10/2009 11:48 PM in Cooking, Dessert, Food
Link To This Blargh | View/Add Comments (2)


---

NYC Trip 1 (6/26-6/28)
At the end of June I had to fly to Chattanooga for work and stay through Friday. With a short weekend, I decided to fly back to Hartford and drive to NYC to visit Hewson and Celeste.

Thursday I got a text from Hewson asking if it was ok to have a dinner party on Saturday. Of course that was fine, but his next message was, "Tell us what you want and we'll make sure we get the ingredients for you." Apparently this dinner party would feature food from my own hands...

On Friday, after flying to Hartford I drove down to Brooklyn and arrived around 1AM after which we stayed up until 3 before I collapsed on their futon.

Saturday I woke up around noon and Hewson and I went to the city for some Ethiopian food. After that we went to Fairway Market to shop for the dinner party which was attended by Hewson's sister Maria, Celeste's childhood friend Antoinette and two of their other friends, Mike and Christine. For dinner I made fettuccini putanesca and farfalle with smoked salmon cream sauce while Celeste made strawberry shortcake for dessert.

Sunday we mostly chilled and played Wii before heading out for a pizza lunch and driving around Coney Island. After that we drove through Green Wood cemetery looking at the amazing mausoleums and tombs (apparently this was a nice way to spend your afternoons in the 70's or something). Also in the cemetery was Battle Hill, the site of the original battle for American independence from Britain.



After our afternoon, we went to Manhattan for dinner at WD-50. In terms of atmosphere, the restaurant has no dress code and allows walk-ins, giving it a nice comfortable feel. The tables actually have cutouts so the servers can stand by your table without blocking foot traffic. As a bonus, they had half price wines that night so (much to my surprise) we finished a bottle of a malbec and a rose.

Overall, I think the dinner was excellent (pics below). There were a couple dishes that were not that special, though there was some debate between us as to which ones they were. However, the final lamb entree was perfect and made the dinner worth it across the board. The two desserts after it were amazing as well. In the end, we were all quite happy, though the final bill did come out to $205 per person.

Pics are here
Posted 08/04/2009 09:04 PM in Dessert, Food, Pictures, Ramblings, Restaurants, Reviews, Travel
Link To This Blargh | View/Add Comments (11)


---

Japanese Bakeries


I finally got a chance to return to Mont Blanc Bakery and Bakery Crescent. With a hungry stomach making my eyes quite optimistic, I loaded up on $20 worth of baked goods. As a Pastry House Hippo (PHH) fan for several years, that will be the bar to which the others are compared.

First up was Bakery Crescent which specializes in breads and buns. I picked up katsu-curry buns, sweet potato buns, mocha buns, pizza buns and blueberry cream cheese pastries. Overall, I would say that this is a good bakery that is on par with PHH, but since they are located in a separate strip mall and close at 5 or 6, I can't see a reason to go here over PHH.

The regular curry buns at PHH are quite oily and so were these katsu-curry buns. I guess all American curry buns are oily. The katsu (fried breaded pork cutlet) gives these the edge over PHH, but the oiliness of both versions is a major detractor. The sweet potato buns were pretty good and are not available at PHH. The mocha buns are pretty good: creamy and tasty but not overly rich. PHH has coffee danishes or chocolate creme filled buns but I'd have to give the mocha bun a slight edge. The Japanese style pizza buns have hot dogs instead of sausage or pepperoni and were pretty tasty. I have not had the ones from PHH so cannot compare. Lastly the blueberry cream cheese pastry was pretty good, about the same as PHH.

Next up is Mont Blanc Bakery (next door to Bakery Crescent) which specializes in cakes. Their signature dessert is the Mont Blanc which is a cupcake with a special chestnut topping (below left). This stringy looking frosting is popular in Japan and I saw several uses of this style at bakeries in Tokyo last year. Unfortunately, I did not quite understand the draw of this stuff. It wasn't particularly tasty in Japan and this version at Mont Blanc Bakery wasn't very special either.

The next dessert I tried was a Kahlua cake (below middle). It looked good but I couldn't really taste Kahlua. It tasted like a pretty average tira misu. Also, it had too much cocoa on top: when I was about to eat some, I ended up inhaling the cocoa which resulted in a bout of coughing. The last dessert was a Blueberry Cassis (below right). I couldn't taste the Cassis and other than a very mild blueberry flavor, the rest of the cake wasn't anything special.

Unfortunately, I was not impressed by Mont Blanc Bakery and I probably won't return. I'd rather pick up an Earl Grey or Green Tea pound cake, a tiramisu, or a specialty cake from PHH where they seem much tastier to me.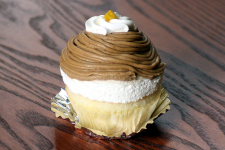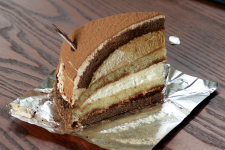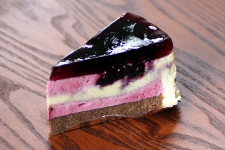 Posted 11/22/2008 01:17 AM in Chicago, Dessert, Food, Japan, Restaurants, Reviews
Link To This Blargh | View/Add Comments (2)
---

10/08 - Iraklio
Jump to the pictures.

While Egypt was great with it's food and excellent exchange rate, part of me was happy to return to Greece which is more modern and western, for instance random restrooms in Greece tend to be pretty nice and clean, more people speak English, etc.

The group decided to rent cars in Iraklio, Crete (also called Heraklion) but it took hours to get every one off the boat and agreeing on how to split up. The tough part was that the rental cars were quite small, fitting just four passengers instead of five.

My family got a Hyundai Atos Prime which I estimated to have 60-70HP only. I later looked it up and found it to have a mere 58HP. It was quite a small car and even with the seat all the way back, I was unable to straighten my legs, especially when driving. The pedals were so close that I could never rest my thighs on the seat.

The rental guy asked if I was comfortable driving in Greece and I told him that I had driven in Corfu to which he replied, "Corfu? They're civilized there!" That didn't worry me though and I will say that I rather enjoyed driving in Crete.

The main rule for driving in Crete is that you should drive as far right as you can unless passing. Often this means driving on the line or driving on the shoulder so that people can easily pass you on the left. There is no such thing as a person driving slowly in the left there and if you block others you will get flashed.

People pass others all the time on Crete and it's very easy b/c everyone else is driving on the right side. Even with only 58HP going up hill with four passengers, it was easy to pass. As a result, it's not uncommon for a two lane road to have four cars across: two cars going one way and two cars going the opposite way, passing each other.

Traffic was interesting as well. In general, no one yields right of way, you just have to force yourself into traffic and people will then slow down for you. Turning left onto a big busy street was a bit tough and I got honked at for waiting too long. Basically, as soon as there is the slightest gap between cars, you just force your way through and if you end up blocking traffic, oh well.

Our first stop was the Palace of Knossos. The Knossos civilization was considered one of the most advanced in the ancient world, but the civilization was mysteriously destroyed. Most historians believe that the volcanic eruption that created what is now Santorini was the cause. It is estimated that the explosion created a tsunami 30 meters tall, more than enough to wipe out Knossos on nearby Crete.

After Knossos we drove west to Rethymno where we had a very nice local meze lunch. After visiting the beach and driving by the Venetion fortress, we found ourselves low on time and had to head back. Unfortunately, our delays in the morning meant we didn't have time to check out Iraklio. My advice, if you ever plan to rent a car and drive around an Greek island, is to wake up early and make the most of your day!

Once we returned to the ship for an early departure, my sister and I sat on our balcony and watched as the ship left port before heading to Grand Pacific for dinner.

10/08 pictures are here.
Posted 10/28/2008 09:43 PM in Dessert, Food, Greece, Pictures, Restaurants, Reviews, Travel
Link To This Blargh | View/Add Comments (9)


---

10/06 - Alexandria
Jump to the pictures.

In Alexandria, my sister and I signed up for a half day tour so that we would have free time to search for some local eats. After breakfast, we hopped on the tour bus and went the Alexandria catacombs.

The catacombs were pretty interesting, but they do not allow pictures inside. The catacombs are a family grave site that was accidentally discovered when a drunk man lost his donkey down a hole. When he sobered up the following morning and went to find his donkey, he discovered the tomb.

The tomb was of a Roman citizen who had moved to Egypt and begun to adopt Egyptian traditions. This is apparent in the primary tombs for the Roman and his wife which were decorated in a combination of Roman and Egyptian designs and artwork. Additionally, both bodies were embalmed in Egyptian fashion. After this time, the tombs were expanded for the rest of the family and possibly for public use as well.

With the temperature in the 90's and the sun beating down on us, I was eager to descend the spiral staircase surrounding the well to the bottom, unfortunately, the small passages full of tourists turned out to be hot, humid and stuffy. Several tour buses arrived at the same time so there were hundreds of people in the catacombs which had multiple passages and levels to accommodate hundreds of tombs. My sister and I explored several passageways before returning to the surface.

The next stop was the Alexandria National Museum. The building once belonged to the US Embassy but after they moved to a larger, newer building, this location remained uninhabited until Alexandria purchased it from the US at half the asking price. This building is fairly modern and, unlike the big museum in Cairo, is air conditioned. The three levels are dedicated to different eras in Egyptian history with the Pharaonic era in the basement, the Greco-Roman period on the ground floor and the Coptic (Christian) and Islamic periods on the first floor. I was pretty tired so after we perused the basement and first floor, I took a 15 minute nap on a bench while my sister explored the ground floor.

The next stop was the Montaza Gardens, which belonged to the Royal Family until Egypt became a Republic. Since then the grounds have been a national park and the Montaza Palace has been used for foreign dignities because the Egyptian President is not royal or divine and therefore should not be given such a luxurious residence.

The gardens are full of huge date palm trees and lie on the coast line where a boardwalk is decorated with lion sculptures leading to a hotel and lighthouse. On the other side of the gardens lies the Palace and another hotel and casino.

Next we piled back on the bus and drove on the Alexandrian coastal road along miles and miles of beaches. We saw all sorts of things from a statue of Muhammad Ali (founder of modern Egypt), the tram system, the football stadium, the Alexandria Library and more.

The next stop was Fort Qaitbay but we only had time to explore the boardwalk and vendors in the area outside of the fort. I saw some interesting ice cream carts and potato chips and some local sweets that some vendors were carrying around in clear plastic boxes. I didn't have a chance to buy any of them, besides the tour guide warned us about the lack of hygiene in Egypt, especially from random street vendors.

Our last stop on the tour was Abu el Abbas mosque. Our tour was almost 1 hour behind schedule (which is a good thing since it means our 4 hour tour was 5 hours) and my sister and I were concerned we wouldn't have enough time to explore Alexandria on our own so we requested that the tour guide leave us behind at the mosque. We then walked to a nearby bank to get some Egyptian pounds and then headed west in search of food.

We had only walked a couple blocks when we started smelling something tasty. It was a trio of small restaurants so we walked up to the single host desk and asked for a table. They stared at us blankly as they apparently knew no English. After some useless gesturing, they somehow figured out what we wanted and gave us a table.

A few moments later, the waiter came by and I asked what they had. His answer was, "Pizza, Koshari." At the mention of Koshari, a word I learned from Anthony Bourdain's "No Reservations," I quickly repeated it and asked for one order. After the waiter left, my sister took a look at the restaurants sign and discovered that their logo was Fido Dido holding up a pizza.

When the waiter brought our koshari (see pictures) I read a list of Egyptian foods off my list to see if they had any of them. He acknowledged two desserts: belial and sahleb, both of which turned out to be excellent and tasty. In terms of local food, I think these three Egyptian foods top my list as my favorite items during the whole trip (and I'm starting to drool over them as I type this).

I finished the meal with a Turkish coffee and then we flagged down a taxi. The driver did not speak English but the tour guide had been nice enough to write down directions in Arabic so we could get back to the port. The driver took us there and waved us out of the taxi. We weren't sure how much the ride was so I just waived a 10 pound note ($2) which he grabbed and drove off with.

Back on the ship, we cleaned up and took a nap before heading to dinner at Paniolo's, the TexMex and tapas restaurant with the rents a few family friends. They were all interested in tapas so I went ahead and ordered two of everything for our appetizers. Unfortunately, they weren't that good. Most of us ate light for dinner since we'd all been eating a lot recently.

10/06 pictures are here.
Posted 10/21/2008 08:12 PM in Dessert, Egypt, Food, Pictures, Ramblings, Restaurants, Reviews, Travel
Link To This Blargh | View/Add Comments (1)


---

Ted Drewes


I once met a guy who claimed to be a frozen custard connoisseur. One of his top picks for best custard? Culver's. That's like claiming that McDonald's makes the best ice cream. Yes, there's no doubt that it's great and tasty, but it just doesn't come close to the genuine homemade stuff.

On top of that, the guy had never heard of Ted Drewes. I can understand that your average person may not have heard of Ted Drewes, but to consider yourself a connoisseur of frozen custard and have no clue about it is just plain freakin' absurd.

If you like frozen custard, you HAVE to try Ted Drewes for both the wonderfully rich creaminess and for the historical Route 66 significance. On Alton Brown's Feasting on Asphalt, Ted Drewes was the number one most requested absolutely must see stop from his fans.

So when I went down to St. Louis for Labor Day, I made sure to swing by for a nice, rich, cold treat for a hot summer's day. Here are some pictures. Apologies that the close-up is a bit over exposed, I forgot to clear a setting that I changed on my new camera.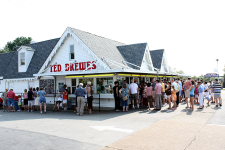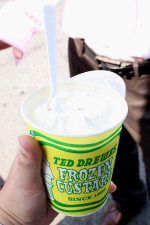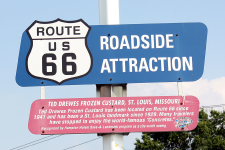 Posted 09/27/2008 07:12 PM in Dessert, Food, Ramblings, Restaurants, Reviews, St. Louis, Travel
Link To This Blargh | View/Add Comments (1)
---

Uzbeki Food and Ice Cream in the NW Burbs


The northwest burbs are a haven for chain restaurants, but there are still plenty of local restaurants. Last week I decided to do a little exploration after some internet research. Some people bailed but I convinced Ashley to be adventurous.

Our first stop was Chaihanna for dinner. Chaihanna is an Uzbeki restaurant. Their food and decor reminded me of a cross between Russian and Middle Eastern cultures which makes sense since that region was once part of the USSR. Today Uzbekistan is located south of Kazakhstan and north of Turkmenistan and Afghanistan.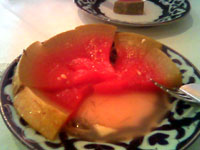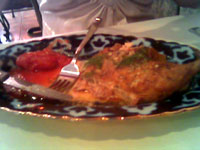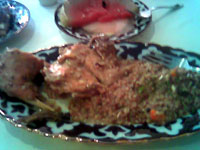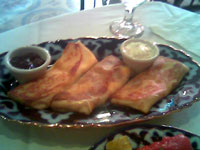 We ordered pickled watermelon, chicken tabaka, rabbit and cheese blintzes. The pickled watermelon tasted like a pretty strong pickle. If I didn't know it was watermelon, there's no way I would have known. The chicken tabaka was crusted with garlic and was very good. The rabbit with white "souse" (sauce) was good. It was very mild and tender. I don't think it tastes like chicken, but I definitely see how chicken is the closest thing you could compare it with. I believe it was served with kasha (buckwheat) but I did not really like it. It felt like tiny balls of half cooked potato. I would have preferred cous cous or rice.

Lastly, we had the blintzes and thought they were excellent with a very smooth cheese filling. They come with sour cream and strawberry jam on the side, but they were good enough to eat plain. I think those alone are worth returning for.


---

Afterwards, the hunt for dessert was on. First we tried out a couple Japanese bakeries. Both Mont Blanc Bakery and Bakery Crescent are in the same strip mall on Algonquin about 1/4 mile east of Mitsuwa. Mont Blanc specializes in cakes while Crescent has a larger variety of pastries and other bakery items. Unfortunately they both closed at 6pm so we were unable to try any.

Next we went to Coffee Haus a Korean cafe that serves bing soo (shaved ice) and also a Korean ice cream sunday with lots of toppings. We were surprised to see a large Korean family there with adult children and their parents. The sundaes looked pretty good, but we decided to search check out a genuine house-made ice cream company.

We ended up at Capanarri's Ice Cream and based on the line of customers we decided it was the right choice. All ice cream is made in small batches on site and they several classic and specialty flavors. Some of their special flavors at the time were Praline Pecan, Burgundy Cherry and Acai Berry Sorbet. If you can't decide, they offer an ice cream flight so you can try up to four mini scoops at a time.

I ordered the acai sorbet along with blueberry, praline and butter pecan ice cream. The acai sorbet was mild and tasty, but since I don't know what acai tastes like I can't give a good review. The blueberry ice cream was mild and creamy. The praline pecan was very tasty and had lots of pecans. After that the butter pecan didn't seem as good in comparison. Capanarri's has been mentioned in several ice cream books and proudly displays several celebrity photos with the owners. It may become our new northwest burb ice cream spot.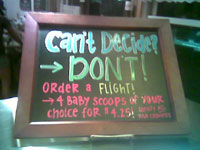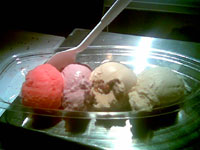 Posted 07/29/2008 09:54 PM in Chicago, Dessert, Food, Restaurants, Reviews
Link To This Blargh | View/Add Comments (8)
---

Incredible Hulk of Ice Cream


Thursday I went to see the Incredible Hulk with Ashley and Jina, which was pretty good, though I felt it lacked some smooth transitions between events. I enjoyed seeing Lou Ferrigno, though I don't recall seeing Captain America who was supposed to be hidden somewhere. Afterwards we met up with Paul for cheap ribs at O'Donovan's and then decided to grab dessert.

First we went to Cafe Wicked b/c it had good reviews according to mobile Google. When we arrived, the place was almost deserted except for two customers. We decided to try another spot and Margie's Candy was recommended by one of Paul's co-workers.

Immediately we knew we made the right choice as the quaint and cozy little shop was full and had great looking desserts. Their World's Largest Terrapin (Turtle Sundae) has a whopping 25 scoops of ice cream for $45, which put's Ghirardelli's Earthquake Sundae to shame.

Each of us got a sundae or split. I chose an Engligh Toffee sundae with their extremely tasty and buttery house-made toffee. Every sundae is huge and comes with a sauce boat of house made fudge or caramel sauce. If that's not enough, you can make any sundae jumbo. It's open late (11:00 I believe) and is a great dessert spot, as witnessed by the fact that the line kept getting longer.

Here are a few pictures from my cell phone. I'm not sure what Paul is doing... Oh and Margie's only con is the single small and dingy bathroom.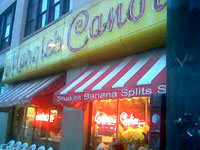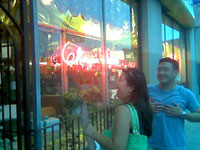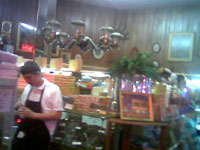 Posted 07/22/2008 05:41 PM in Chicago, Dessert, Food, Restaurants, Reviews
Link To This Blargh | View/Add Comments (0)
---

Japan Pictures and Earl Grey Poundcake
Ok, I finally finished posting my Japan pictures from last year. Sad. Really sad.

Also, I've got a new recipe up: Earl Grey Poundcake. Yummy!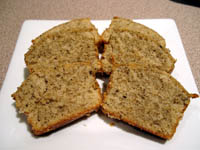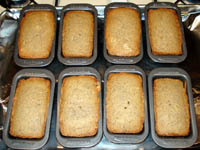 Posted 06/03/2008 06:16 AM in Cooking, Dessert, Japan, Pictures, Recipes
Link To This Blargh | View/Add Comments (0)
---