Blargh Archive for




To view past blarghs, simply select the month or year you would like to view on the left and click "go." If you are searching for a specific word, enter the word and the year you think it was mentioned on the right and click "go."


Subaru Stuff
Yeah, yeah, it's been ages since I've posted... work is just too busy and I'm too brain dead at night to go through my pictures or write stuff... either that or I'm too busy watching NetFlix On Demand.

But with Subaru's attempt to set at Guinness World Record for Largest Parade of Subaru Cars tomorrow, I've been cruising the Subaru forums.

Last year I talked about how fun it would be to snowboard with a Subaru. That same Subaru driver, up and coming American rally driver Ken Block, has a couple more interesting vids which I present for your viewing pleasure.

2007 Rally Highlights


Ken Block's Hit Gymkhana Training (watch for the Segway)


Gymkhana Two "Infomercial"


Ken Block Special on Top Gear

Posted 07/10/2009 09:17 PM in Cars, Chicago, Videos
Link To This Blargh | View/Add Comments (0)


---

Air Traffic Control
A couple months ago my flight to Chicago had a medical emergency and we had to land in Cleveland to drop off a passenger. I decided to listen to Air Traffic Control (ATC) which is a feature offered by United. I found it pretty interesting and not at all like what you see in the movies.

One thing to note is that ATC is made up of several independent divisions. Here is a brief summary of all the divisions that my flight passes through on its way from Hartford to Chicago:
Taking off from Hartford we start with the Tower, which provides runway conditions and clearance for take-off.
Once the plane leaves the ground, we contact Departures which coordinates which way the plane turns and what bearing and altitudes it should take.
Once clear of the airport, we contact Boston Center to coordinate regional traffic, altitudes and flight conditions
Leaving the Northeast and passing through North Central, we contact Cleveland Center
Leaving North Central and crossing over the Canadian border, we contact Toronto Center
Crossing back into the US, we contact Cleveland Center again
Approaching the Chicagoland area, we contact Chicago Center
Approaching O'hare, we contact Chicago Approach for headings and runway assignment
After receiving runway assignments and headings, we contact O'hare Tower for clearance to land
Once we've landed, we contact O'Hare Ground for taxi and gate routing.

Below is a transcript of radio chatter from my flight, United 719. This starts soon after we contacted Cleveland Center. It's interesting to hear all the different people talking. For instance some people are friendlier than others and some have thick accents, like Korean 360 which obviously had a Korean pilot. It's also interesting to hear them announce "traffic" when routes intersect or run parallel within 2000 feet of elevation.

Numbers are constantly tossed back and forth and may refer to flights, speeds, headings, altitudes or radio frequencies. Sometimes they say the whole number and sometimes they read out the digits. Jargon is also pretty common, for instance saying puddle to refer to a puddle-jumper, a small propeller driven plane for short regional flights or heavy when referring to jumbo jets or cargo planes. They also use words to call out letters for instance Quebec for Q, Foxtrox for F, etc, particularly on the ground where every taxi-way and runway has a specific letter and number designation (more on that some other day). So it requires a basic understanding of what's going on and a good ear to figure things out sometimes.

One thing you can't see in this transcript is how crazy things get near Chicago where the traffic and congestion mean constant radio chatter. The radio is always on with updates from dozens of flights and you never know what you're going to hear when your crew switches channels. I really feel for the ATC controllers that have to work at O'hare. I actually heard pilots saying "Unbelievable!" to the ground control after having to back-track a route to get to their gate. The controllers have to be on top of things and there's very little breathing room with so much traffic and thousands of lives in their hands. My hat goes off to them.


...
(UA719) Cleveland Center we're experiencing moderate chop at 3-6.
(CleC) United 6, conditions?
(UA6) light chop last four minutes
(UA719) How is 4-0-0?
(CleC) light chop reported but that was 20 minutes ago
(UA719) Trying 4-0-0
...
(CleC) United 7-19, Status heading up there?
(UA719) It's been continuous chop all the way, United 7-19
...
(UA719) 7-19 now picking up light turbulence at 3-8-0
(CleC) Puddle 6-60, how is it where you are?
(660) at 3-6-0 had some chop while we leveled out but it's better now
(CleC) United 7-19, Puddle 6-60 says 3-6-0 is better now
(UA719) Going to 3-6-0 United 7-19
(CleC) United 7-19, Toronto Center says 3-60 should be a pretty nice ride soon
(UA719) Appreciate you checking for us, United 7-19
(CleC) 7-19, contact Toronto center 3492
(UA719) Toronto 3492, United 7-19
...
(UA719)Toronto Center, this is United 7-19 at 3-6-0 experiencing light chop
(TorC) United 7-19, hello, that should clear up for you in a little bit, it gets better as you head west
(UA719) Thanks
...
(TorC) United 7-19, traffic at 12 o'clock 1000 feet below
(UA719) Traffic ahead, United 7-19
...
(TorC) United 7-19 contact Cleveland Center 1-2-6-5-2
(UA719) 1-2-6-5-2 Cleveland, United 7-19
...
(UA719) Cleveland, United 7-19, 3-6-0 finally smooth
(CleC) 7-19, what was your condition?
(UA719) Well, it was 100 miles back, continuous light chop
...
(CleC) United 719, maintain 3-4-0
(UA719) 3-4-0, United 7-19
...
(CleC) United 719, contact Cleveland Center 1-3-3 dot 8-7
(UA719) 1-3-3-8-7, 7-19
...
(UA719) Cleveland Center, United 7-19 at 3-4-0
(CleC) United 7-19, maintain 3-2-0
(UA719) 3-2-0, 7-19
...
(UA719) United 719, at 3-2-0
(CleC) 7-19, Roger, no complaints
...
(CleC) United 7-19, descend at discretion, maintain 2-0-0
(UA719) with discretion, maintain 2-0-0
...
(CleC) United 7-19, contact Chicago Center at ????
(UA719) ????, United 7-19
...
(UA719) Chicago Center, United 7-19 descending to 2-0-0
(ChiC) United 7-19, 2-0-0
...
(ChiC) United 7-1-9, cross fire ??? at 0-0-niner thousand
(UA719) Cross fire at 9000 feet, united 7-19
...
(ChiC) United 7-1-9, contact Chicago Approach, 1-1-niner-0
(UA719) 1-niner-0 7-19 g'day
...
(UA719) Approach, United 7-19 at niner thousand
*lots of stuff*
(ChiA) bonzo?, United 7-19
...
(ChiA) United 7-1-9, descend and maintain 7000
(UA719) 7000, 7-19
...

Of course we had to turn off all electronics after this so that's all I could get.
Posted 06/25/2009 10:14 PM in Chicago, Geek Stuff, Hartford, Ramblings, Travel, Who knew?
Link To This Blargh | View/Add Comments (3)


---

CNN Sears Tower FAIL
This is a couple weeks old, but on March 12, CNN reported a story on how the Sears Tower would be renamed the Willis Tower. There is no longer a picture on that article, but for about an hour, they did have a picture up and I managed to catch it just before they took it down. Here is that picture, demonstrating journalism at its finest.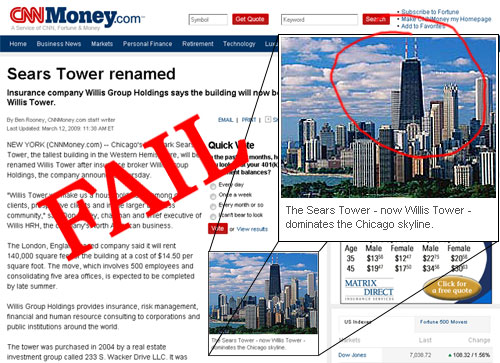 Posted 04/03/2009 03:48 PM in Chicago, News
Link To This Blargh | View/Add Comments (4)
---

Cho Sun Ok


Cho Sun Ok is one of my fav Korean restaurants, particularly for their chadol-gui (sp?). They bring out a big stone griddle (along with a dozen side dishes) for cooking unmarinated beef which you dip in sesame oil with salt and pepper (and MSG?). Once all the meat is gone, they bring out rice and use the griddle to cook your leftover side dishes to make kim chi fried rice. Yummy.

These pictures are actually from BEFORE my cruise, although I did go to Cho Sun Ok after my cruise as well. I just remembered that I had them to put up, so here they are. I'm sure some of my Korean friends can correct some of my info...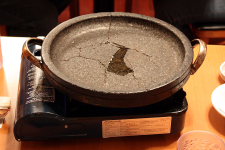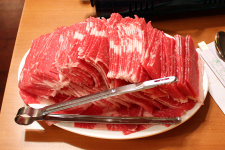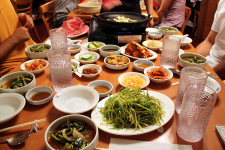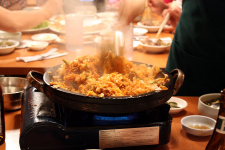 Posted 12/01/2008 09:02 PM in Chicago, Food, Restaurants, Reviews
Link To This Blargh | View/Add Comments (5)
---

Japanese Bakeries


I finally got a chance to return to Mont Blanc Bakery and Bakery Crescent. With a hungry stomach making my eyes quite optimistic, I loaded up on $20 worth of baked goods. As a Pastry House Hippo (PHH) fan for several years, that will be the bar to which the others are compared.

First up was Bakery Crescent which specializes in breads and buns. I picked up katsu-curry buns, sweet potato buns, mocha buns, pizza buns and blueberry cream cheese pastries. Overall, I would say that this is a good bakery that is on par with PHH, but since they are located in a separate strip mall and close at 5 or 6, I can't see a reason to go here over PHH.

The regular curry buns at PHH are quite oily and so were these katsu-curry buns. I guess all American curry buns are oily. The katsu (fried breaded pork cutlet) gives these the edge over PHH, but the oiliness of both versions is a major detractor. The sweet potato buns were pretty good and are not available at PHH. The mocha buns are pretty good: creamy and tasty but not overly rich. PHH has coffee danishes or chocolate creme filled buns but I'd have to give the mocha bun a slight edge. The Japanese style pizza buns have hot dogs instead of sausage or pepperoni and were pretty tasty. I have not had the ones from PHH so cannot compare. Lastly the blueberry cream cheese pastry was pretty good, about the same as PHH.

Next up is Mont Blanc Bakery (next door to Bakery Crescent) which specializes in cakes. Their signature dessert is the Mont Blanc which is a cupcake with a special chestnut topping (below left). This stringy looking frosting is popular in Japan and I saw several uses of this style at bakeries in Tokyo last year. Unfortunately, I did not quite understand the draw of this stuff. It wasn't particularly tasty in Japan and this version at Mont Blanc Bakery wasn't very special either.

The next dessert I tried was a Kahlua cake (below middle). It looked good but I couldn't really taste Kahlua. It tasted like a pretty average tira misu. Also, it had too much cocoa on top: when I was about to eat some, I ended up inhaling the cocoa which resulted in a bout of coughing. The last dessert was a Blueberry Cassis (below right). I couldn't taste the Cassis and other than a very mild blueberry flavor, the rest of the cake wasn't anything special.

Unfortunately, I was not impressed by Mont Blanc Bakery and I probably won't return. I'd rather pick up an Earl Grey or Green Tea pound cake, a tiramisu, or a specialty cake from PHH where they seem much tastier to me.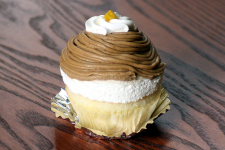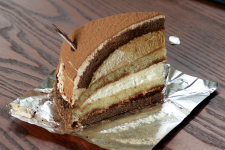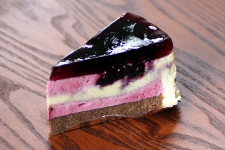 Posted 11/22/2008 01:17 AM in Chicago, Dessert, Food, Japan, Restaurants, Reviews
Link To This Blargh | View/Add Comments (2)
---

Better than a Pot Belly Sandwich?


Breakfast sandwiches are delicious by definition (at least the ones with bacon are). Pot Belly's toasted sandwiches with their lovely combination of lettuce, tomatoes, ultra thin pickles sliced lengthwise, mayo, brown mustard and hot giardiniera are also delicious. Put them together and you have the best of both worlds.

Maybe I should write to CERN and tell them that they didn't need to build the Large Hadron Collider. They just needed to have a Pot Belly breakfast sandwich to see what happens when two great things collide.

There's just one tiny little caveat which is that not all locations serve breakfast. Luckily, the one right across the street from my office does.
Posted 11/17/2008 08:14 PM in Chicago, Food, Geek Stuff, Restaurants, Reviews, Work
Link To This Blargh | View/Add Comments (3)


---

An exciting evening
It was nice getting back home tonight and I was happy to play with my new G1 Google phone. I've been playing with that for a bit now. It was a pain transferring a couple custom ring tones over and I actually had to go back to my old Motorola phone and MMS my ringtones to my Gmail account. Then I had to use my PC to detach the embedded MMS ringtones as actual files, then e-mail them as attachments so that I could use my Gphone to check my mail and download them.




More pictures at the bottom of this link.

The other exciting thing was exploring the Arboretum, the new outdoor mall at Higgins and 59. It's an interesting mall set up to feel like a small town with lots of small streets and parking in front of each store instead of in a single large surface lot. Also, some roads are one way and there are tons of stop signs. It looks nice, but I think that traffic could get quite congested as people would be tempted to drive from store to store, especially in the holidays.

In the mall is the new Pinstripes location. Also there is the newest LL Bean location, which means I now have easy access to Subaru gear like hats, which I keep losing. There's an interesting looking chocolate bar there and coming soon is a Ruth's Chris. There's also a new Italian casual dining restaurant called Asta la Pasta (a play on "Hasta la Vista?") I'll check that out some time.

However, what pumped me up the most was the discovery of a new Pot Belly's location. Jimmy John's has been opening up a lot of locations in the burbs near me, but I've been waiting for a while to have a convenient Pot Belly's.

This is all good news to me. In the last 2 years, the number of new commercial developments in my area has been very encouraging. They're all close, but not too close, which should be good for my property value which has actually managed to increase in value by almost 2% (as of September) in the last 3.5 years. Hopefully that'll help me to ride out the bottom of the housing market over the next couple years.
Posted 10/24/2008 00:00 AM in Chicago, Food, Geek Stuff, Ramblings, Restaurants, Shopping
Link To This Blargh | View/Add Comments (2)


---

Fermi verses the Jolly Green Giant
Since the Large Hadron Collider (the world's largest particle accelerator) opened just a few weeks ago and I mentioned it in a recent post I figured this would be a good time to recount an amusing story from Hewson's AP Physics (high school) trip to Fermi Lab, the home of what is now the second largest particle accelerator, located an hour away from Chicago in Batavia, IL.

This story is especially pertinent since the LHC had an electrical failure between magnets that caused it to be temporarily shut down. According to Hewson, this is a conversation that took place when they toured the particle accelerator:
Student: What would happen if one of those magnets failed?
Scientist: That would never happen because we have multiple fail safes and redundancies.
Student: I'm just wondering, what would happen if one of them DID fail?
Scientist: Don't worry, that will never happen.
Student: Well, let's just say, hypothetically speaking, what would happen if the Jolly Green Giant came and ripped out one of the magnets?
Scientist: Sir, there's no such thing as Jolly Green Giants.

Posted 09/28/2008 03:55 PM in Chicago, Food, Geek Stuff, Ramblings, Who knew?
Link To This Blargh | View/Add Comments (2)
---

Cabela's
After getting home from the airport I decided to pick up a compass so I could get my bearing when wandering through the streets of various non-English-speaking cities in the next couple weeks. I decided to finally visit the brand new Cabela's Store and Museum that opened earlier this year just a couple miles away.

I've heard many things about Cabela's. In short, it is a Mecca for sportsmen. And I don't mean athletes, I mean hard core outdoorsmen like hunters, campers, hikers and fishers. As I was looking around, I heard the perfect example of the type of place it is when a middle aged woman standing near me excitedly told her husband, "Look, honey, bows are on sale!"

The place is huge and quite impressive and I could totally get lost for hours in there. As a kid, my friends and I would get these cool catalogs of hunting gear and we would flip through them looking at all the cool knives and weapons, wishing we were 18 and could buy them. Well, Cabela's is that catalog, but in real life.

In the center of store is a large display, approximately 50 feet long and 25 feet wide, adorned with stuffed animals and signage describing the different species and characteristics. The middle of the display has a passage carved out and surrounded by aquariums as well so you can check out fish. They even have equipment I never knew existed, such as UnderArmor camouflage that actually blocks your body's scent so as not to scare wild animals away.

This store has everything a man could want. A gigantic fishing pole section? Check. Racks of composite bows? Check. A lot full of boats? Check. All sorts of crazy knives? Check. Multiple calibers of paintball guns? Check. BB guns? Check. Racks and racks of used and new rifles and shot guns? Check. A 100 foot long counter full of hand guns? Check.

It's a pretty sweet store (and I found a compass). When I get back from vacation, I'll take my camera in there and get some pics.
Posted 09/25/2008 10:39 PM in Chicago, Ramblings, Shopping
Link To This Blargh | View/Add Comments (11)


---

3G in Chicago on Thursday
T-Mobile will activate their 3G network in Chicago starting Thursday 9/25. Hopefully I will have pre-ordered my Android phone by then!
Posted 09/20/2008 09:26 PM in Chicago, Geek Stuff
Link To This Blargh | View/Add Comments (4)


---

Wrecked!
There's a new "reality" show on Speed TV called Wrecked! It follows the heavy duty O'hare Towing Company in Chicago which is often called for specialty towing jobs such as removing 18 wheelers that are too tall and get stuck under Lower Wacker Drive or a sump truck that has turned over in the Stevenson. Who knows, you may even see them clean up an accident that caused traffic that you were stuck in. Fascinating.
Posted 07/31/2008 07:07 PM in Cars, Chicago, TV
Link To This Blargh | View/Add Comments (2)


---

Uzbeki Food and Ice Cream in the NW Burbs


The northwest burbs are a haven for chain restaurants, but there are still plenty of local restaurants. Last week I decided to do a little exploration after some internet research. Some people bailed but I convinced Ashley to be adventurous.

Our first stop was Chaihanna for dinner. Chaihanna is an Uzbeki restaurant. Their food and decor reminded me of a cross between Russian and Middle Eastern cultures which makes sense since that region was once part of the USSR. Today Uzbekistan is located south of Kazakhstan and north of Turkmenistan and Afghanistan.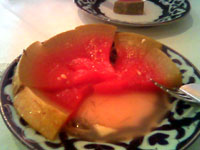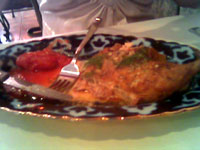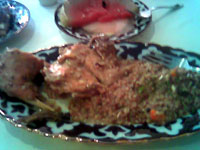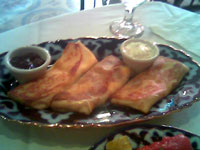 We ordered pickled watermelon, chicken tabaka, rabbit and cheese blintzes. The pickled watermelon tasted like a pretty strong pickle. If I didn't know it was watermelon, there's no way I would have known. The chicken tabaka was crusted with garlic and was very good. The rabbit with white "souse" (sauce) was good. It was very mild and tender. I don't think it tastes like chicken, but I definitely see how chicken is the closest thing you could compare it with. I believe it was served with kasha (buckwheat) but I did not really like it. It felt like tiny balls of half cooked potato. I would have preferred cous cous or rice.

Lastly, we had the blintzes and thought they were excellent with a very smooth cheese filling. They come with sour cream and strawberry jam on the side, but they were good enough to eat plain. I think those alone are worth returning for.


---

Afterwards, the hunt for dessert was on. First we tried out a couple Japanese bakeries. Both Mont Blanc Bakery and Bakery Crescent are in the same strip mall on Algonquin about 1/4 mile east of Mitsuwa. Mont Blanc specializes in cakes while Crescent has a larger variety of pastries and other bakery items. Unfortunately they both closed at 6pm so we were unable to try any.

Next we went to Coffee Haus a Korean cafe that serves bing soo (shaved ice) and also a Korean ice cream sunday with lots of toppings. We were surprised to see a large Korean family there with adult children and their parents. The sundaes looked pretty good, but we decided to search check out a genuine house-made ice cream company.

We ended up at Capanarri's Ice Cream and based on the line of customers we decided it was the right choice. All ice cream is made in small batches on site and they several classic and specialty flavors. Some of their special flavors at the time were Praline Pecan, Burgundy Cherry and Acai Berry Sorbet. If you can't decide, they offer an ice cream flight so you can try up to four mini scoops at a time.

I ordered the acai sorbet along with blueberry, praline and butter pecan ice cream. The acai sorbet was mild and tasty, but since I don't know what acai tastes like I can't give a good review. The blueberry ice cream was mild and creamy. The praline pecan was very tasty and had lots of pecans. After that the butter pecan didn't seem as good in comparison. Capanarri's has been mentioned in several ice cream books and proudly displays several celebrity photos with the owners. It may become our new northwest burb ice cream spot.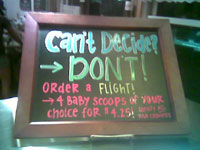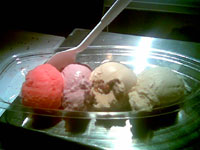 Posted 07/29/2008 09:54 PM in Chicago, Dessert, Food, Restaurants, Reviews
Link To This Blargh | View/Add Comments (8)
---
45 Pounds of Cheese for $65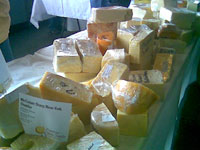 Example table at the ACS sale

Today was the American Cheese Society's sale that I mentioned a couple weeks ago. Dairies and farms submit cheese for judging which occurred yesterday. The results are available here (pdf). They become property of the ACS so on Sunday they must all be sold.

I actually ended up going twice. At 11:00 there were five folding tables piled a foot high with cheese. The tables started at 10:00 by category (one for prize winners, cheddars, colbies, jacks, etc.) but when I got there it was pretty much a free-for all. My second visit with Ashley at 12:30, saw just a single table remaining.

Some key information about what to expect:
Cheese may or may not be labeled. Prize winners usually had basic info but others were labeled with a level of detail ranging from "4 year cheddar" to "colby" to simply "?"
There is no cheese tasting at the sale. Everything is bought as-is.
The volunteers may or may not know anything about the cheese. Your sense of sight (labels, color, texture), smell (whatever appeals most to you) and touch (soft, hard, crumbly) as well as basic cheese knowledge are your best tools for identifying them.
Sometimes the best finds are the ones that aren't labeled and are overlooked by others.
The smallest block of cheese is 1 pound but this is rare. The average block will be 3-4 pounds with large blocks or wheels weighing 5-20 pounds.
Prices for small pieces start at $2 while large pieces or prize winners may be as much as $20.
If buying more than one block, you can negotiate. My first visit I picked up $50 of cheese but only paid $45.
Prize winners sell out in the first 30-60 minutes so get there early for the best cheeses, but prices will be higher (though still very reasonable).
Prices are cut as time passes so go later to get more deals, however your selection will dwindle. The last table of cheese in the last 15 minutes offered $20 for as much cheese as you want. People walked out with trash bags full of dozens of pounds of cheese.
These cheeses were submitted for a competition so all of them are high quality. Everything will be good, if not excellent, even the mystery pieces left at the end.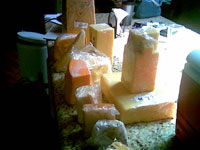 Most of the cheeses we bought.

Here are the cheeses I bought on my first visit (15 pounds, $45):
Prize Winning Colby (not sure which) - smooth and mild. 4 pounds.
Unknown 4 Year White Cheddar - Sharp, semi-intense, soft. 2 pounds.
Beecher Flagship - artisan cheddar style from Seattle. 2 pounds.
Unknown Asiago - Sharp, deep flavor. 2 pounds.
Unknown Very Old Cheddar - this great find was an unmarked hard cheddar must be at least 6 years old because it's almost as hard and dry as parmagiano with a highly developed, deep nutty flavor, 1 pounds.
3rd Place Smoked Cheddar, Beecher Smoked Flagship - This great find was a long piece proudly displaying a winning ribbon but somehow managed to be overlooked by everyone else. It is a smoked version of Beecher's Flagship cheddar style cheese. 4 pounds.

Here are the cheeses we bought on the second visit (30 pounds, $20):
Unknown Organic Colby - Mild and smooth. 2 pounds.
Unknown White Cheddar 1 - Shaped like the Sears Tower, semi-firm. 2 pounds.
Unknown White Cheddar 2 - Young, soft, smooth and mild, with a milk or mozarella flavor. 3 pounds
Unknown White Cheddar 3 - Young, soft, slightly sharp. 3 pounds.
Unknown Orange Cheddar - Young, soft and smooth. 3 pounds.
Unknown Garlic White Cheddar - Very mild cheddar with very nice garlic flavor. 2 pounds.
Unknown Pepper Jack - This great find was carved to look like the Hancock Tower. The pepper flavor and the spicy kick were awesome. It was by far the most amazing and tastiest pepper jack I've ever tasted and puts the cheap stuff in grocery cheese plates to shame. I don't think Pepper Jack is usually highly regarded and due to it's large size, this was overlooked until the very end. 15 pounds!
So what do you do with 45 pounds of cheese? You share it! Ashley probably took home 15 pounds, Natatia bought about 10 pounds and various church goers bought about 5 pounds, leaving me with 15 pounds for myself.
Posted 07/27/2008 07:15 PM in Chicago, Food, Shopping
Link To This Blargh | View/Add Comments (1)


---

Incredible Hulk of Ice Cream


Thursday I went to see the Incredible Hulk with Ashley and Jina, which was pretty good, though I felt it lacked some smooth transitions between events. I enjoyed seeing Lou Ferrigno, though I don't recall seeing Captain America who was supposed to be hidden somewhere. Afterwards we met up with Paul for cheap ribs at O'Donovan's and then decided to grab dessert.

First we went to Cafe Wicked b/c it had good reviews according to mobile Google. When we arrived, the place was almost deserted except for two customers. We decided to try another spot and Margie's Candy was recommended by one of Paul's co-workers.

Immediately we knew we made the right choice as the quaint and cozy little shop was full and had great looking desserts. Their World's Largest Terrapin (Turtle Sundae) has a whopping 25 scoops of ice cream for $45, which put's Ghirardelli's Earthquake Sundae to shame.

Each of us got a sundae or split. I chose an Engligh Toffee sundae with their extremely tasty and buttery house-made toffee. Every sundae is huge and comes with a sauce boat of house made fudge or caramel sauce. If that's not enough, you can make any sundae jumbo. It's open late (11:00 I believe) and is a great dessert spot, as witnessed by the fact that the line kept getting longer.

Here are a few pictures from my cell phone. I'm not sure what Paul is doing... Oh and Margie's only con is the single small and dingy bathroom.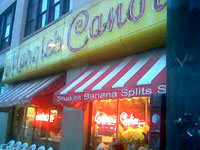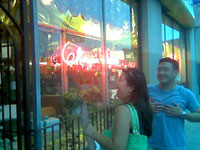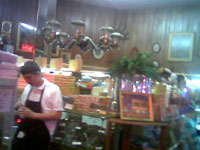 Posted 07/22/2008 05:41 PM in Chicago, Dessert, Food, Restaurants, Reviews
Link To This Blargh | View/Add Comments (0)
---

L2O Review
L2O. I was planning to take lots of pictures and notes of the dinner but with the dim lighting I couldn't get a decent picture. Flashes don't work so well with macro shots and I'm sure it would have been distracting to the other patrons. There are some related pictures at LTH Forums and on the L2O Flickr Pool. I should get a DSLR...

I went to L2O with my parents, Natatia and one of her friends. To start with, my mom and I ordered the L2O Gimlet which is Plymouth gin with Aperol, an Italian orange-rhubarb apertif, and a house made lime cordial. It was quite good, which it had better be for $17.

For dinner we ordered four 12-course meals at $165 per person and a 4-course meal for $110. In addition to these courses we had two amuse-bouches, two pre-desserts and two post-desserts (mignardise). At this point I can't remember all the details and the menu doesn't have everything described, but here's what I found or remember:
Amuse 1: Oyster and Caviar
Amuse 2: Shimaaji, Red Miso, Radish, Soy Salt
Raw 1: Geoduck, Citrus, Wasabi
Raw 1*: Fluke, Lemon Vinegar, Caviar, Basil Seeds
Raw 2: Kinmedai, Cherry Wood Scented, Shiso Bud
Raw 3: Tuna, Hamachi, Yuzu, Soy Sauce, Olive Oil
Raw 4: Hokkaido Scallop, Jalapeno, Parsley, Bergamot
Bread 1: Pain au Lait - tender milk bread
Bread 2: Pain au Campagne - Naturally leavened country bread
Bread 3: Mini Baguette
Bread 4: Bacon Epi
Bread 5: Anchovie Brioche
Warm 1: Morel, Asparagus, Parmesan Parsley
Warm 1*: Lobster Bisque, Chestnut, Lobster Dumpling
Warm 2: Halibut, tomato water gelee, tomato heart, golden spinach, Chablis-tomato bouillon, potato emulsion
Warm 3: King Salmon, Corn, Cilantro, Chorizo Boullion
Main 1: Sturgeon
Main 2: Black Bass, Shellfish Boullion, Saffron, Rhode Island Mussels
Main 3: Crispy Skin Pork Belly, Truffle, Potato
Main 4: Shabu Shabu Medai, Kombu Boullion, Citrus, Porcini, Noodles
Pre-Dessert 1: Melon Ice
Pre-Dessert 2: Passion Fruit Marshmallow
Dessert 1: Mango Sorbet, Exotic Fruit consomme, lemongrass meringue, pineapple & mango brunoise, papaya seeds
Dessert 1*: Chocolate Raspberry - Ganache, Cherry Sorbet, Cotton Candy
Dessert 2: Praline Soufflé
Dessert 2*: Grand Marnier Soufflé
Mignardise 1: Canelé - custard bread
Mignardise 2: Pistachio Macaroon
* indicates this was served with the 4-course meal.

Overall, I enjoyed the dinner quite a bit, though I do understand why some people get a bit tired of all that seafood. I was glad they broke that up a bit with the pork belly. After dinner, I ordered a Grand Marnier cent-cinquantennaire, unfortunately, they only had the centennaire edition ($37). It wasn't quite as wonderful as the cent-cinquantennaire, but it was still beautifully smooth and wonderfully tasty.

My dad thought it was the best dinner he's ever had. My mom took home some of her black bass and even the doggie bag was beautiful. Total cost of the dinner, drinks and a bottle of wine was $1222.46 after which they provided us with a tour of the kitchen. I will note that the kitchen seemed much busier than Trotter's for some reason. I also wonder about the large private room they have in the kitchen which can seat a good 20 people. I'd like to work for a company that would hold meetings there!

From a food view point, if you love seafood, then I'd definitely recommend L2O as a fine dining destination. If you want more variation and want to try intriguing and new items, then I recommend Charlie Trotters. If you want an excellent classic french meal then go for Everest. If you want modern ecclectic, then go for Tru.

From an ambiance view point, Tru is stiffer and more sterile with it's amazingly choreographed service. Everest is intimate and comfortable. L2O is right in the middle: there is more space and less stiffness than Tru but it does feel more structured and modern than Everest. I can't do a comparable rating of Trotter's b/c we ate at the kitchen table which is very different from the restaurant.
Posted 07/21/2008 09:34 PM in Chicago, Food, News, Restaurants, Reviews
Link To This Blargh | View/Add Comments (4)


---

Hot Doug's Review


I forgot to mention that I visited Hot Doug's Sausage Superstore and Encased Meat Emporium on Friday. With a name like that I thought it was a restaurant and a store, but it turned out just to be a restaurant. They have a wide variety of sausages that vary every day.

Natatia and I arrived around 1:30 and it took almost 45 minutes to get through the line, though we're not sure why since placing the order and receiving it was pretty quick. Natatia had the Ostrich Sausages with Strawberry Dijonnaise and Queijo Sao Jorge and I had the Mushroom and Swiss Pork Sausage with Blue Cheese Dijonnaise and Shitake Mushrooms. Both were quite excellent.

We also shared a corndog, which was good, but pretty standard. For sides, we tried both their duck fat fries and cheese fries. I thought the duck fries were good, but since it didn't really taste like duck, I preferred my classic cheese fries. Just note that the small size is pretty darn big.
Posted 06/17/2008 01:32 AM in Chicago, Food, Restaurants, Reviews
Link To This Blargh | View/Add Comments (1)


---

Sweets & Savories


Well this was a busy weekend. It all started Friday night when I worked until 11pm. Saturday morning I worked a couple more hours then went to Home Depot to get some paint for my counter and take care of several errands and then managed to make a very small amount of progress on the installation (I drove 10 screws). After that was Weber Grill for dinner followed by a night of Wii Tennis and Karaoke Revolution.

Sunday morning I went to church then went to lunch at Sweets and Savories for lunch with Poyao. The food there was pretty good. For $19 per person for brunch you get a selection of pastries, a beverage (screwdriver, mimosa, wine) a starter (soup, salad, fruit) and a brunch entree (eggs benedict, duck confit hash, bacon risotto and some others). In addition to Sunday brunch, they offer a la carte dinner dining. Dan points out that they have a coupon available on-line for dinner.

Unfortunately, their service was lacking: I felt like we spent a lot of time waiting. The restaurant was only 2/3 full (the restaurant seats about 30 people) but the two members of the wait staff struggled to keep up and I wonder if maybe they were missing someone.

There were three people in our party but the waiter only brought two of us water. He said he would bring a third but never did. He also put in the wrong order for me so when the waitress brought our entrees out, I had to send mine back. Poyao and Stef didn't want to start before me and then we realized that we never received our pastries. Once those finally arrived they got started and my seared salmon benedict came out a few minutes later.

So the food was good but the service kind of put a damper on things. I think the food may warrant a return, but the service prevents me from giving it a better rating. If you want to go, I'd take advantage of the coupon and plan on having a slow paced meal.

After that I drove downtown to check out the PAWS dogs and cats on Oak and Michigan (it took 45 minutes to find parking though). The dogs were SO CUTE, especially an adorable 8 week old black retriever mix that I got to hold while (now that I think about it) several attractive females told me I should adopt him. There were lots of other dogs, from little Pugs to big St. Bernards and Bull Mastiffs.

I got home and managed to fit in a nap, then did a ton of dishes, a batch of laundry and made a bunch of mini earl grey pound cakes. Around 11PM I found out that I had work to do so I worked for 90 minutes on that, then spent an hour balancing my checkbook and paying bills. Around 3AM I had to go out to the ATM, drop off a water bill and send some mail. After getting back I had to take a shower then pack. In 10 minutes my taxi comes to whisk me off to O'hare and Hartford again. Hopefully I can get a couple hours of sleep on the plane.
Posted 06/02/2008 04:34 AM in Chicago, Food, Restaurants, Reviews
Link To This Blargh | View/Add Comments (2)


---