Bethel Japan Missions Trip 2011 Newsletter 1
Welcome to the newsletter for the Bethel 2011 Missions Trip to Japan! This list will be used to share updates and prayer requests regarding the trip.

In this issue:
Meet the "Hot Dog and Poi Team"
Trip Updates
Prayer Requests
How to Contact Us
Meet the "Hot Dog and Poi Team"
Our journey to Japan is coming up fast! Different team members across the world will be leaving for Japan on Tuesday, Wednesday, Friday and Saturday so we are scrambling to tie up loose ends and complete last minute preparations.

The Bethel Team is composed of four people from Chicago and St. Louis, however, we are part of a larger team that will be working together in Japan.

The Bethel "Chicago Hot Dog" Team
- Matt Baumgartner, 30, attends the Japanese International Harvest Church in St. Louis where he is part of the music ministry. He lived in rural Japan for four years and will be the first team member to leave on Wednesday.

- Phil Tsai, 34, attends Bethel Christian Church in Chicago. He has been to Japan 7 times doing missions work including teaching English, running a multimedia team and doing disaster relief after the 3.11 earthquake and tsunami. He will be leaving on Saturday.

- Yoji Takahashi, 31, attends the Japanese International Harvest Church in St. Louis. He grew up attending a Japanese school in Costa Rica and is fluent in Japanese, Spanish and English. He is currently in serminary and will be our back-up translator. He will also be leaving on Saturday.

- Agnes Calabrese, 24, attends Bethel Christian Church in Chicago. She has been on short term missions trips in high school and felt called to serve in Japan after the 3.11 earthquake and tsunami. She will be leaving on Sunday.

The Larger Team
John Mehn, Director of Japan Disaster Response for Converge Worldwide, is originally from Rockford, IL. He has been a missionary in Japan for 25 years with his wife Elaine. He will serve as our overall team leader and coordinator in Japan. He was on vacation in July and returned to Japan on Tuesday.

John Alejado, Dexter Yamamoto and Richard Simafranca attend the Calvary Church of the Pacific in Hawaii. Nicknamed "The Poi Boys" by John, they will be leaving on Friday.

Mas Kobayashi is a native Japanese speaker and now serves as a pastor in Canada. He has been in Japan a month serving and preaching in the Kansai area (Osaka, Kyoto, Kobe) and will meet us in Tokyo on Sunday. He will be our team's primary translator.

Ken and Gerry Milhouse are a missionary couple serving in Japan. They have been on multiple disaster response trips and will be joining us for the first week.

All together, that brings our team to 11 volunteers! Praise God!


Trip Updates
A big thanks to all of you who are supporting us with prayer and finances! We couldn't have done this without you! On the finance side, we are currently 87% funded which allows our team to get to Japan but means we are floating $1,043 on various people's credit cards. If anyone has been planning to give but hasn't yet, it's not too late!

In terms of our itinerary and work, John has been busy coordinating all of our travel schedules to make the most of our time. We have been confirmed to be working with Samaritan's Purse at their Tome base, just north of Sendai in the Tohoku region's Miyagi prefecture. The base provides cots, electricity, running water and hot meals for 30-50 volunteers each week. We will be leaving for the base early Monday morning which will be tiring for half the team that is arriving Sunday night (those flying on Saturday lose a day due to the international date line).

We will be working in a town that previous teams have been working in. Our primary work will be "mudding out" homes. When the tsunami receded back into the ocean, it left debris and mud in the foundations of all the buildings. The work sites are littered with glass and nails and the mud can contain debris, crude oil, bacteria, mold and fungi. We will be wearing water proof boots with puncture resistant soles as well as water proof gear, gloves and breathing masks to protect ourselves. In order to do this, homes will need all of their floor boards pulled up and in some cases, walls opened as well. The mud will have to be shoveled out and the floor boards salvaged, cleaned and disinfected. The average house requires 12 people to complete in 10 days. We may also be asked to clean yards, parks, farms, sidewalks, gutters and more.

In addition to this work, we will have some outreach events including a community barbecue and possibly a concert to build relationships and open doors, not only for more work but also for God's word. We may also visit local community shelters and churches to serve and pray as well.


Prayer Requests
Pray for final preparations (paperwork, packing, spiritual and mental preparation) as we prepare to leave for Japan
Pray for safe travels and the smooth coordination and meeting of everyone in Tokyo since we have team members traveling from many places on different days.
Pray for good rest for the team as this will be a busy and physically demanding trip. Some team members will be traveling for 2 or 3 days in a row and some will be struggling with jet lag.
Pray for health as some work conditions may be hazardous, especially in Japan's hot, humid summer weather.
Pray for team relationships as we have a lot of people from different places with different backgrounds and expectations
Pray for the Japanese that we will be in contact with. Pray that we would be a blessing to them and that their hearts would be open to us and to the seeds of God's love that we will be planting
Pray for the churches in Japan, that they would not be overwhelmed by the needs of today and can continue to minister and serve after the volunteers are gone
Pray for God to provide whatever last minute support we need as we are still a little short on fund raising.
How to Contact Us
John maintains two different sites for Japan team updates if you would like to read those:
Pray4Japan Group
GospelRest

If you would like to e-mail us, please send messages to: japan@bethelcc.net
Note that we are not certain if internet/coverage will be readily available or not.

Posted 08/02/2011 11:05 PM in Christianity, Japan | Total Comments: (1)
Link To This Blargh | Add Comments




Comments


reply
Every university student wants to get guarantees that the customized essays they buy at the buy custom essays service are of good quality. Thus, that's very important suff.
Submitted by Chris29Frederick on 04/03/2012 10:26 PM


Bethel Japan Missions Trip 2011 Newsletter 2

8/10/2011 - Newsletter 2
In this issue:
Arriving in Tokyo and Tome
The Samaritan's Purse Base
The First Two Days of Work
Prayer Requests
Arriving in Tokyo and Tome
The entire team arrived safely in Tokyo. Some early travelers stayed at John's home in Machida (southwest Tokyo suburb) but then all team members met at a Converge Worldwide volunteer house in Higashi Tokorozawa (northwest Tokyo suburb) on Sunday night (where there was one shower for 9 people). We gathered all of our supplies and re-packed to minimize our luggage. Monday morning we ate breakfast together at 6:30am, had orientation at 7:30 when we met our last two team members, then gathered all of our supplies and packed it into a wagon and a van.

At 10:00 we left the Tokorozawa house and headed north to the Samaritan's purse Tome base (about 45 minutes north of Sendai). The trip took 8.5 hours including two rest stops, lunch and some significant construction traffic but we arrived just in time for dinner and orientation.
The Samaritan's Purse Base
The SP Base is an old sewing factory (you can still see the ceiling mounted electric outlets and compressed air lines) that has been rented out for two years and converted into a volunteer center. The one floor building is split into 4 areas: Office, Kitchen, Men's Quarters and Women's Quarters. The men's quarters contains 36 cots for volunteers while the women's contains 16, supporting a total of 60 volunteers (ear plugs are highly recommended). Last week the tiny kitchen prepared nearly 1500 meals for volunteers (including some meals for other external groups)!

Outside the main building are a large storage shed, 4 portable bathrooms, 8 portable showers and one sink. When running at full capacity, lines can be long during the morning and immediately after work, however we are fortunate that only a couple other teams are present this week so the base is only half full. Two more sinks will be installed and eventually these facilities will be enclosed. Three military tents will also be set up to house long term volunteers.

The base is run by a dedicated staff of volunteers that handle everything from registration, orientation, work assignments, translation, worship, cooking and cleaning.

A typical day at the base:
6:00 - Cold Breakfast (bread, cereal, yogurt)
6:30 - Hot Breakfast (eggs, meat)
7:00 - Daily Devotion
7:30 - Head to work site
12:00 - Lunch
4:00 - Return to Base
5:00 - Shower and rest
6:30 - Dinner
7:00 - Sharing
8:00 - Hymns (led by an accordian)
9:30 - Lights Out
The First Two Days of Work
Converge Worldwide has been focusing its work in a neighborhood in Shintate (we are the fourth CW team to come to Japan). By focusing on one neighborhood, returning volunteers have been able to build relationships in the community and provide continuity and reassurance to the people they have met.

Tuesday morning we immediately began working on several projects in Shintate. First and foremost was cleaning up and weeding an empty lot that had been lent to volunteers by the owner. On the lot is a storage shed for CW supplies that had to be completed as well. Meanwhile three others moved belongings and supplies out of a building so it could be worked on. In addition to these tasks, any interaction with neighbors was considered ministry, whether it be talking, listening, playing with children and even supporting local businesses by getting hair cuts.



After lunch teams were switched with three working on tearing out a water logged closet in a sound proofed house (due to it's proximity to the Japan Self Defense Force flight path). Four more closets will be completed throughout the week. The rest of the team worked on stripping the cleaned out building to the frame. This required removal of corrugated steel siding on the outside and drywall on the inside. This building also caused our first (minor) injuries of the trip, two cut arms and a minor head injury.

Wednesday our focus was on a community barbecue and concert. We arrived early in the morning and worked on setting up tents, a small stage, tables and a kitchen area in preparation for 60 guests from the community. Music was provided by two Japanese Christian musicians from Sendai that lived through the disaster. In addition, a Japanese chef who works at the Swedish and Norwegian embassies brought and cooked meat and yaki-soba (stir fried noodles) to supplement our terriyaki chicken and hot dogs. Following the concert we had shaved ice and cookies for dessert.

The day was extremely hot with temperatures in the mid 90's, 95% humidity and an intense sun, with little opportunity to work indoors. Some team members were quite fatigued and heat exhaustion was a concern for those working around the four grills, however regular sprays from the hose and an ample supply of water, tea and sports drinks kept the group in good spirits.
Prayer Requests
Thank you all for all of your prayers. They have been encouraging and powerful as God has provided for us in every way. Here are some new prayer requests.
Pray that those who we helped and attended the concert would be touched and would want to know more about God
We have heard stories of people who have lost loved ones and wish they had died as well. Please pray that we can give them hope that God has a plan.
We have already made new contacts and been asked to help with more relief work around the neighborhood. Pray that we would continue to be diligent, Godly workers
Weather will remain hot and humid this week. Please pray for health and endurance in these conditions
The Samaritan's Purse base will be filling up at the end of the week. Pray that all would be gracious and we are not constrained too much by time.

Posted 08/10/2011 07:54 AM in Christianity, Japan | Total Comments: (1)
Link To This Blargh | Add Comments




Comments


Working on the frontlines!
...I'll be prayin' for you. Stay cool!
Submitted by Dan on 08/13/2011 07:38 PM


Bethel Japan Missions Trip 2011 Newsletter 3

8/14/2011
It's hard to believe that our time in Japan is almost over. We have just one more day of work before heading back to Tokyo for debriefing and rest! Thanks for all of your support and prayers for making all of this possible!

In this issue:
Work Progress
Team Changes
Devotions and Sharing
Prayer Requests
---
Work Progress
For the remainder of the first week, we focused on the home that needed walls to be stripped and the store house that needed to be stripped to the frame.

Significant progress has been made on the store house. The steel siding was completely removed, as was all dry wall. Due to the corrugated steel siding, the store house was the primary source of minor injuries. Several team members received multiple small scratches and cuts, however last Thursday Dexter received a severe cut on his finger despite his leather work gloves. He was taken to the Red Cross hospital where he received six stitches. His wound is healing well.

The home being stripped has seen significant progress as well. All five closets were stripped and the owners were so pleased with our work (we didn't damage or ruin any expensive wood pieces) that they requested that we perform additional work. Unfortunately, Phil stepped on a rotten floor board on Friday which gave way and dropped him half a meter to the ground, resulting in a sprained ankle. His ankle is healing well and he should be fully mobile in a couple days though he will not be able to do any more heavy lifting or strenuous activities.

We finished Friday by driving to the coastline of our city, Ishinomaki, to view the destruction there and pray for the city. After five months, much of the coast line is still devastated and several intersections, including major roads, remain without traffic signals or electricity.

Over the weekend we continued various projects in the neighborhood but also prepared to visit some temporary housing facilities (trailer homes) by purchasing over $1000 of food, including non-perishables, fresh produce and frozen meat for forty families. On Sunday we visited a small home church for worship service where our translator, Pastor Mas, gave the message.

After church we distributed clothing and basic supplies at a small temporary housing facility. We then visited another housing facility and distributed food to the families there. This was a tough time emotionally as we got to meet and talk with families that had lost their homes. Some tears were shed and we received many thanks for our help. In this city alone (Minami-Sanriku) there are 58 housing facilities with over 2000 units housing approximately 6000 displaced Japanese.

In the second week we focused on finishing as many projects as possible. We finished "mudding out" the newly exposed sections in the home being stripped. We also power washed and disinfected the store house in time for Japanese carpenters to begin rebuilding it. Other tasks included removing several dead trees and stumps from a garden, putting up a fence to protect a field, weeding the area around a house, cleaning a graveyard, removing debris from a farm field, moving accumulated trash to the road for pick-up and power washing the street.

Lastly we canvased the neighborhood and invited the community to our final event, a Hawaiian Hula show and Kaki-gori (shaved ice) party. This gave us an opportunity for the whole team to spend time in the community developing relationships, listening to stories and offering additional help. This was another difficult time emotionally as we heard many stories and saw many tears.

---
Team Changes
On Friday, the team said goodbye to Ken and Gerry Millhous. This couple served in Japan for 40 years and retired 6 years ago. After the disaster they felt called to return to Japan and spent two more months serving. This was their last week in Japan and their kindness faithful service will be missed. They also took their car back to Tokyo leaving the remaining 9 team members and all of our gear to fit into a single van for the weekend.

Sunday night, the team welcomed two new Japanese members: Suzuki Hirohumi and Araki Hiroto. These fresh volunteers joined our team for the second week of work. They will be a great asset as they are native Japanese speakers and will make it easier to build relationships at our Hula and kaki-gori party. They also brought a car so we will be able to return to Tokyo with all of our equipment in two cars (like we arrived in).


---
Devotions and Sharing
Our team has been trying to be good stewards to the base, which means volunteering to wash dishes, participating in evening sharing time and singing hymns. It also means preparing and leading morning devotions which are translated between English and Japanese. John, Ken, Mas, Phil and Yoji have all led devotion time. Attached below is Phil's devotion, which includes verses that some of you may recognize from his support letter.
In the midst of all the destruction that surrounds us in Japan, some of you may be asking, "Why did God let this happen?" Maybe some of you have even struggled with your faith because of this disaster.

I hope to encourage you with some favorite verses from Habakkuk. If you don't know who Habakkuk was, he was the 8th out of 12 Minor Prophets in the Old Testament. His book can be found about 9-10 pages before the New Testament, between Nahum and Zephaniah.

Chapter 1, verse 5 is one of my favorites and became my theme verse for my first short term missions trip to Japan in 2001.

"Look at the nations and watch - and be utterly amazed. For I am going to do something in your days that you would not believe, even if you were told." - Habakkuk 1:5

We all know that God has a plan. But God's plan is so amazing that even if He told us what it was, we would still not believe it.

Now, just so you know the context, Habakkuk was a prophet that was frustrated by the sinful decline of the nation of Judah. He cried out to God and asked Him to do something about it. What do you think God did?

God told Habakkuk he would raise up the Babylonians to destroy Judah. That's probably not what Habakkuk expected.

So Habakkuk asked why God would let such a thing happen? God's response can be found in Habakkuk 2:4 "See, he (the enemy) is puffed up; his desires are not upright - but the righteous will live by his faith."

In the rest of the chapter, God assures Habakkuk that despite the coming destruction, all will be made right at the appointed time. All Habakkuk needed to do is wait for it and live faithfully.

I'm guessing here, but this is such a powerful verse, that I think it was one of the Apostle Paul's favorite verses. Paul actually referenced it three times in his writing.

Romans 1:17 - For in the gospel a righteousness from God is revealed, a righteousness that is by faith from first to last, just as it is written: "The righteous will live by faith."

Galatians 3:11 - Clearly no one is justified before God by the law, because, "The righteous will live by faith."

Hebrews 10:37-38 - For in just a very little while, "He who is coming will come and will not delay, but my righteous one will live by faith..."

As we look around at all the destruction around us, we may not be able to fathom or comprehend why it happened or what the future will bring. But that's ok, because God has an amazing plan that we would not believe anyway.

Like Habakkuk, all we need to do is live faithfully: to faithfully serve the Japanese in the name of the Lord.

Now that I have shared one of my favorite verses and what I like to think is one of Paul's favorite verses, let me leave you with some of my sister's favorite verses, found at the end of Habakkuk.

"Though the fig tree does not bud and there are no grapes on the vines, though the olive crop fails and the fields produce no food, though there are no sheep in the pen and no cattle in the stalls, yet I will rejoice in the LORD, I will be joyful in God my Savior." - Habakkuk 3:17-18

I hope that despite all of the destruction around us and our inability to comprehend God's plan, you will continue to serve Him faithfully and rejoice and be joyful in the Lord.
---
Prayer Requests
Continue to pray for health and safety in our work environments
Pray for continued healing without complications for those who sustained injuries
Pray that we would build more bonds in the community at our final party day
Pray for the relationships we have made and built with the Japanese and the seeds we have planted in their hearts
Pray for safe travels back to Tokyo and back home
Pray for physical and emotional health of the team as we are fatigued after 9 straight days of hard labor
Posted 08/16/2011 07:48 AM in Christianity, Japan | Total Comments: (0)
Link To This Blargh | Add Comments
Comments
No comments for this blargh.
Bethel Japan Missions Trip 2011 Newsletter 4
8/22/2011
In this issue:
Final Days in Japan
God's Work in Japan
Prayer Requests
---
Final Days in Japan
Wednesday was our final work day in the Shintate neighborhood of Ishinomaki. God blessed us with some cloud cover, which kept the day from getting too hot. We spent the day finishing projects such as cleaning up debris and power washing the streets near our work site.

One task that we had worked on throughout the two weeks was cleaning debris out of a farm field. The tsunami had destroyed a neighboring factory that produced small parts for cell phones and cars. All of these small pieces had been washed into this field. The owner despaired that the field could never be used again but several Samaritan's Purse teams worked on the field, including ours. One row at a time, each team meticulously combed through the soil and removed rocks, plastic buttons, tiny plastic parts, broken glass, blobs of oil from the harbor, trash and debris. The owner was amazed at the progress and is now able to till the soil and will soon be able to use the field to plant crops again.

The highlight of Wednesday was the hula and kakigori (shaved ice) party. Rick and (Little) John built a simple stage out of plywood and carpet and turned the shed into a dressing room. Two hula dancers from another missions group arrived to dance and teach hula to the crowd (we later learned that one of the hula dancers had accepted Christ that very morning!). About 50 people from the neighborhood attended, including several children. Our team then served kakigori and held umbrellas to shade the line from the sun. The laughter of children filled the lot as they played with leftover ice and downed their delicious treats.

After the party, we cleaned up and prepared to say goodbye. It was a sad moment as we filled out cards with our thoughts and presented them individually to each of the families we had served. Even though we had been the ones working, we thanked them for the honor and opportunity to serve and get to know each of them. One gentleman, an expert Japanese calligraphy artist, presented us with beautiful paper cards on which he had written, "Arigatou" which means "Thank You." Some also stayed and joined our prayer circle as we prayed for the neighborhood and Japan.

Finally, we packed up the van and drove away, waving through misty eyes to those who remained. We drove through Ishinomaki one more time to reflect and pray for the work that still remains and headed back to the Samaritan's Purse Base where some team members shared their thoughts and participated in our final night of worship with the rest of the base.
---
Thursday morning we packed up all of our things and loaded them into the van. With the Millhous's gone, our second car was smaller so the van was packed to the brim with all of our belongings. We said goodbye to the Samaritan's Purse base staff that had cared for us the last two weeks and various other friends we had made at the base. Then crammed into our vehicles and hit the road.

On the way, we stopped at the Red Cross Hospital so Dexter could have his stitches removed. 8 hours later, we arrived in Tokorozawa where we picked up Elaine, John's wife, and somehow fit her into the van.

We arrived at the missionary house in Tokorozawa at sunset. We unpacked then said goodbye to Araki-san and Suzuki-San as they continued to their own home. They thanked us for a wonderful experience and Araki-san presented us with a drawing he had made of the entire team.

Afterwards, the remaining team members went out to do laundry and stopped for dinner at Denny's (note that the food at Denny's in Japan is totally different from America) and had some dessert for a job well done.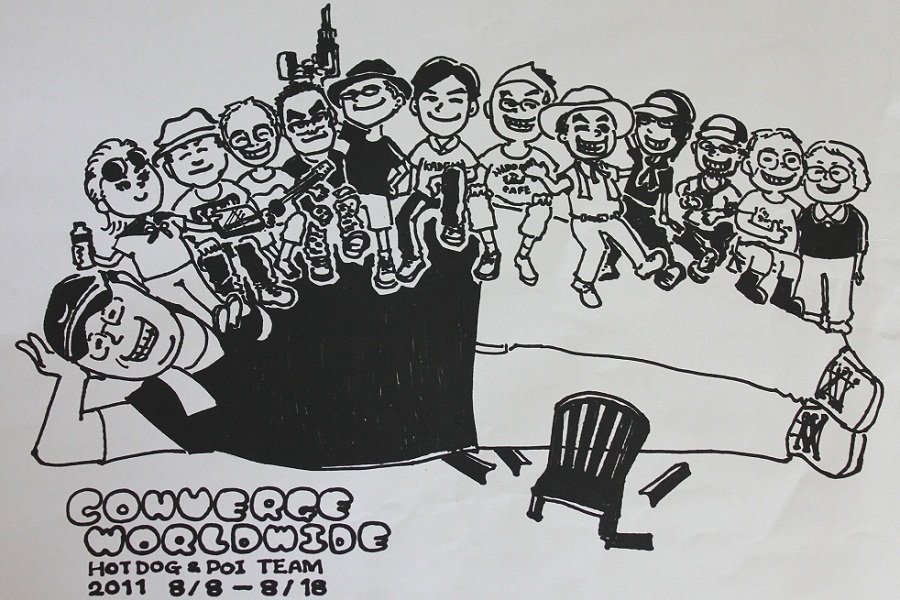 Agnes, Dexter, Rick, Little John, Matt, Yoji, Phil, Mas, Suzuki-san, Araki-san, Ken and Gerry perch atop our fearless leader, Big John.
---
Friday, God granted us with heavy rain to cool things down as we spent the morning relaxing. We had lunch at McDonald's to try the Terriyaki Burger where we met a councilman of Tokorozawa. The afternoon was spent shopping and after our final team dinner at the house, we took some final pictures and said goodbye to Yoji, the first team member to leave.

Saturday, we spent the morning reflecting and sharing our thoughts about the trip. Then Mas, Matt, Agnes and Phil packed their things and went to the train station. There, Agnes and Phil boarded a bus to the airport while Mas and Matt boarded a train to Tokyo where they would split and head to their next destinations.

Sunday, the Poi Boys attended the Kokobunji Baptist Church before heading to the airport as well.
---
God's Work in Japan
Our trip may be complete, but God's work is just beginning. God has used this time not only to impact the people we met in Japan but to impact us as well. In our sharing time on Saturday, we had the opportunity to share the ways God has been working.

(Big) John remarked that no human would have picked the people in our team, yet God chose each person to be a critical part of this team, a perfect set of skills and personalities to do His work. Stories were told of how God moved each person to be a part of this team through small miracles such as a passport being renewed in less than two weeks and an obscure connection that brought new members to the team. There were stories of doubt and fear that were given to God and steps of faith taken that brought us together. As a result of the trip, members shared how God healed past struggles, renewed passions for Japan and gave new callings to continue serving Him.

God has big things planned for Japan and the team can feel it. At no other time in history have there been so many Christians in Japan and so many churches active and working together. Even though this team's work in Japan is over, please continue to pray for God's will in Japan and for more workers to be called as there is still much work to do.

We leave you with this passage from Matthew that depicts how we felt driving through the destroyed towns and villages of Japan.
Jesus went through all the towns and villages, teaching in their synagogues, proclaiming the good news of the kingdom and healing every disease and sickness. When he saw the crowds, he had compassion on them, because they were harassed and helpless, like sheep without a shepherd. Then he said to his disciples, "The harvest is plentiful but the workers are few. Ask the Lord of the harvest, therefore, to send out workers into his harvest field." - Matthew 9:35-38
---
Prayer Requests
Pray for the families we met, the lives we've touched and the seeds we've planted, that they may bear fruit.
Pray for the future of Japan, that God's will would unfold and that a new age of faith would dawn on the Land of the Rising Sun
Pray that more workers would rise up and follow God's call to serve in Japan
Pray for physical, emotional and spiritual recovery of the team after 2 weeks of hard work, long travels and spiritual challenges.
Pray for the team members, that our hearts for Japan would grow and that we may faithfully return or send others, according to God's will.

Posted 08/22/2011 10:36 PM in Christianity, Japan | Total Comments: (20)
Link To This Blargh | Add Comments




Comments


Many thanks for all your hard work!
Yes, Math 9:35-38 tell us we need to find more workers, that include my/ourselves. The Tsunami disaster is a good example that God provides the opportunities for us, the Christians, to reach out and care for the people who have never heard about Him and His love. This is what Jesus said a time to glorify the name of God. I/We, who didn't go to Japan to serve, really admire you, the Hotdog and Poi team, to spend your working time, financial resources, and physical hard work and discipline to serve the Lord in a tough way; and share your spiritual inspiration to the people in Japan and us here. Hope you all have safe trip home, recover well, complete healing for those who were injured during the physical exertion in Japan. And I pray for God's bountiful blessings to all of you in your daily life, work, fellowship with people and families, ... Grace and Peace, Amen.
Submitted by Beverly Tsai on 08/23/2011 10:01 PM


Praise God!
It's been a blessing to see how God's been using you and your team over in Japan this year. Looking forward to your final presentation at church!
Submitted by Dan on 08/27/2011 03:28 PM


qeibghzPWGeDKcmJQBi
comment2,
Submitted by MNaqfxsasQjyOshJ on 10/04/2016 10:22 AM


mChtmcnHrEb
comment4,
Submitted by QAlbgrKexiXjAJjJwQ on 10/04/2016 01:57 PM


AaGruVAujIRFSlqX
comment3,
Submitted by QAlbgrKexiXjAJjJwQ on 10/04/2016 01:57 PM


RPTTOCcLqvHaK
comment4,
Submitted by hSdESxSWMO on 10/04/2016 04:48 PM


oGTRVAXxhAFmVgDU
comment1,
Submitted by HaptiNyI on 10/04/2016 07:44 PM


RolmkzMpxxAmRP
comment3,
Submitted by xBghwFtXLyzBrbDpJ on 10/04/2016 10:40 PM


gJsiBMmSOrnJbCw
comment3,
Submitted by wvvCnZIYOPnXXZ on 10/05/2016 01:11 AM


yDuQfEYaeEDy
comment6,
Submitted by EyghCgySGsOzklOY on 10/05/2016 03:12 AM


Test, just a test
Hello. And Bye.
Submitted by XRumerTest on 03/18/2017 06:49 PM


Test, just a test
Hello. And Bye.
Submitted by XRumerTest on 04/03/2017 01:49 AM


Test, just a test
Hello. And Bye.
Submitted by XRumerTest on 04/14/2017 05:28 PM


Test, just a test
Hello. And Bye.
Submitted by XRumerTest on 05/05/2017 09:53 AM


Test, just a test
Hello. And Bye.
Submitted by XRumerTest on 05/09/2017 01:18 AM


Test, just a test
Hello. And Bye.
Submitted by XRumerTest on 05/09/2017 10:22 PM


Test, just a test
Hello. And Bye.
Submitted by XRumerTest on 05/11/2017 04:48 AM


Test, just a test
Hello. And Bye.
Submitted by XRumerTest on 05/22/2017 08:59 AM


Test, just a test
Hello. And Bye.
Submitted by XRumerTest on 05/29/2017 11:22 AM


Test, just a test
Hello. And Bye.
Submitted by XRumerTest on 07/07/2017 02:44 AM