Kauai, Hawaii - May 8, 2008
Other Kauai Pictures: 05/08/2008 | 05/09/2008 | 05/10/2008 | 05/11/2008
---
Getting to Kauai was a bit annoying. When I was waiting at LAX, AA informed us that they were switching planes. They switched to a 767 which had no adjustable air vents and no power outlets so I ran out of power on both my PSP and my laptop. On top of that, I lost my exit row seat and was assigned seat 37J, a window seat in the second to last row.

Soon after arriving in Lihue, Kauai I met up with Mike and company and we went to Scotty's Beachside BBQ. Alas, we arrived at 8:45 and they were getting ready to close. They offered to serve us anyway but we thought it best to find an alternate option.

Hertz recommended Kintaro's Restaurant. Service was ok but we did wait a few minutes for the hostess and a few dishes even though they were not busy. Nothing particularly appealed to me on the menu except the hamachi kama which was pretty good (it's hard to mess up sticking it in the broiler). It came with their own ponzu sauce which was good but didn't have the typical ponzu flavor (from yuzu, lemon and other citrus fruits) that I expected.

I only had a couple pieces of sushi but was not impressed with the fish which was average from a mainland perspective and a bit disappointing for Hawaii. Their dashi (the most critical bonito/seaweed broth used as a base for many Japanese dishes) for the noodle soup was mediocre. Overall, Kintaro's was an okay choice, but nothing special. If you're in a pinch, it would be fine but with other busy restaurants in Kapa'a, I don't know why you'd be in a pinch.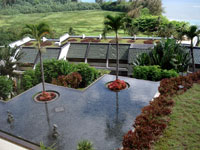 The Princeville Resort Hotel, part of The Luxury Collection by Starwood, was a beautiful hotel. Standard rooms at this category 5 hotel are usually $320 or 12k-15k points per night but using the SPG cash and points option, I paid just $90 and 4,800 points per night.

Since I'm platinum, I was upgraded to a suite with an awesome ocean view, two TVs (one remote controlled to rise out of the dresser), a king bed, free bottled water and a large bathroom. The bathroom had huge windows as well, but the windows have that frosting system so you can cloud out the windows at the flip of switch. I missed it but apparently the breakfast buffet is excellent, though it better be for $28.

Movie of Bathroom (WMV, 16 sec, 2.5MB)