Kauai, Hawaii - May 11, 2008
Other Kauai Pictures: 05/08/2008 | 05/09/2008 | 05/10/2008 | 05/11/2008
---
Village Snack and Bakery Shop in Ching Young Village shopping center. It was an excellent choice! Wandering into the shopping center I spotted it in a dimly lit corner.

There were lots of yummy treats (top row below). They had several chiffon pies but they were out of lilikoi so I got a slice of guava instead. Their apple crisp is supposed to be excellent but I didn't know so I didn't try any. And then there is Musubi, a hawaiian maki sushi with spam and egg.

I ordered fried spam and eggs with rice (middle row below) and Ashley ordered portugese sausage with hash browns (prepared in a patty similar to McDonald's). We also ordered a stack of tropical pancakes which have banana, macadamia nut, coconut and pineapple in them. We also picked up a few cookies: macadamia nut with corn flakes and "World's Best" which you can see below. Unfortunately, I left them in the hotel room and since I went straight to the airport that evening, I didn't get to try any of them.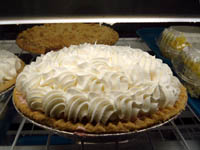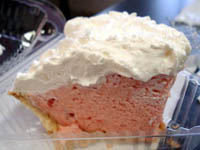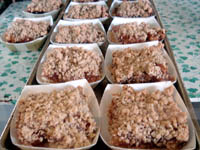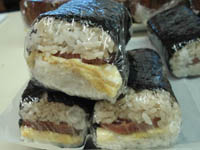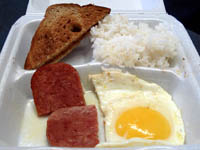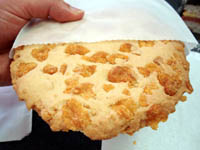 Throughout Kauai we kept seeing signs for ice cold coconuts and at Ching Young Village, Ashley finally got to try one (below left). It's a fresh coconut that's be de-husked (the green/yellow outer layer removed) so that you're left with the brown fuzzy sphere that we're used to. They drill a hole in it for a straw and you can drink pure coconut water. Note that coconut water is not coconut milk. Coconut water is clear and has a very mild plant flavor with barely a hint of sweetness. Coconut milk, is coconut water with the white coconut flesh ground up to make it thick and white and to give it that distinctly coconut flavor. On our way back to the hotel, we also stopped at a scenic viewpoint overlooking a field of taro patches (below right).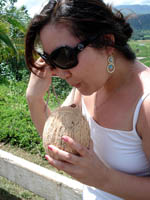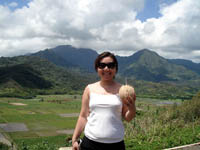 ---



In Poipu we stopped at Puka Dog for an island style hotdog. We were greeted by a hula sign with their menu and instructions on how to order.

First you pick whether you want a polish sausage or a vegetarian hot dog. Then you select a garlic lemon sauce (original, spicy or hot, none of which are more than medium heat) followed by a tropical fruit relish (mango, pineapple, papaya, coconut, banana or star fruit). Lastly, you can add on ketchup and mustard, including a lilikoi mustard.

When they make the hot dog, they don't cut the bun open, instead they spear it on a heated spike so that the bun is toasted from the inside (below center). Then they fill it with your sauces and slide your dog inside in a neat little package that travels well. Here's a making of video (WMV 0:25, 3.5MB).

My selection was a polish sausage with hot garlic lemon sauce, coconut relish and lilikoi mustard (below right). It was good but I think I overdid it with the sauces. I would recommend trying only two sauces otherwise there are too many flavors. Ideally, I'd like to go and try each sauce on a different hot dog. I guess I'll just have to go back some time.

Also, at the end of the day, any leftover meat is turned into doggie treats (right)!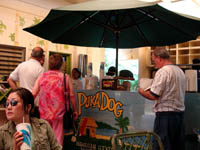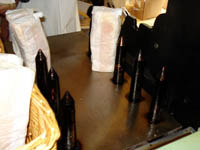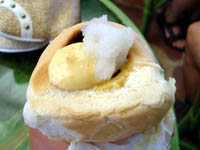 ---

After Puka Dog, we drove to Waimea (west most part of the island that is not the Pacific Missile Range) for a drive through the mountains and a couple scenic views in Waimea Canyon State park. Panning video of Waimea Canyon (WMV, 0:18, 3.1MB).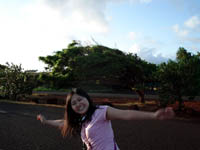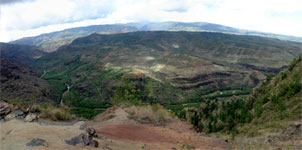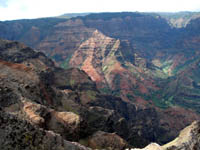 ---



Afterwards we stopped at JoJo's Shave Ice, which is just a small shack on the side of the road (even the exact address isn't apparent). JoJo's is rated the best shave ice in Kauai and from my experience, it's definitely the best shave ice I've had.

They have 60 flavors to choose from, but you're welcome to choose from the special blends they have posted on their wall. I actually ordered it Philippino style, which is called Halo Halo and is multi-layered as described in the third picture below. The shave ice was exceptionally fine, almost like fresh snow. And like snow, which is an extremely good insulator, the shave ice did not melt as fast as some other places. I also picked up a quart of lilikoi flavored syrup. I was a bit worried that it would leak or explode in my luggage but after swaping to a tighter cap (from a soda bottle) there were no issues. Now I just have to decide what to do with it.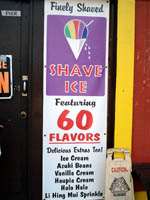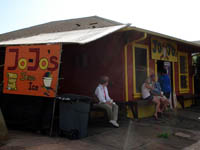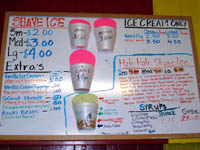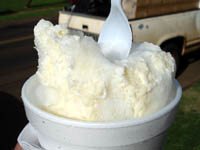 ---



In my last couple hours, we stopped at one more scenic point, the Spouting horn (below, left) which is a blow-hole that funnels water from the ocean upwards into a nice little spout. Video of the blow-hole in action (WMB, 0:12, 1.3MB).

For dinner we stopped at Genki Sushi, a quick little sushi train (sushi passes by on a conveyor belt which you pick freely from and pay by the plate at the end). It was pretty much on par with most sushi trains, quick decent sushi, better than a grocery store but not as nice as a good sit-down sushi restaurant. But if you've got a sudden craving for reasonably priced sushi or you're in a time pinch, this is a perfectly good option.

Finally, it was time for me to head to the airport. I still hadn't eaten my chicu and the Department of Agriculture agent said I had to eat it or toss it before entering the gate area (though he informed me that it wasn't white). So I stood in the hallway and took a big bite (below right). When chicu is not ripe, it leaves a slight astringent feel in your mouth. The best way I could describe the taste would be a slightly earthy but very intense apple. I imagine a ripe one would be much better. Here are a couple article on chicu, which is also called sapodilla: from Wikipedia and from Trade Winds Fruit.